Going with the flow, the order to use our products in.
Date Posted:2 February 2017

Car care is a reasonably technical process, but once you get a set routine it becomes quite easy to follow and understand. We've made this simple product flow-chart to help people with the order and frequency we reccomend to use our exterior products in.
You don't need to use all the below 10 steps each and every time you detail your car, but once or even twice a year can be a pretty good thing for it.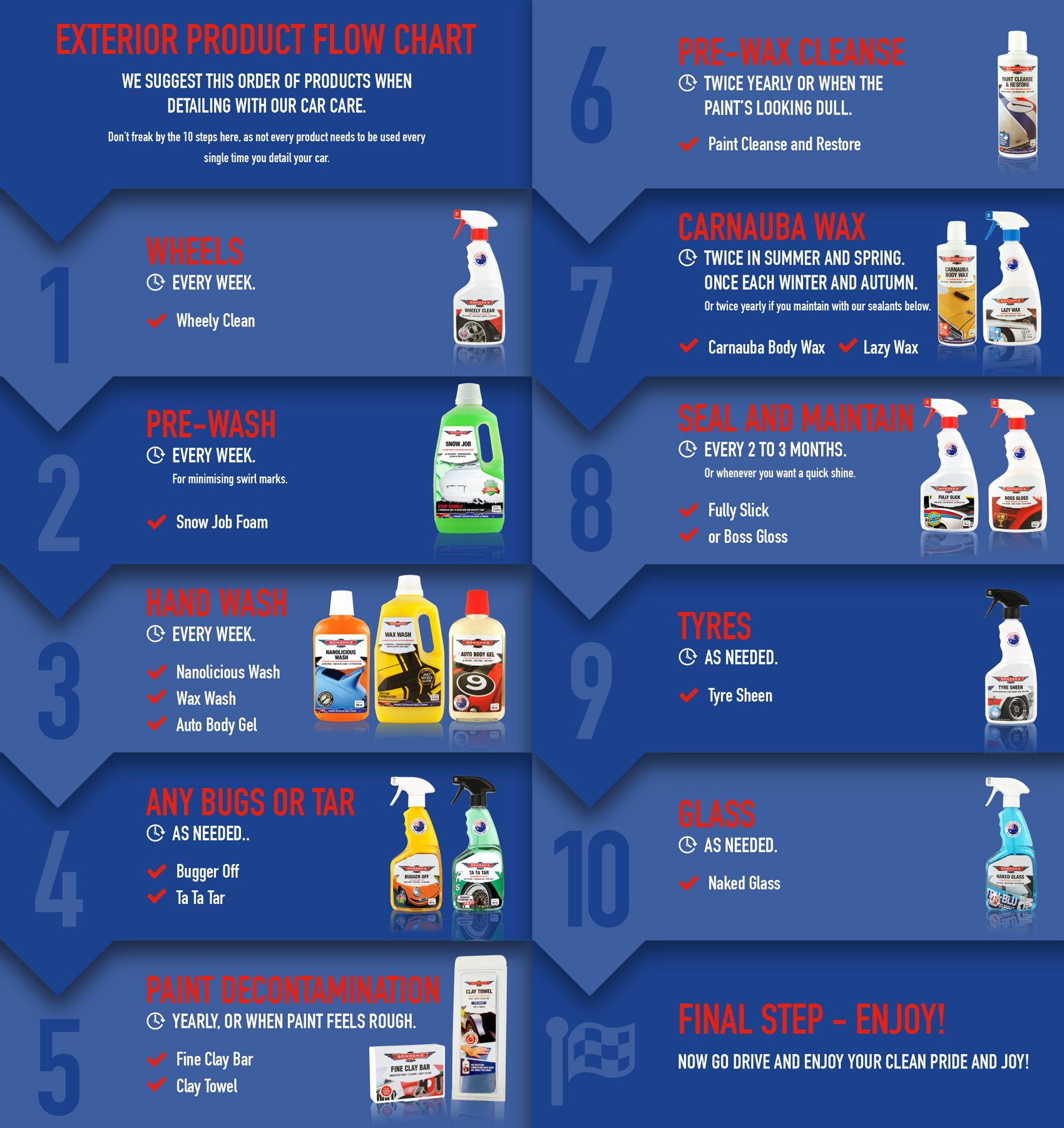 For the more fanatical among us, there are a couple of extra things we could add in here; like using Boss Gloss or our coming Afterglow spray after washing step 3, as a drying aid with our Big Green Sucker drying towel, or Big Softie cloths respectively.
Likewise, a good weekly maintenance loop, or something to do before a car club run would be to use step 1, 2 & 3, and then go to step 8 using the Fully Slick or Boss Gloss to finish the car after it's dry, or even the Lazy Wax if its a darker coloured car, with a couple of Drop Bear cloths, to get a beautiful, protective shine. Finish the job off with step 9 and 10 and go for a cruise!
You can have a read of the individual product guides that go with these different products by clicking here. They will show you how to get professional results with them, as well as which microfibre we like to use with each product.
One for the wall.
Download this chart and print it out on your computer and stick it up (laminate it if you can) in the garage, so its always there to refer to. You can press "Control + p" to print the image straight to your printer. We will also have this chart in all our new kits and packs as well.

If you have any more questions about the order to use our products, please feel free to drop me an email; dan@bowdensown.com.au or call our office on 1800 351 308.
Love your car,
Dan Bowden
---
Leave a comment