Going with the flow, the order to use our products in.
Date Posted:2 February 2017

Car care is a reasonably technical process, but once you get a set routine it becomes quite easy to follow and understand. We've made this simple product flow-chart to help people with the order and frequency we recommend to use our exterior products in.
You don't need to use all the below 11 steps each and every time you detail your car, but once or even twice a year can be a pretty good thing for it.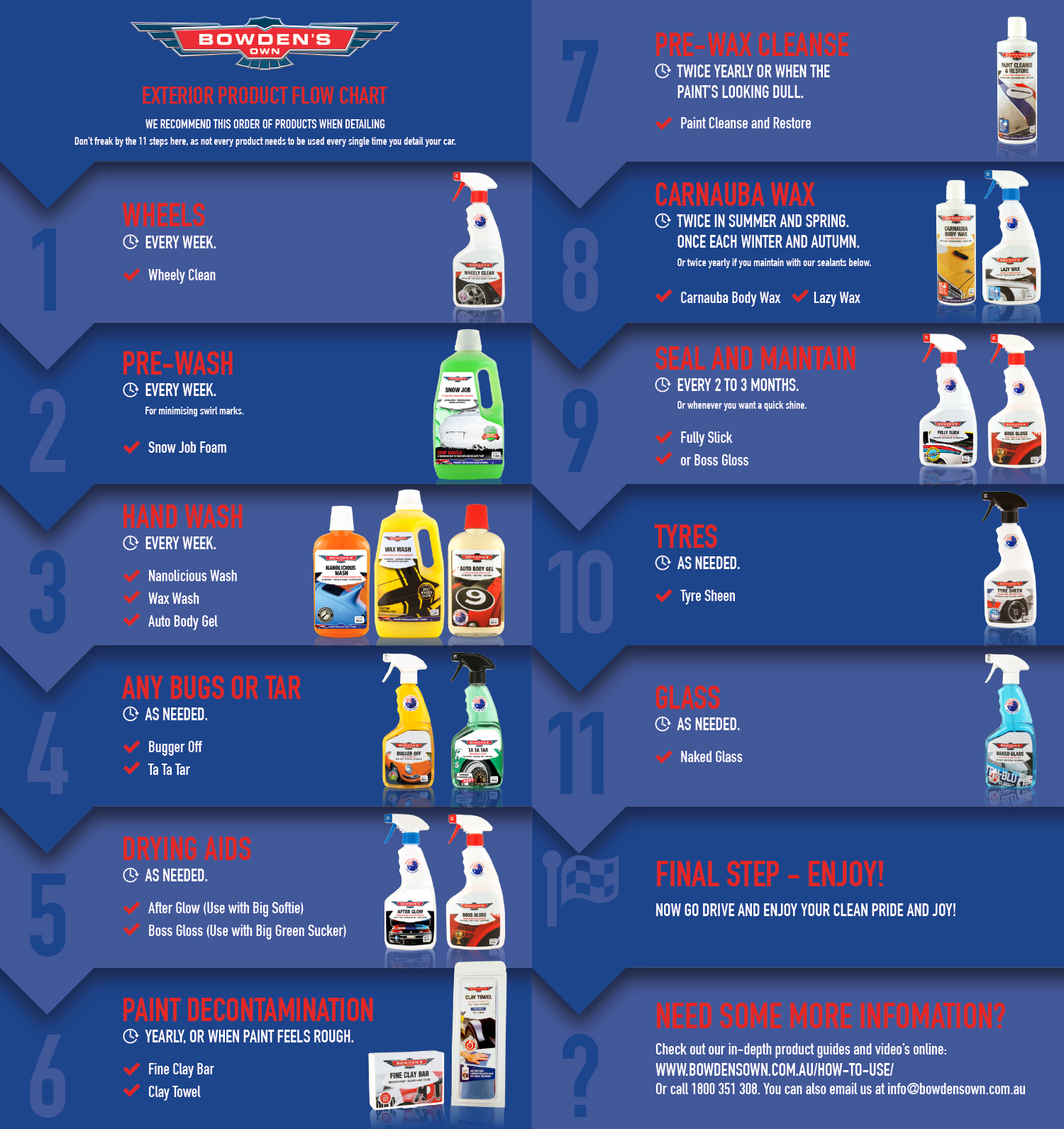 Now this list is not gospel for everytime you detail your car. Here's a few changes you can do from this list if that we like to do:
A good 5 step weekly maintenance loop, or something to do before a car club run would be to use step 1, 2, 3 and 5 and then go to step 9 using the Fully Slick or Boss Gloss to finish the car after it's dry (or even the Lazy Wax if its a darker coloured car), with a couple of Drop Bear cloths, to get a beautiful, protective shine and then be sure to head out for a cruise!
After Glow can also be used as a sealant in step 9 as well, for that extra layer of shine and protection. Use it on the already clean and dry surface with a damp Big Softie cloth for application and a dry one for the removal.
You can have a read of the individual product guides that go with these different products by clicking here. They will show you how to get professional results with them, as well as which microfibre we like to use with each product.
One for the wall.
Download this chart and print it out on your computer and stick it up (laminate it if you can) in the garage, so it's always there to refer to. You can press "Control + p" to print the image straight to your printer. We will also have this chart in all our new kits and packs as well.

If you have any more questions about the order to use our products, please feel free to drop me an email; dan@bowdensown.com.au or call our office on 1800 351 308.
Love your car,
Dan Bowden
---
Comments (1)
Waxing Requirements

By:

David brothers

on 25 October 2018

Thankyou for your time and advice freely given today. Your advice tells me I'm on the right track but can slightly modify what I,m doing and also add another product. Further down the track I will complete a Clay bar and cleanser step. 12 months of using your products and very pleased with them, especially the Big Green Sucker which I bought after the old chamois died last year. PS the local Autobarn staff in Devonport have been very helpful and supportive of your products....
---
Leave a comment