Bob Jane 635 Schnitzer BMW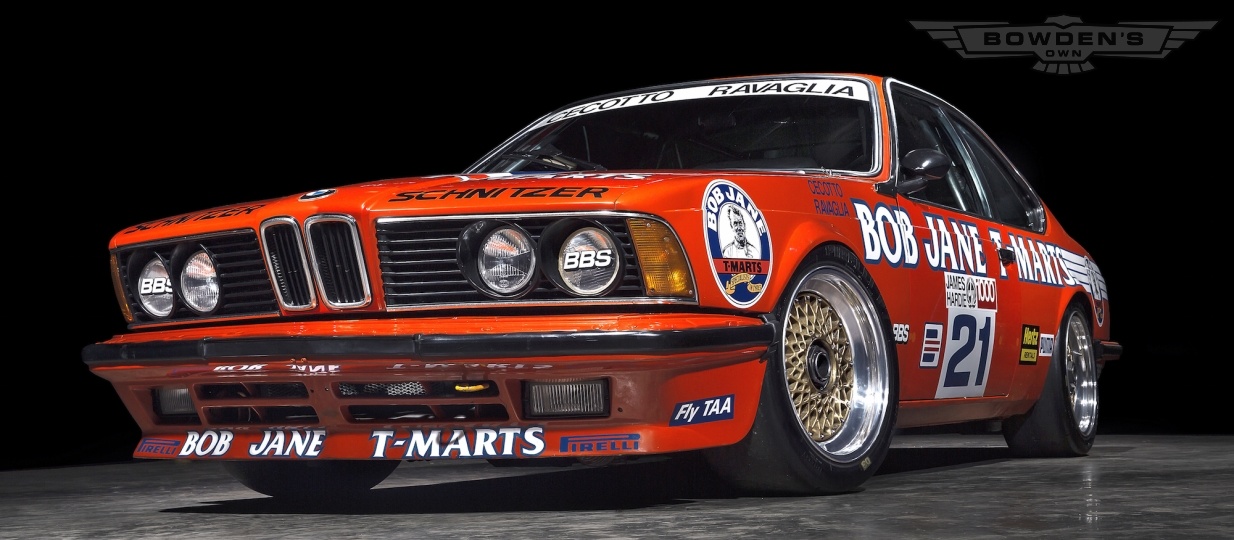 Bob Jane 635 Schnitzer BMW
---
One of the more international car we have in the collection is the Schnitzer built and raced BMW 635 Chassis # E24 RA2-55. This ex Schnitzer and Bob Jane 635 is a well known, and beautifully original example of the mid eighties BMW Group A racer.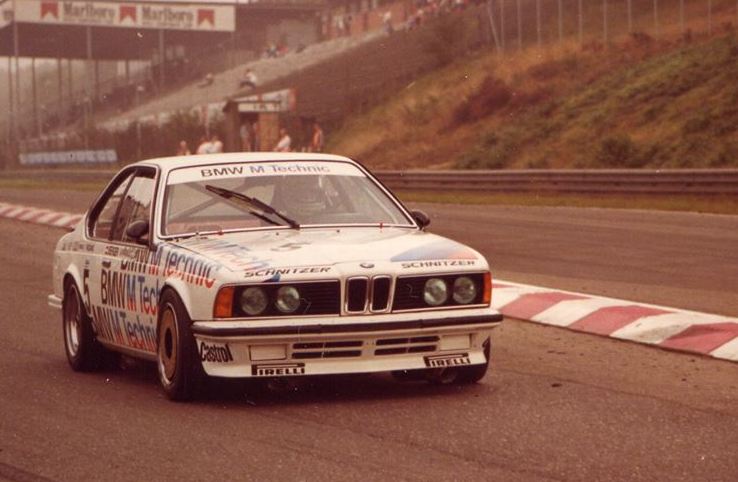 Leaving the pits in the 1985 ETCC round at Salzburg.
She began her life in 1985, running in the European Touring Car Championship, (ETCC) as the Schnitzer/ BMW factory M- Technic entry. BMW were not going to run the 1985 ETCC, thinking they would be uncompetitive with the 635, but they had a chage of heart and a real late effort by Schnitzer saw this car and the other team car built in time for the first round at Monza. It's ETCC history runs like this:
The 500km at Monza in Italy, driven by Dieter Quester, and Emanuele Pirro. Pirro got a bit too aggressive on the curbs and cracked the sump.
500km at Vallelunga, Italy, driven by Dieter Quester, Giancarlo Naddeo and this time Quester was caught in an accident and cracked the sump...
GP Brno, Czech, drivers were Dieter Quester, Emanuele Pirro, another DNF when it was caught in an accident on lap 35.
500km at Salzburgring, Germany driven by Dieter Quester & Johnny Cecotto, finished in 7th place.
500km GP Nurburgring, Germany, driven by Dieter Quester & Markus Oestreich, it came 6th.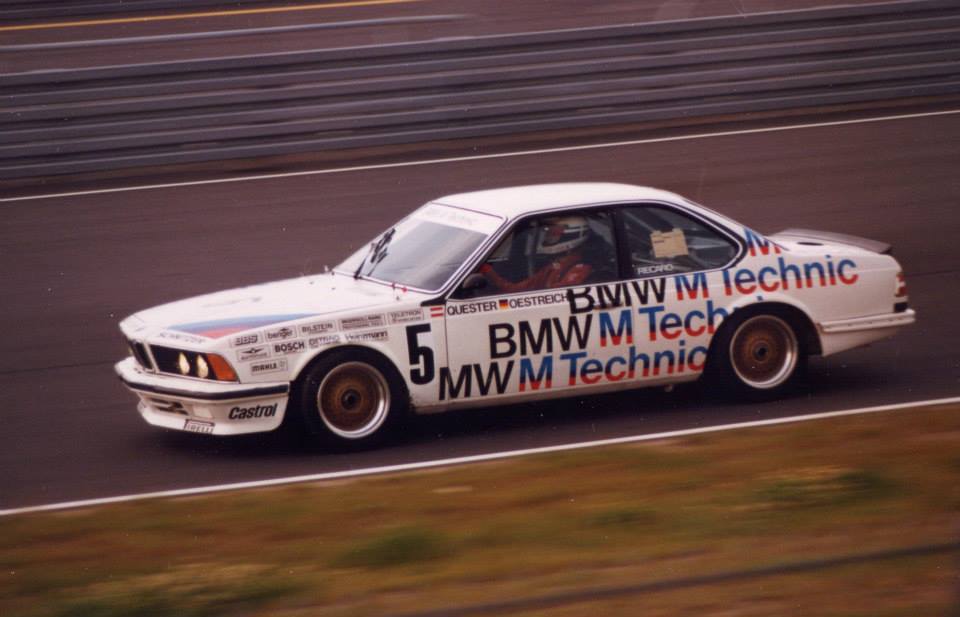 At the Nurburgring 500, finishing in 6th.
And finally the big daddy of them all, the 24 hour race at SPA, Belgium. After not too much success in the earlier ETCC rounds, the Schnitzer BMW team pulled out all the guns were finally rewarded for their efforts.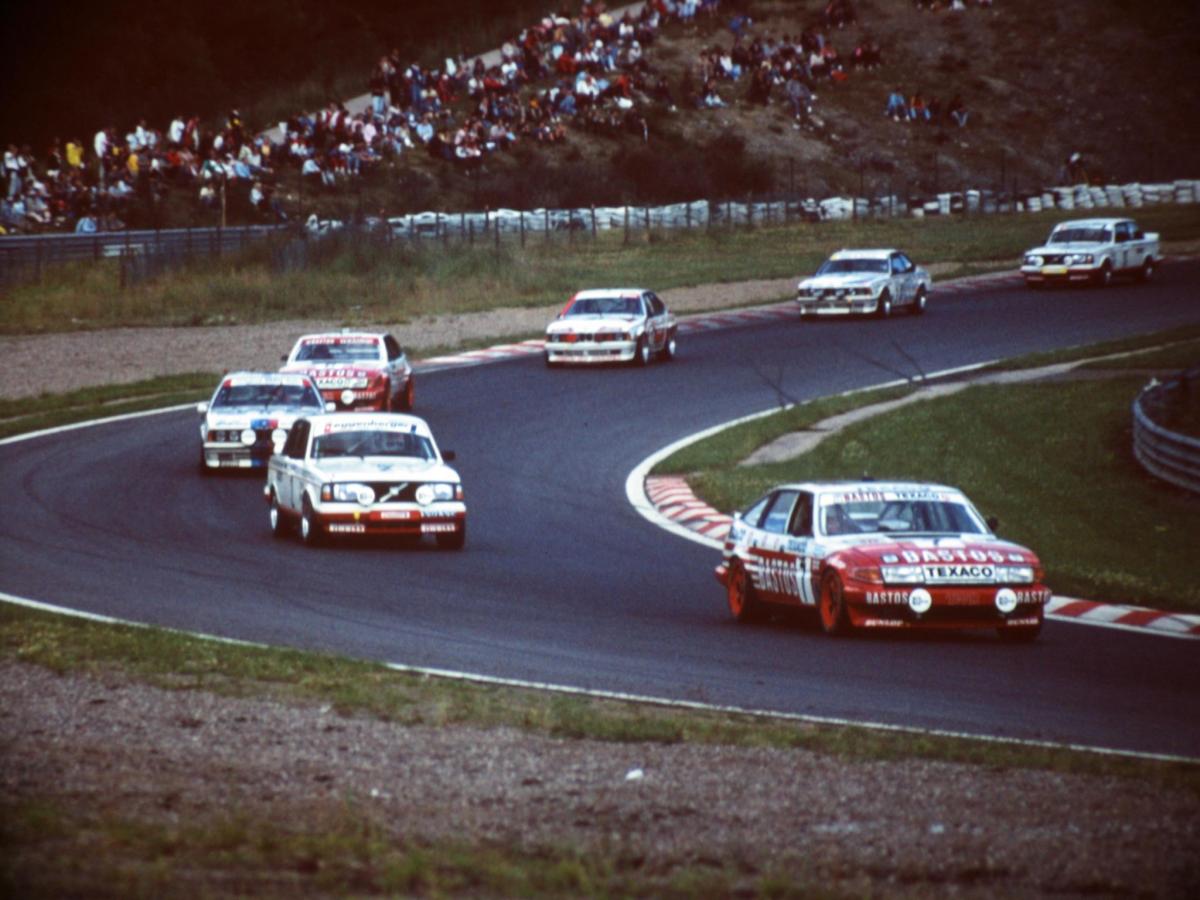 Start of the Spa 24 hour race in 1985, she is back in 6th.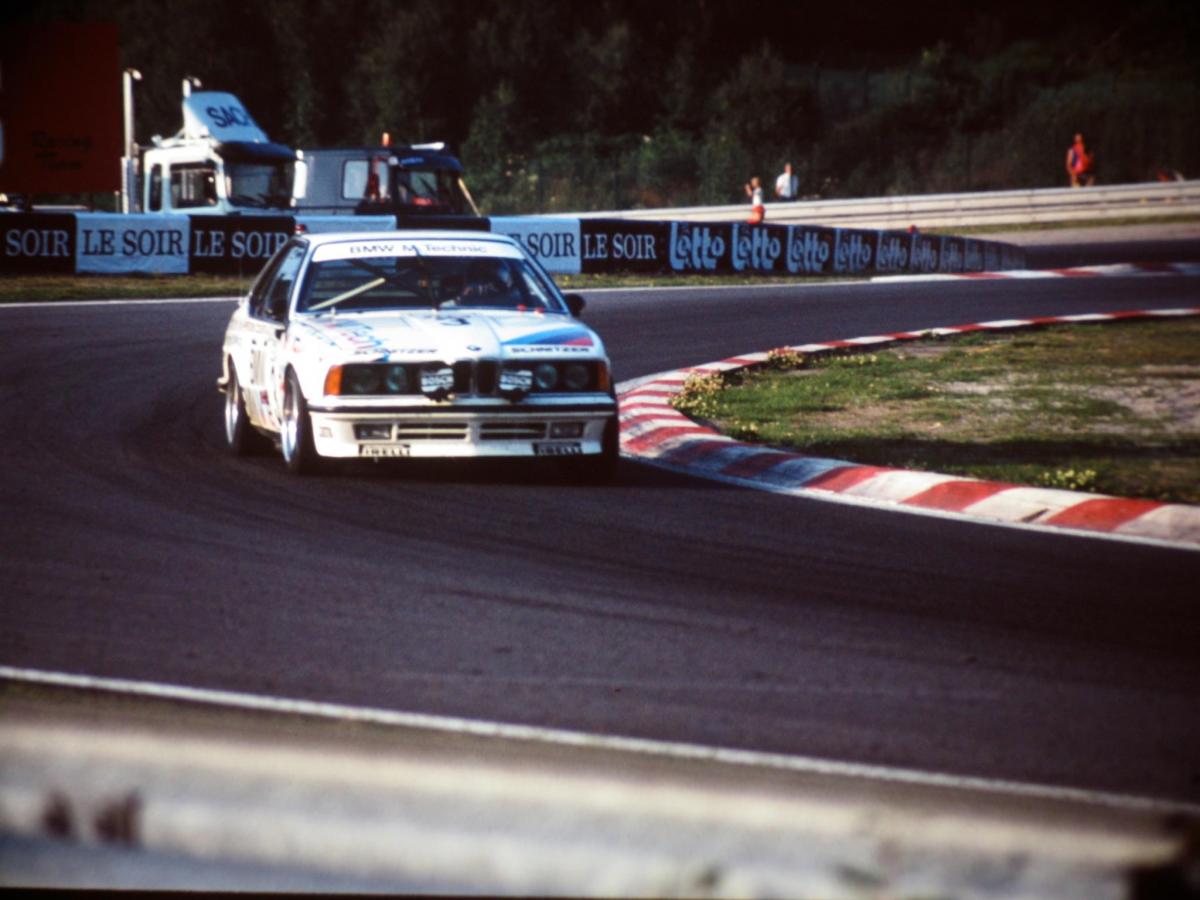 Heading towards 2nd place at Spa.
The 1985 24 hour endurance epic at SPA was the famous BMW team 1-2 form finish, as they outlasted the Rovers and Volvo's. RA2-55 came a valiant second place, driven by the veteran Dieter Quester, a young Markus Oestreich and motorbike champion Johnny Cecotto. This was the high point of the 1985 ETCC for the German manufacturer, and still heralded as one of their most famous touring car victories.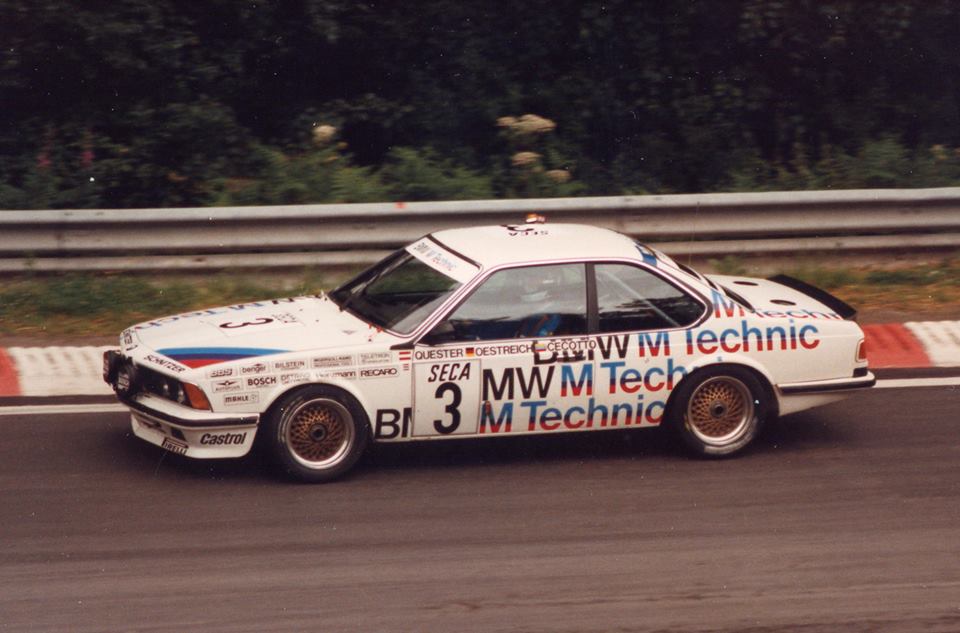 1985 Spa, You can see the roof light holes in the car today.
Highlights video of the 1985 SPA 24hr.
After the SPA second placing RA2-55 was brought to Australia by the British team manager John Siddle, (team was managed by Charly Lamm, car still owned by Herbert Schnitzer), who was initially going to bring the winning Spa Schnitzer team car, but it ran the very famous and uber cool "parts car" livery, that would have to be replaced at a cost of around $10 000 when it returned to Europe. So to save the cost, the second placed and equally fast RA2-55 was resprayed in Bob Jane T-Marts orange livery and totally rebuilt by the Schnitzer team, before being tested by Deiter Quester and then flown down under for the Aussie Bathurst 1000 race.
Entered by Goold Motorsport, it was was originally to be driven by F1 racers Nelson Piquet (whom Siddle managed) and endurance specialist Nikki Lauda, this however never happened as a clash in dates for the Brands Hatch F1 meeting season meant Schitzner BMW aces Johnny Cecotto and Roberto Ravaglia were flown in for the job. Siddle also had two Schnitzer mechanics on hand as well as a BMW engineer amongst the Aussie hands to make sure she ran well for the 1000 km race.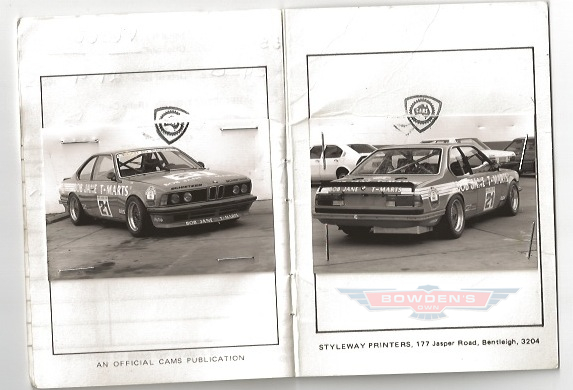 Log book images from 1985
In qualifying she placed 8th with Ravaglia at the wheel. In the great race she was a remarkable 4th two hours in, with the start being a bit of a disaster, due to a rare poorly running engine, meaning he could not get of the line well, falling back to 11th as the engine cleared itself by lap 3. On lap 17 a fault in the computer electrics surfaced meaning the engine would be down on power for the remainder of the race. It was two hours into the race when the famous 635 JPS BMW's of Jim Richards and George Fury, whilst in the lead, both fell foul of the oil from a blown up Commodore and followed each other into the sand trap at Hell Corner, effectively costing them a Bathurst victory that year.
Ravaglia running in clear air at Bathurst
Cecotto took over and moved the orange BMW up to 3rd place, with the two fast Tom Walkinshaw Racing (TWR) Jaguars out in front. Ragvaglia took back over and with 13 laps to go he was 50 seconds behind the lead TWR Jaguar of John Goss, who was suffering from a broken seat. Behind him he had the fast charging HDT Commodore of Peter Brock catching him hand over fist, even with its windscreen knocked out! Ragvaglia finally relinquishing 2nd position as Brock passed him down mountain straight in his chase for the leading Jag. But running low on fuel (as the race consumption was more than expected) and not wanting to do another pitstop, he held his speed to get maximum laps on low fuel. Then 3 laps from the end, the timing chain broke on Brock's Commodore, putting an end to end his huge fight.
The BMW finished between the two team TWR Jaguars to come a deserved 2nd place. After it crossed the line, it only made it as far as the exit to pit straight before running out of fuel, some pretty good luck to have!! In post race pull down, a wiring fault was found with the computer, which effectively meant if it had of been found the engine would have been a second a lap quicker, easily giving them the win, but it's these sorts of things that make Bathurst such a great race, you need luck to win and this year it was TWR and Goss's turn for victory.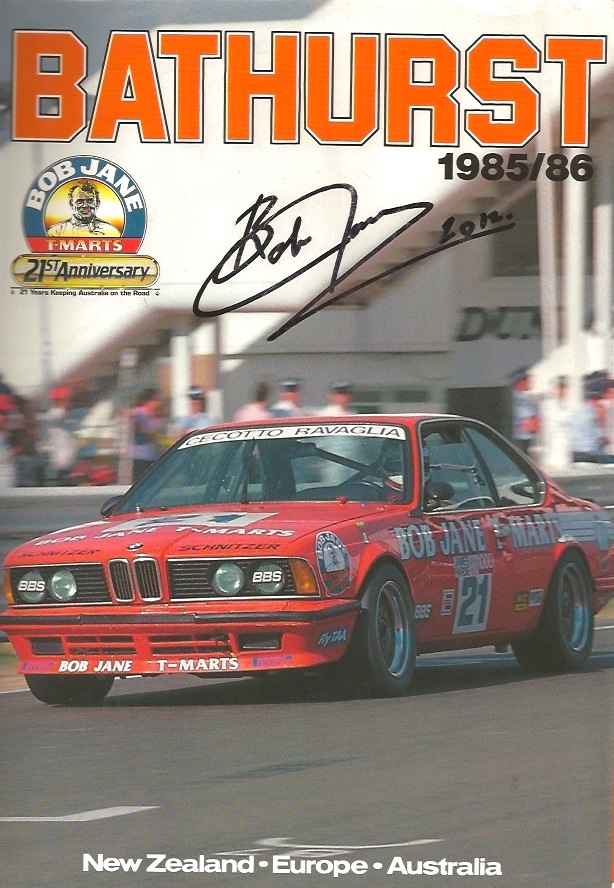 When you sponsor the event, you can make your own book!
After Bathurst the BMW would later reappear at the Adelaide GP support race in the hands of another BMW Motorsport and F1 ace, the Austrian Gerhard Berger. He was famously taken out from the race by the HDT Commodore of John Harvey, it was also the last race we can see that a driver in the F1 race also competed in a support touring car event as well (might be a reason for that)...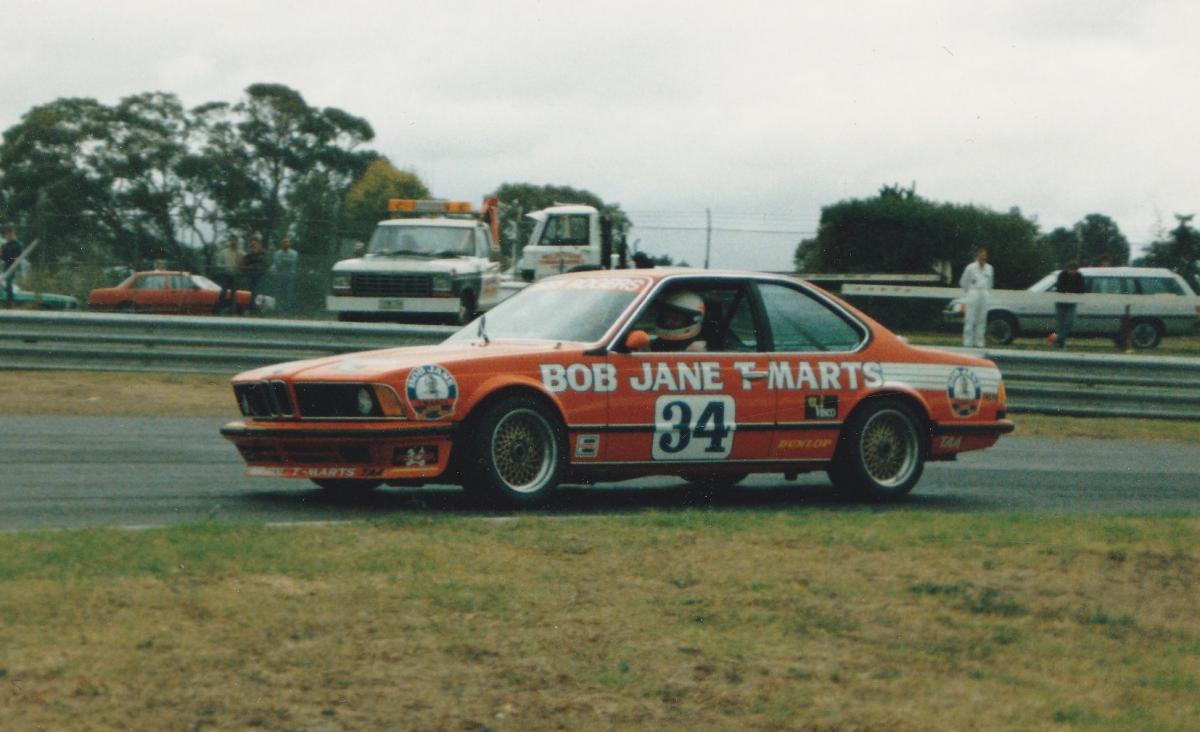 1986 South Pacific 300 at Calder with Charlie O'Brien.
It was then retired till the end of 1986 season, when Garry Rogers destroyed his ex JPS 635 at Oran Park. He negotiated to run RA2-55 with Charlie O'Brien at Calders South Pacific 300 (7th place), the Sandown 500 (11th place) and then the Bathurst 1000 (Flying below, but sadly a DNF).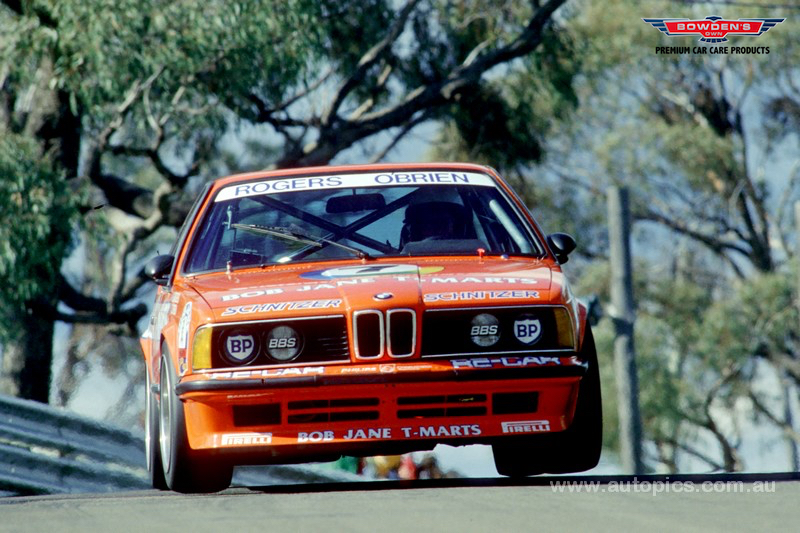 Then it was shipped for its final race in Japan, the Fuji 500km InterTec enduro where O'Brien and sports car racer Emanuele Pirro finished in yet another second position.
Start of the 1986 Mt Fuji 500 InterTec race, where the 635 begins in 10th place.
Bob Jane then shipped her home and acquired her from Schnitzer, leaving it relatively untouched and preserved, just replacing the vinyl numbers to show the livery ran at Bathurst in 1985. It was used just for show, displayed at a few of his Bob Jane T-Mart dealerships around Australia. This leaves it as arguably the most original and complete Group A 635 Schnitzer left in the world.
David Bowden has been good mates with Bob Jane for years and having asked about it on numerous occasions, a deal was struck and the car made it's way to Qld for the second time in its life (first time being the Brisbane motor show in 1986).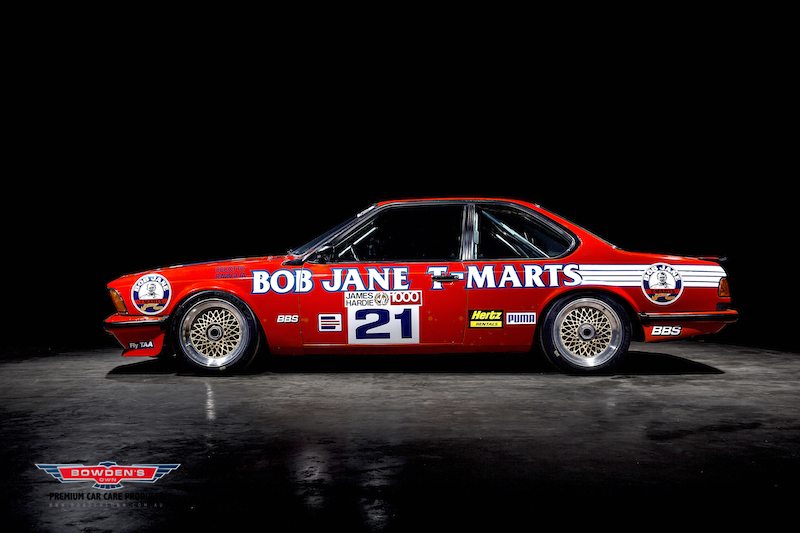 Our plan is to leave this famous Schnitzer racer 100% un-restored, as it has survived, in its still lovely original race condition.
We took great delight in getting her running again, in time for the 2013 Day of Thunder where it was to join two of the JPS 635's - our 1986 AEC winning car and the 1985 car as run by Neville Chriton, that Jim Richards now owns and campaigns in some races.
Our resident test pilot Chris Bowden was the first to drive her on track in many years, and had much fun with the original tyres still being used on her.
Keep an eye on our newsletters for any events we will be running this significant race BMW at in the future.
The orginal race images in this article are from www.autopics.com.au