Colin Bond's 1977 XC Hardtop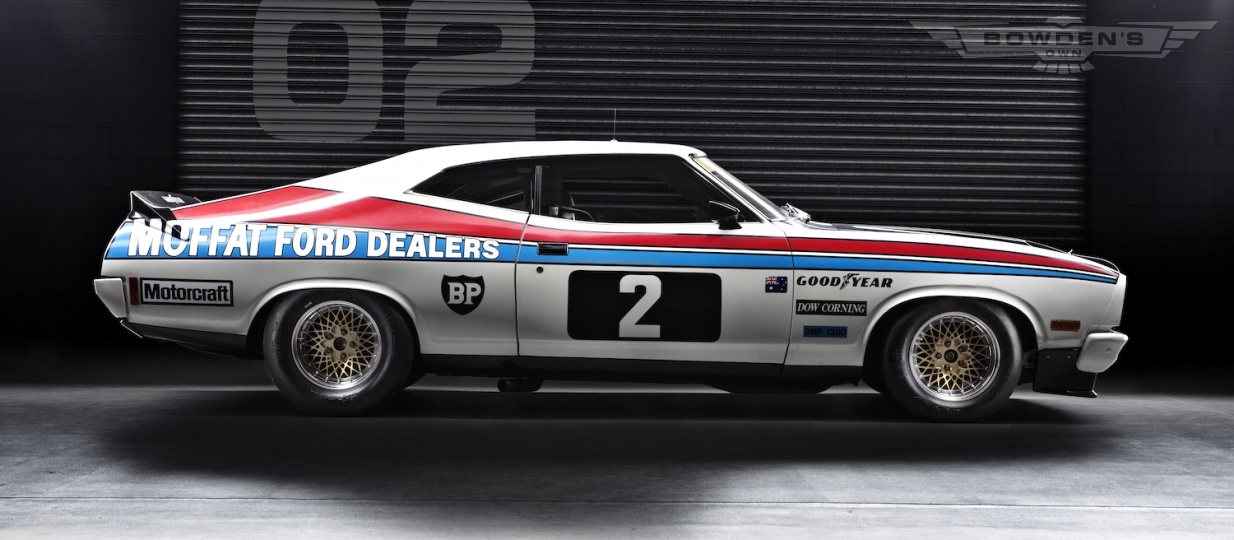 Colin Bond's 1977 XC Hardtop
Front Suspension Type:
Independent, with coil springs and Koni shock absorbers
Rear Suspension Type:
Full floating axle, semi–elliptic springs, Panhard rod and Koni shock absorbers
Front Brake Type:
Porsche RSR ventilated discs with 4 pot Lockheed callipers
Rear Brake Type:
Ventilated discs with 2 pot Hurst Airheart callipers
---
1977 was a very special year on the race track for Ford Australia. The Moffat Ford Dealer Team XB Falcon Hardtops driven by Allan Moffat and the freshly defected from Holden, and one of Australia's greatest all round drivers, Colin Bond. This stunning new two car team was run by the legendary American team manager Carroll Smith, whose professional approach to racing proved invaluable.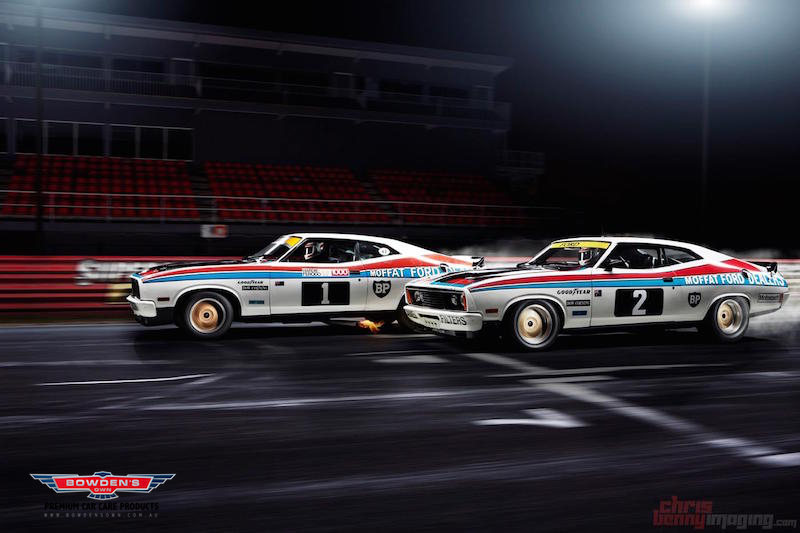 Two brand new Falcon Hardtop race shells were specially delivered from Ford, unique in that both were made out of a lighter gauge steel. Built up in Moffat's Melbourne workshops, one of the new hardtops was sold early off to help further fund the team. The other car was completed for Colin Bond to campaign, which is the very car we have in our collection.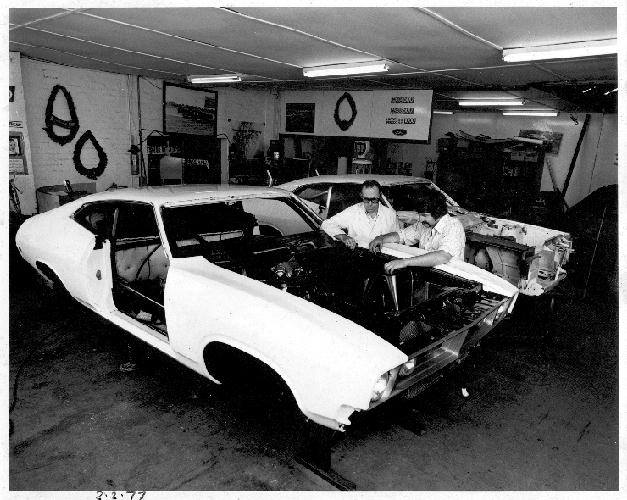 Bond's first appearance in the new Falcon was a non championship round at Sandown Park in February, where he won both races - a very promising beginning! This was enough to get the Ford management behind the team and help finance the remainder of the season. The 1977 ATCC rounds had Moffat and Bond finishing one-two in six of the eleven rounds, with them steam-rolling Holden for a one-two in the championship.
An interesting sideline to the ATCC was that there was no Wanaroo WA event that year, so between the 5th and 6th rounds the #2 Hardtop made its way to WA for Moffat to race in a special event called the Karqip 300. It was given Moffat's #1 livery and fitted with Bathurst globe wheels and Bridgestone road tyres (as required in the rules for this race) , something against Moffat's normal running as Goodyear was his sponsor.. However they could not get a good enough tyre so the oppositions had to be fitted. Brock was to see these (His sponsors tyres) on the car and commented to the team that "its about time". Moffat was to spin 6 times in the race and still finished 4th, no more Bridgestones for him ever again!
Also another worthy mention is that in 1977 bike racer and all round good guy, Greg Hansford tested and raced Bonds hardtop a few times to help get the time for his racing licence with CAMS.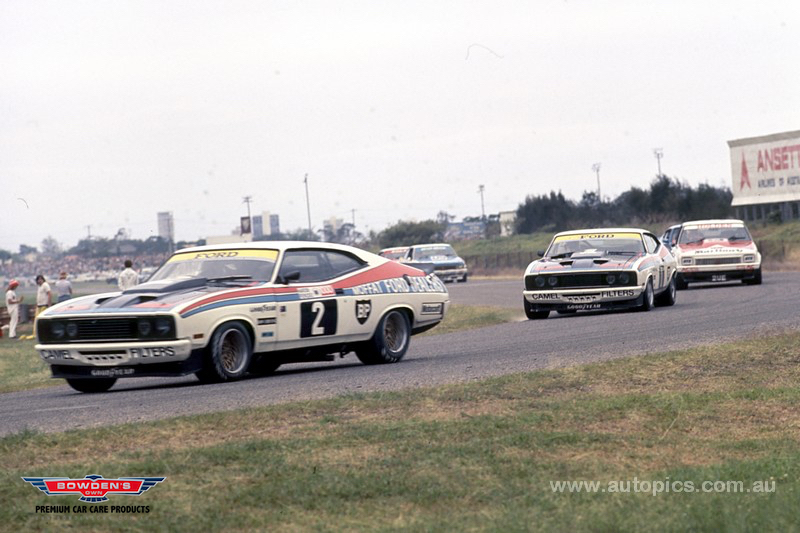 Both hardtops were updated to XC form for the Sandown 400 and the Bathurst 1000 had the Moffat Dealer team as firm favourites and they did not disappoint. Moffat had co-pilot Belgium superstar Jacki Ickx and Bond was paired with Porsche racer Alan Hamilton. Ickx was to use the Bond Hardtop for practise that year and learn more about the track and the cars.
It was a strong domination, that had both cars together on the final lap, after Bond caught Moffat's now ailing car due to the brakes running out. That last laps footage is quite memorable as Bond slightly edges in front of Moffat before the final corner, but backs out for a formation finish as 1-2. A fitting end to the years racing.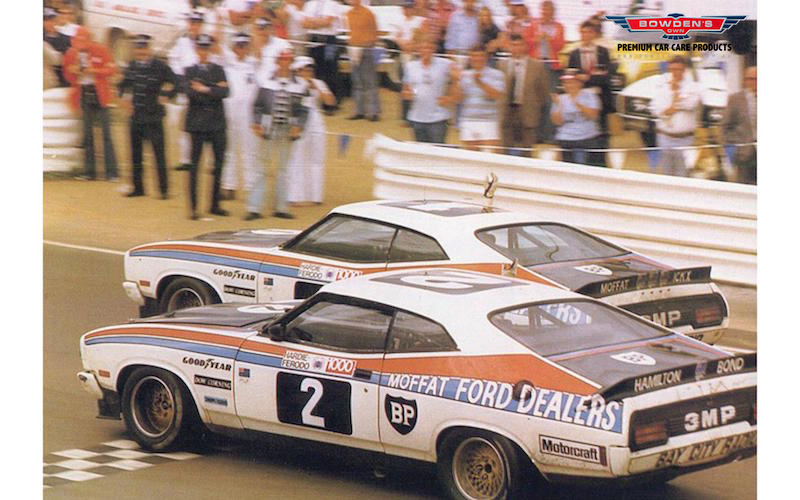 In 1978 Carroll Smith headed back home to the USA and Moffat had tough opposition with the new A9X Torana's. Namely from the reformed HDT operation run by John Sheppard that were brilliantly piloted by Peter Brock and John Harvey. They were to finish 4th and 5th in the championship. At Sandown and then Bathurst the two team cars were decked out in the new XC Cobra liveries, a Ford marketing effort to sell the remainder of the XC body shells. Both races ended in DNF's and Bond was to leave the team shortly after.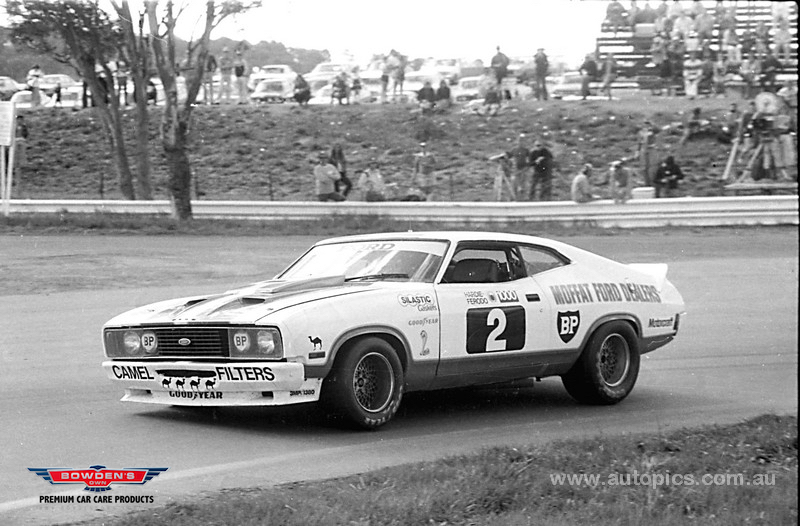 The Bond Hardtop was left in its Cobra colours, but re sign written with #1 and the Moffat and Ickx names, then placed for sale. It was sold in late 1979, where its running gear was replaced with Murray Carters new XD Falcon. It went through a number of hands till being bought by Adelaide collector John Blandon. He repainted the car back in its 1977 livery and used it at many events till he passed away, it was subsequently purchased at auction by historic race enthusiast David Bowden.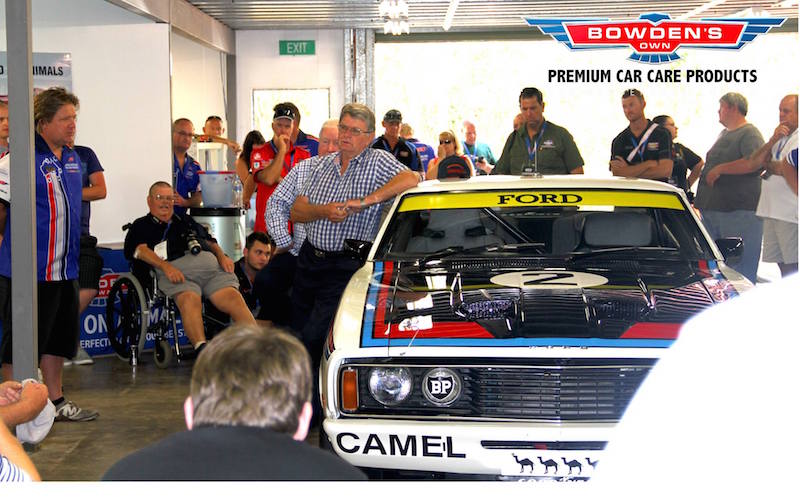 Since acquiring the Hardtop, David has painstakingly tracked down and refitted the cars missing period race equipment, we were fortunate to get access to the original records of Carroll Smith's from 1977, so we could replicate everything mechanically just perfectly. So she is now how she raced at Bathurst in 1977.
We ran it in the Gold Coast 600 "Legends" event with Colin Bond at the wheel and he LOVED it. We have also had the pleasure of having Colin Bond join us in Buderim as our guest for a Open Day as well. A car we are proud to have in the collection, from the arguably best remembered Bathurst finish ever.