Dick Johnson's TRU BLU XD Falcon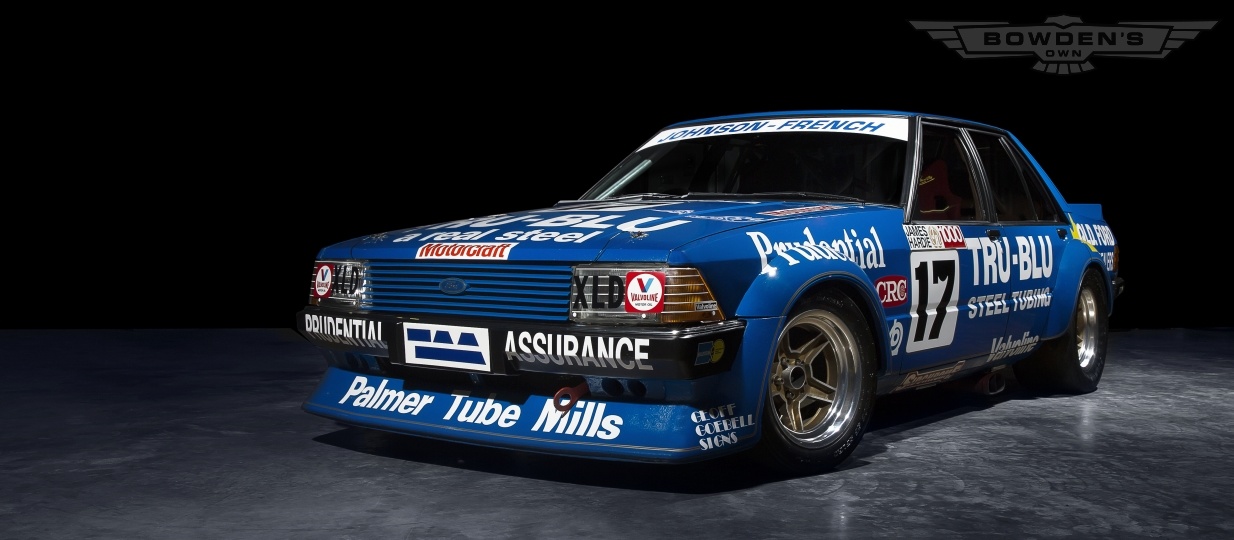 Dick Johnson's TRU BLU XD Falcon
One of the the greatest race cars in Australian motorsport.
Front Brake Type:
Disc, with Hurst Airheart 4 spot Calliper
Rear Brake Type:
Disc, with Hurst Airheart 4 spot Calliper
---
Tru Blu is one of the most well remembered cars driven by Ford racing legend Dick Johnson. In 1980 Johnson was a relatively unknown Queensland battler who fronted for the Bathurst race in his new XD falcon. While comfortably leading the race, a spectator dislodged a large rock onto the track. Johnson was unable to avoid it, crashed and was taken out of the race. Dick's emotional interview on Channel 7 struck a chord with a huge amount of the viewers, who began ringing up and pledging money to help him continue. Edsel Ford matched it dollar for dollar and $74 000 was amassed, plus another $50 000 from the well known businessman ross Palmer, to build a new and better Tru Blu. With this new car Johnson became the new and much needed hero of Ford fans everywhere.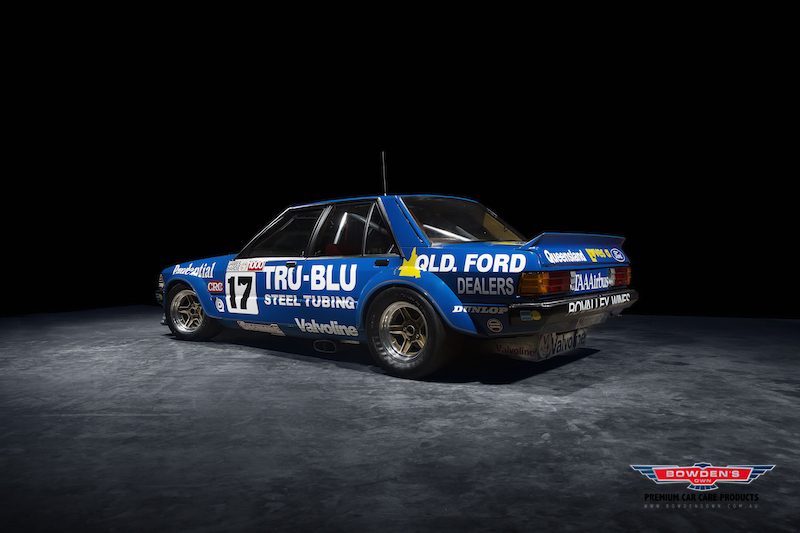 Dick promised to race at every track that year as a thank you for all his new supporters. They were not to be disappointed, the New XD came back in one the most fairytale ways in 1981, winning 5 of the 8 rounds at Symmons Plains, Oran Park, Sandown, Surfers Paradise and Lakeside, as well as finishing 3rd at Calder and 2nd at Wanaroo and Adelaide International raceway. This was to seal him the Australian Touring Car Championship (ATCC) series in 1981.
Perhaps one of the most hallmark races in Johnson's year (and career) was the 1981 ATCC finale held at his local Qld race track, Lakeside raceway. Peter Brock was one point away from Johnson in the championship. The race itself was a thriller for the record 20 000 strong crowd, who came along to watch it. Johnson had a front sway bar break 4 laps in and worked hard controlling the oversteering Falcon.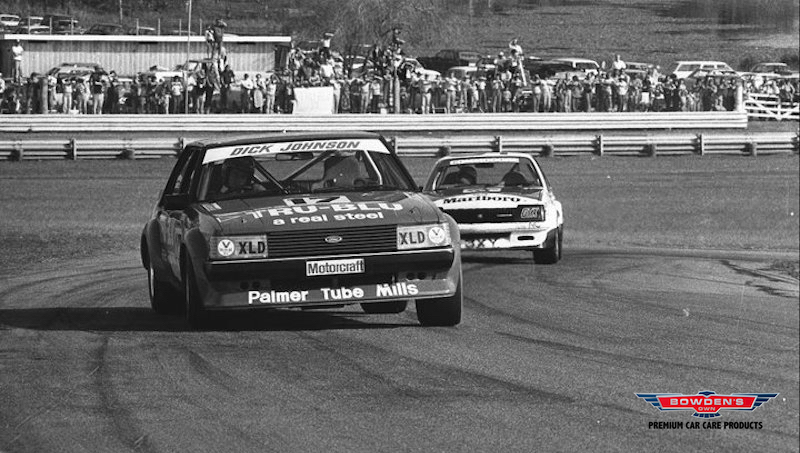 Lakesides 1981 championship thriller.
He held back Brock's desperate attacks and sealed the championship by.02 of a second. The entire Bowden family were there that day and I still remember the crowd screaming lap after lap as Dick kept Brock at bay, One of those never forgotten days of motorsport!
Bathurst is what he really had his eye on, this 1000km race that had been so cruel, yet so kind thanks to the support of the legions of fans after the crash in 1980. He had to win this for them. He teamed up with his good mate and Bathurst veteran John French that year and together they had one hell of a race.
The start of that race was really what all Group C racing was about, real cars and drivers going hard for the win. After Brock was taken out from the front runners after coming together with Kevin Bartlett. Johnson had a huge Battle with Bartlett in his thundering Channel 9 Camaro.
This battle was one of the best seen at Bathurst, with both cars being driven at their limits, lap after lap, with multiple lead changes, till one was to break. Bartlett was following Johnson up the mountian where they came upon the Recar Commodore, that pulled into Bartlett not realising he was there. Bartlett limped the Camaro back to the pits, where he was to get it fixed and going again, but he was out of challenging for the race lead.
Johnson handed the car over the French who had Bob Morris trying hard to catch him in his XD Falcon. Bob tried a passing move on Christine Cole at McPhilliamy Park that was to prove disastrous. He hit her and the ensuing accident had car after car pile into them, till it totally blocked the track. French escaped unscathed as he was well in front. The decision was then made that with 122 of the 161 laps run, the race was declared and Johnson and French won the day. Ford fans Australia wide went nuts.
In 1982 Johnson followed up with another big win in the ATCC series in 1982, winning at Sandown, Calder and Adelaide with 2nd places at Symmons Plains and Lakeside. He then swapped to a new XE Falcon, Red Roo, at the end of the year. He sold Tru Blu to Brisbane privateer (and next door neighbour) Alf Grant, who ran her in a couple of different liveries for the next couple of years at races in Qld and Bathurst. Dick Johnson racing was still doing the engines for him at this time as well, so she still ran like a jet!
Tru Blu still ran at Bathurst each year and had a reasonable record if you look past 1982, where Grant and kiwi Leo Leonard were out on lap 48.
It changed the following year, as she was the first Ford home after a great drive with Grant and David Seldon in 7th place.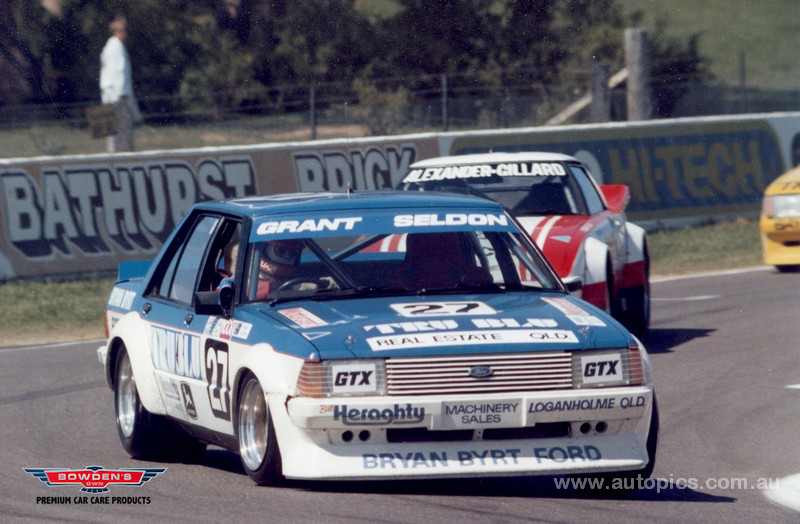 In its final Bathurst in 1984 it finished a gallant 10th place with Grant and young Craig Harris.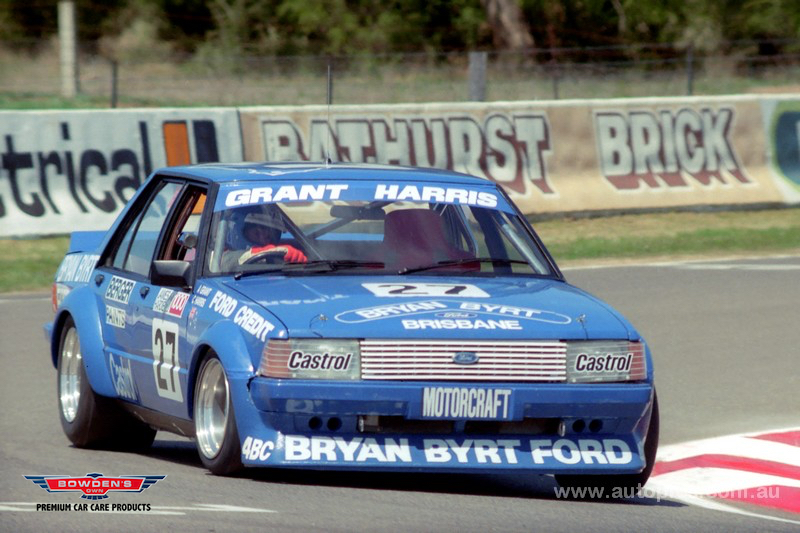 Alf put Tru Blu for sale in 1985, and among those who came to look at it was David Bowden, but upon looking at the car he was told that Dick still owned the race engine in it, Dick was not keen to sell it either. So he walked away from the deal and Dick eventually bought Tru Blu back in 1986.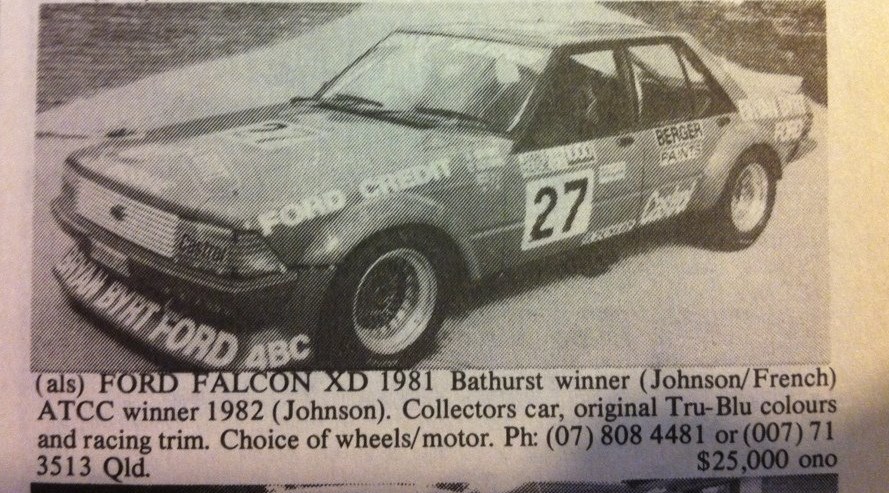 It sat around in its last livery in the corner the Acacia Ridge DJR workshop for many years, slowly gathering dust, while the team focused on winning races with the RS500 Sierra's.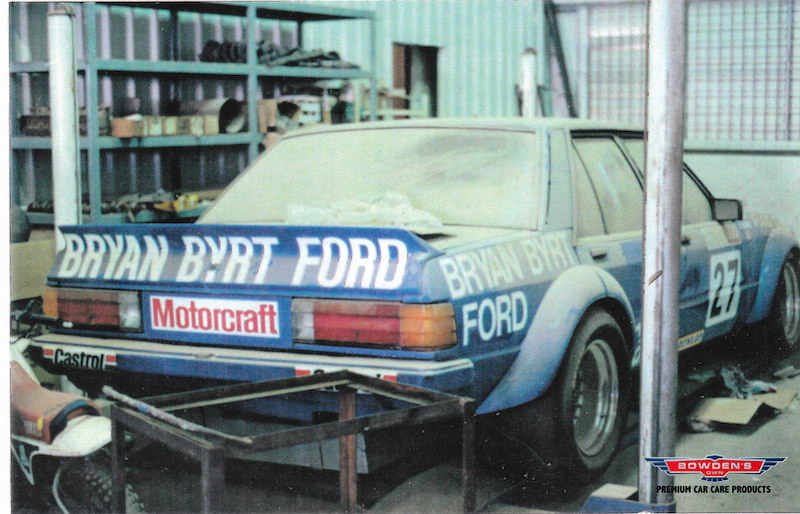 DJR finally they moved to a new race workshop and Tru Blu was cleaned up, given a newer "Tru Blu" vinyl livery and became a focal point in his DJR showroom at Staplyton, Qld.
In 2007 Johnson's race team again had financial drama and a deal was done with passionate collector David Bowden to purchase Tru Blu and the other cars from the collection. Tru Blu was given a mechanical overhaul by both Dick Johnson racing and our team in workshops here, so that after 20 years in hibernation, she once again was be able to run at selected events for all Ford fans to savour once again.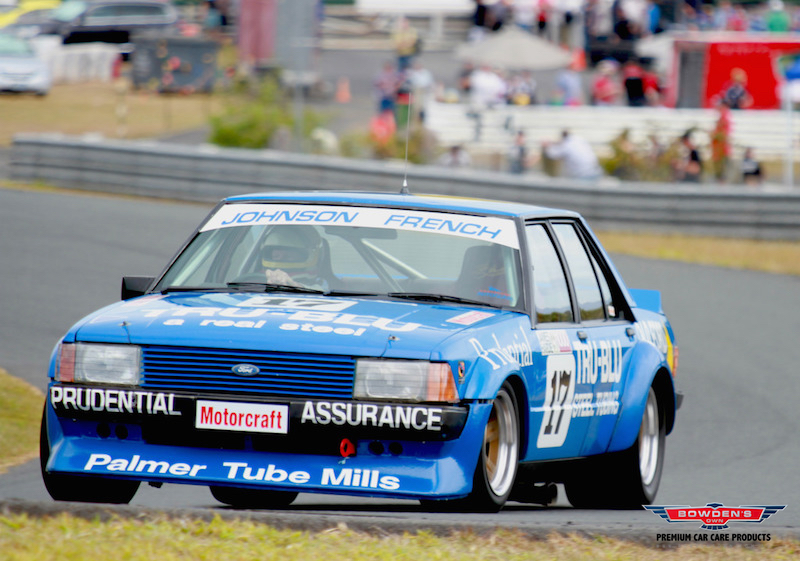 John French seen here piloting her around Lakeside before the livery change in 2011. Pic - Mark Pryor.
Here at Bowden's Own we had looked close at the different liveries she ran back in the period and none match what was then on the car, so we thought it was important to get her back to looking like she did back in the day. After much deliberation it was chosen to put her back to Bathurst 1981, perhaps her crowning glory where Johnson shared the car with the legend John French.
Numerous images, a couple of which are in this article, all sourced from David Blanch at www.autopics.com.au of the 81 race were studied and then the search went on to find all the different period decals that were applied to the car. Talking to Johnson about it on numerous occasions we found all the stickers, which much to our surprise were not hand sign written, but were all vinyl. The only one we had a real issue with identifying was on the lower rear quarter of the car. It turned out to be a Wynn's decal that one of our good Facebook fans identified when we put out the call for help. good friend and Ford fanatic, Peter Lyall, found an orginal one in the UK and got it sent to us, thank you to Peter and all those guys for the help!
Johnson made mention that this Wynns decal was only on for this race as they gave him a bit of money if he was to win the race, which of course he did! Not to mention the healthy amount he was paid by them for the amount of laps lead as well, very handy!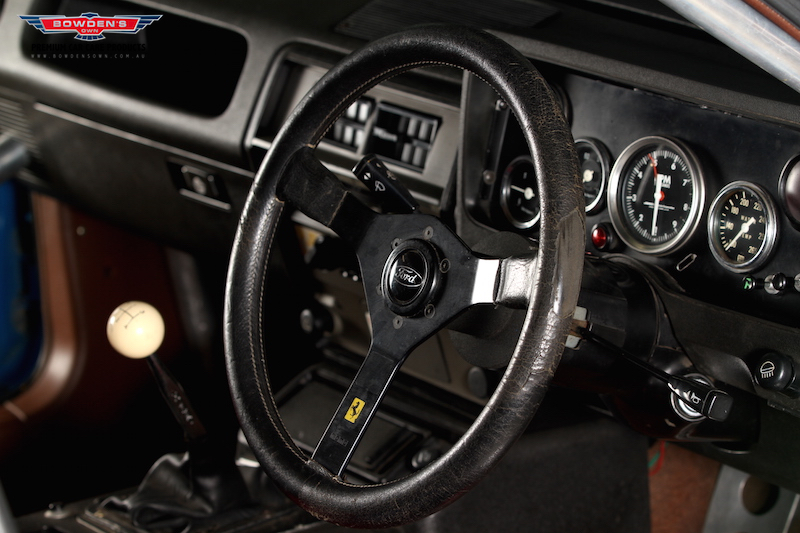 Tru Blu finally went to its top secret location to get all the work done to her, if you look at the before and after images you will see there was quite a bit to do. But look close and you will still see a lot of the marks, bumps, scrapes etc, as the paint and body were all kept original, most importantly for the historical value of the car, as every time you remove or modify something that was original you lose a bit of the history, being sympathetic to the way they are is pretty critical. We are also strong believers in race cars having a few marks on them, to show their life as a real racers, not just posers!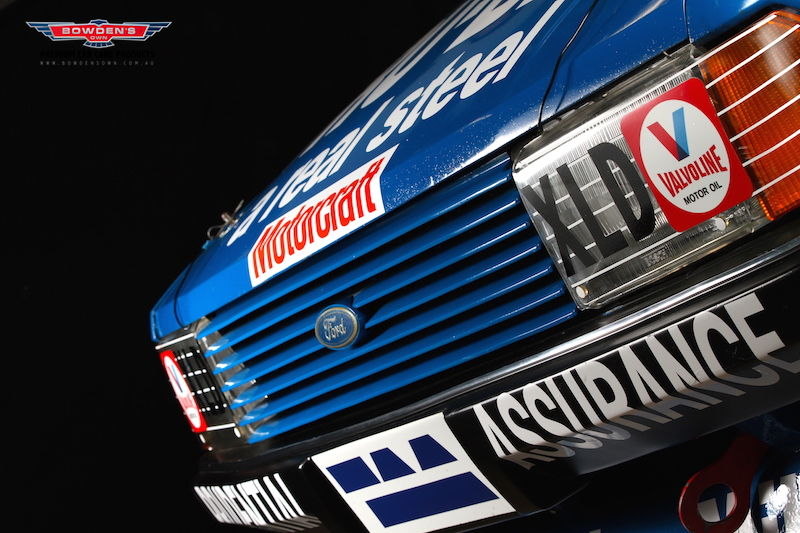 A small list of the detail changes is as follows; the gold pin stripes re done, from one end of the car to the other. Bathurst decals all done perfectly to scale and re applied, all the imperfections were copied perfectly, from the way the Valvoline stickers go on the door lines, even down to the gold pin striping going onto the Bathurst 1000 sticker touching it on one side and going under it on the other side, exactly how it was in the race.
Since seeing her first race as a young lad, Tru Blu has always had a special place in my heart and now having her back to this Bathurst livery had almost completed her in our eyes, The final step was to rejoin her with the famous master, Dick Johnson at Lakeside Raceway. Which we did in 2014 and you can watch in the video below.
Lakeside Reunion - Tru Blu & Dick Johnson from Bowden's Own on Vimeo.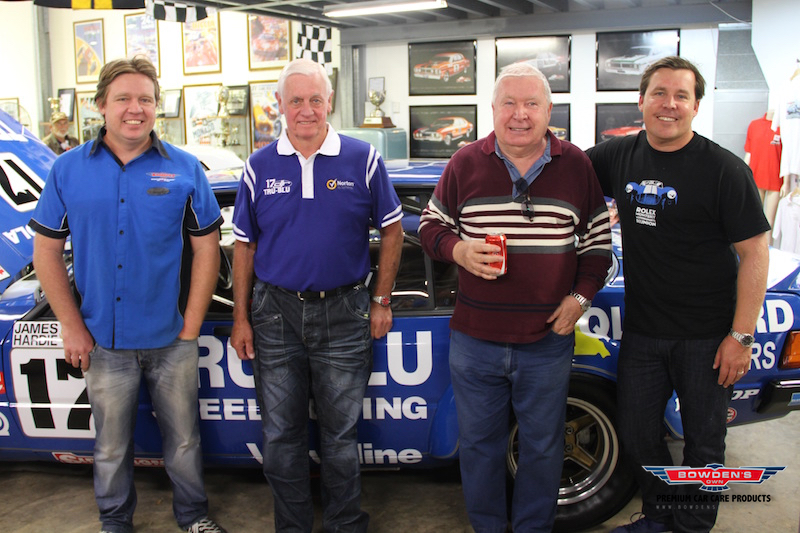 Tru Blu is one of the most loved Falcons in the collection, and after a talk with Dick Johnson recently, he confirmed it was his favourite old racer as well. It sits pride of place in our main shed, for those who come along to our Open Days to see and enjoy.