DJR RS 500 Sierra #5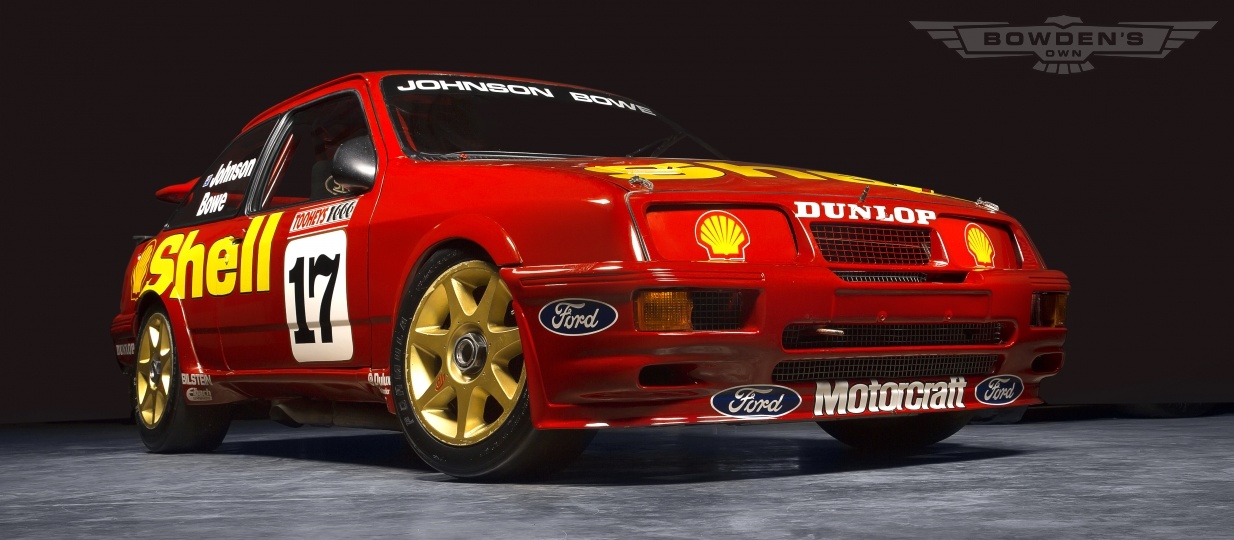 The 1989 Bathurst winnner. 2nd in 1990 and 1992 as well...
Engine Type:
DOHC 16V Turbocharged Cosworth
Aspiration:
EFI with modified M24 Garret Turbo
Front Suspension Type:
Independent, McPherson strut, Eibach springs, Bilstein shock absorbers
Rear Suspension Type:
Independent, McPherson strut, Eibach springs, Bilstein shock absorbers, Harrop modified 9" differential
Front Brake Type:
AP ventilated discs and 4 pot AP calipers
Rear Brake Type:
AP ventilated discs and 4 pot AP calipers
---
The British Ford RS 500 Sierra Cosworths are well remembered by fans of the late 80's early 90's Group A race era. Their 2 litre Cosworth turbo powered engine put out huge power which also came with a hand grenade reliability as drivers pushed its boost levels to the limit. The fastest and most highly developed Sierra's on the planet were built far from the shores of old blighty however, in the Brisbane Dick Johnson Racing (DJR) workshops. With a heap of Australian ingenuity, they were a true racing masterpiece, driven to their limits by two motorsport legends - Dick Johnson and John Bowe.
There were 6 DJR Sierra's built in total, with this one before you being arguably the greatest and fastest of them all; DJR chassis 5.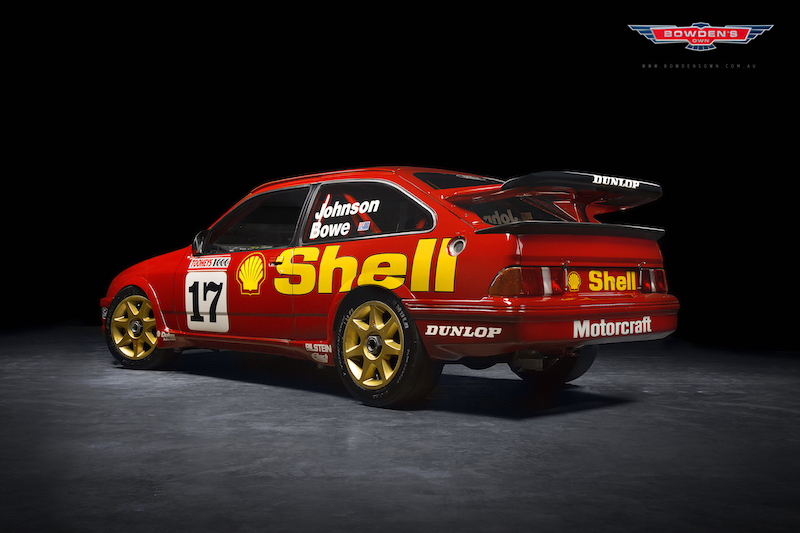 Johnson and Bowe debuted the Stone brothers built DJR 5 as the famous #17, putting it on pole at the 1989 Sandown 500. Leading that race till being hampered with mechanical issues with just 13 laps to go.
Bathurst was to be different story, the Sierra's dominated qualifying, with the top 9 places being filled with them. Dick and Bowe were placed 2nd after Peter Brock gained pole position in a very different way, by discharging a Halon fire extinguisher into the intercooler while heading up mountain straight, which gave him some needed extra horsepower. It was not illegal to do, but the entrants association shunned his and slapped him with a $5000 fine. In the race, Brock made a fine start, but Johnson passed him down Conrod straight and then lead from the front for the rest of the race. Johnson and Bowe put on a masterful domination, pulling out an almost one lap lead on the 2nd place ANZ Eggenberger Sierra, when crossing the line. They lead all 161 laps, not even being passed in the pitstops, one of only three cars to have ever done this. (Moffat 1970 GTHO Phase 2 and Brock/ Richards 1979 A9X). It was Johnsons 2nd Bathurst victory since 1981, something that was well overdue.
The final races in 1989 were at the Australian Grand Prix (AGP), with Dick losing the lead of race one after suffering a brake issue and placing 3rd in the wet 2nd race.
Johnson retained the Sierra for the 1990 ATCC, taking round wins at Symmons Plains & Phillip Island, with a chance to win the championship at the Oran Park finale, however tyre issues had him finish the race in 3rd, relegating him to finish the championship in 3rd. The win he had at Phillip Island was to be the last time Johnson ever won an ATCC round, which you can watch in the video below.
Johnson's last ever ATCC win at Phillip Island in DJR 5.
At Bathurst it was raced as #18, with internationals; Jeff Allam from the UK, and NZ's Paul Radisich starting in 13th place, they fought their way through the field and almost could have won the race if not for a bad choice of the grooved slick tyre at the 2nd last stop (The same stop where Johnson was going to take over #18, but the seat roller jammed and he couldn't fit in the car). The tyres had to be changed back to full slicks in a final stop by Radisich, and it allowed the Holden Commodore of Allan Grice and Win Percy to pass and take the win that year. Still it was a very well deserved 2nd place and is in the record books as the highest place finish by two international drivers.
DJR #5 was Johnson's steed in a mostly forgettable 1991 ATCC for DJR, with the GTR Nissans coming on full song and increased competition from other rival teams, coming 9th overall. At Bathurst the car raced as #18, driven by Bowe, Paul Radisich & Terry Shiel with a DNF, then Bowe raced it at the two AGP races finishing in 7th and 5th.
John Bowe remained in the now updated beast as #18 for the 1992 season, taking wins at Sandown, Eastern Creek and a well remembered Wanneroo round, finishing 4th in the ATCC.
Johnson & Bowe teamed up as #17 at Sandown, getting pole position and leading till engine issues giving them a rare DNF. Licking their wounds, they arrived at the Bathurst 1000 for what was to be one of the greatest battles to be ever seen on the mountain. It was a weapons grade DJR#5 vs the Nissan "Godzilla" R32 GTR of Richards and Skaife, with Johnson drawing first blood by putting DJR#5 on pole with a stunning 2:12.898 lap.
The race itself was a constant battle right down to the end, where Bowe took the lead after the GTR Nissan crashed in a heavy downpour of rain, but the race was red flagged and results taken back one lap, giving the Nissan team a controversial win. Dick was to give a very memorable podium speech on how he had lost to a crashed car, but not quite as memorable as the words from Jim Richards, who versed his great displeasure at the jeering Dick Johnson fans!
After Bathurst DJR#5 was reverted to #18 for Bowe at the AGP, chasing down the Richards GTR to finish in 2nd in both heats, before being shipped for its final races as #18 by Radisich & Michael Preston in New Zealand, with a 2nd at Wellington 500 & 3rd in the final 500km race at Pukekohe.
The Group A ended as a series in 1992 and Johnson chose to retain DJR#5, being one his favourite cars he had ever raced, putting it on static display in orginal unrestored condition in his race shop/ museum.
David Bowden bought #5 from Dick in 2006, and as the Sierra had not been running since 1992, it was given a complete mechanical restoration, so her strong legion of fans will be able to see and hear her on track once again. Keep an eye on our newsletter for when that may be!
#5 is once again alive.