Ian 'Pete' Geoghegan's Super Falcon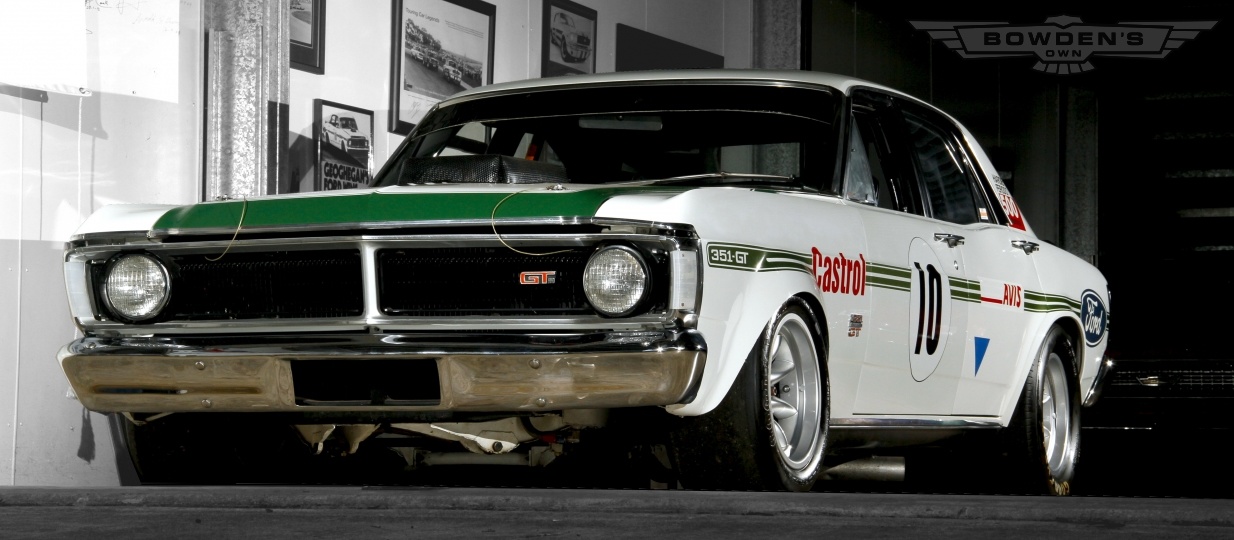 Ian 'Pete' Geoghegan's Super Falcon
Ford Super Falcon 1970 Number Made: 2
Transmission Type:
Type Close Ratio Top Loader
Front Suspension Type:
Front Angel poised ball joints, HD springs, torsion bar stabiliser
Rear Suspension Type:
Full floating rear end, leaf spring, diagonally mounted shock absorbers, double trailing arms, Watts linkage
Front Brake Type:
Four spot, aluminum caliper drilled front discs
Wheel Size:
Rim Width Front 15" x 8" Rim Width Rear 15" x 10"
---
A corner-stone for our collection, the Super Falcon is the first car we found and restored, taking 10 years out of the life (and finances) of David Bowden. It is still one of his all time favourites, as you can read below in this article he penned back in 1990 on his favourite of all the GTHO's.

Low, fast and mean- that is the Super Falcon.
There were only two GTHO's ever built by Ford Motor Company of Australia. This pair were not Phase I, II, III or IV's - they were not even XW or XY's. They were just GTHO's and were aptly code named the 'Super Falcons'. Born to win the 'Australian Touring Car Championship', they came with factory lightweight body shells, 620 HP fuel injected full house motors. If you let your imagination run riot in your wildest dreams you could never build a HO like this pair. They had everything from magnesium door hinges, 10 grand tachos and 10 inch minilites to full floating Holman and Moody rear ends and boy could they go.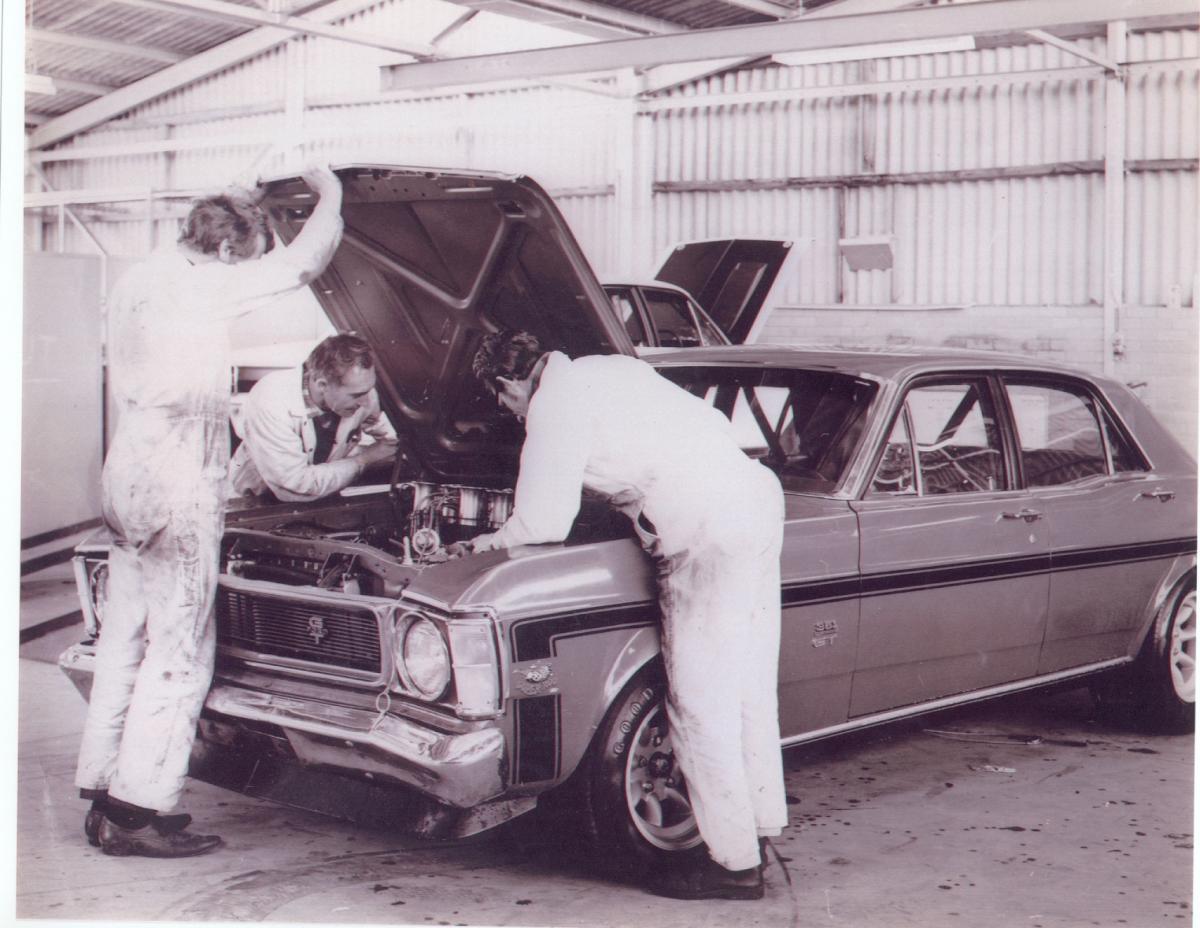 FSV team work on Moffat's Super Falcon with Geoghegan's in the background.
Big Al Turner conceived them and Howard Marsden mothered them at birth. John Whynne hand built each car in a closed section of Ford Special Vehicles Lot 6, Mahoneys Road. The motors were put together by Bill Santuccione and designed by Ian Stockings, described as two guys behind the world's screamingest Clevos (9600 revs and 620 HP ex-factory). The cars were destined for the two giants of Improved Production Racing... 'Big Pete' Geoghegan and Allan Moffat. Sadly only one car remains, the Castrol car of 'Haberfield Fats'.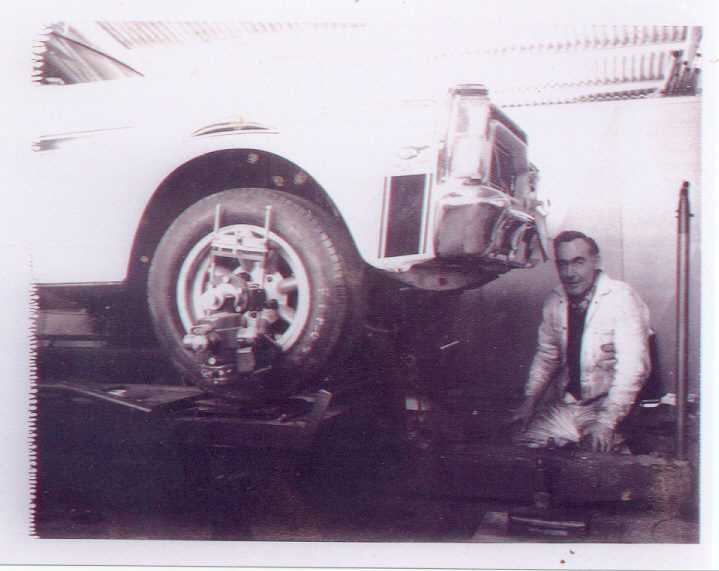 Rare shot of John Wynne working on the top secret Super Falcon of Geoghegan.
Work started on the project accompanied by absolute secrecy in early 1970. Under pressure from management, Special Vehicles produced the first car for Allan Moffat at Calder on August 16th. The motivation was provided by a worn-out series production engine fitted with a massive fuel injection system. Twelve men were needed to push the 'Secret Weapon' and coax it into doing the one lap required by management.
I was there that day and the HO was the meanest looking brute I had ever seen on a race track. It was snowing at Calder but the car looked red hot. I knew I was in the presence of history. It was but a shadow of things to come.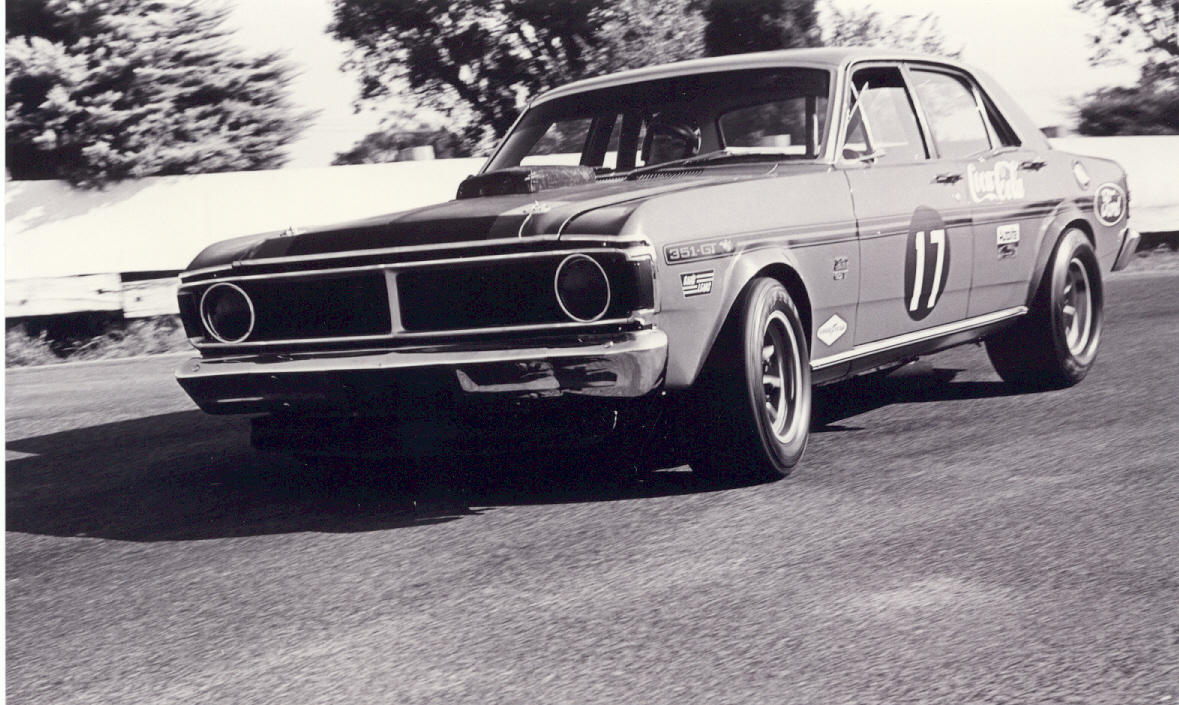 Moffat's Super Falcon, later shelved, them scrapped when he went back to his Mustang.
The first time the HO actually got her gloves up was at the last round of the Championship at Symmons Plains in November 1970. This time it completed two laps of the first practice session smoke billowing from underneath. Moffat next emerged to do four quick laps in the last five minutes in practice. He secured pole position with a 63.1 second time but blew the engine as he crossed the start/finish line. That was the end of motor racing for that weekend. For interest, Jim McKeown's Porsche's fastest lap in winning the race the next day was 67.1 so the HO was no slouch, but reliability was not its long suit.
That was the end of the Championships for 1970 and the last time the HO would ever appear in XW form, although both cars retained the XW GT badges on the front guards throughout their careers. The general consensus amongst the touring car set was that if ever they could keep the thing together, it would be an awesome beast.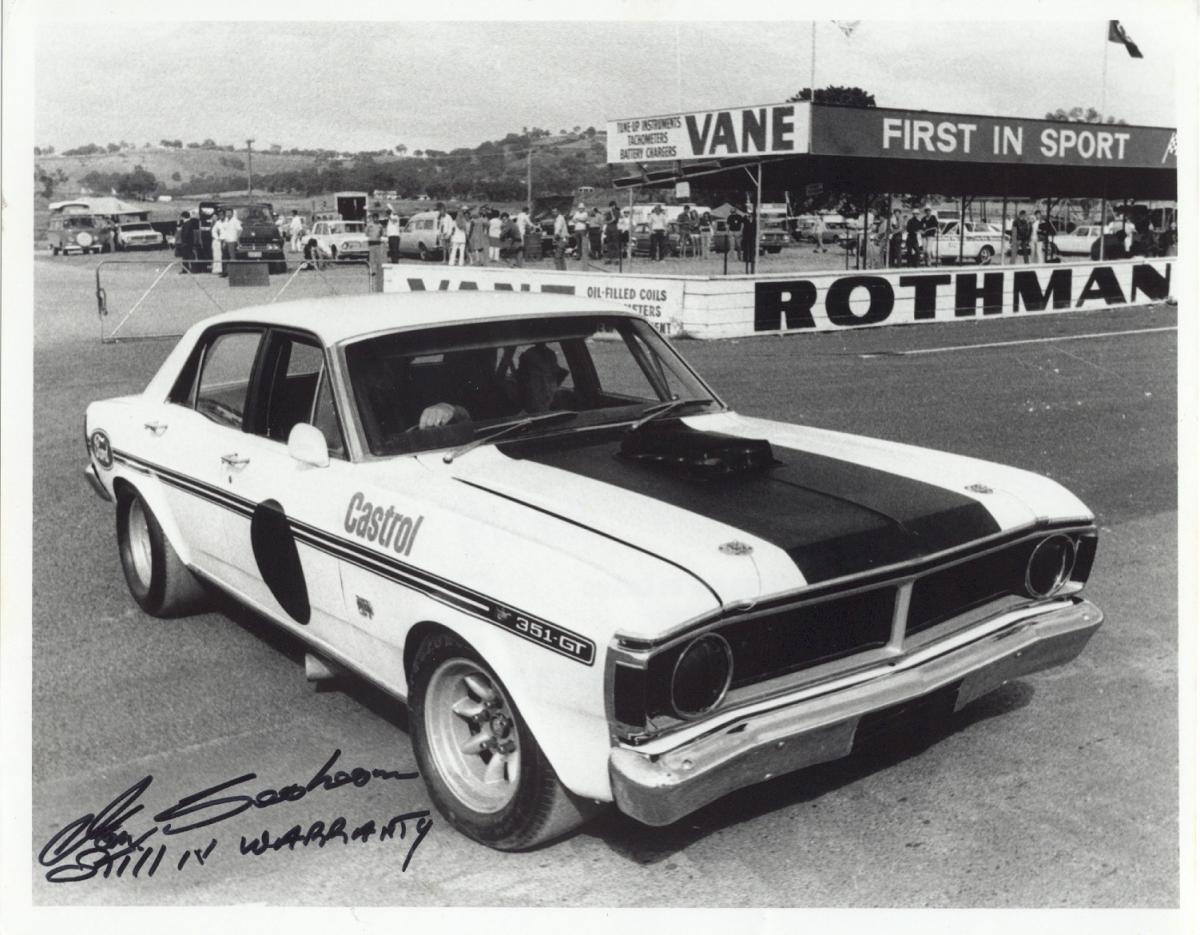 First showing in XY Form at Bathurst 1971, comments and signed by Geoghegan. Cool.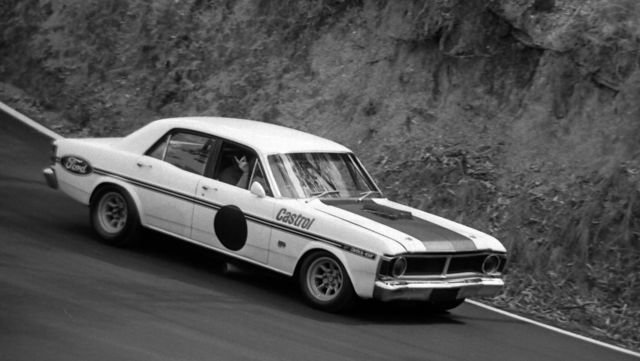 Rare shot on track at Bathurst for a parade lap 1971.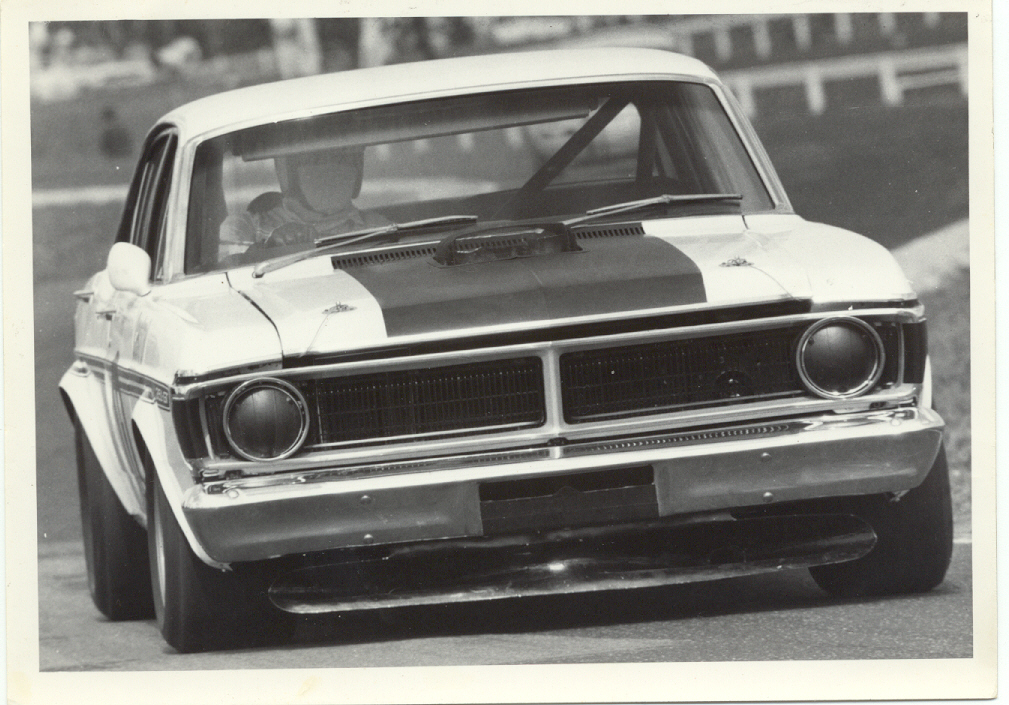 Geoghegan's First race in her, Sandown 1971.
In 1971, both cars appeared in XY form, Pete's in familiar Castrol colours and Moffat's in Brambles Red. Most of the year was spent sorting them out but more than once they proved they were the fastest car on the track. I well remember John French driving Allan Moffat's red car rounding up 'Pete' Geoghegan in Round 4 at Surfers Paradise. He spun the beast then caught Pete a second time to finish third. Allan Moffat had won the morning six lap warm-up race in the HO so things were looking promising.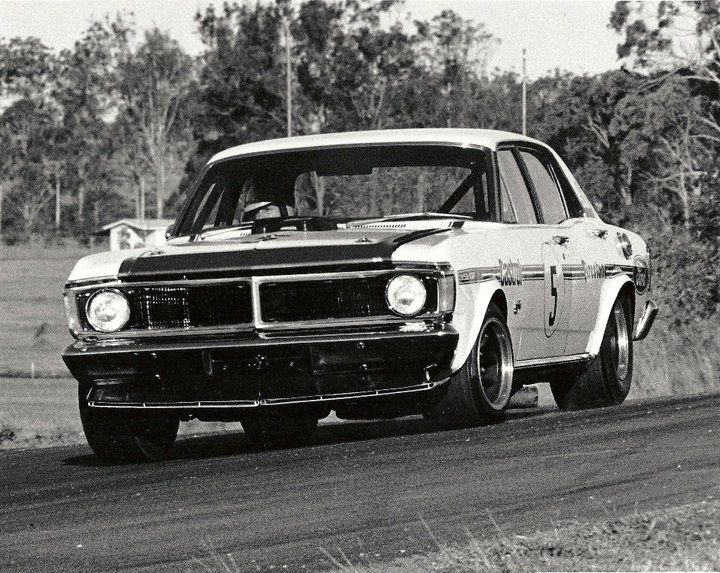 John French racing at Lakeside, the only man who drove both Super Falcons.
Frenchies drive earnt him a steer in Pete's HO at Lakeside for the second last round of the series. It was the first time I ever saw my HO in action. I had spoken to Pete in Sydney after he drove the car at the Ford track. He remarked, "You just put her into gear and zot - zot - zot next thing you're in top and no-one is anywhere near you - but they still haven't cracked it for reliability".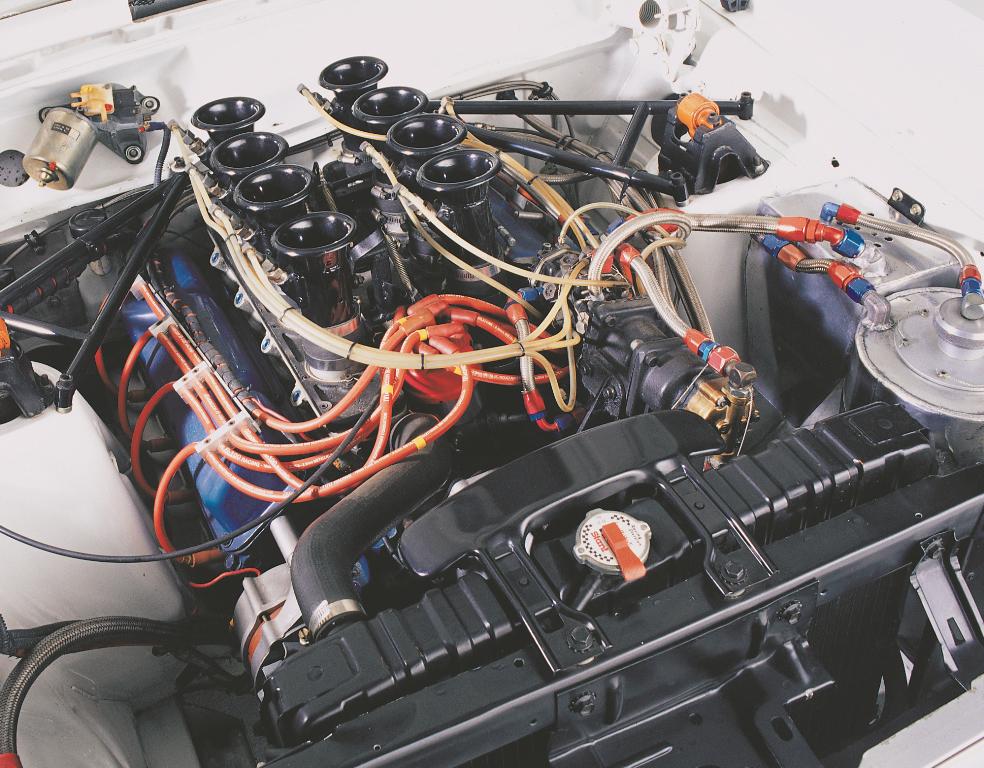 The mighty heart, 620 BHP, the most powerful of the era.
This was a cause for concern to the Geoghegan team of which I was an unofficial member. The old '67 Stang had just about reached the end of her development phase. Moffat could do whatever he liked with his '69 and the scrutineers welcomed him because it was a 'Trans Am', but not so with Pete's Mustang. He needed desperately to lower the centre of gravity to get her around the twisty bits but CAMs said a polite "No". Moffat pulled the good bits off the Super Falcon and put them on the Trans Am. That was the end of his HO.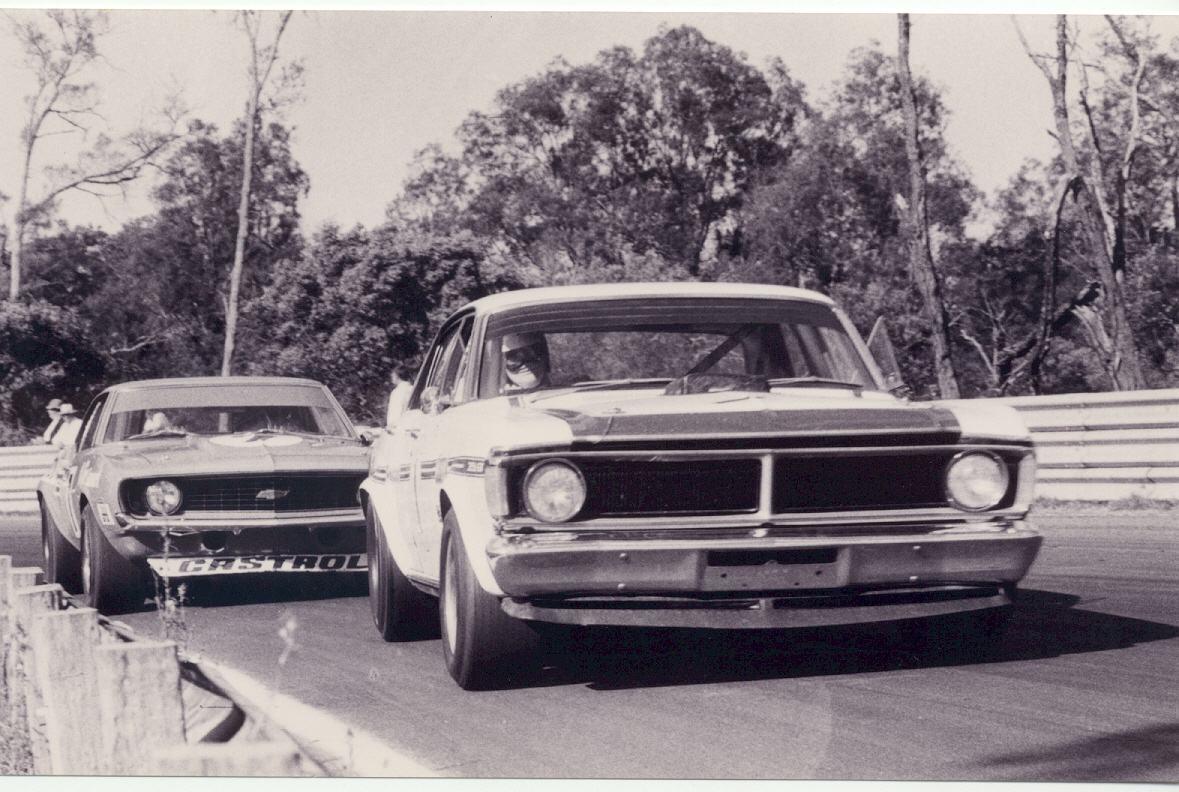 Keeping Jane's ZL-1 Camaro at bay, Warwick Farm, 1971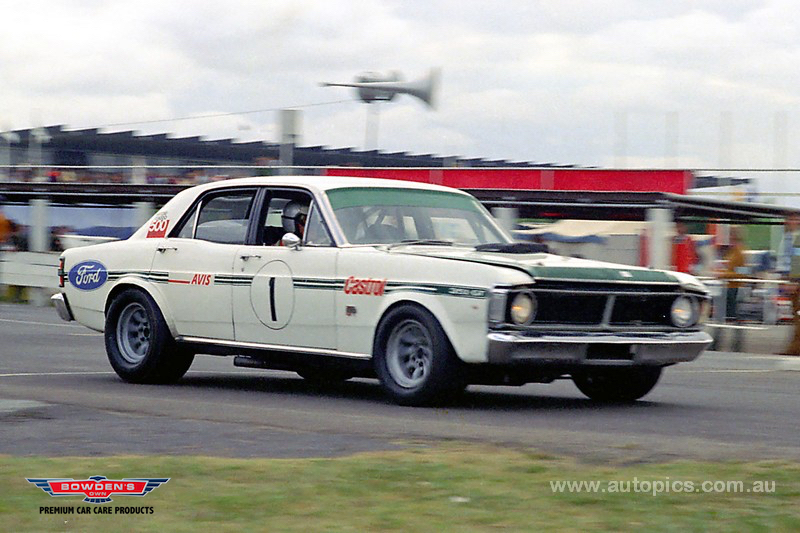 Sandown Raceway in 1971.
At the end of 1971, Pete put his Mustang out to pasture and began a serious spend of $72,000 on the Super Falcon. This was big money in '72. Bathurst Easter Monday 1972, where legend has it 'Pete' Geoghegan won by 6/10's of a second from Allan Moffat in what is still regarded as the greatest touring car race in Australia's history.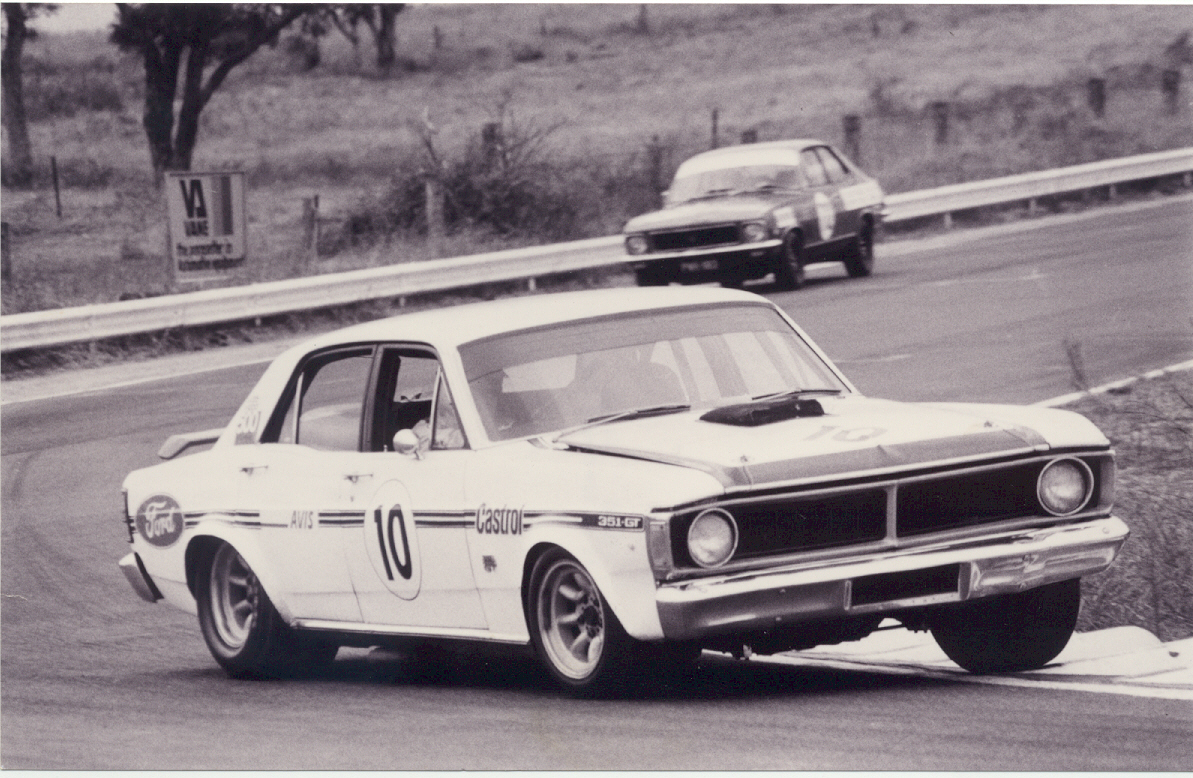 Murrays corner at Bathurst in 1972
This race was a story all on its own, but I'll tell you a little bit about the lead up. Pete fronted the HO for the first round of the Touring Car Championship of 1972 at Symmons Plains. He missed the first session and chose to practice in the wet. Now, you need to know the guy and the car to appreciate what Pete was like in that HO. Six hundred horsepower let loose in the wildest HO ever conceived doing lap after lap, tail out just inches from the Armco when no one else was game to get their cars off the transporters. It was a sight to behold. Series Production was for wimps. Allan Moffat in the Trans Am, Bob Jane in the 7 litre Camaro, Norm Beechey in his Monaro and the Big Fellah in the HO - that's what it was all about. To give you some idea how fast the thing went, Moffat set a new lap record of 2.38.5 in winning Bathurst in 1977, the year of the 1-2 Ford finish, Moffat's lap record stood at 2.26.4 I'll tell you when the HO stayed together, it wasn't fast, it was brutal. When it was all over and the dust had settled, many asked - "How did Pete do it?"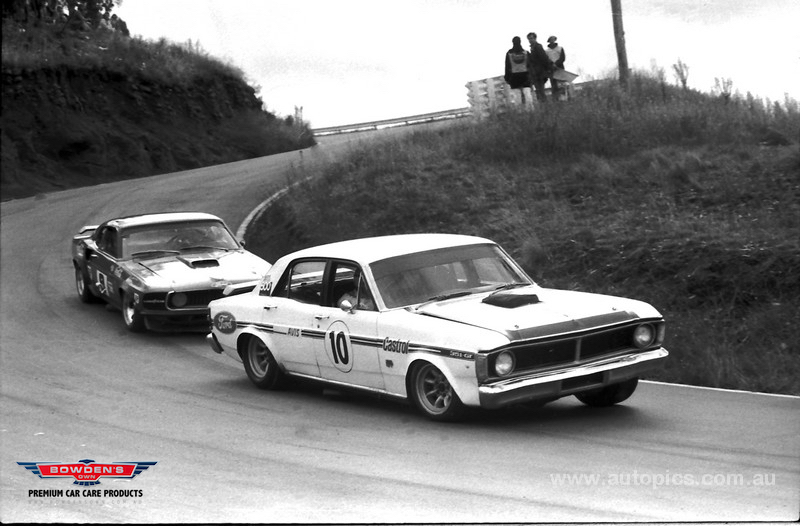 Early at Bathurst 1972, chasing the Moffstang down.
Even today if a little scallywag named Brian Fuller was still with us, he could tell you simply what many of us knew. When it came to driving Touring cars, the Big Fellah wasn't just good. He was the best. The truth is for 1972 everyone knew Moffat was the man to beat, but it was said while he was cool and smooth and his beloved Mustang was 'state of the art' purpose built by Kar Kraft in the US, at 8000 revs going up Mountain Straight in third gear, the old HO was a real handful. In other words, the HO was a hell of a street fighter and nobody but nobody messed with Big Pete at Bathurst.
Bathurst was the only round of the Championship the HO was to win for '72, but win it did and you can ask anyone who witnessed it, Ford and Chevy fans alike threw their hats in the air, laughed and cried at the same time. It was one of those days. There were no Queensbury Rules. The front left hand light was broken and it was not from a parking accident.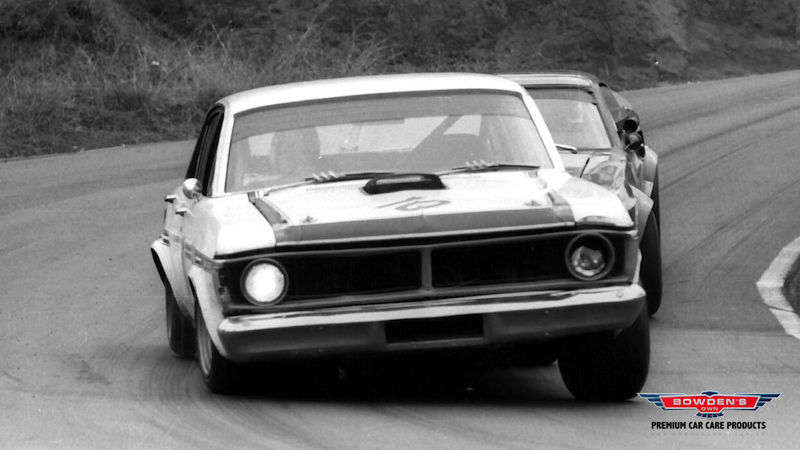 Super Falcon going hard to keep the Moffstang in behind - Image by Rod Mackenzie
The usual immaculate paint work was smeared with oil but as Mick Lambert said she just sort of sat there as tough as she was, and smiled. They had taken on the best in a rough and tumble at the toughest track known and there was only one to walk away a winner. Don't take anything from the steely-eyed professional Allan Moffat. He drove his heart out, setting a new lap record of 2.22.4 on the second last lap, a record that was to sit forever. It was the race of his life.
Well, '72 was the last full year for the HO. She had a change of sponsorship late in the year and ended her days in Grace Bros. colours.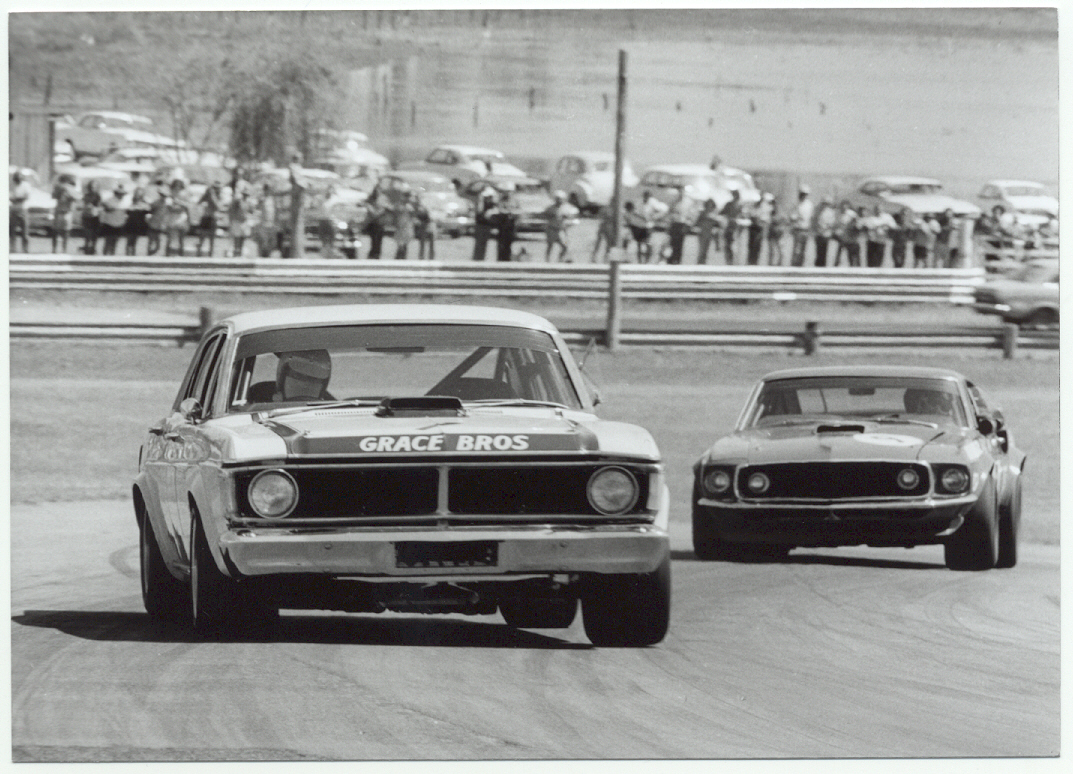 Lakeside, in the new Grace Bros colour scheme.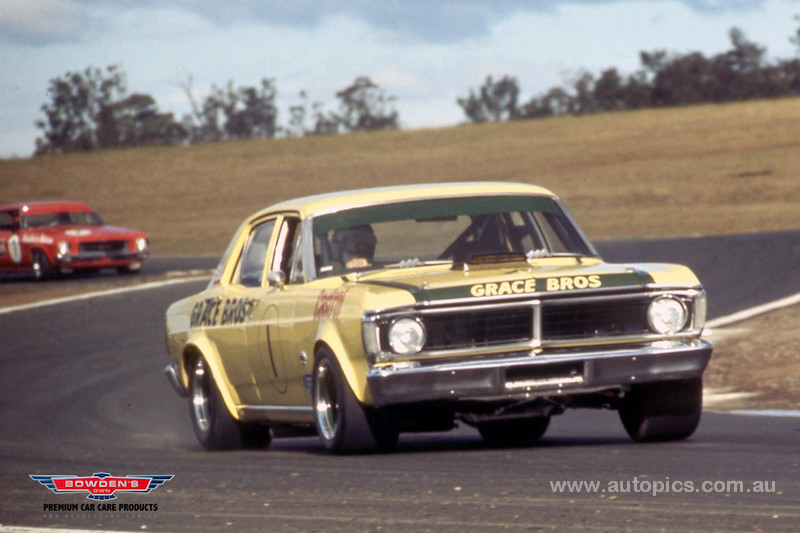 Doing what he did naturally, driving the HO 100% on the limit.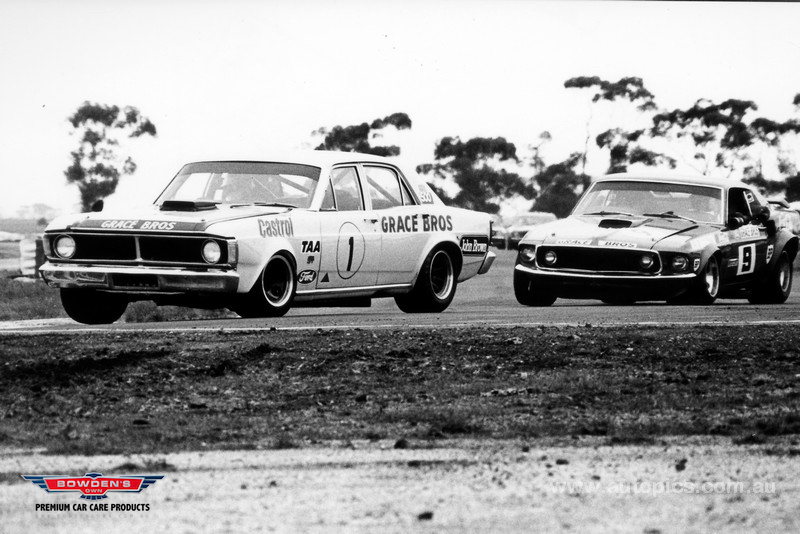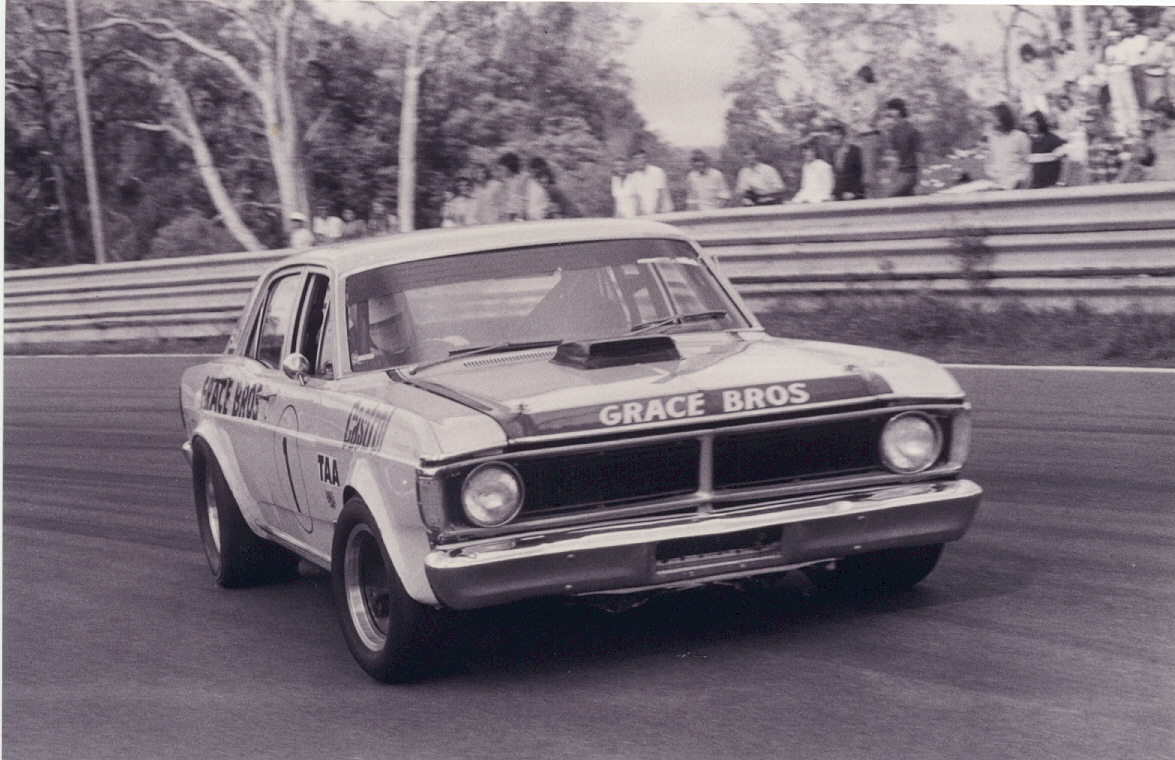 A fist full of lock, showing how you drive a Super Falcon.
For 1973 they combined 'Improved Production' with 'Closed Sport' to become Sports Sedans. The trusty HO went to Kingsley Hibbard in exchange for a motor cruiser. As a Sports Sedan, she picked up a few bad habits such as a fibreglass front and Perspex windows. Kingsley was in the midst of a full castration by way of mounting the motor amidships when some enterprising soul broke into his workshop and pinched the 351. It was fatal for Kingsley and he never recovered. He parked it in the back of this garage and there it sat 'til March '85 when I bought the car from him along with Colin Bond's old Thompson Ford 2 Door Falcon.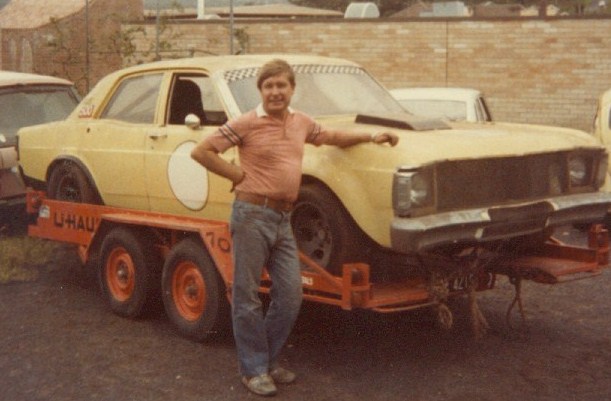 Old family shot of David with the GTHO the day he bought her.
Since then, the car has sat in John Wynne's workshop while he faithfully restored it to original condition. We have had much help form Pete Geoghegan, Mick Lambert, Allan Moffat and many more. It was finally completed in March, 1990, five years from when I acquired the beast.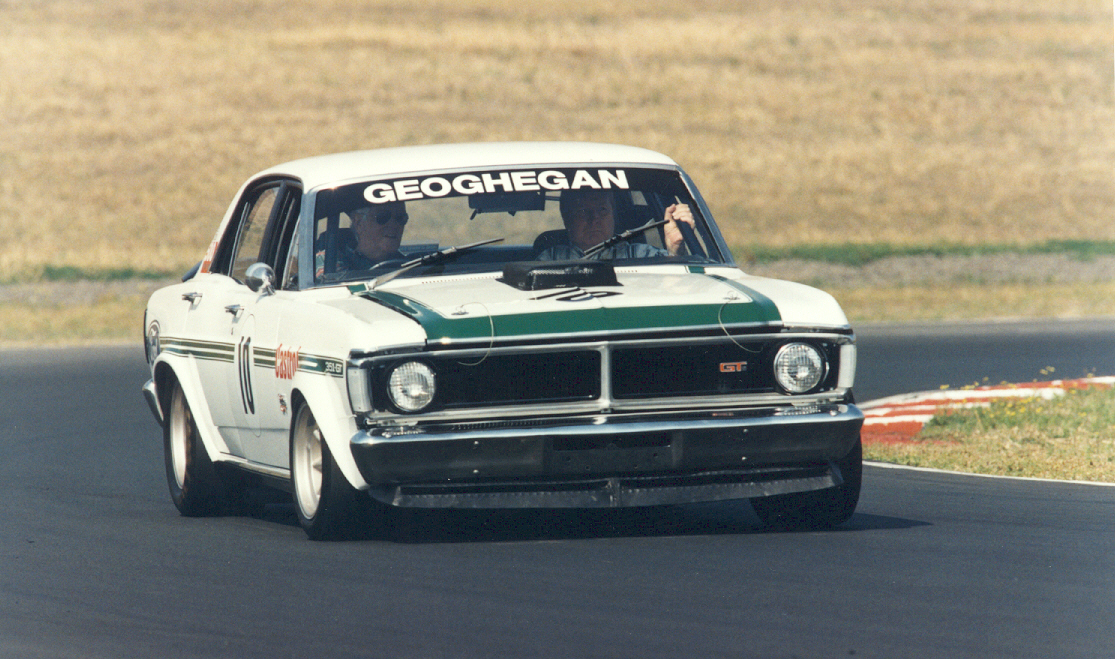 After the restoration, Pete at the wheel once more, with David hanging on tight!
Many people have helped make the restoration of the Super Falcon possible. Some like Allan Moffat and Pete Geoghegan need no introduction. Allan provided the original Fuel Injection system along with many irreplaceable parts like special fuel pumps and lightweight alloy gearboxes. So the Super Car's adversary was its saviour so many years later. Pete and John Joyce from Bowin Engineering supplied the blueprint drawings of all special items along with all workshop notes.
My old mate Mick Lambert, Pete's long suffering mechanic, came good with the dyno sheets relating to the engine development. I now have the complete history. Ian Stockings and Bill Santuccione from Ford Special Vehicles were always on hand for technical tips. Falcon GT Car Club of QLD members like Bruce Brooks and Rod Mann provided hard to get parts from their garages.
It is only right that this story should start and finish with John Wynne. This was the third time he had hand-built the old girl and I'll swear each time it got better. Without John, neither my old Phase IV nor the Super Car would have existed in the first place. Without his help neither would be there for so many to now enjoy. They are part of Australian Motor Racing history. I feel a little bit like Allan Moffat, Pete Geoghegan and Howard Marsden when they say without John Wynne we could not have done it.
Incredible image by Terry Marshall at her last race weekend in NZ. The greatest - RIP Ian 'Pete' Geoghegan.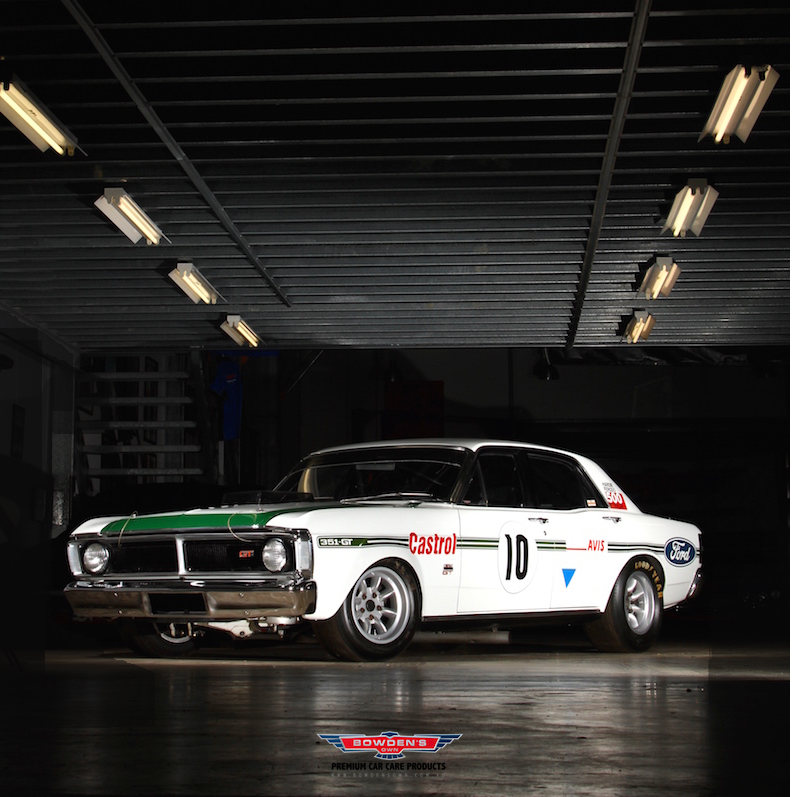 I have owned and driven GT's and GTHO Falcons since 1967. I have had many good HO's but there is nothing that comes within blocks of the 'Super Falcon'. If ever you see it at a car show, walk up and look but don't touch. One day you can tell your kids you saw the greatest HO that Ford Motor Company ever put breath into. That's my car.
David E Bowden.
Historic racing images in this article are from www.autopics.com.au