Jim Richards 635 JPS BMW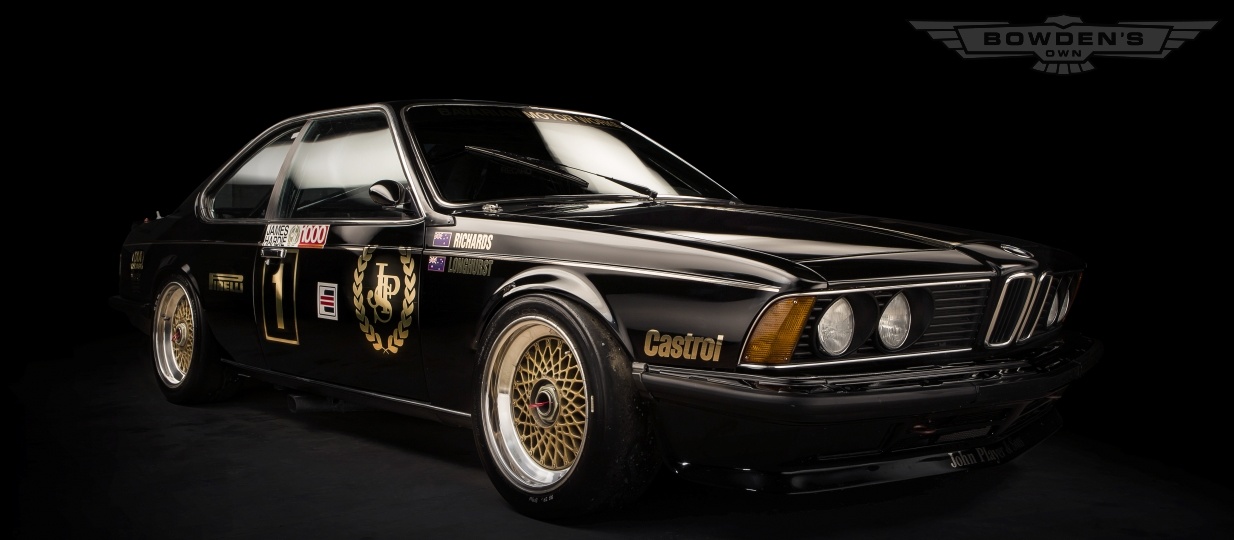 The JPS BMW was one of the best-looking machines in the Australian Touring Car Championship. And it wasn't just a pretty face.
GROUP A FORMULA
There's a bunch of Aussie motor racing fans below a certain age who are struggling to cope with our premier touring car category expanding beyond a two-horse race. But the Ford-versus-Holden competition of the last 20 years has been the exception rather than the rule. Indeed, what became V8 Supercars supplanted one of the most varied eras in Australian touring car history, when Group A ruled the roost.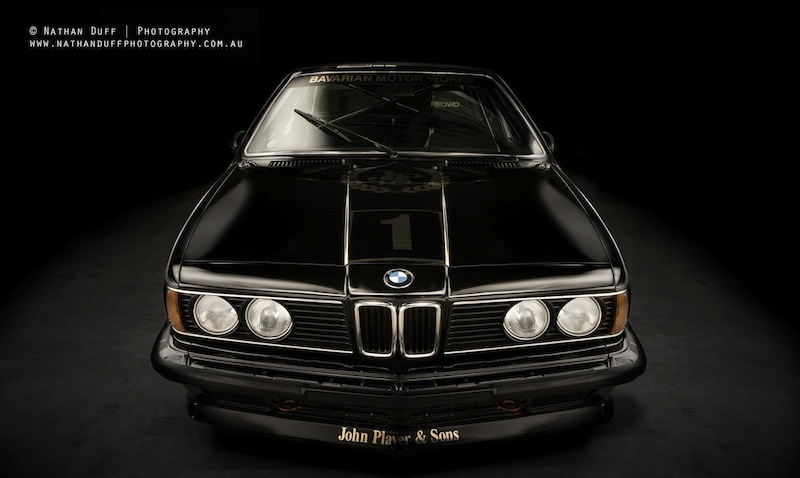 The international formula ran in Australia from 1985 to 1992, and overseas between 1982 and 1994. In that time, almost every bona fide brand you could think of was represented in some form of touring car racing somewhere in the world. From A for Alfa Romeo through to V for Volvo, they were there. But you only had to recite as far as B for BMW to discover one of the most important contributors to the Group A era, both here and internationally. For those of us above that certain age, the memory of Jimmy Richards sweeping all before him in the Australian Touring Car Championship and the Australian Endurance Championship of 1985 are indelibly stamped. Maybe the memories of the individual race performances have blurred over time, but not the sight of that menacing JPS BMW 635 CSi. Argue as you will about the blight that is tobacco and its now long-banned association with motorsport, but the reality is those black and gold cars looked stunning, and had performance to match.
A key ingredient for Group A success was a good base package. The FIA ruled a manufacturer had to build a minimum number (which varied over the years) of road cars before the racing version could be homologated.
The production version of the E24 635 CSi was powered by a 12-valve 3.5-litre inline six-cylinder engine. Driving its rear wheels was a Getrag five-speed manual gearbox. The two-door coupé body shape first appeared at the Geneva Motor Show in March 1976, the 3.5-litre engine in 1978 (updated in 1982), and a 24-valve 'M' version in September 1983. It was the M88 24-four valve head that the Aussie JPS BMW team, run by the late Sir Frank Gardner, had been able to campaign under the locally developed Group C regulations before 1985. Back then, the racing 635 CSi knocked out up to 340kW. From 1985, with a 12-valve head and single butterfly throttle, outputs were lowered to a mere 220kW!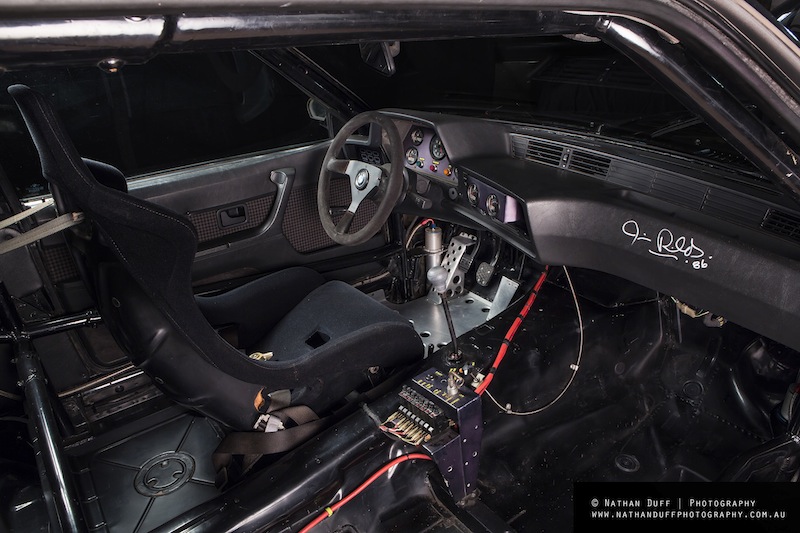 Still, up against the likes of Dick Johnson's Greens-Tuf Mustang and Peter Brock's Mobil Holden Commodore VK, 'Richo' won seven of the 10 rounds to sweep he championship, with team mate Neville Crichton finishing fourth. Driving alone or with Gold Coast young gun Tony Longhurst, he won every round of the Australian Endurance Champiosnhip - AEC, except Bathurst, where a spin on oil into a sand trap lost the pair three laps and any chance of victory.
1986, THE FINAL EVOLUTION
In 1986, the opposition came back harder, and Jim could only manage third in the championship, although he repeated his top-scoring position in the AEC, albeit with just one win – in the opening round at Amaroo Park. At Bathurst, paired again with Longhurst, he managed only sixth. By now the 635 CSi was outgunned. Robbie Francevic had won the ATCC in a turbo Volvo entered by the New Zealand businessman Mark Petch, while the latest V8 Commodore was shaping up, the Nissan Skyline was emerging and the new Ford Sierra RS500 was looming. It was time for the CSi to be pensioned off for the M3, with its smaller engine but superior power-to-weight ratio.
By the 1986 AEC, Jim was driving the car you see here. It was the last CSi built by Gardner's factory-backed operation. It was also the best of the breed to emerge from the team's Terrey Hills shop in Sydney's north, and arguably as good as – if not better than – the legendary Schnitzer CSis built in Germany. The car was distinguishable from its brethren via the cross-brace roll cage visible through the rear window. Earlier JPS 635s ran a cage with a single diagonal tube in this position. It also featured an up-size from 16-inch to 17-inch wheels and engine upgrades via a then newly revised cylinder head, intakes, exhausts and a more efficient manifold. The I6 was being screwed so hard that it wasn't the most tractable of things, with little of its power available below 2500rpm!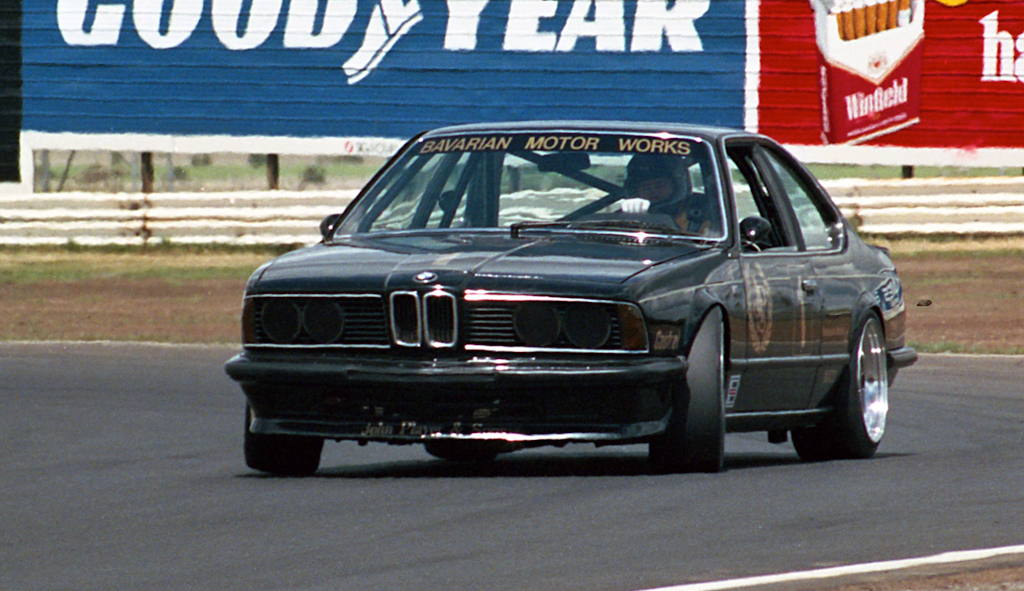 Jim showing how you need to drive the 635's, hard and fast.
Still, Richards looks back on the car fondly: "It was the best 635 I drove," he says. "It had a little more power and it had another year's development. You had to drive them hard though!" Indeed, watching Jim's 1986 Hardie's Heroes lap on YouTube (below) is to appreciate just how hard. There's more than one wobble over the mountain and plenty of oohs and aahs from the crowd. You'll also see Jimmy sitting up high in the left-hand seat (yep, left), a far cry from today's V8 Supercars where the driver sits as low as possible.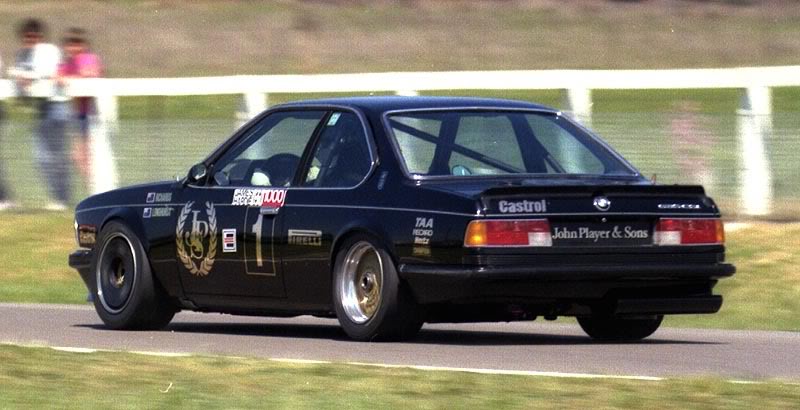 Sandown 1986, Fuel pickup issues cost them a win.
THE FINAL VICTORY
Richards won the 1986 AEC by winning the first round at Amaroo, then placing 2nd at Surfers Paradise, 5th at Sandown with Tony Longhurst, 6th at Bathurst, 3rd at Calder and finally with a 2nd placing in the Pepsi 300 at Oran Park in December. It was to be the CSi's last appearance for the factory-supported team. Gardner sold the car to old friend Ray Gulson, along with a log booked Schnitzer spare race shell, that had been used as a simulator, and spare parts including engines and diffs.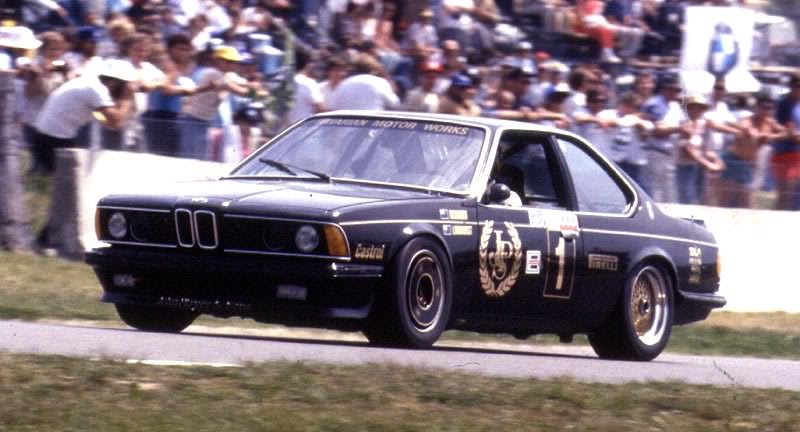 Bathurst 1986, more fuel issues meant a 6th place, but vital points towards the AEC Championship.
RICHARDS ON THE 86' 635 CSI
"The 1986 car was faster and nicer than the 1985 version, but you are talking minute details. "In Group A our cars had a [German] Matter aluminium rollcage that bolted in, but the 1986 car's cage was probably welded in and chromoly or steel. You couldn't feel any difference from that alone, it was one of a number of things that made it quicker. "It wasn't as good a car for starts because it was made for rolling starts and had a tiny little clutch and a light flywheel, so it was hard to get off the line. And because the engines were tuned for maximum performance they weren't much good below 2500rpm. "But it was a great car once you got going… You had to drive them hard though! "A lot of engine weight was forward of the front axle so I think we had to run really heavy front springs, nearly 200lb I think from memory." "The 1986 car was the best 635 I ever drove."
Beauty in motion at Bathurst 1986.
LIFE AFTER JPS
Gulson – a Canberra car dealer who was traditionally associated with Alfa Romeo – raced the car for more than a decade with son Graham and daughter Tania in both Australia and New Zealand. Once Gardner retired at the end of 1987, he turned up at various races working for the Gulson team. Ray happily admits he's not a superstar driver, but he was certainly competent enough to drive at Bathurst 25 times and finish almost every outing. He, like Richo, has great memories of the 635 CSi and the time he and his kids shared with it. "I'd say it's the best racing car I ever owned," he smiles. "It was one of the best investments in my life in terms of what it returned me and the fun we had. "I always liked a bit of variety in my racing. I started at Bathurst in a Mini, then there was a Cortina GT and a HO, and I raced Alfas for many years. I bought the BMW simply because I liked it. The car was just ultra-reliable, we hardly ever touched it. The handling was the most sensational thing about it. The suspension was really well set-up." Ray loves building race cars, but the 635 CSi was one of the few he did not assemble himself. He rectifed that when he realised he could assemble a second CSi from the shell and parts he had bought from Gardner.
He says the downsides of racing the CSi were few, although the engine broke a rocker in a 1993 run at Bathurst, the last year the Group A cars were eligible to race there. Ray kept the CSi for five more years, during which Tania raced it more than anyone else. But in the end, the need to find capital for a business expansion prompted him to sell both cars to a Sydney BMW dealership.
The '86 car was restored at a cost of more than $150,000 by BMW, an extraordinary amount then. But the plan for the car to remain a part of BMW's own collection changed in 1999, and both CSis were sold to well known Queensland collector, David Bowden. And there both cars have stayed, emerging occasionally for runs in the hands of David's sons Dan and Chris, or Jimmy Richards himself.
They are not the only BMWs on show, sitting alongside a Schnitzer CSi (Ex BMW Europe and raced in Australia by Bob Jane) and an M3. "We have always thought the CSis were the most incredibly good-looking touring cars," says Chris. "And then, of course, the fantastic race record those cars ended up accruing." The '86 car – as everyone refers to it – has ended up one of the most important cars the Bowdens ever bought. "The standard to which they built that car redefined for us what was acceptable," says Chris. "We now have a fantastic reputation for the way we restore and present our cars, but the truth is it's that 635 that made us think 'we should be trying a lot harder here'.
This article was writtn by Tim Robson for the 2013 Australian Classic Car Annual. The stunning imagery was by pro photographer Nathan Duff.
Historical images from www.autopics.com.au