Paul Fahey's 1966 Shelby T/A Mustang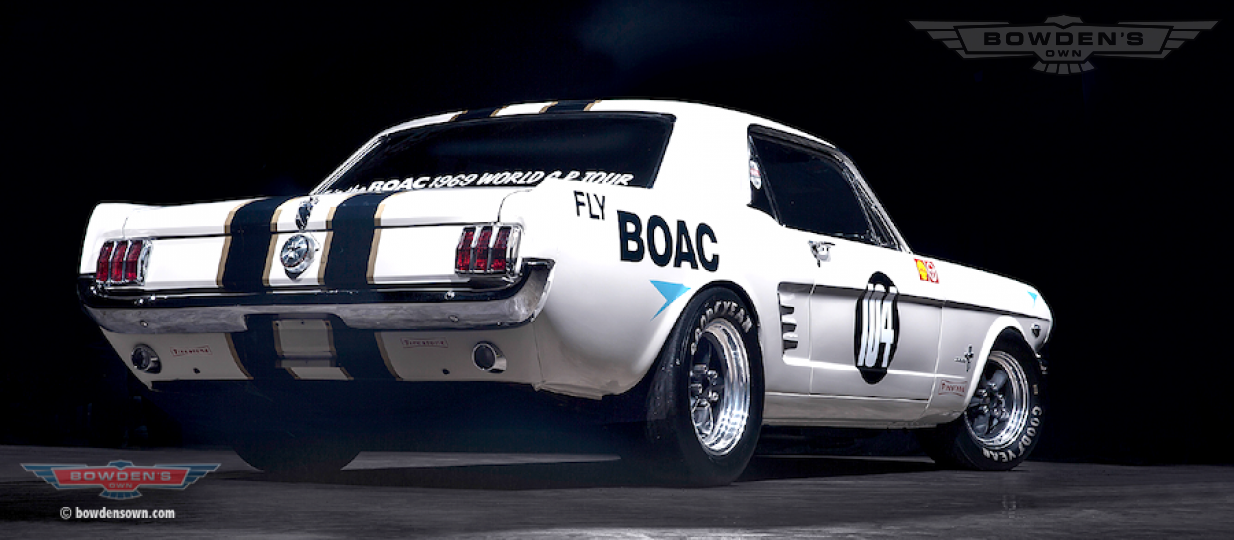 Paul Fahey's 1966 Shelby T/A Mustang
---
In 1966, the Sports Car Club of America announced it would recognize sedans as a National Championship category for the first time. Eligible cars fell under the provisions of the FIA Appendix "J," Group II and classes were based on engine displacement: A/Sedan, 2000cc to 5000cc; B/Sedan, 1300cc to 2000cc; C/Sedan, 1000cc to 1300cc; D/Sedan, under 1000cc. The SCCA planned two concurrent racing series for these sedans - one amateur and one professional - each leading to a national championship. The amateur series included over 50 SCCA sanctioned national events throughout the United States, culminating with an invitation to the American Road Race of Champions (ARRC) for the three finishers in each class in each of the SCCA's six geographical divisions.
The professional series, called the Trans-American Sedan Championship (the "Trans-Am" for short) was to be made up of seven professional races at road circuits across the United States. Points would be given to each manufacturer based on their cars' finishing positions, leading to a Manufacturer's Trophy. The races would ultimately become mini-enduros, ranging from 200 to 2400 miles, from two to twenty-four hours. Pit stops for fuel, tires and driver changes would be mandatory; they were seen as adding to the excitement.
While many of the same drivers participated in both series that first year, it was the lure of a Manufacturers Trophy that piqued Ford's interest. Quite naturally, they turned to Shelby American to develop the Mustang into a Group II sedan racer. Rules stated that the engine displacement could be no more than 5 liters (305 cubic-inches) and maximum wheelbase of 116-inches. Eligible cars also had to be delivered with four useable seats and this effectively eliminated Shelby's GT350 fastback, which had already been homologated for B/Production as a two-seater.
On November 29, 1965 a meeting was held at Daytona, following the ARRC. Shelby American's Competition Director, Lew Spencer, sat down with Ford's Sam Smith, Shelby American's Marketing Director George Merwin and Chuck Cantwell, Shelby's GT350 Project Engineer. The subject was FIA Group I and II Sedans, and how Shelby American would build them. It was decided that the cars would be purchased by Shelby American from Ford, on a D.S.O. basis, and sold by Shelby; however, they would be considered Ford products and would carry Ford Serial Numbers. An initial build of five Group I cars was planned; because they require fewer modifications, they would be built in Shelby's Production Department. An initial batch of Group II cars would be built in the Competition Department, reworked in a manner similar to the GT350 competition model. Cantwell's first job, in December of 1965, was to write the homologation papers. For the required photographs he took pictures of a stock white Mustang notchback sitting in a dealers lot in downtown Los Angeles.
The actual work of building the cars fell to Chuck Cantwell and race fabricators Jerry Schwarz and Bernie Kretzschmar. Shelby sent them to the nearest Ford dealer, where they purchased a blue 271 Hi-Performance four-speed notchback right off the lot. Working with a total budget of $5,000 (which included the purchase price of the car), they stripped it down and built it back up incorporating most of the tricks they had developed for the GT350 competition models. This car would become the prototype, and it was used to establish what would become the production specifications for the Group II race car. As soon as it was finished they took it to Willow Springs Raceway. It was only fractionally slower than a GT350 R-Model.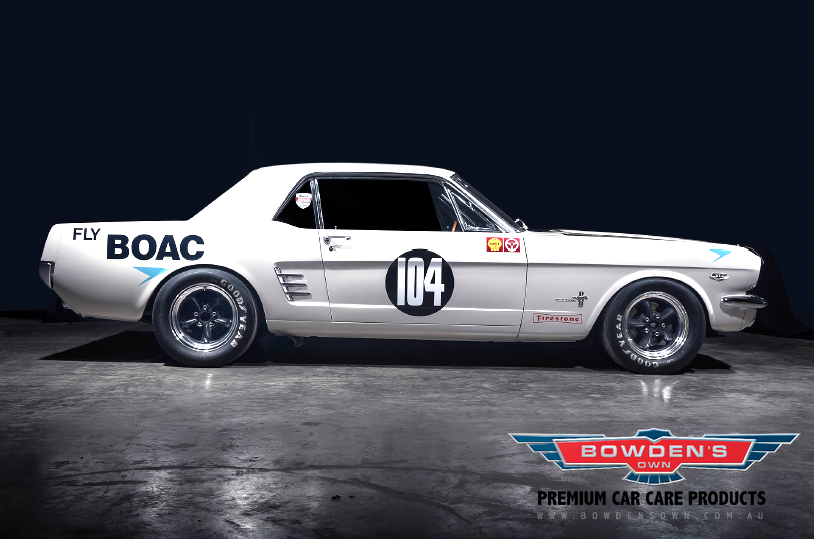 The Mustang Group II sedan and GT350 R-Model were mechanically identical, but the rules required that the Group II car retain its stock steel hood (without a scoop). It also had to retain the original glass windows, seats for four and full interior upholstery including dash padding and door panels. The front steel valence was allowed to be notched to permit airflow to the oil cooler (the notch was about the size of a license plate).
When it came time to produce the first batch of race cars, Shelby American sent word to Ford's San Jose assembly plant to build a small run of knock-down Mustang notchbacks. A total of twenty cars were made, in two separate production runs of ten cars each. The first group was delivered to Shelby American in early March of 1966; six cars were built to Group II specifications and four became Group I sedans. All ten cars in the second production run were built as Group II cars. They arrived at Shelby American two months later, in May of 1966. All of the notchbacks were ordered in Wimbledon White with black interiors, 271 Horsepower 4V 289 engines, four speed transmissions and 3.89 rear axle ratios with Detroit Locker "No-Spin" units. They also came equipped with 15" x 6" steel wheels, front disc brakes, adjustable "export" shock absorbers, export front end brace, heavy duty front springs and GT fog lamps. Deleted were the outside mirror, wheel covers,front stabilizer bar and front seat belts. All cars carried the Ford VIN prefix 6R07K.
Once the cars arrived at Shelby American they received virtually all of the R-Model mechanical parts and modifications. The suspension was essentially brought up to 1966 Shelby race specs: A-arms were lowered one inch; a one-inch front sway bar and Monte Carlo bar were added along with the GT350 pitman and idler arms. Over-ride traction bars were installed at the rear. These over-ride bars are often the only clue to identifying a Shelby factory-built racer, all of the competition parts were readily available to independent racers who built their own Mustang racers, but few elected to install 1965 style traction bars.
Under the hood was a GT350 competition specification engine, balanced and blueprinted with ported and polished heads, a "Cobra" hi-rise aluminum intake manifold with a 715 CFM Holly carburetor, a 7½ quart "Cobra" finned aluminum oil pan, steel R-Model valve covers with specially fabricated breathers, Tri-Y headers leading to 2½" straight exhausts terminating ahead of the rear wheels, an oil cooler with remote "Cobra" oil filter adapter and an 18 quart Galaxie radiator.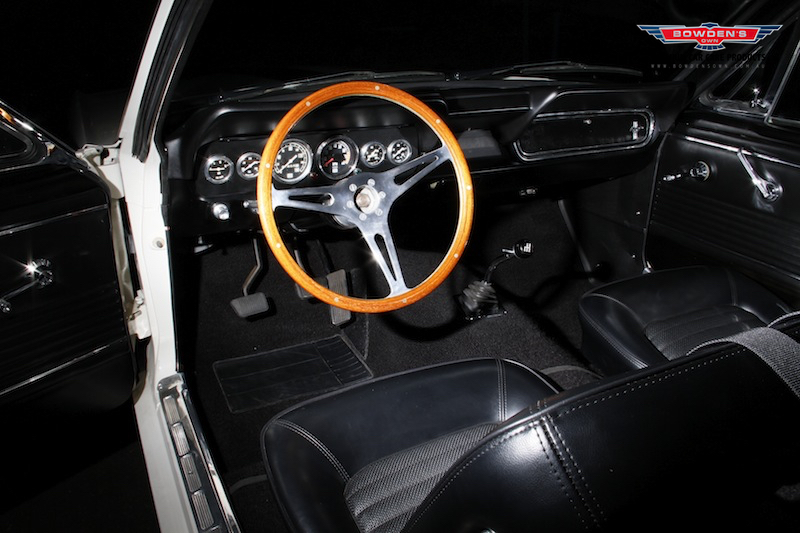 Fahey ran the stock seats and carpet as per the rules in Group 5.
The stock Mustang interior was retained, and a four point roll-over bar was installed. The GT350 16" diameter wood rim steering wheel was used (with a dash mounted horn toggle switch). A full set of R-Model "CS" gauges were mounted in the dash in front of the driver: fuel pressure, oil temperature, 160 MPH speedometer, 0-8000 tachometer, oil pressure and water temperature (left to right). Ray Brown 3-inch competition seat belts and shoulder harness were used on the driver's side only. A Stewart-Warner 240-A electric fuel pump was mounted in the trunk where the battery was relocated (it was mounted on the rear end hump). A 32 gallon R-Model gas tank was used, complete with a 3½" snap-open competition cap and spun aluminum splash bucket. Clik-pins replaced the hood and trunk latching mechanism. American Racing 15" x 7" magnesium "trans am" five spoke wheels were used; the front and rear fenders had their wheel openings rolled to accept them.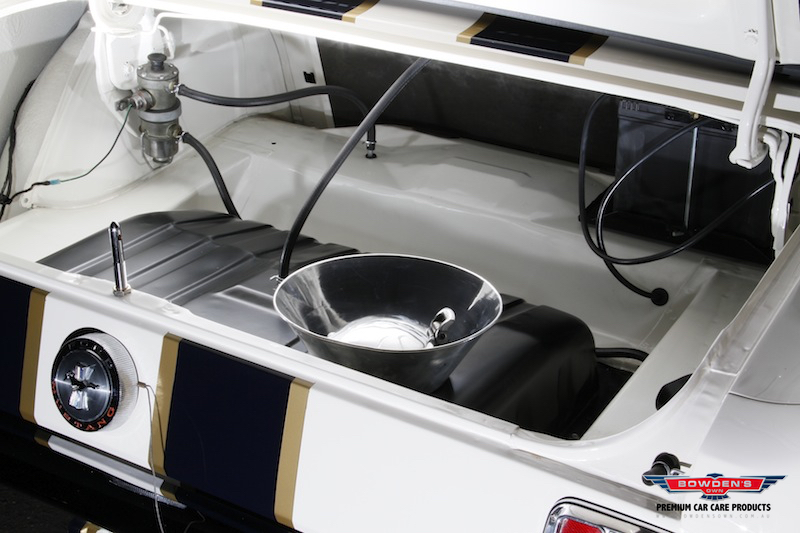 The early cars apparently came with heaters and defrosters, but at least two cars (#12 and our #14 here ) had the heater-delete option. The stock Mustang cap was retained on the early cars (and #14) even though it was not functional. Later cars had a round, aluminum disc riveted over the fuel filler hole.
Options for the Group II car were few. They included a one-piece, fiberglass R-Model driver's seat and a ½-inch rear anti-sway bar. Side mirrors were either dealer or owner installed and this explains the wide variety of mirrors seen on photos of the cars when they were raced, as well as their placement. One car (#2) shows evidence of having factory power brakes utilizing a MICO master cylinder (the same type as used on some GT350Hs).
Sixteen Group II cars were built and sold during the 1966 model year (along with 4 Group I cars). One possible reason why such a relatively small number of cars were sold was likely due to the availability of the Group II unique parts. Everything used by Shelby American to make a Mustang into a Group II race car was available from the Shelby American parts department. This allowed drivers like Tom Yeager, Bob Johnson and Dick Thompson to successfully campaign independently prepared Mustangs.
Despite their small numbers, the Shelby Group II Mustangs earned points for Ford in five out of the seven Trans-Am races in 1966. That season was highlighted by victories by John McComb and his co-driver Brad Brooker in the 6-Hour Pan-American Endurance Race at Green Valley Raceway near Fort Worth Texas. Their win tied Ford with Plymouth and Jerry Titus' come from behind victory a week later at the Riverside 4-Hour was enough to give Ford the Manufacturer's Championship. Not to be overshadowed by all this was the fine driving of Shelby Group II drivers Bill Pendleton and Jim Kless who finished second and fourth, respectively, in the 1966 ARRC at Riverside.
MEANWHILE IN NEW ZEALAND
This leads to the Shelby Trans Am Mustang #14 of the 16 built, and one of the more successful race histories of these rare Shelby race specials. It earned its stripes in the land of the long white cloud, so most people may not be all that aware of just how famous the car was in its day (and still is in New Zealand).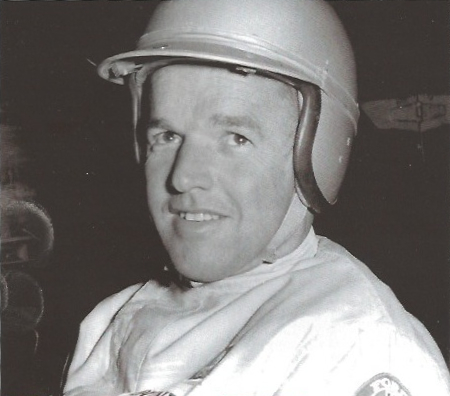 A young Paul Fahey, NZ's most popular Ford racer through the 60's and 70's.
In the early days of New Zealand motor racing, Fahey was a motorbike racing champion throughout NZ and Europe, before realising that saloon car racing was not as fraught with danger. Fahey raced a variety of cars in his history like Ford Anglia's, Lotus Cortina's, Cologne Capri's, Boss Mustangs and FVA Escorts. But it is this notchback Mustang he is still very well remembered for.
In 1966 he became aware of the rising legend of the Shelby Mustangs both across the Tasman in Australia and also in the USA. Being beaten by Ian "Pete" Geoghegan in his Shelby prepared 1965 notchback Mustang at the January 1966 New Zealand International Grand Prix meeting, certainly helped pepper his interest in getting a new Mustang as well.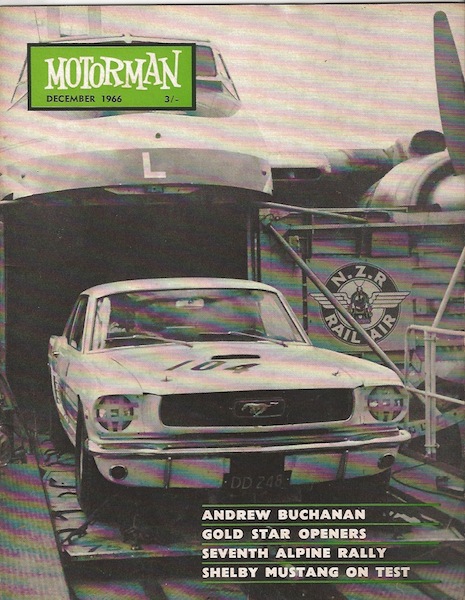 Early article on the new Fahey Mustang in the famous "Motorman" magazine.
Fahey had a plan to get his hands on one of these special Fords and race it in New Zealand's Group 2 touring car class, so in June he ventured over to the USA to meet with his good friends working at Shelby American Racing, Ron Butler, Steel Therkleson and John Olsen.
Back then Carroll Shelby was as keen as mustard to get his cars winning anywhere in the world, so this impressionable youngster from New Zealand was able to do some good track testing before taking the plunge. He raced at Riverside, with the Shelby crew there to look after the car for him, firstly with the car in Group I guise - skinny steel wheels, road tyres and a smaller Autolite carburetor, which he found quite difficult to drive. Then in a second race that day the better, Group 2 trim - the bigger 715 Holley carbie, better Goodyear rubber with the 15 x 7 Trans Am wheels, which made it a lot better. He raced it once more at Willow Springs raceway the next weekend in the FIA group 5 trim with the GT350 fibreglass bonnet and Weber carburetors fitted, and found that it worked well. So the Shelby was sent with that configuration, as well as the bits needed to run it as a Group 2, which it did for the 1966 year. the original invoice shows it cost $52From there he had it shipped to New Zealand with another station wagon brimming with spare race parts, and began a journey that would see him rise to the top of motor racing in that country.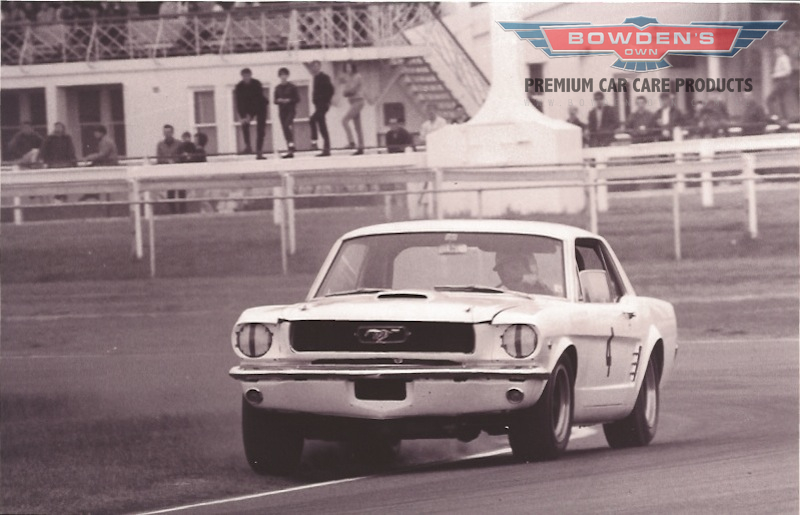 Using every bit of track and more at Pukekohe.
In late 1966 the car was campaigned in some of the NZ Group 2 races, so the webers were removed in place of the Holley Carburetor and smaller wheels were put on. Fahey's first race at the cars debut in October, at the Wills Three Hour Challenge. He co drove it with the talented Jim Palmer to record the Shelby's first win.
From Fahey's trip to the USA seeing how the big teams run and present themselves, Fahey introduced a new type of professionalism to NZ racing, he was the first to have his team in matching uniforms and overalls, with Fahey in new fireproof race suit. With the sponsors names adorning these and the car, he was a promotional delight. At first he was looked upon strangely by his fellow competitors, but of over the years his opposition saw the light and all joined him.
For 1967 He raced in the "Allcomer" saloon class, which was this series final year before NZ adopted the FIA Group 5 rules. This series had a loose set of rules that allowed a host of NZ specials, with Lotus powered Anglia's, Farina and Morris Minors, Chevy V8 Renualts and Anglia's and a brutally quick big block 427 Ford Customline, of Robbie Francevic, known as the Custaxi, which was his main opposition. With the Webers and bigger wheels/ tyres fitted on the Shelby for these rounds, he won 5 races, including the big wet race at the 1967 Grand Prix meeting at Pukekohe, but the Custaxi won the final four rounds and Fahey finished the season in 3rd position overall.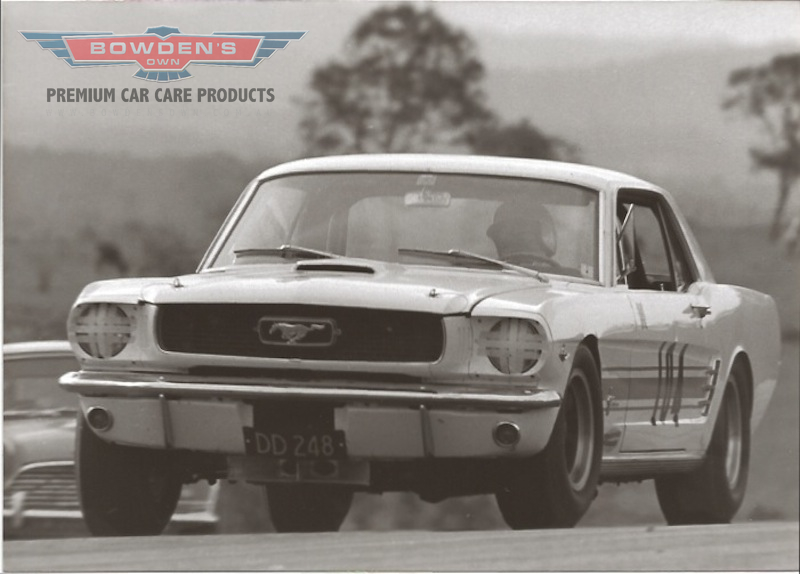 Heading over eastern Loop at Lakeside Raceway, in 1967.
In 1967 Fahey also shipped the Mustang to Australia, running two races at Warwick Farm in Sydney NSW, coming 7th in the first with old rubber and then borrowing new Goodyear tyres to come second in the next. Then a trip up north for the Australian Touring Car Championship at Lakeside raceway in Qld was not that memorable, with the Shelby sadly suffering a drive shaft failure to DNF just 5 laps from the finish of this 50 lap event.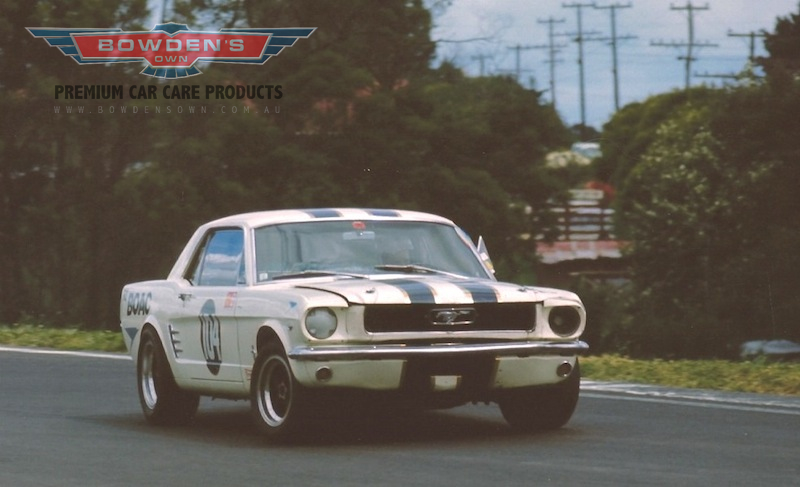 For 1968, a new livery was on the Shelby, with the removal of the fibreglass GT350 bonnet.
In 1968 the new Group 5 rules were in full force, with heavy competition having already arrived at the end of the previous season; new '67 Shelby Trans Am for Norman Barry (real name Frank Bryant, as he raced under an alias so his family would not be aware he was competing), the 1966 Australian Touring Car Championship winning Mustang of Pete Geoghegan, which was campaigned by Rod Coppins. Robbie Francevic, who had won the previous years championship in the Custaxi, kept the big block effort alive by importing a 427 Ford Fairlane, But his main competitor was crowd favourite Red Dawson, who first ran the ex Ivan Segedin 65' Mustang and then later acquired the Norman Barry Shelby for the remainder of the season. But with all this competition the final winner for that years series was a car that never won a race outright, a Mini Cooper S, driven by Roger Anderson. This was thanks to a unique system where smaller capacity cars (under 1 litre class) earned equal points for their class wins.. Fahey dominated and won most the races this season, he was to win the over 2 litre class, but finish 2nd overall to Anderson.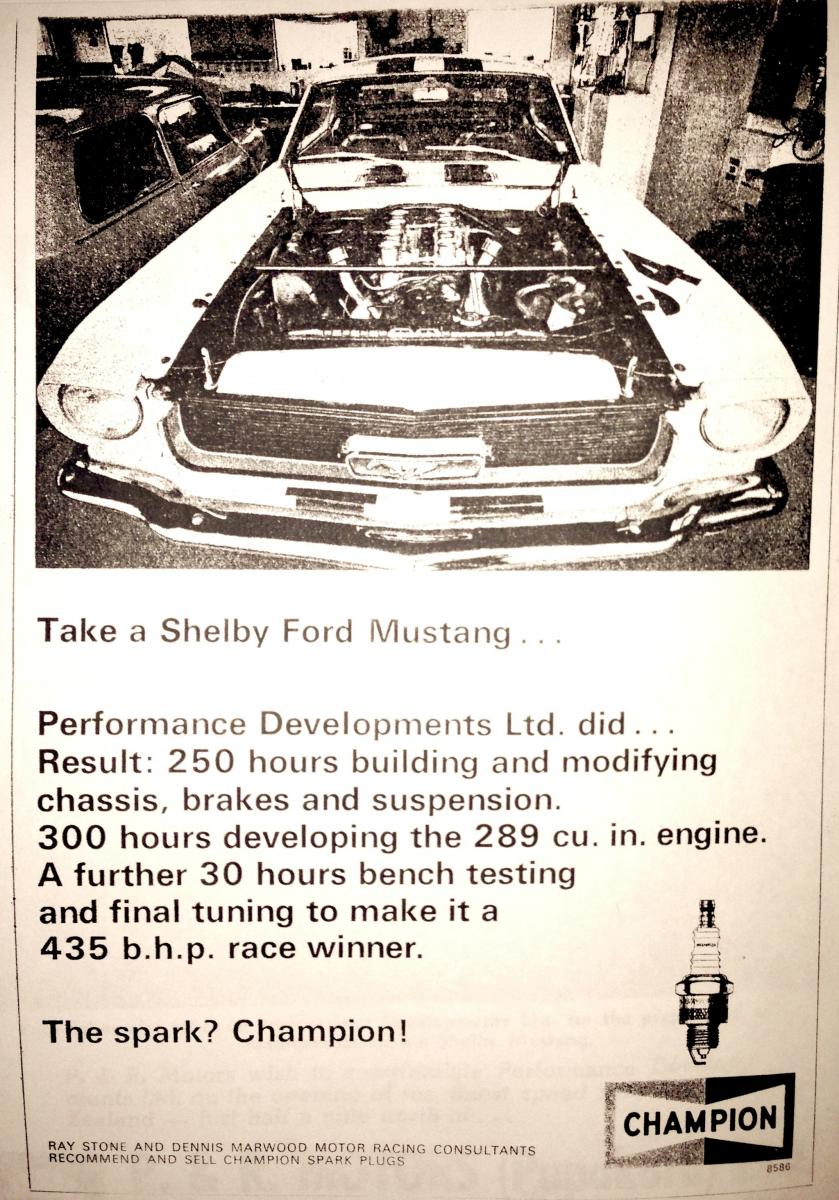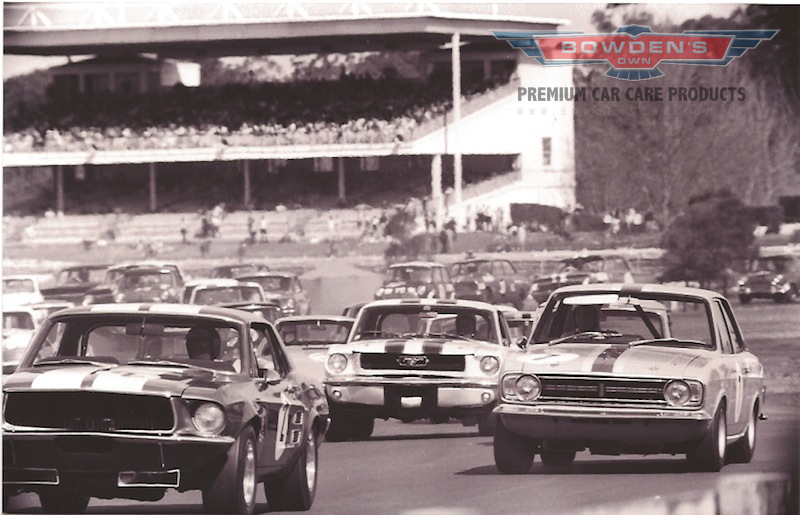 Fahey in the big pack at the 1968 ATCC held at Warwick Farm.
Fahey returned in 1968 for the Australian touring Car Championship race held at Warwick Farm, where he qualified in 8th, but had a fuel pump give up mid race, for another disappointing DNF.
Racing against Norm Beechey at Bay Park with Red Dawson and "Spinner" Black right in behind.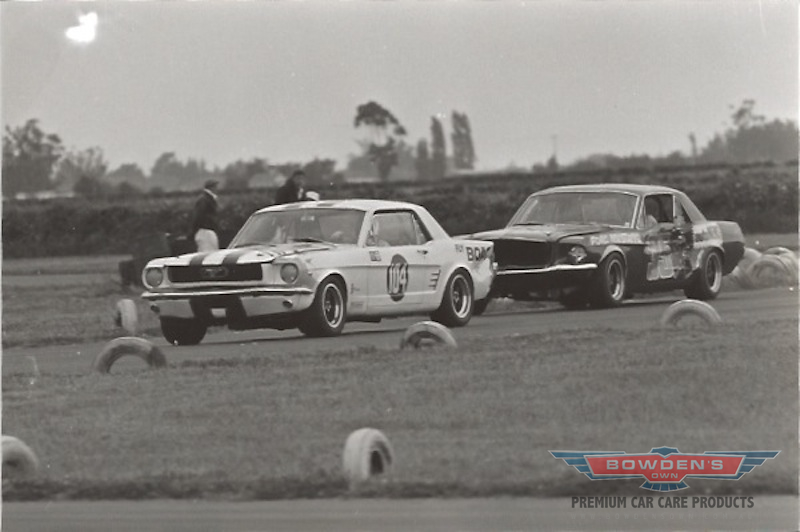 A few battle scars in 1969, while up against the ever popular 1967 Shelby T/A of Red Dawson.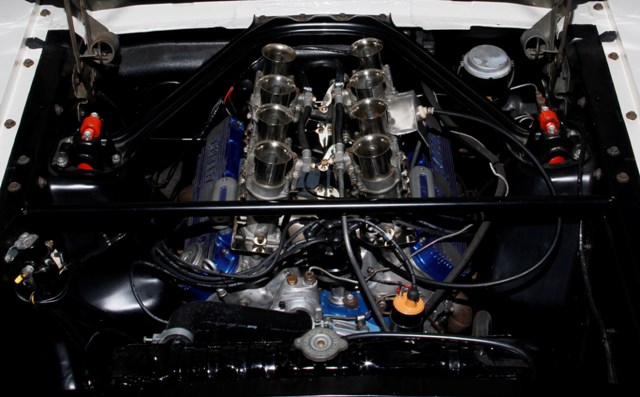 Fitted for the 1969 season and back in it now.
For the 1969 season, against ever growing opposition, the Shelby was fitted with a Gurney Westlake 5 litre engine, that was used by the the ultra successful Le Mans winning Gulf/ Wyer GT40 team in 68 and 69. This was ordered direct from J. W. Automotive, arriving in boxes from one end of NZ to the other (to escape the import duties at that tme) assembled and then fitted by Faheys lead spanner man, Ray Stone.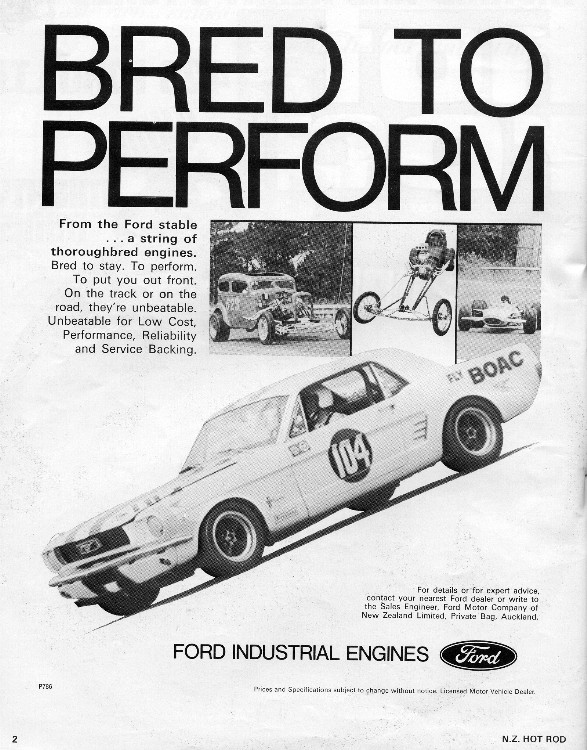 It was a good year of racing and of the 9 rounds that season Fahey won 6 of the races, placing second in the other three. Competition that year was from Ian Dawson's '67 Shelby notchback and Spencer Black's Z-28 Camaro, both of which picked up a win each, but spent the majority of the season chasing Fahey's tail all across New Zealand.
Overall in it's three years of service the Mustang won 33 of its 56 starts, finishing in the top four placings on 46 occasions in total, failing to finish only four times. Very few racecars the world over can lay claim to such a rate of success as Fahey's Shelby, but outside of the NZ shores Fahey is not so well known.
Towards the end of 1969 Fahey upgraded to the latest model Boss 302 Mustang, and sold the '66 to another well known Ford racer John Riley, who had earlier bought the ex Geoghegan Mustang from Rod Coppins. He bought it without the Gurney weslake and realised he was abit down on power, so did a deal with Fahey and ran it with much better success. It was initially raced in in the white with red writing and later a metallic green before selling it on.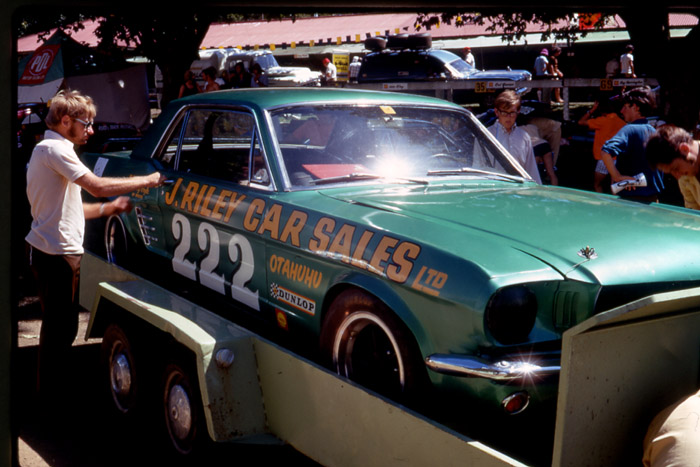 In it's final green livery - Images thanks to Steve Holmes at www.theRoaringSeason.com
John Armstrong bought the car in 1972. He raced it for the year and then sold it to Rod McElrea, where it was modified further before being thankfully tracked down by a fanatical Ford racing fan, John Chapman in the mid 80's. Chapman restored it closer to its original condition to join his fine collection of cars near Pukekohe.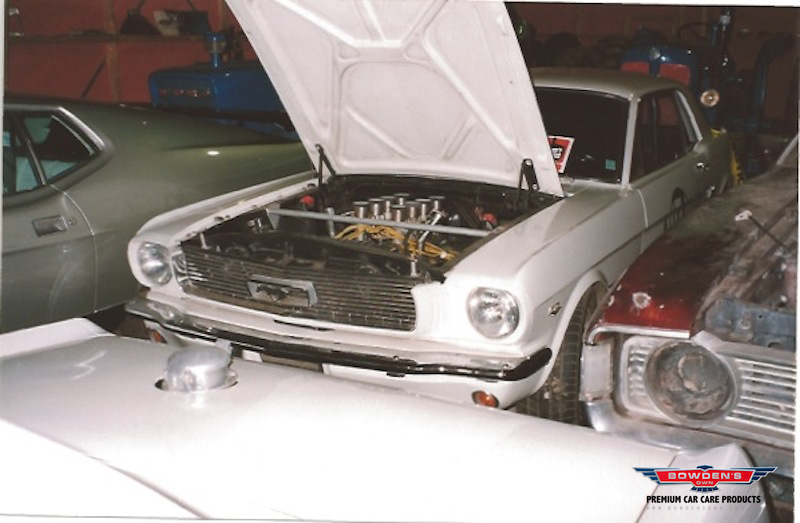 How we found her in 1998 at the Champmans shed in NZ.
Being somewhat of an aficionado on New Zealand touring car race history, and that of Shelby race cars, David Bowden was all too aware of the rich history of this vehicle and managed to get the Shelby in 1998 and spent the next two years giving it a total restoration to how it was raced in 69, even down to fitting the original Gurney Weslake engine back in her.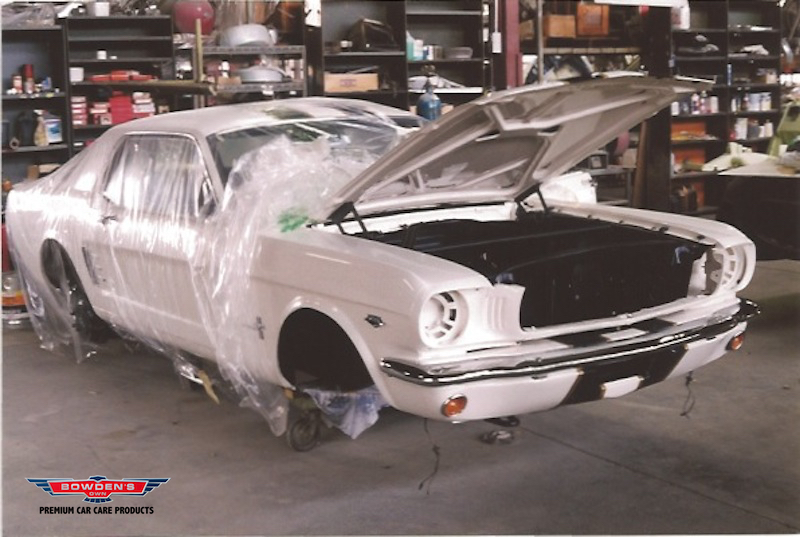 In the middle of her restoration in Brisbane 2000.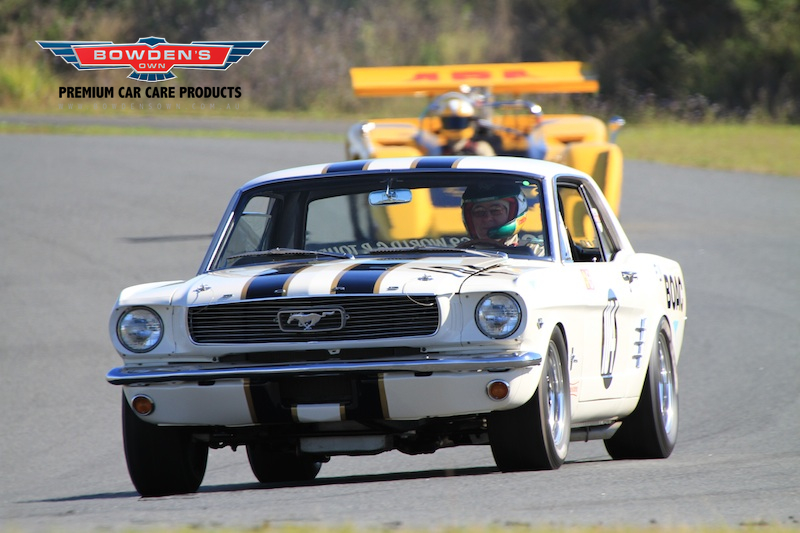 Restored and running, Jim Richards keeping the M8E McLaren at bay at Lakeside Classic 2013 - Image by Mark Pryor
Since being restored it has been run at numerous events, including the 2013 Lakeside Classic where fellow legendary Kiwi, Jim Richards piloted her in the demonstration run for the day. Richards said it was Fahey and this Shelby Mustang that made him wish to become a professional driver, which he has certainly become all these years later!
Fahey visiting his old Shelby in June 2013, a fantastic day.
We have also had the chance for Paul Fahey to visit his old girl here a few times, we just hope that one day we can link up a time to put him back in the seat of his old Shelby once more.. Keep an eye on our newsletters and facebook page for that one..