SCA Lawnton Club Night demo.
Date Posted:4 December 2017
Our Detailing Demo's are fun and informative outdoor demonstrations that are tailored for enthusiasts who want to know more about really looking after their cars with our growing range of car care products.
Presented by the passionate Dan Bowden, the founder of Bowden's Car Care, giving a personal insight on his Australian made products and how to get the most from each of them, by using them as a complete system to truely care for your car.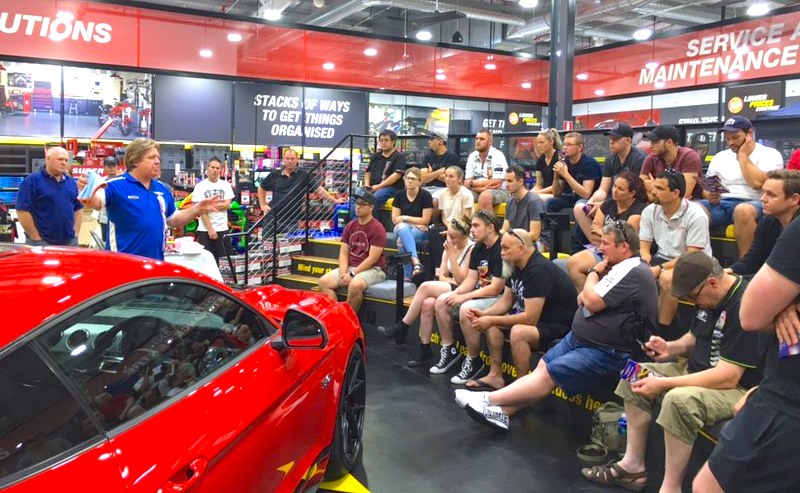 This demo nights is all about our new Safe Wash System; which uses a combination of purpose made products and techniques to eliminate the creation of common swirls or micro-scratches when washing your car. It also shares some great tips and tricks for quick, safe and easy washing and drying (with After Glow). We'll show you some easy ways for super effective wheel and tyre cleaning as well.

And we will also add in the much misunderstood "dark art" of getting perfect smear free glass.
You'll learn a lot of "outside the box" tips and tricks throughout the demonstration, many things that are not written on the bottles labels!
Expect to see a few of the new products we are developing, as well as being able to personally ask any questions to the guys and girls who create, make and live Bowden's Own car care.

Supercheap Lawnton is the flagship store in Qld and we have a great relationship with the team in it who passionatly support our Aussie products. This night is part of their "Club Night" so discounts will abound for the members. Find us there on Wednesday the 5th of December. We'll start it at 6.00pm, all local car fanatics are very welcome!