Alloy, Stainless and Magnesium metal polishing
We like shiny stuff!
We like shiny stuff, especially when it's bare metal and I know it's something we share with a whole heap of you reading this article.
Our main reason for looking into making our Metal Polish was for the hundreds of magnesium and alloy wheels that are fitted to most of our older race/sports cars. We used to find that any polish we used would be hard work and gave us a very average result. To make it worse, a week later we would be infuriated to see the shine slowly deteriorate. This is why we set to work on our own custom metal polish. The first formula took around a year of playing with many different abrasives and cleaning compounds, till we finally came up with the base to what we have now.
Our custom polish
Our Metal Polish brings up a brilliant, mirror shine in all polishable metals. It's incredibly easy to use and has a shine that will last for months, not weeks! This long term shine is due to the unique protective qualities we have built into the formulation; something all others deliberately fall very short on (so you use more of their product). The metals we find it really excels on are alloy, magnesium and stainless steel. It's also chrome safe as well. The amount of positive feedback we are getting from people with bikes, trucks and boats is pretty cool; all loving how easy it is to use, and the longevity of the shine. Another bonus is we make it a concentrate, so you don't have to use much product to get a great result.
Formula Updates
Recently, we further upgraded the Metal Polish formula, using new cleaning lubricants and even more advanced fine abrasives to bring up a shine like nothing else we have ever seen. Let me put it out there; after using everything else, we honestly do not know of a better polish in the world.
Dirty Deeds
The Dirty Deeds cloths are purpose made to work with the polish for a quicker job and to make sure you get the best possible finish. They have a different texture and weave that we find are ideal for polishing metals, amongst many other dirty deeds around the car.
It also helps to pump up AC/DC as some great motivational music while doing these jobs as well.

Step 1
Using the Metal Polish
Firstly make sure that the metal surface you are using is suitable for this polish. Don't use it on lacquered metals, fine silver or anodised aluminum. It will remove these coatings from the metal.
We find with chrome, you just need to wipe it on and off, there is usually no need to buff it in like you do with alloy, stainless and magnesium metals.
Less is best - don't use too much product or it will not work as well.
For the best results, you have to make sure the metal surface is clean and dry. Shake the bottle well, and apply a small 10 cent sized dollop to one of our Dirty Deeds microfibre cloths.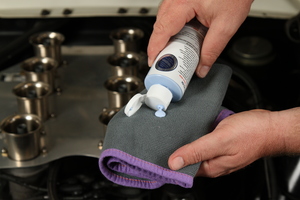 Step 2
Small sections at a time
Do small sections at a time, wiping the polish all over the surface. Then buff into the metal until the cloth feels smooth to run back and forth over the surface. You can also hear the polish working away as you rub it in. When it stops making that noise, the area is polished and you can move onto the next section.
For really bad surfaces, repeat the process to get better effect (if needed) as opposed to slathering on too much product all at once.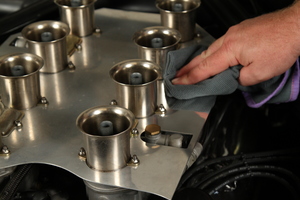 Step 3
It's shiny
Turn the Dirty Deeds cloth over to a clean side and buff the black residue from the metal to reveal a stunningly shiny surface.
You will now have that beautiful Bowden's Own shine. So smile at yourself in the reflection!
Multiple Uses
There is an endless list of things you can use our polish on; we seem to find something new every day. Try it in the home on things like the sink and taps; however make sure the missus doesn't claim the bottle and cloths! It can even be used on things like the old baileys ladders (for those who are that way inclined), as it brings these up to a beautiful, mirror finish. Boats, planes, trucks and bikes; basically anything with a polishable metal area will benefit from our polish. Try it out and see why we simply regard it as one of the best in the world.
Due to the jewelers type rouge in it, you can even use it as a glass polish! You can read more about this in another one of our car care guides.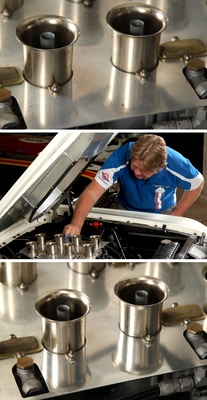 Cleaning up
For an easy clean up afterwards, we have made it so it washes off with detergent and water. Something you will appreciate if you have used other polishes in the past.
The Dirty Deeds microfibre cloths will need to be pre soaked in a bucket with warm water and 50mls of our Microfibre Wash. Give them some agitation and then rinse in fresh water before machine washing them. Make sure to wash them separately from everything else as the black residue from the polishing will leach into the other cloths they are washed with!
Get polishing
The Metal Polish has had many upgrades over the years to keep it being the best out there. That is important to us as it's something we really take great pride in; especially whilst polishing the Shelby Cobra or Brock A9X's original magnesium rims. I know you will like what we have created to appease that deep desire to keep the polishable metal parts of our cars looking as fine as possible.
You can find our Metal Polish in our numerous supporting retailers. The closest to you is located on the stockist list linked here.
If you have any questions please email dan@bowdensown.com.au or call our office on 1800 351 308.
Happy polishing,
Dan Bowden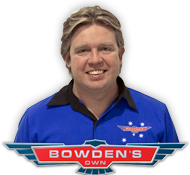 ---
Cleaning and protecting your cars' chrome
Cleaning and protecting your cars' chrome
Glass Polishing: Some cool little secrets
Glass Polishing: Some cool little secrets