Removing sunscreen marks from paint
"I've just washed my car but still have sunscreen marks from the kids! They don't seem to come off!"
This is one of the most commonly asked questions we get, especially over the summertime. Whether it be from the cars' owners doing it or usually the kids, it's a problem that is quite simple to remedy, as long as you get to it early and use the right products.

Made for skin, not paint
Sunscreen is developed obviously to go on your skin, with all sorts of interesting additives to help protect you from the powerful UV rays. These ingredients however are not real paint or car friendly, which is annoying, as we will find them on all parts of the car after applying it in the car (especially if you have kids!). With most sunscreens being water resistant, normal washing will not remove them, and if they are left on for a long time (like many months), it can be virtually impossible to remove them by hand.
The reason for this is two of the main ingredients used in the formulas; namely polyethylene glycol and titanium dioxide. These work a treat at reflecting light and protecting us from UV, but when put on paint, it will leave that white residue and if it's left on the paint too long, it can damage the paint, requiring expensive machine buffing to remedy it.
The biggest tip we can give you is that the quicker you clean it off, the easier it will be to remove.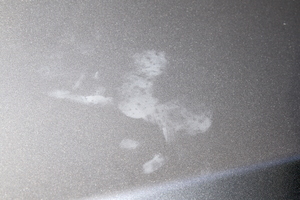 Removing recent marks
If the marks have been made in the last couple of hours, get a clean microfibre buffing cloth and a bottle of our Clean Detail spray, spray the product directly onto the marks, then wipe off with the microfibre cloth. Nice and easy. If some of the marks are still there, move onto the next step.

Not so recent marks
If the Clean Detail has not worked, the oils in the sunscreen have begun to bond and penetrate the paint, so you need the next step in our paint cleaning arsenal, the Auto Body Cleanser. It has a unique cleaning oil in it, which works a treat on removing sunscreen, without getting any swirl marks you would have received from the older school polishes.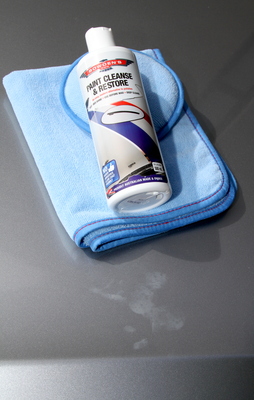 Step 1
20 cent dollop
Make sure the area you're about to work on is clean, either from washing or with a detailing spray.
Apply a 20 cent dollop of Auto Body Cleanser to a Circle Work microfibre applicator pad. Spread it around the pad so it is covers the pads surface.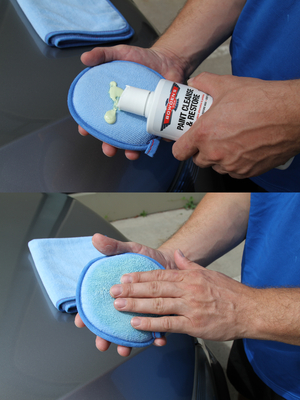 Step 2
Cicular motion
Apply in a circular motion over the sunscreen marks.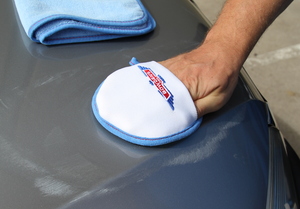 Step 3
Dry & Buff
Allow to dry to a haze, then buff off the Auto Body Cleanser with a clean and dry Big Softie or Drop Bear microfibre cloth.
Most times this should be enough to remove the marks. For more stubborn stains you may need another application.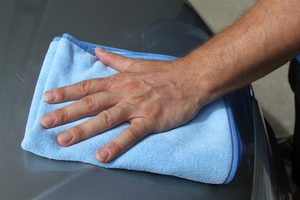 Step 4
Protect it
After buffing off the residue, it would be a good idea to now apply some Auto Body Wax, Lazy Wax or Fully Slick, to aid in the protection of the now clean surface, and make it easier to remove any sunscreen should it happen again in the future.
Note: It should not be that difficult to remove the marks yourself. The key is to just get to them as soon as you can. However, if the sunscreen has been on the paint for an extended period of time and both methods above did not remove it, you may need to get the paint professionally machine buffed to get rid of the marks.

Interior marks
If you get sunscreen on any interior plastic, vinyl or leather, you will need some other products to help clean it off.

Step 1
Citrus cleaning power
First, get a bottle of Orange Agent - our great citrus based cleaner that works well for this sort of job. Spray it into a damp, general purpose microfibre cloth and apply to the surface in a gentle circular motion.

Step 2
Wipe off
Then wipe off with a clean, dry microfibre cloth like our Plush Daddy. It always pays to test Orange Agent in a small, inconspicuous area first, just to be 100% sure the product is compatible with the material.

Step 3
Finish off with Care & Love
Then you will need to finish the material off. Vinyl Care for any plastic or vinyl areas, Leather Love for the leather. These 2 products will help protect against this type of thing in future, and also add a protective UV layer to your interior surfaces.

Step 4
Magic Rub Bar
If the marks are still there, you can remove them with a new product we have, called the Magic Rub Bar. This will clean the marks away gradually. To use, just spray a little bit of the Vinyl Care on the plastic, then while it's wet, rub the area in a gentle side to side motion. Clean the residue off by wiping with a clean microfibre cloth to inspect and make sure the marks have disappeared.

Any questions?
You can get these car care products at any of our great retailers nationwide. Find your closest in the link at the bottom of this article.
If you have any questions or feedback about this article please contact me by email - dan@bowdensown.com.au or call our office on 1800 351 308.
Love your car,
Dan Bowden

---