Interior vinyl, plastic & rubber care
We needed vinyl care
Most of our cars in the sheds use different types of plastics throughout the interiors. Whether it be in the dash, door trims, arm rests, rubber seals, console or vinyl covered seats. We thought it was important to seriously look into making a decent car care product for these areas.
When researching the different products available in the market place, we came across a few potentially damaging ones if used long term. One happened to be the biggest seller in this range. It was a combination of two ingredients that should not be used on interior surfaces. Namely a silicone (water or oil based) and a solvent (makes it dry quickly) that really don't do anything to help your cars' interior. These type of products are usually in the cheaper end of the aisle at most auto parts stores.
After using them, you find they leave everything slippery, quite shiny and they attract dust back to the surface that you of course must repetitively clean! However, the biggest drama with these ingredients is not seen till a few years down the track. Silicones actually put a barrier over the porous plastic surface, sealing in the solvents and beginning the breakdown of the item it was used upon. I've lost count of the amount of brittle and cracked dashes, seats and door trims I've seen helped along by these products doing this.
As well as these products wishing to harm the inside of your precious car, the interior also cops a hiding from a variety of other environmental elements. The sun brings in damaging heat and UV rays to fade and dry out the plastics over time. In the cold and wet times of year, mildew and mould form to stain and create damage if left to their own devices. Then there are the beautiful families of bacterias that like to move in and build up, mainly as the interior is never cleaned like we do the exterior of the car. All manner of living things become at home in your car when introduced thanks to the kids, pets, sweat, sneezes, coughing or even just opening the windows thus entering the car's interior. It can quickly become a very unhygienic area you don't want to be sitting in on a daily basis.
So we gave our research chemists this list of things we needed to combat and after many different trial batches, we finally had something we could use in the arsenal. We gave it the very original name of Vinyl Care.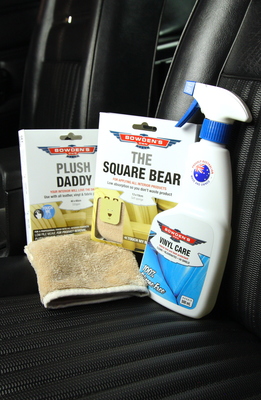 Full of good gear
Basically, Vinyl Care is the latest water based technology that we developed for Vinyl, Plastic and Rubber items inside your car. It's an effective, yet gentle cleaner and rejuvenator with a built in UV protectant.
Solvent free formula, means it will not dry or damage your interior prematurely. Any colour dyes or stitching will stay their original colour as well.
We saw it was important to have a UV protectant against the sun added in, as we personally live in a very high UV environment. It's like a SPF 30+ that works to help slow down the suns aging and fading effects over time.
Our unique water based formula means it's safe, being non toxic and biodegradable, giving peace of mind to the user and occupants in the car.
Anti-microbials are built in to kill off any bacteria's who may think your car could become their nice, new home. These same ingredients also help combat mould and mildew, to keep them from growing anywhere as long as it is applied regularly.
It is also very minimal hazing so you won't be cleaning it off the windscreen and windows for the next week as you do with other products.
The latest formula released in early 2015 rejuvenates old vinyl, plastic and rubber, restoring the colour for a new looking finish.
It will leave a new and clean fragrance that helps remove any musky odours in the car, while not being overpowering enough to upset any of the more sensitive occupants.
Australian developed, made and owned!
It gives a nice and even satin lustre to the surface, nothing like the cheap and shiny finish that makes your dash reflect itself onto the windscreen, becoming a dangerous distraction while driving.
Most uniquely, it has no silicone, water or oil based, so you will not get that slippery or greasy finish, making it safe to use on steering wheels, rubber mats and pedals. Nor will it attract and hold dust on the applied surface, eliminating a never ending cleaning process. You may also ask what is the deal with people wanting no silicones, read our reasons why below...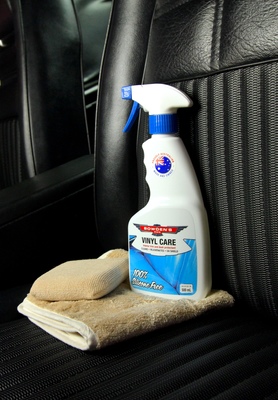 Whats the deal with silicones?
Silicone is a main ingredient of virtually all vinyl or plastic products we knew of. One of the most popular even states on the front of its bottle that is has "No Oil Based Silicone" but uses a water based silicone emulsion instead. Silicone is cheap, is great for binding ingredients in a formula and works a treat at darkening plastics and vinyl's, however it's not ideal to use in formulas for a number of reasons:
It's greasy and attracts dust for a long time after you use it.
Oil based silicone emulsions use petroleum distillates, that attack the vinyls' surface, leading to its failure.
It builds up on the vinyl surface, accelerating damage from heat, leading again to premature surface failure.
A very poor UV protectant, even amplifying the suns effect, by magnifying the UV rays rather than dissipating them.
This is why we worked so hard to make our silicone free interior products, which are very unique in the car care world.

Step 1
Work in a cool spot
Vinyl Care is very simple and easy to use on all your interior vinyl, plastic and rubbers. Firstly make sure the surface is out of the sun and cool to touch. Spray 4 or 5 sprays into our special interior applicator, the Square Bear.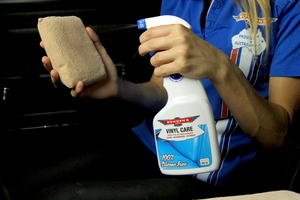 Step 2
Fast application
Apply to the surface you're cleaning with a circular motion, work in smaller sections at a time and be sure to get it in every little nook and cranny. Its got great cleaning power, so check the pad often to make sure it's not getting too dirty. If it is, rinse the pad out in water while wiping the dirty surface with your hand to release the dirt from it. Then wring it out, so it's slightly damp (not saturated), spray more Vinyl Care into it and then continue your cleaning.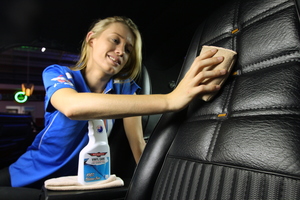 Step 3
Simple removal
Now for an important part, remove the product before it can dry... Especially important if the surface of your applicator has been showing a bit of dirt in it. The Vinyl Care liquid suspends dirt and grime that has been cleaned and lifted off from the surface, so if you let it dry it will bond back onto it. Simply remove it by buffing it away with the non-plush side of our Plush Daddy interior cloth. If the area is really dirty, we find it's best to use our Dirty Deeds cloths, folded into quarters and turned to a fresh/ clean side after each use, so you don't rub the dirt and grime back into the surface you're trying to clean.
Doing it this way will also allow for a more even finish on textured plastics, which are becoming more frequent the dashes of modern cars.
You will be amazed how well it cleans; at one of the car club demonstrations, I had an old 1950's Humpy Holden that still had its original and very un-kept interior (read; filthy!). With a few passes, the old imbedded dirt and gunk came off the seats and trims to reveal the lovely light and now clean coloured trim, much to the delight of the owner and his fellow club members. Likewise as you can see in these images, we got very good results when cleaning Davids 1932 Hot Rod. Its original Naugahyde (US name for a type of vinyl in the 60's!) interior was well overdue for a bit of care.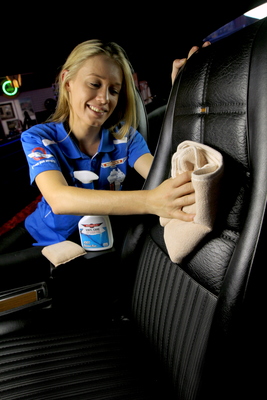 Good for your rubbers too
Another item that needs regular cleaning are your door rubbers. These are the barrier against water, dust and other elements entering the cockpit (if only one could be made for annoying back seat drivers). They are of course forgotten about till they fail. A little bit of preventative maintenance will go a long way here. Using a Square Bear applicator pad with Vinyl Care in it, just wipe them all down. This simple cleaning will help slow down any degradation over time, so they can work their best for years to come.
It's also pretty good for cleaning rubber floor mats too, as you can see in this older pictorial link on our Facebook page here.
All the interior pads and cloths will need to be cleaned after each use, so wash them with our Microfibre Wash in the machine to keep them like new.
For a variety of plastic and vinyls
Vinyl Care is our answer for looking after the interiors variety of plastics. We think it's a level above anything else out there at this point in time. Please try it out, we welcome your feedback, but judging by what others have said about it already, we know you're going to be quite happy with it as a part of your car cleaning kit.
Love your car,
Dan Bowden
Questions? Email me - dan@bowdensown.com.au or call the office on 1800 351 308.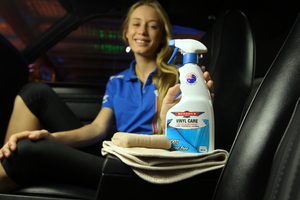 ---