Questions - How often should I be waxing?
This is one of the most often asked questions we get asked, and as you can imagine with the way different people use their cars, it's never just an open and closed answer. Keeping the layer of Auto Body Wax (wax is a sacraficial layer of protective oil on your paint) on your cars' paint is important, as it helps keep it protected and looking its absolute best). So let's go through and see where you fit in.

Step 1
How often?
With working out how often it needs to be done, the trick is to be honest with yourself and assess how much you use your car. If it cops all of the elements, lives outside and is driven every day, then you will only keep it looking its absolute best if it's waxed every second month. You could get away with every third month, but then it wouldn't be looking too sharp after a few years. Another plus for waxing the car regularly is that you don't have to cleanse every single time you apply the wax coating.
I do our more used cars' bonnets every time with both cleanser then wax, as they cop the most heat, bugs and grime. It's important to remember that if you let the wax deteriorate away too far, that you will need to re-cleanse it again with the Auto Body Cleanser, so the wax has a great surface to adhere to. Your wax will also last longer on the daily driven car if you wash it weekly with our Auto Body Gel/Nanolicioush Wash too.
You will need to re-wax more frequently in the hotter and usually wetter summer months, as the environment and heat does a good job at breaking down its protection.
If your car is garaged most of the time, then you could get away with two or three times per year. Some of our cars NEVER see the elements and are garaged out of direct sunlight in a cool dry area. They only need to be waxed once a year max.

Step 2
Wax still there?
To tell if your wax is still on the paint there are a few different methods. We recommend these three:
1. First telling sign is the easiest; the shine - how does it look? If it's getting dull, give her a good cleanse first and then re-wax her.
2. Is water still beading tightly on the paint? If it is, there is still wax there, but we have found that this is not always a 100% true indicator of wax protection.
3. The final test is to run your dry finger with a reasonable amount of pressure over the dry paint surface. If it slides and has no "squealing" noise, there is most likely something still there. If she squeals, then give her some wax!

Daily driven cars
Cleanse the car at least twice a year (daily driven cars get more embedded dirt than most), wax a minimum of every 2 months, especially in the warmer summer months. It's important that you also wash it with the Auto Body Gel/Nanolicious Wash at least once a week as well.

Occasional use cars that live in a garage
Use Auto Body Cleanser once a year, Auto Body Wax/Lazy Wax/Fully Slick then every 3 to 4 months, remembering to show it more love when it gets warmer. Wash or use the Clean Detail as needed and before each cleasner and wax application.

Garage and show specials
Use Auto Body Cleanser once a year, and then give her some Auto Body Wax/Lazy Wax/Fully Slick. Be sure to cleanse and wax before each show, even give it a second coat/layer of wax 8 hours after the first one is applied to keep it looking show-car shiny!
Another great tip is to use our Fully Slick detailing spray to boost the protection between the wax coats This product is really easy to use, adds great protection to your paint and helps bring back a lovely shine and gloss to it as well.

Any questions?
You can get our waxing products at any of our great retailers nationwide. Find your closest in the link at the bottom of this article.
If you have any questions or feedback about this article please contact me by email - dan@bowdensown.com.au or call our office on 1800 351 308.
Love your car,
Dan Bowden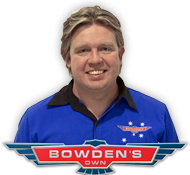 ---
Getting your car Fully Slick
Getting your car Fully Slick
Paint Protection - Using the Auto Body Wax
Paint Protection - Using the Auto Body Wax
Auto Body Cleanser - Better than polish
Auto Body Cleanser - Better than polish