You can now wax in the hot Aussie sun

Many people, including ourselves, have had the experience of using either liquid or paste wax, that has been frightful to remove if the cars surface was ever hot or in the sun. We have totally eliminated that issue in our carnauba based wax, as you will see in our video here:

Some like it hot
For years we have been aware that our famous carnauba Auto Body Wax is great to use out in the sun, but we never really mentioned it anywhere unless someone asked. So we have made this quick video on waxing during a typical hot, Aussie summers day.
The reason we do not mention this on our products bottles is an easy one - It is a lot easier and less energy draining to work in a shaded area out of the sun, so we still recommend this! However, we know there are many people, including professional detailers, who have no choice but to work in an outdoor environment.

Easy application
Use the Auto Body Wax the same as you would in the shade, by applying a 20 cent dollop of the Auto Body Wax to a Circle Work applicator pad. Apply a thin film to the paints' surface with a circular motion to get an even coverage. Smear the wax out as far as it can go, as quickly as you can before it dries. You can use a circular motion as our wax has no cleaners or abrasives in it, so it will not create swirl marks in your paint.

Less is best
Don't to use too much product. It will become harder to remove the thicker the wax is layered on the paint. It only needs a microscopic layer to work, so don't waste the wax by applying too much - less is best. It's at this point where if I was a bit more of a corporate head, I would be telling you to use as much as you can, as you will be buying more product, more often. A good thing for us; the terrible truth is, for it to work at its best, you don't need to use that much, so it is better value and the one bottle will go a loooong way.

Fast removal
In the sun you will notice that the wax will dry very quickly to a haze, around 10 to 15 seconds on the 30 degree Celsius day we did the test. Buff it off with a folded, clean and dry, plush microfibre cloth like our Big Softie or Drop Bear, turning it often to a clean side to get the best finish. You can leave the wax on for longer if you wish, but we like to do a section at a time to ensure we don't miss any sections when buffing it off, we always take better attention to achieving a perfect finish by removing all the wax residue when doing it this way, rather than bigger sections at a time.
The wax will last around 2 to 3 months on a daily driven car, when washed weekly with our Auto Body Gel or Nanolicious Wash car wash. These unique washes help rejuvenate the UV protection and shine. You can expect around 6 months longevity if it sees the outdoor elements occasionally. If it is a garage queen, like so many of ours in the collection, expect around a years protection before you need to be applying the wax once more.
If you're after a bit more protection, look at boosting it with our Fully Slick protective detailing spray. This protective spray is easy to use (don't use it in the sun), fast and really effective for adding a layer of protection to the surface of your car.

Any questions?
You can get our waxing products at any of our great retailers nationwide. Find your closest in the link at the bottom of this article.
If you have any questions or feedback about this article please contact me by email - dan@bowdensown.com.au or call our office on 1800 351 308.
Love your car,
Dan Bowden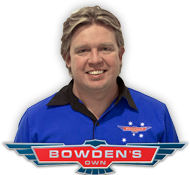 ---
Cleaning and protecting your cars' chrome
Cleaning and protecting your cars' chrome
Paint Protection - Using the Auto Body Wax
Paint Protection - Using the Auto Body Wax