Our four new detailing sprays.
Author: Dan Bowden Date Posted:17 October 2016

Four very different detailing sprays from Bowden's Own. Having four different sprays could seem confusing to some at first, read here to find the one that suits you best.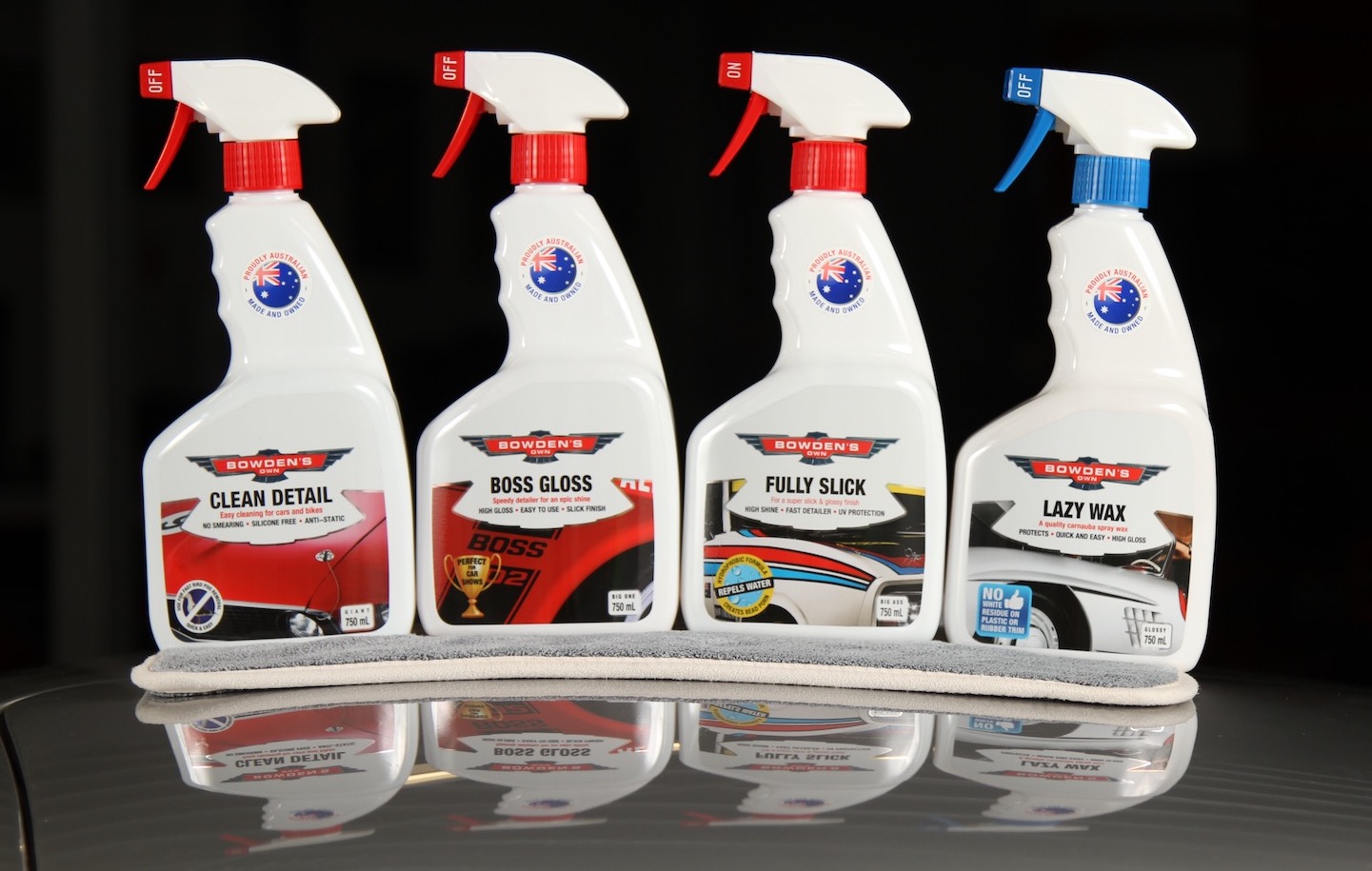 We now have 4 great detailing sprays, each a bit different in how you use them and what they are best used for. We have one that's for cleaning, one for gloss enhancing, another for gloss and protection and a spray wax that is a tip of the hat to the traditionalists, in that it's more naturally organic, but has been given a modern twist so it's super easy to use.
Here's a quick run down on each of them.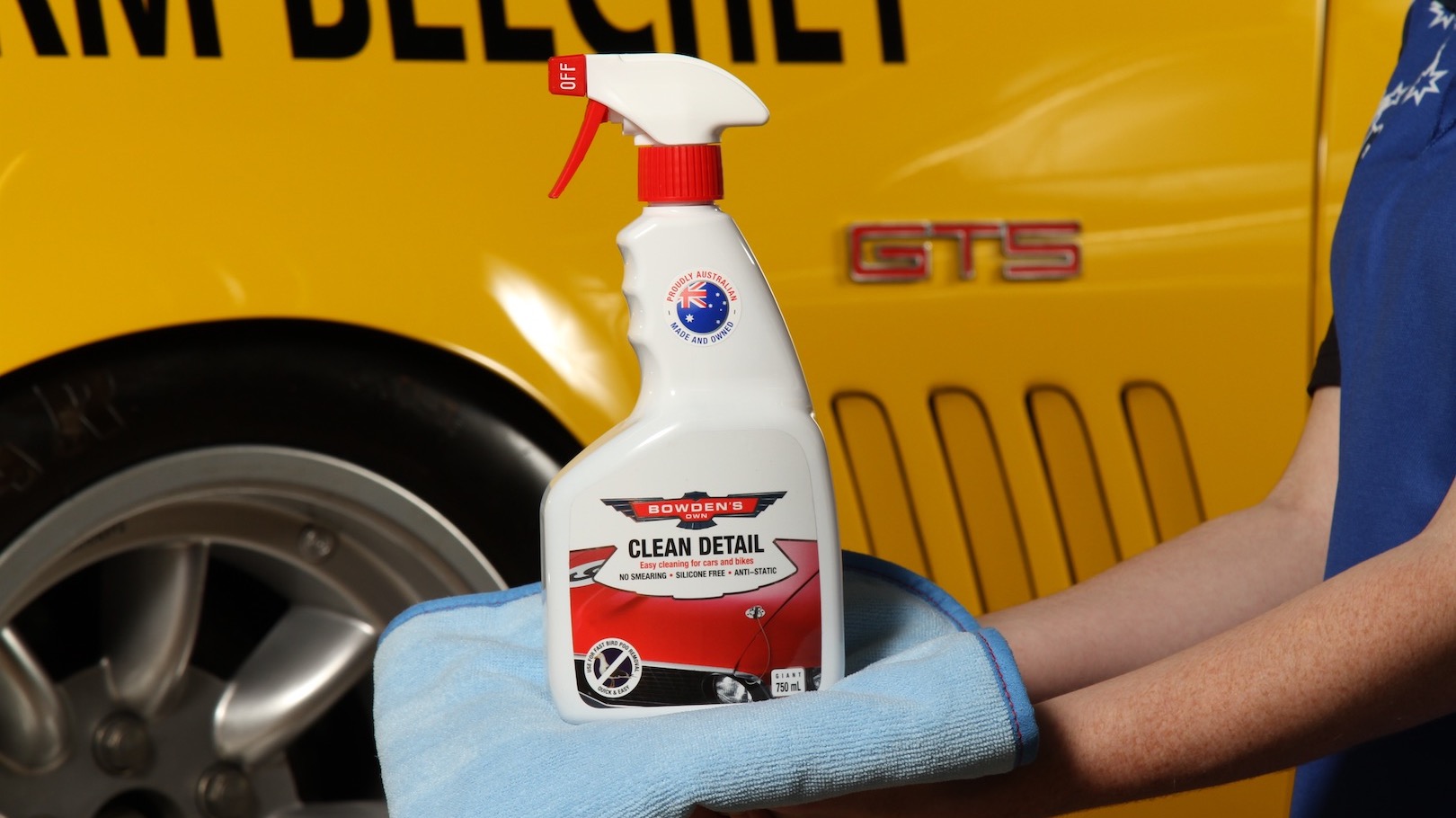 Clean Detail – A cleaning spray, for fast detailing.
We've renamed and slightly altered our original Body Detail spray to the new Clean Detail.
The name best describes what it's used for, as it has the highest level of cleaning power of all of our sprays, and consequently the lowest protection value. It's also one of the easiest to use and the least susceptible to suffering any smearing issues.
Best Uses: We like it for cleaning the more dirtier areas around the car, like door jambs, engine bays, greasy hand prints, grills, removing fresh bird or bat poo, fresh tree sap, and it's great on matte finishes as well.
With Clean Detail being more for cleaning, not a protective detailing spray, it cannot be layered and is not suitable to use right after applying waxes or sealants. Our next 3 sprays are far better suited for this task.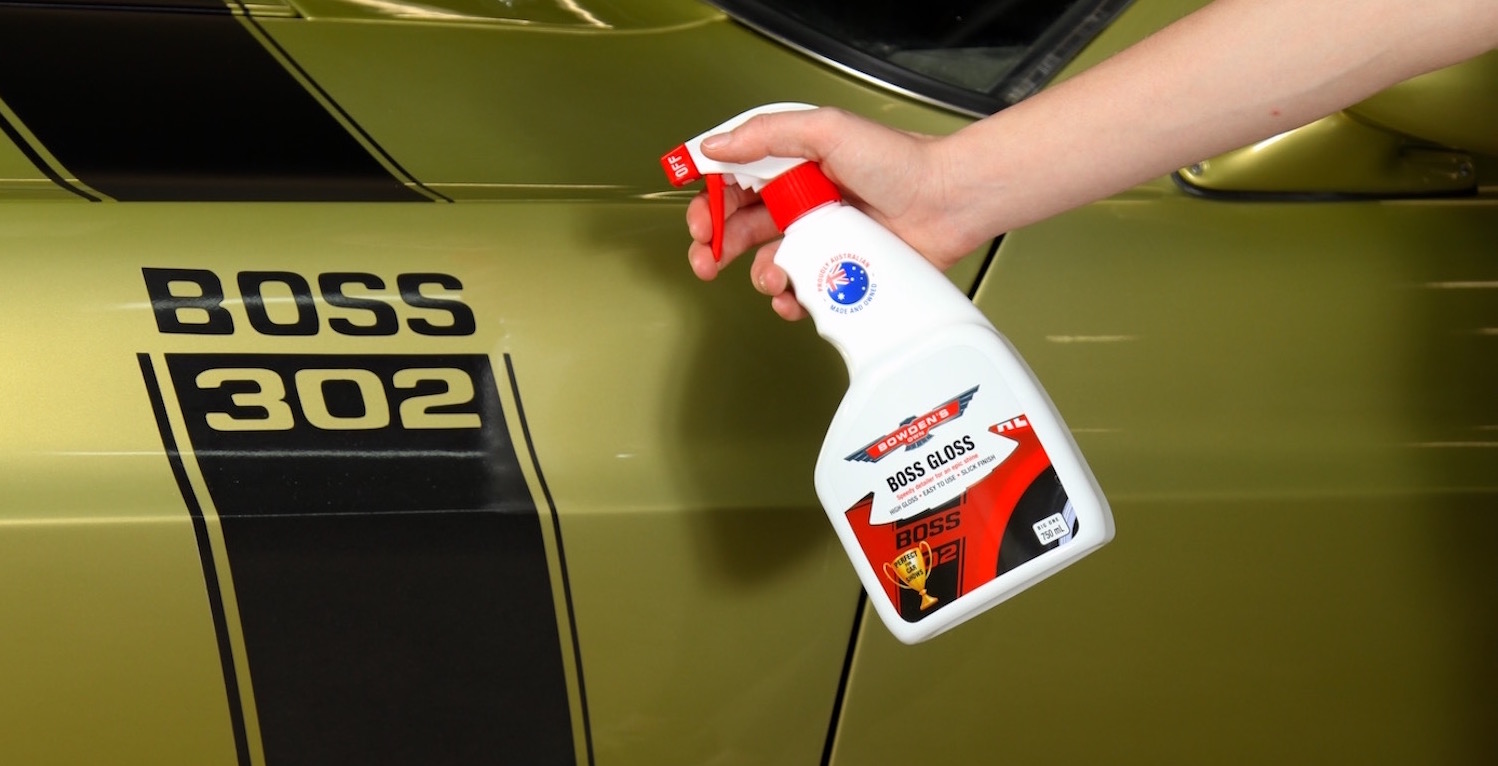 Boss Gloss – A synthetic gloss enhancer for a great shine in not much time.
We made this for the car show and collector car crew, who need a fast and easy to use detailing spray that amplifies the gloss and leaves that lovely, slick finish. It has around ½ the protection of Fully Slick built into it as well, making it more ideal for the 2nd car that sits regularly in your garage or shed. It's also less susceptible to smearing on days when it's cold or raining.
Best uses: You can use Boss Gloss at the car show or just before you go on a cruise for a fast shine up of the paint, plastic trim and chrome. It has great lubrication, so its ideal to remove light dust as well as being the go-to product as a clay lube, too. It's also our nicest product to use as a drying aid/after-wash product with a couple of our Drop Bear cloths, or the Big Green Sucker towel.
You can layer Boss Gloss, and it will go on top of waxes for another level of shine and protection.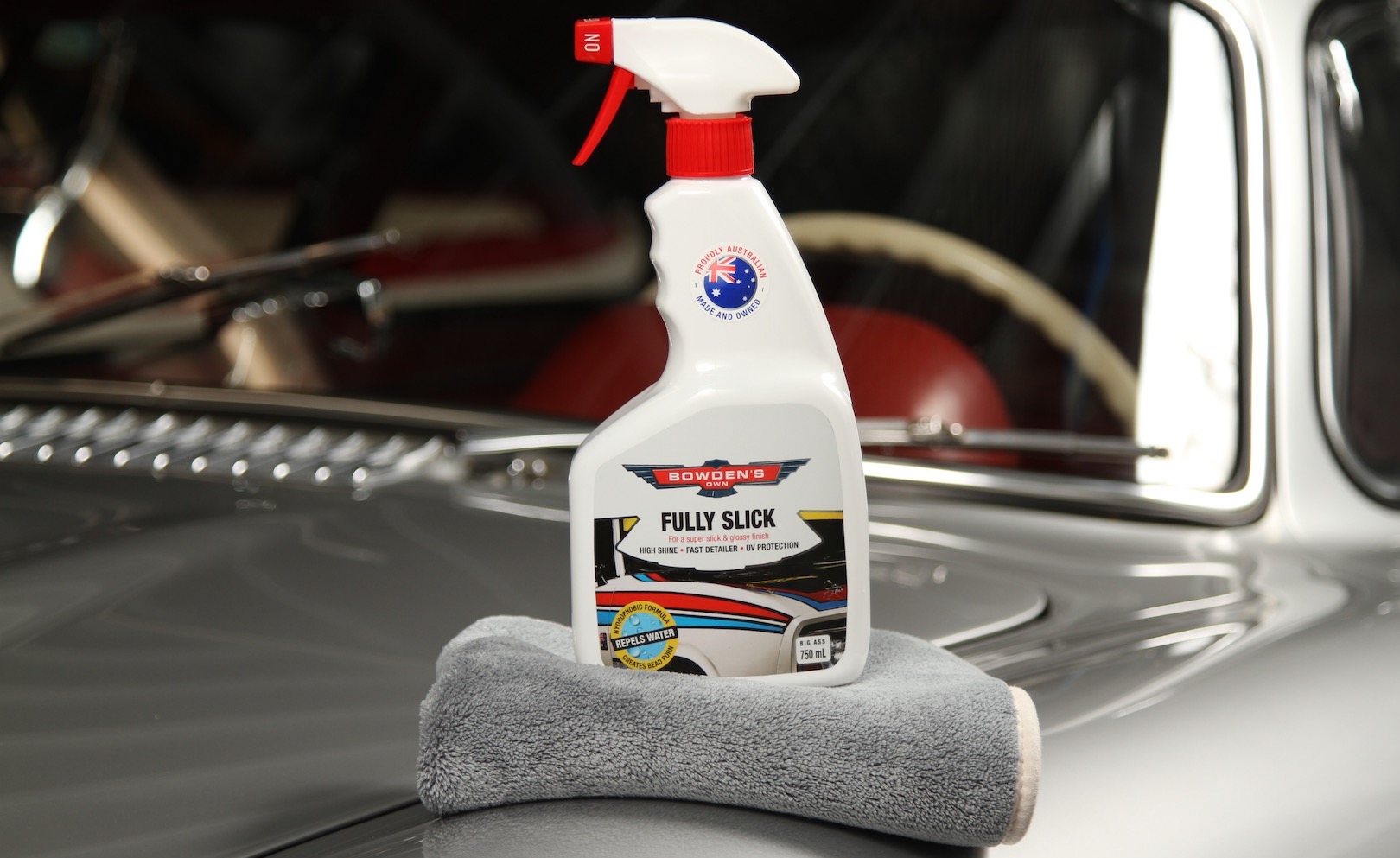 Fully Slick – A synthetic polymer sealant for the most protection.
The most highly developed spray in our range that's renowned for its high gloss, as well as lasting protection. Great to use by itself, or as the final step process to seal and lock in the waxes glowing shine.
Best uses: We prescribe it for regularly driven cars due to its protection values. Great to apply after you wax as well as after every couple of washes to maintain the wax and give a quick shine to the car. Like Boss Gloss, it's very lubricating and leaves a stunning, slick feeling finish. Loves light coloured cars and metallic finishes. You can layer Fully Slick for extra protection and also use it as a drying aid if you wish.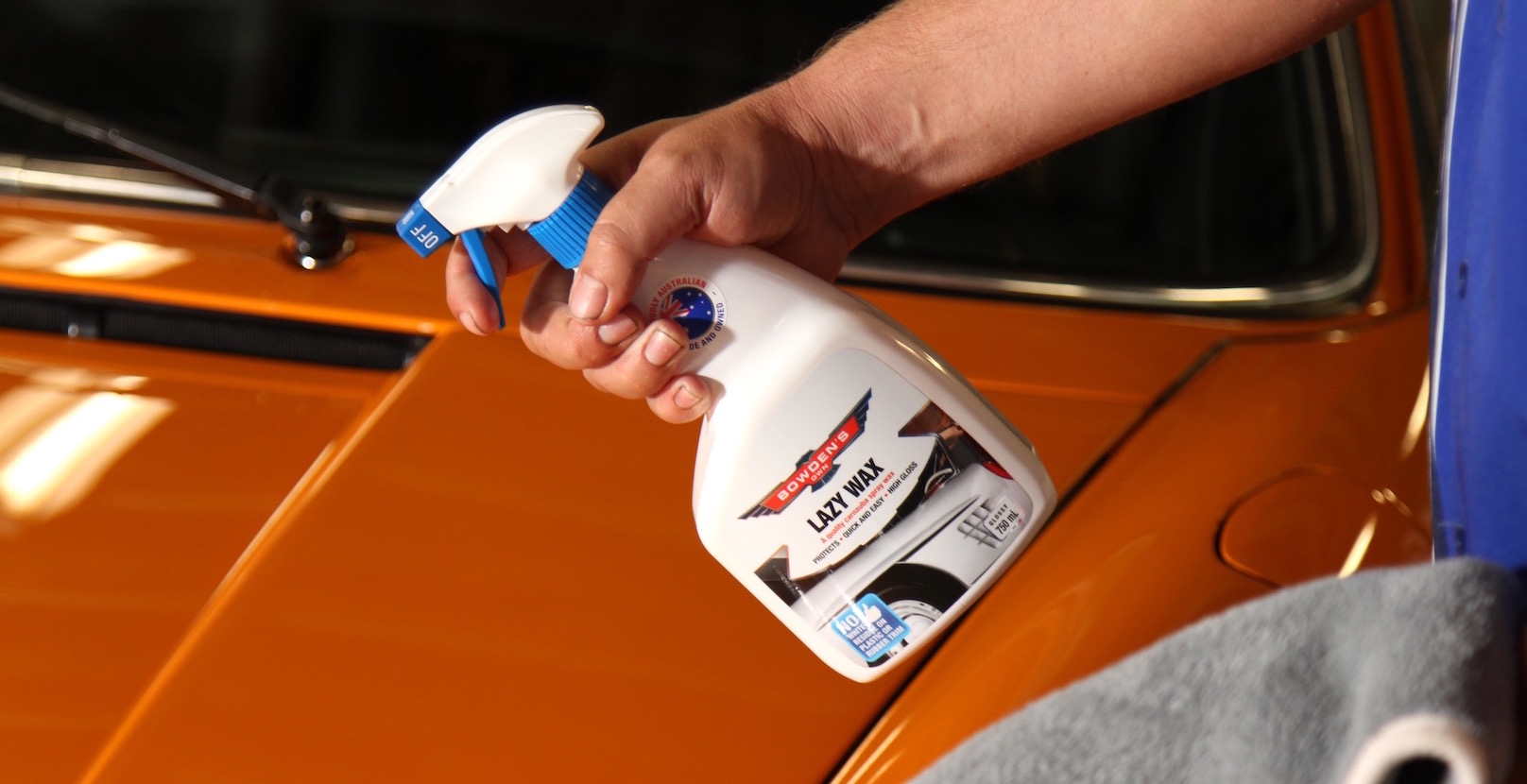 Lazy Wax – A naturally based spray wax, that's quite easy to use.
Lazy Wax is very different to all of the sprays above, as we created it to be a genuine liquid or paste wax alternative. It has a more natural base to its formula and leaves a beautiful, deep looking glow, thanks to the carnauba wax in it. It's also a lot thicker than the others sprays due to this same high wax content. We love how it leaves no residue on rubber or plastic trims as well.
Being more organic in its nature, like most waxes, it doesn't have the greatest longevity in the outdoor elements. But, it does offer the greatest depth and a glow that only a carnauba wax can give, especially a few hours after it's cured.
Best uses: We've found it's remarkably good for darker coloured cars and metallic finishes. So if you have a white car, use the Fully Slick or Boss Gloss. Be aware that unlike the two above, it's not suitable for use on wet surfaces or as a drying aid due to the natural oils and waxes in its formula.
The way we use these products together.
You can use the Boss Gloss, Fully Slick and Lazy Wax in a myriad of ways together, to help build up different layers of protection on your paint. Although you can apply them in any order, we find it's always best to use the Fully Slick last as it has the most protection.
1. Use the Clean Detail or hand wash using one of the car washes we have, then dry it down. You need to do this to clean and prepare the paint you're working on. You may need to use the Fine Clay Bar and/or the Auto Body Cleanser if the paint is a little bit run down or feels rough in any way.
2. Now use the Lazy Wax straight after. Use two cloths, one for applying and a 2nd for the removal, like you do with a conventional wax. Wait a few hours for the wax to cure. Read our guide on Lazy Wax by clicking here.
3. Finally apply the Fully Slick (or Boss Gloss) on top so you build up two different layers of protection to the surface. Remember to not apply too much of this product, or you could get smearing. We find it's even good to spray it into a microfibre cloth, wipe over the surface, then buff off with a 2nd cloth. For extra protection, apply a 2nd coat of Fully Slick a couple of hours later and that's it, you're all done. Read our guide on Fully Slick by clicking here.
For white and light coloured cars, you can use the Fully Slick just by itself afer the intial cleaning.
If you have any questions about these products or any others in our range, please drop me, or our team a line. Our number is 1800 351 308 or email dan@bowdensown.com.au
Love your car,
Dan Bowden
---
---
Comments (3)
Lazy wax and fully slick combo

By:

Cassandra Hindwood

on 2 July 2017

I have just completed 5 layers of the lazy wax waiting 4 hours between coats then I completely sealed in the goodness with Fully Slick, I have never seen Holly look so good, she's a natural red head and I swear she's darker richer in colour from when I first bought her , the label on the bottle says lazy wax and it's just that , if you're a Garfield at heart or you just love detailing this little ripper is for you , seal all of that high grade carnauba with Fully Slick, warning you may need too wear your welding glasses due to the shine , this combo has made Holly's paint POP , enjoy this awesome product xo
---
Spray wax

By:

Paul Attard.

on 30 November 2016

Do not apply too much of the Fully Slick product as it will smear. I prefer to spray a little into my micro fibre cloth and apply. I find the Boss Gloss very easy to apply and shine up. Has heaps of lubrication which is great for claying, plus very good value for its size.
---
Waxes

By:

Mark MacDonald

on 22 October 2016

I have just washed the Calais in Snow Foam and detailed it with the Lazy wax and Fully Slick. awesome job. Shines a treat.
---
Leave a comment