New 2019 Flow Chart
Date Posted:19 July 2019

We've just updated our product Flow Chart to include our newest products and how they fit into your regular detailing regime. This is up to date and current as of July 2019.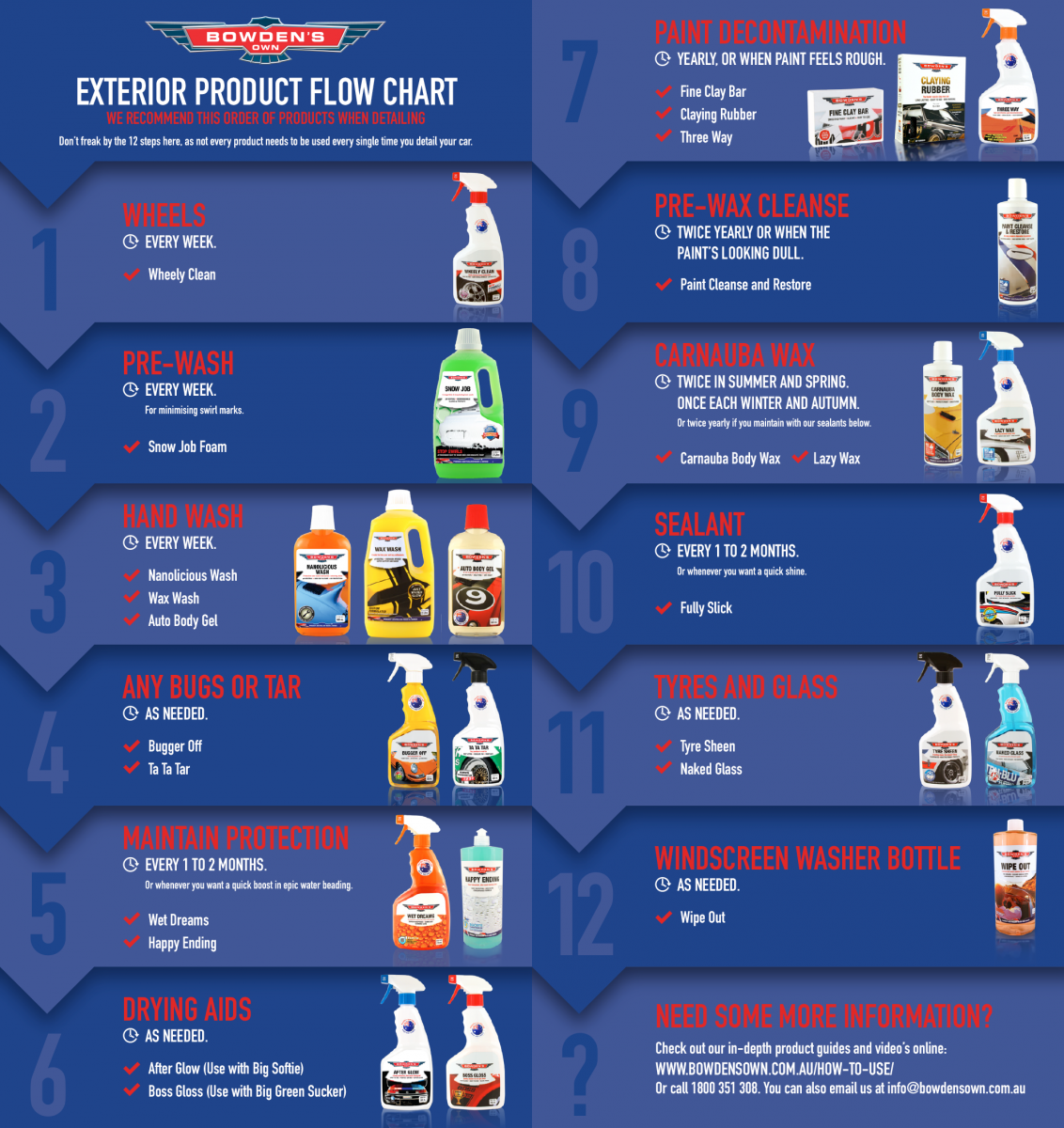 This list is not gospel for everytime you detail your car. Here's a few changes you can do from this list that we like to do:
A good 5 step weekly maintenance loop, or something to do before a car club run would be to use step 1, 2, 3 and 5 and then go to step 10 using the Fully Slick, to finish the car (or even the Lazy Wax if it's a darker coloured car), with a couple of Drop Bear cloths, to get a beautiful, protective shine, and then be sure to head out for a cruise!
You can have a read of the individual product guides that go with these different products by clicking here. They will show you how to get professional results with them, as well as which microfibre we like to use with each product.
One for the wall.
Download this chart and print it out on your computer and stick it up (laminate it if you can) in the garage, so it's always there to refer to. You can press "Control + p" to print the image straight to your printer. We will also have this chart in all our new kits and packs as well.

If you have any more questions about the order to use our products, please feel free to drop me an email; brett@bowdensown.com.au or call our office on 1800 351 308.
Love your car,
Brett Hobbs
---
Comments (2)
Bowdens car care detailing

By:

tyler cormick

on 28 August 2019

I just sent $500 on all these products and it was the best 500 I spent bowdens a true to there word when they say your car will never be the same after you use bowdens car care it is amazing detailing products that make your car look like a brand new car just wanna say thanks to the team
---
Cheers

Thanks for the flow chart, a big help and by the way, your products are amazing.
---
Leave a comment