New 2019 Flow Chart
19 July 2019

We've just updated our product Flow Chart to include our newest products and how they fit into your regular detailing regime. This is up to date and current as of July 2019.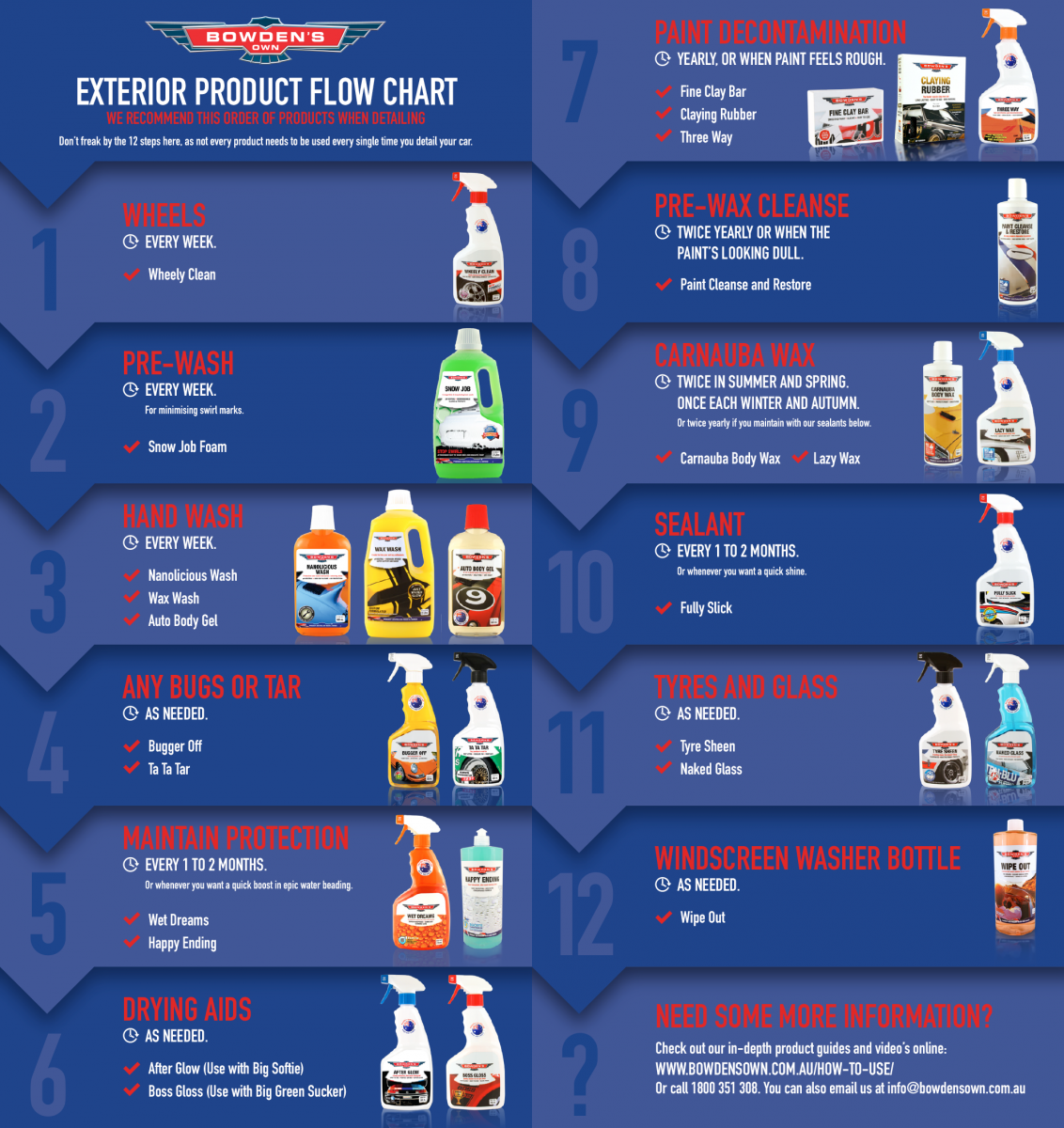 This list is not gospel for everytime you detail your car. Here's a few changes you can do from this list that we like to do:
A good 5 step weekly maintenance loop, or something to do before a car club run would be to use step 1, 2, 3 and 5 and then go to step 10 using the Fully Slick, to finish the car (or even the Lazy Wax if it's a darker coloured car), with a couple of Drop Bear cloths, to get a beautiful, protective shine, and then be sure to head out for a cruise!
You can have a read of the individual product guides that go with these different products by clicking here. They will show you how to get professional results with them, as well as which microfibre we like to use with each product.
One for the wall.
Download this chart and print it out on your computer and stick it up (laminate it if you can) in the garage, so it's always there to refer to. You can press "Control + p" to print the image straight to your printer. We will also have this chart in all our new kits and packs as well.

If you have any more questions about the order to use our products, please email info@bowdensown.com.au or FREECALL our office on 1800 351 308.
Love your car,
Brett Hobbs
---
Comments (4)
Greg

By:

Greg Waites

on 14 February 2020

My tanzanite blue clk mercedes never looked better. I have tried all the big names and am hooked on Bowden,s finish. The really easy to apply and remove carnuba wax maintained with fully slick, she pops!!
---
True Aussie gear (no silicone either)

31 December 2019

I have two classic cars and a large 4WD that is maintained like a showcar. The oldest of my classics is an EK Holden - purchased in 1972 and driven home on "L" plates. I have used every conceivable market product on this lovely old girl - read the "rave" on everything which has hit the auto shops during this time and often found cheated that many were poor performers. I settled for some time on the popular English product, then through the two USA products with some degree of success - being a devotee for some time on each until a better product appeared... which brings me to Bowden's Own. The first of Bowden's products used was Body Wax - and again I was hooked.. I progressively acquired more and more of the range - each one fully rewarding me with the claimed results and product life. With the current 30% discount at one of my local auto supply retailers, I have now almost completed an arsenal of the entire Bowden's Own range.... it consumes much of my available shelf space in our double garage. I have nothing but praise for Dan and the team - more so with Dan's prompt replies to me via email on issues I had yet to find solution to - take a bow, Dan. Bowden's products are second to none in this amazing country of ours - and it brings a proud feeling of patriotism to me that I now support an Aussie company with their fully Aussie product range - take second bow, Bowdens. You know you are onto a great product when you sadly, you suffer damage to your vehicle - and the repair centre (well known and respected) takes you aside and asks you what you are using on your vehicle to maintain the finish.... I am fanatical in the care and presentation of all my vehicles (caravan and boat included) - for the past 17 months, my satisfaction with Bowden's Own products has indeed been at a level way beyond that of all others (and I have tried the lot). I very much look forward to the new secret weapon being developed for trim (shhhh!)... and eagerly await its release - kindly advise ETA via membership logon... Most sincerely, frats, Rosco
---
Bowdens car care detailing

By:

tyler cormick

on 28 August 2019

I just sent $500 on all these products and it was the best 500 I spent bowdens a true to there word when they say your car will never be the same after you use bowdens car care it is amazing detailing products that make your car look like a brand new car just wanna say thanks to the team
---
Cheers

Thanks for the flow chart, a big help and by the way, your products are amazing.
---