Plastic trim: Cleaning, protecting and rejuvenation
One of the more common enquiries
One of the more common enquiries we get from late model car owners, is how to clean and rejuvenate the hard plastic trim on their cars. It's nice and simple to do when using our water based, silicone free products that will keep exterior plastic just like new with regular, long term use.

Why do plastics go grey?
Most plastic trim on cars is a polymer based ABS plastic, that is not capable of withstanding long term UV and environmental exposure. You can spot this type of plastic on most later model cars, as it's essentially unsealed, usually black in colour and moulded for grills, light surrounds, windscreen cowls, side mirrors etc. This type of material slowly degrades over time thanks to "photo-degradation" by the suns' UV rays slowly breaking down the bonds of the plastics polymers. From this you get the material slowly going grey, cracking, chalking, bleaching, and a general loss of how it looked when it was new.
Plastic manufacturers have tried to prevent this by placing UV stabilisers and absorbers in their plastics, however if the plastics are not regularly maintained they will still degrade, as we have seen in many high UV areas throughout Australia. And even worse, once this process begins, it is very hard to slow or stop. Thankfully, it is quite easy to prevent with regular maintenance, using a specialised product our chemists have newly created for the job - Vinyl Revival.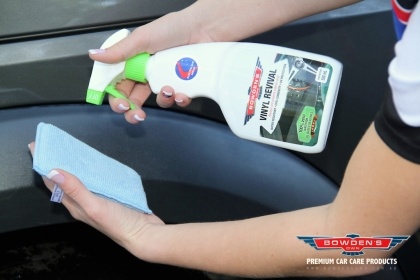 Critical prevention and protection
When looking into creating the Vinyl Revival, we found that the majority of products on the market were essentially a silicone oil/water emulsion, or a solvent based structure which was something we wished to stay away from, due to the negative effects we believe they have with long term use. We also found that although they may make the plastics look all nice and shiny again, in truth they offer very poor UV resistance and once the dressing wears away, the plastic surface can be worse than when you began in the first place.
So it's critical that you prevent the plastic from breaking down and protect it from the elements with a product that will not be detrimental to them with long term usage, something we know our Vinyl Revival does perfectly.

What is vinyl revival?
This new product is an advanced water based protectant, custom formulated for exterior vinyl, rubber and plastics. It's pretty revolutionary as it's silicone and solvent free, but still weather proof, so it will not disappear in the first shower of rain or after a wash. It's not a paint or dye, so it won't leave annoying black run marks on your car afterwards, either. Due to the wonders of modern chemistry, it has fantastic longevity that once it has set overnight, it will protect for many months, with outstanding durability and protection from the harsh Australian environment.
Being a water based product, it does not like to be applied on top of other older oils or silicone based dressings, so we made a great cleaner to use before it; SubLime Clean. It can easily clean and prepare the plastic or vinyl surfaces so the Vinyl Revival can work its best.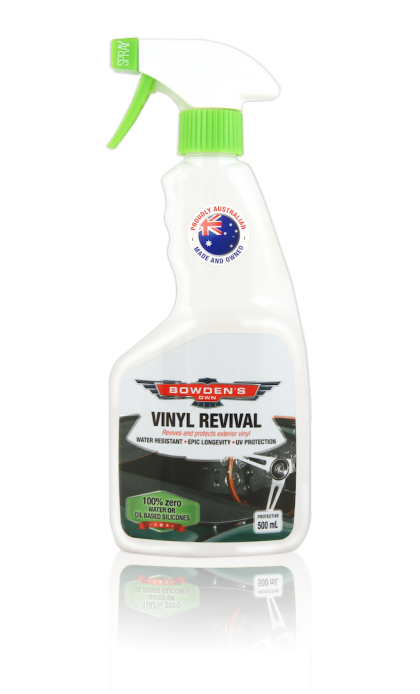 Quick and easy long term care
It's a not a difficult process to use it to look after your plastic. Firstly clean and prepare the surface with SubLime Clean, then apply the protectant, before wiping away any excess. Then be sure to keep the protection maintained with regular, long term use.
Let's show you how it works on this exterior mirror that's been disrespected by a flying friend.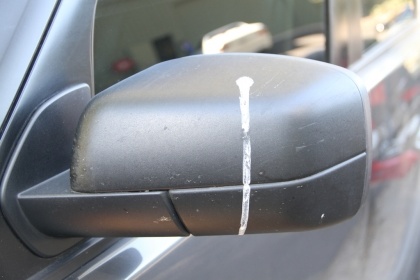 Step 1
Park and work in the shade. Spray the area down with the SubLime Clean and let it sit for 30 seconds for the product to work.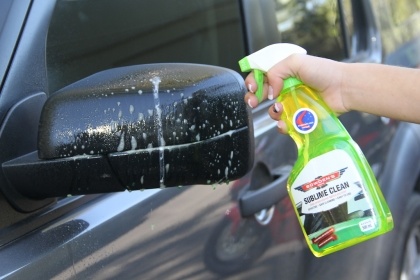 Step 2
Wash with our Love Glove dipped in water, to remove most of the bugs, grime, old silicone and oil dressings, then rinse clean with water.
(Optional step) The bird dropping had affected the plastic by etching into it, a quick rub over with our Magic Rub Bar removes the etching from the plastic. This will also work on removing any white wax or polish residue, cleaning up very badly greying plastic and removing water spotting as well.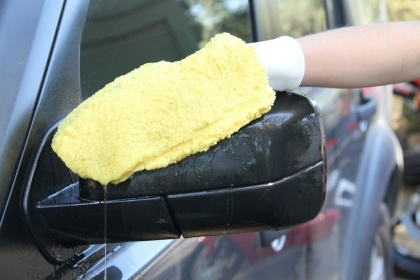 Step 3
Rinse all the residue away with fresh water.
Wipe down with a chamois, then leave to air dry.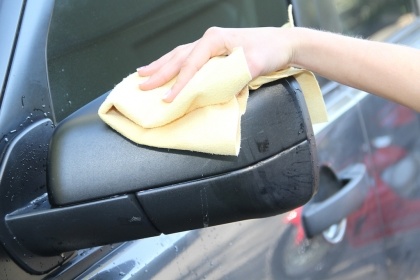 Step 4
Once the surface is 100% dry, apply the Vinyl Revival with a microfibre or sponge pad.
Use a circular motion when applying, making sure it gets in all the plastics grooves and cracks.
Don't freak if it gets on other surfaces like glass or paint, it's totally safe and can easily be wiped off in the final step.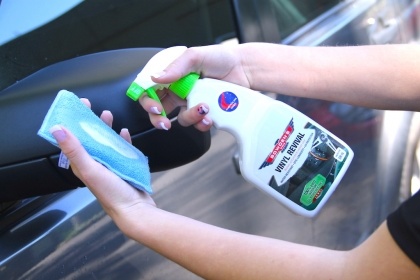 Step 5
Leave for one minute, then wipe dry with a clean microfibre cloth.
Try not to get the area wet for the next 6 hours if its during the day and 12 hours if at night so it can cure, and then it's all done! Reapply the Vinyl Revival every couple of months (especially over summer), or as you feel it requires it.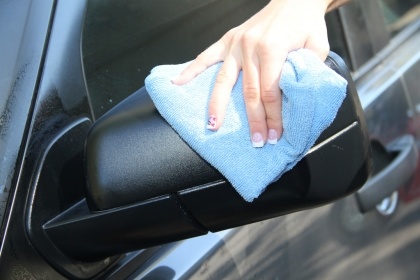 Before and after glory
As you can see, there is a big difference between the before and after. The top picture is how the side mirror looked before we started, then the bottom picture is how it looked when we were done. HUGE improvement!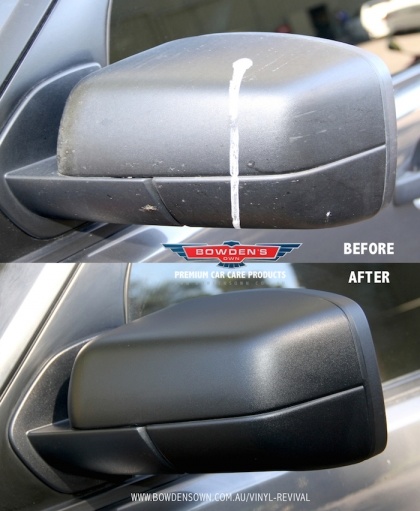 Where can I get it?
It's great to now have a silcione free product that can rejuvenate all the plastic trims on our cars.
You can find these products at our many retailers nationwide in the stockist link here.
If you have any questions about anything in this article, especially about using the Vinyl Revival or SubLime Clean, please drop me a line for further information.
Email dan@bowdensown.com.au or call 1800 351 308 during office hours.
Love your car,
Dan Bowden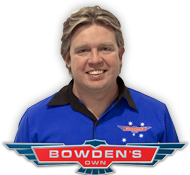 ---