Safest technique for cleaning off light dust
Safe cleaning of light dust without the use of water is something we get lots of enthusiasts asking us about. Having 70 odd cars, we deal with it weekly in our sheds as we don't use car covers (they scratch the cars as you take them off and put them on over the years). Read on about our technique we use to keep our cars clean, especially good after returning back from a dusty car show, or for a quick detailing between washes or a tour of your shed...

Remember the dust storm?
We first wrote this now updated article, after dealing with a major weather incident on the 25th of September 2009. It's something that will forever be remembered by all Virgo's and cleaning freaks throughout the eastern states of Australia, as the day of total havoc and mayhem. From the depths of South Australia, a deep, low pressure system whipped across the Australian desert and stirred up a very unique dust storm. A huge wall of talcum-fine red particles rolled through from Sydney to Bundaberg, 1000km north. The day became a dark red haze as the sun disappeared in the mass of airborne dust.
In the midst of all this, our headquarters in Buderim copped it badly. We quickly shut up the shed that houses close to 50 cars, that had just been prepared for a big tour with a national Bristol rally the next morning. But, the dust found its way in via the whirly birds on the roof and we soon had a very special 'Aussie red carpet' laid out for their arrival. It was mayhem the next morning after the dust settled - we only had 2 hours to clean close to 50 cars with only 2 people to do it...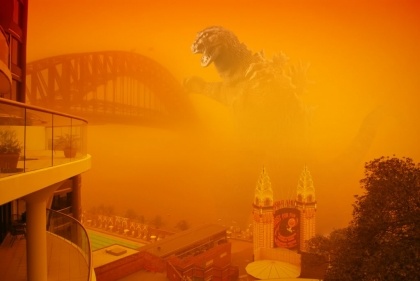 A safe cleaning method
Our method of cleaning is one we have been using for many years, derived from when we would return from car shows with the cars covered in a layer of fine dust. We have found this to be the best, safest and easiest way to effectively clean them down.
You will need either the Boss Gloss or our more protective Fully Slick detailing sprays. We personally prefer the Boss Gloss for the cars in our shed, as it is a lot easier to use than the more protective Fully Slick. Both are equally lubricating though, which is critical to stop the chance of any dust micro-scratching. You will also need at least five of our soft and plush microfibre towels; either the 4 or 5 of the Big Softie or Drop Bear microfibre cloths (we prefer the Drop Bear for the safest finish, but either is okay).

Step 1
Blow your baby
Blow the majority of the light dust from the car with a fine compressed air blower/gun, or a portable shop blower. We have a great little one that is battery powered from Milwaukee tools. It's always used before we even touch the cars. If the car is very dusty, it's good to do this outside, then move the car indoors. If it's not possible to do this, you will need to gently sweep or vacuum the light dust now from the floor, otherwise it can blow back onto the car as you walk around cleaning them. It gets annoying having this happen after they are clean.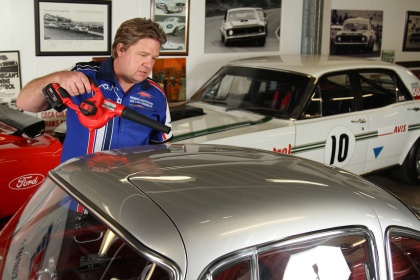 Step 2
A good misting
Working on a small section at a time, like a quarter of the roof, bonnet or a guard etc. Get your detailing spray and apply the first mist coat, using a little bit more than you would under normal circumstances, not enough so you have droplets forming, but enough so you can see the liquid totally covers the surface.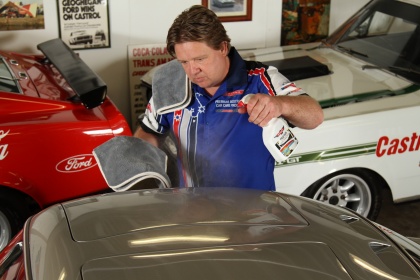 Step 3
Technique is very important
Then get your Big Softie or Drop Bear cloth and fold it in half long ways to the plush side of the cloth. Now this is the important part: follow this technique for this first clean. Grab a hand on each end of the cloth and gently apply an arms length away from you on the misted surface. Then using absolutely no pressure, slowly pull it in a straight line back towards you, while slowly rolling the cloth upwards at the same time.
This way your're continually exposing a clean surface of the cloth to the paint, further lessening the chance of any scratching. You will see the dust lines in the microfibre. It's important that as you continue, that you always make sure to turn the cloth to a fresh/clean section with each pass, so the dust in the cloth is never in contact with the paint again. Once the cloth has had all 4 sections used, put it away to be washed and get a new cloth.
This is why it's good to have a few new cloths handy. We use at least 5 cloths on a car like the Gullwing Mercedes each time we clean it this way.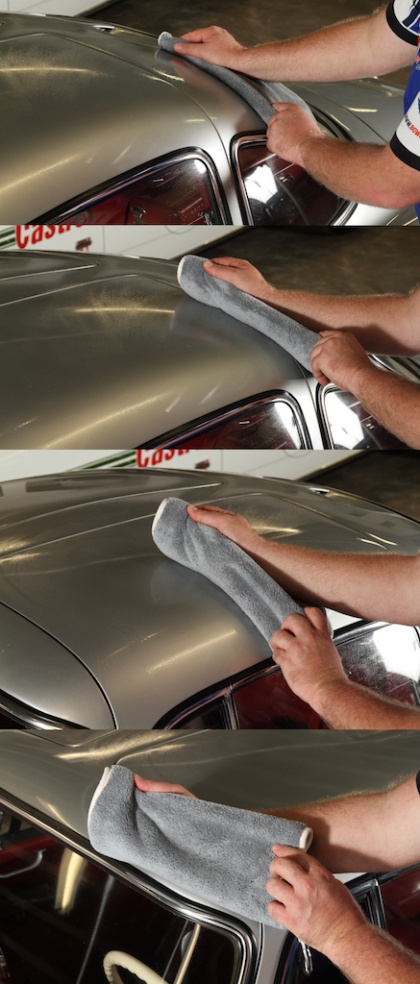 Step 4
The final finish
After the first wipe down, very lightly mist the surface again with the detailing spray. Grab a fresh Big Softie or Drop Bear cloth and fold it into quarters, and using the low pile side of the cloth, gently buff the misted area. Then grab your last, clean Big Softie or Drop Bear cloth, fold it in half and give that final buff in a circular motion with the plushest and driest part of the cloth, to leave a perfectly clean surface. It's important for this final finish that the you always use it on a dry section of the cloth, to eliminate smearing, so fold and turn it often.
Then move onto the next section, doing the exact same process, till the car is completed.
If you're then going on to clean another car, don't use these same cloths; always use fresh ones, as you don't want to risk any dirt micro-scratching this cars paint. Might give you an idea why we have hundreds of these cloths at out disposal to clean all the cars in the collection, some 20 times a year. We sell the cloths in bulk, check them out from the links to the cloths below.
The microfibre cloths will need to be cleaned straight after, so machine wash them with our Microfibre Wash. All the accumulated dust will be totally removed from the cloths. From our weekly cleaning experiences, we know they will all come back as new, ready to give you a great, safe clean once again.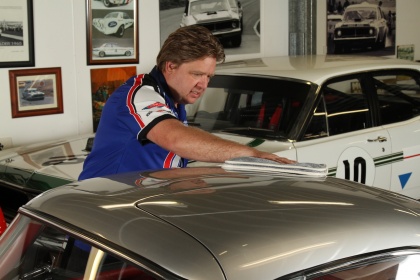 Any questions?
So if we ever get any more dust storms, or you just want to give your cars' a good, safe clean with no water, keep this technique in mind to keep your car looking its very best over the long term. You can get all the products in this article at many of our supporting retailers nationwide. Find a link to them at the bottom of this article.
If you have any questions or feedback on this article, please feel free to email us at info@bowdensown.com.au or call for a chat on our office line, 1800 351 308.
Love your car,
Dan Bowden
---
Clean Detail - for fast and easy cleaning
Clean Detail - for fast and easy cleaning
Boss Gloss - the versatile quick detailer
Boss Gloss - the versatile quick detailer