Clean Detail - for fast and easy cleaning
One of our favourite products is the Clean Detail spray, mainly due to its brilliant, quick cleaning properties. It's a stand-out addition to any car enthusiasts/lovers car care cleaning kit. To understand why we went to all the drama to make it like we did, here is our story.
Car Covers
Many years ago we had issues with keeping all the cars clean, as we didn't like to use car covers. We were finding that the car covers were scratching the bonnet and the roof above the windscreen as we would pull the covers off and put them back on (we like to look at our cars, so this would happen quite a bit!). In a perfect world, the covers should not do this, but over the years of being in a dusty shed (even the cleanest sheds get dust!), dirt would build up in the covers and finally begin scratching our cars every time we took them off and put them back on. So nowadays, the only time we use a cover is short term - if a car is in peril (like being in a busy workshop) or for security, so no one can see what car it is under the cover.

Neighbourly Relations
So, if you can't use car covers, you get all the issues with dust building up and washing your car with water is the only alternative. This means that you have to take it for a drive afterwards, to dry all the water out from those hidden crevices and panels. This is something that our neighbours and most residents of quiet little Buderim would not be too pleased about, especially in something like Norm Beechey's Monaro, which hits the sound meters at 130dB.

Our Unique Formula
So we spoke to our industrial chemist, and with him on the job we made our own answer to the problem, which we now call Clean Detail. To cut it short, we made this with these following properties;
Attracted to wax oils (carnauba wax): So it pushes all the dust on the surface of the paint up and away. So when you wipe it off, it minimises the chances of scratching your car. This new formula with its increased cleaning power, will diminish the protection left by the wax on your car, so it's always a good idea to wax, or use Fully Slick or After Glow again after using Clean Detail.
Anti-static and silicone free: Too many of the ones we tested left a surface that dust loved to be attracted back to. Ours is the only one out there where this does not happen, hence the reason it's so popular with the show car guys! It's also popular with courier companies who now use it on the back windows of their cars as it stays cleaner, longer. Plasma TV owners too are fans as you don't get that static dust build up any longer - very cool to use before the Bathurst race each year.
UV protection built in: This is to give your paint a better chance of survival in Australia's harsh climate.
Low vapour point: Evaporates quickly in the confines of an undercover shed, minimising the chance of smearing. It also means it is good for no smear finishes on chrome and glass.
Safely removes water spotting, and bird/bat droppings: Before they can damage your paint. We keep a bottle in a lot of our road cars for this very purpose. The quicker you can remove them the less chance you will have for damage to occur.
Not damaging to plastics: Use it on any hard surface with no fear; it cleans them all!
Environmentally friendly, this product is an alternative to using precious water to clean your car. However, if the car is really dirty, it's always best to initially wash with water as there is nothing in this product to encapsulate small grit particles and contaminants that can potentially scratch your car. A lot of car collectors and top show competitors do not like to wash their cars full stop, making the Clean Detail a welcome addition to their car care kit.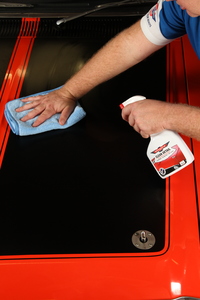 Super bloody quick and easy to use
In our opinion, the ease of use is the best thing about the Clean Detail. To use it, just lightly mist it evenly over the surface you want cleaned. I try and segment the areas by doing it a panel at a time, or half a bonnet, roof or boot section. Use enough product to have the area mildly damp, then lightly wipe it away with a clean Big Softie or Drop Bear plush microfibre cloth; finishing it off by turning the cloth over to a dry side and gently buffing the area for a prefect, high gloss finish.
When doing multiple cars, or a bigger car, we use two Big Softie or Drop Bear microfibre cloths; one for product removal and the other for buffing to a glossy finish. With this system we can usually do around 4 to 5 good sized cars before needing new, dry cloths. With over 60 cars in our main shed to clean, you can imagine we go through quite a lot of product before each tour or show we do with the cars! This is another reason why we do this bottle in 750ml sizes (also in cost effective 5 and 20 litre packs of it as well).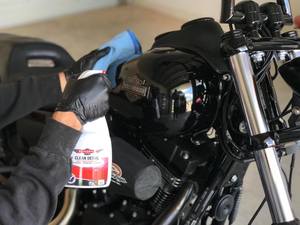 Tips to remember
When doing a car in the sun, like at a car show, use the product a bit more heavily, almost like water, as it evaporates so quickly. Cleaning small areas at a time - like you're spot cleaning it. This ensures you will not get any streaking and that you get the best possible finish. Likewise, if you're using it to clean away bird droppings or the like, concentrate a few trigger sprays direct onto the area affected and wipe away safely, using a clean part of the cloth with each stroke. It goes with out saying that you need to wash this cloth out afterwards.
Over the years we have also found the Clean Detail is good to clean away tyre rubber marks on your paint, being after a drag racing run or a few fast laps at the track. With both Chris and I running white cars, we have found it is an indispensable part of our racing kit. Even for that quick clean between runs, you can keep your car looking top notch the entire day. Something that is important for clean freaks like us!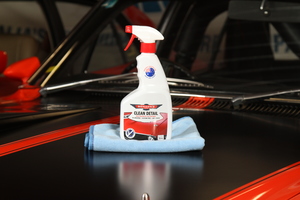 Any questions?
We love our Clean Detail spray for the way it cleans so much quicker and with less fuss that anything else we have in our range.
You can get it at any of our great retailers nationwide. Find your closest store in the link at the bottom of this article.
If you have any questions or feedback about this article please contact me by email - dan@bowdensown.com.au or call our office on 1800 351 308.
Love your car,
Dan Bowden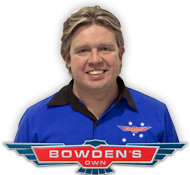 ---
Our four new detailing sprays.
Our four new detailing sprays.
Safest technique for cleaning off light dust
Safest technique for cleaning off light dust