Introducing Dry Spell - our new Rinseless Wash.
15 March 2023 Brett Hobbs

Australia was hit quite badly a number of years ago with severe droughts, which prompted us to begin working on a rinseless wash to conserve water. We wanted something that can be used to clean lightly dirty vehicles safely, without causing any life-ending scratches or swirls in the paint, all without having access to a hose to rinse off with! It was no small undertaking, and it took many years of development, testing, and 50+ formula changes, till we got it to the point where we are now happy to use it on any of the cars in the shed or out in the car park. In fact, it has become one of our most used products in the shed now.
WHAT IS RINSELESS WASHING?
Rinseless washing has become an industry favourite, popular with professional detailers worldwide, for quick maintenance washes as it's quicker, more economical and practical as you don't need to bust out all your traditional washing gear, pretty well anytime you cannot access a hose or if working in an area you cannot flood with water. Likewise, it will suit many passionate car fanatics as a great solution in many different situations including the following:
For apartment dwellers without a wash bay or hose in their car park area.
Anyone who lives in drought-affected areas with water restrictions.
Classic car or bike fanatics who don't like to let their beloved vehicles get wet, for fear of rust in hard-to-reach internal areas from sitting water.
Safe and quick mid-week maintenance washing to get the clean shine back on your car, bike, jetski, boat, and even planes while in the garage, shed or hanger.
Race car fans, who are at the race track and need a quick spruce up between races in the pits.
Before or during a car show, for light dust removal before the judges or your other "picky" car mates swing past.
Dry Spell is a purpose made rinseless wash formula, which allows you to safely clean light to moderately dirty cars with a couple of buckets, some plush microfibre cloths and a drying towel. This is not to be confused with a waterless wash, as rinseless washing in our extensive testing is a better, safer, and more modern solution than any waterless spray-on and wipe-off solutions and why we don't have one in our range.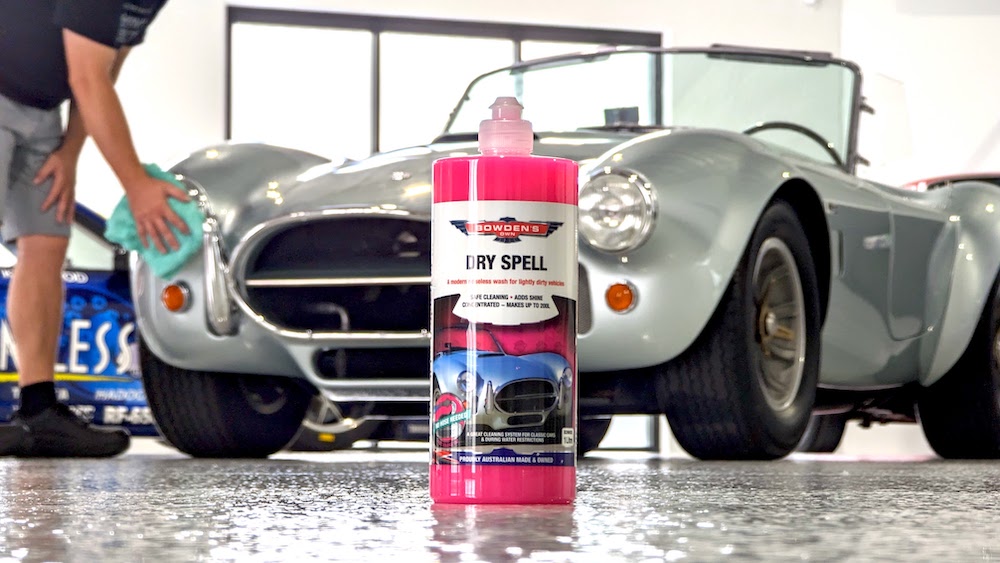 SOME KEY POINTS ABOUT DRY SPELL
It's a highly lubricating formula to help minimise the risk of scratches or swirls occurring while you clean.
Has a unique grouping of high-tech cleaning surfactants to lift and encapsulate light dust and dirt so it can be wiped away safely.
Leaves a beautifully slick and shiny finish.
Time-saving - about a quarter of the time needed to clean your vehicle over traditional washing.
pH neutral, so it's safe on quality waxes, sealants, ceramic coatings and paint protection films (PPF).
Suitable for all exterior surfaces including paint, polished metal, alloy, plastic, rubber, vinyl, gel coat, perspex and glass.
Water saving, as you don't use a hose, great for any extended dry spells.
Very economical - the one-litre bottle of concentrate will make up to 200 litres of Dry Spell solution.
Salt-free and eco-friendly biodegradable formula.
Designed and made locally, specifically for our unique Aussie conditions.
A COMPLETE AND SAFE SOLUTION
Rinseless washing has been known to get a bit of a bad wrap, only due to the bad techniques many others use or advocate with it. More "traditional" rinseless washes usually use just one bucket of solution and a sponge or two cloths - the sponge or cloth for wiping over the paint, and another cloth for drying. We tested and found these types of systems were a little horrific in creating unwanted damage to the paint, thanks to the one washing cloth spreading the dirt all over the car and continually inflicting scratches and swirls as you wipe.
We've put together a rinseless washing system and technique to help dramatically reduce the risk of scratching, by using a diluted Dry Spell pre-spray in a 500mL trigger sprayer, or The Frother pump sprayer, to help initially break down, loosen up and then encapsulate light dirt and grime. Then, cleaning the surface with multiple, super soft and plush edgeless microfibre cloths which are folded into quarters, and dipped into a bucket of diluted Dry Spell to provide needed extra lubrication.
FAST AND EASY TO USE


Step 1 - Pre-spray on the Dry Spell Pre Mix and leave it to sit for 2 mins.
Step 2 - Mix 40mL of Dry Spell concentrate into a bucket with 8 litres of water, drowning The Plushcious cloths into this mix.
Step 3 - Wipe the vehicle down gently with the highly lubricated cloths using our rolling technique.
Step 4 - Dry down with either the Big Green Sucker drying towel and Boss Gloss quick detailer combo, or with our After Glow drying aid for a great finish.

We found that the technique of using one side of a plush cloth, rolling it up and over as you gently go over the surface, before flipping to a clean side for the next section is a game changer. This simple technique keeps the safely removed dirt away from your paint and seriously cuts down the risk of ever creating micro-scratching or swirling.
Dry Spell also contains unique protective ingredients that leave an eye-catching shine and a beautifully slick finish, without interfering with its great cleaning attributes.


THE NEW PLUSHCIOUS CLOTHS
Aptly named for their beautiful feel between your fingers, The Plushcious microfibre cloths are a pleasure to touch and use, with just the right combination of soft/dense fibres and water-holding capacity, they help to minimise the chance of ever creating those life-ending scratches or swirls in your paint. We searched high and low for the right weave, density, and plushness with a quality edgeless cut (no stitching around the edges, and they won't come apart) before we fell in love with this final cloth when rinseless washing. The large 40cm x 50cm size allows for 8 fresh sides per cloth (when folded) saving how many cloths you need to use for our process. The Plushcious will also suit those fanatics who want the most delicate touch when removing detailing sprays, spray sealants and waxes.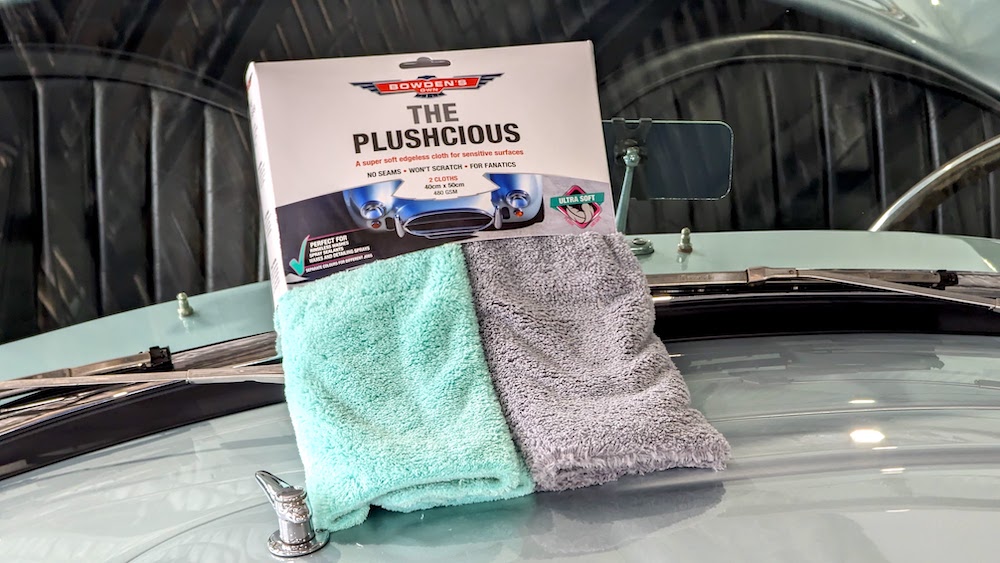 THE IMPORTANT KEY POINTS FOR THE PLUSHCIOUS
Lovely plush microfibre, with plenty of "give" helping prevent dirt and grime from being pushed into your paint.
Edgeless design, with no exposed seams or stitching, eliminates the chance of any potential scratching on sensitive surfaces.
High-quality, machine-cut soft edges for that premium "flat earth" edgeless feeling.
Comes in a two-pack with two different colours, helping separate when using different products or for different areas on your vehicle.
480GSM in density, as we found after much testing this was the right amount of "give" and absorption for rinseless washing.
Large 40cm X 50cm size, with a quality blend of 70% polyester and 30% polyamide South Korean Microfibre.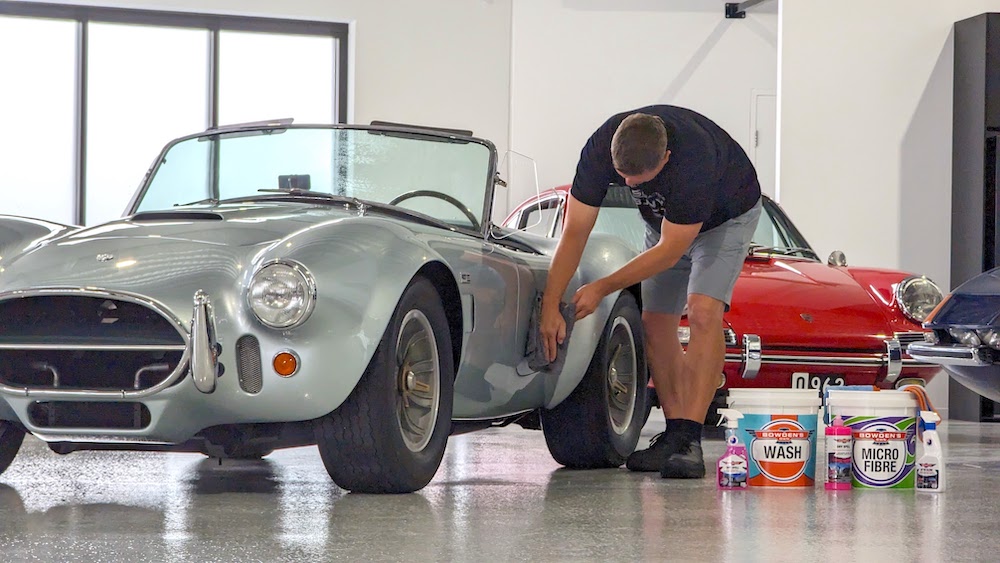 WHO IS THIS NOT FOR?
This one is for people with light to moderately dirty vehicles, and as everyone has different ideas on what this means, let's spell it out; Light surface dust or dirt from sitting around in a garage or a shed for a few months is perfect. Seaspray film, dust and lighter moderate dirt and grime from a few drives around town or a cruise, but not having been through any rain, is still ideal.
Heavy to really heavily dirty vehicles like something that is used daily and not washed for a few weeks to a month, or driven through decent rain, is not ideal. Likewise for more extreme cases, like a 4x4 that has been to the cape and back, up the beach or on back trails through mud and heavy grime is not what rinseless washing is for either. For these dirtier vehicles, the traditional washing process with a pre-wash of the Snow Job foams and then hand washing before drying is going to be the better, more effective option.
THE DRY SPELL PACK
You can also find our handy Dry Spell Pack which comes with a 1L Dry Spell concentrate, a 500mL Dry Spell Premix, already mixed up for you with distilled water for perfect results, and a super handy measuring cup too.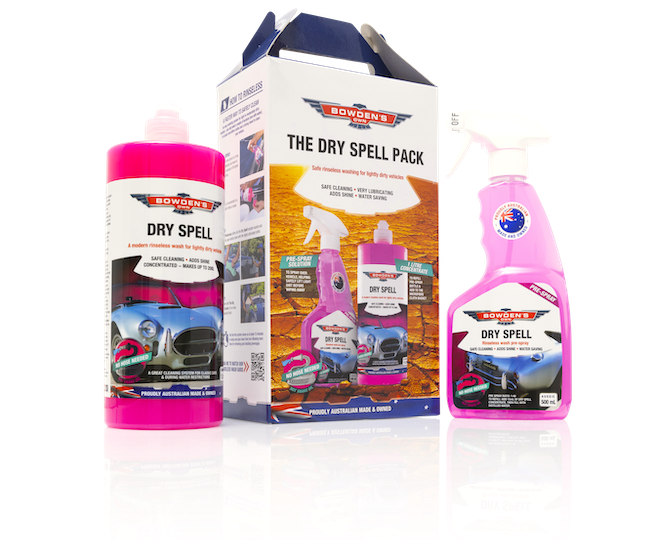 You can find our full instructional guide for using Dry Spell right here: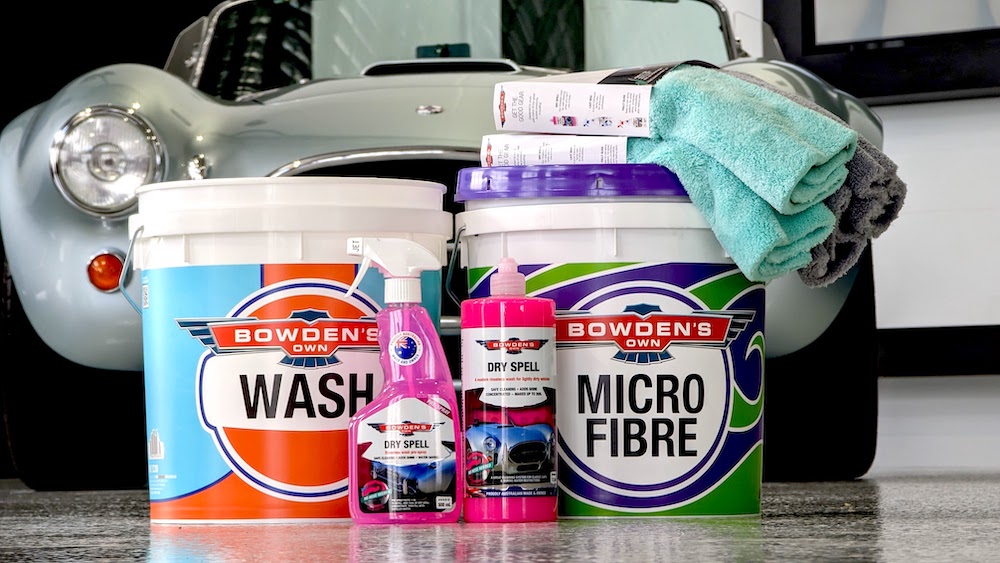 Dry Spell Pre Mix is available to order separately through our website or as a special order through retailers. This is pre mixed at 40:1 with quality distilled water, ready to use!
Dry Spell is exclusive to Supercheap Auto stores initially and will become available in other retailers in the coming months. If your local Supercheap Auto doesn't have them in stock, simply ask them to order them in for you. The product codes to quote for them are:
Dry Spell 1L: BODRY - RRP $44.99
Dry Spell Pack: BODRYP - RRP $64.99
Dry Spell Pre Mix: BODRPM - RRP $22.99
The Plushcious: BOPLUSHY - RRP $23.99 (2 pack)
We love using this system of cleaning on the majority of the cars in our shed here, even managing to convert Dan who is the biggest user of it now with all his family's priceless classic and iconic race cars! We hope it offers many of you a great solution for quick and easy cleaning too.
Happy rinseless washing!
Brett Hobbs
---
---
Comments (2)
A great way to clean classic cars to reduce rust r

By:

Matthew Gibb

on 17 March 2023

Since 2002 I've been using rinseless washes and drying towels you will definately notice the added slickness when drying versus after using shampoo and rinsing with water (different surface tension as water is a natural solvent) Rinseless wash removes more road film (the stuff normal shampoo doesn't) and doesn't leave a dirt/dust attracting film behind that shampoo's will. A 5 litre size would be awesome to see one day for the pro detailers/franchises You can also use any rinseless wash including Dry Spell I imagine as a pre spray prior to high pressure rinsing the vehicle's paint prior to using Dry Spell as shown in the video above or washing the conventional way but most will probably snow foam first when using shampoo. Foaming is not not my preference on paint but is with wheels and arches due to the cling and easier cleaning of the arches. It amazes me how long it's taken for so many detailing product manufacturers to embrace this technology as with encapsulation carpet/fabric seat/headliner cleaning tech that prevents restaining (wicking) of fabrics
---
Finally the ideal product

By:

Gary

on 16 March 2023

I am fairly severely disabled but use all of your products that are required by myself. I am the only person that is permitted to wash or Polish my vehicles, it has become increasingly difficult for me over the last few years. I have been an annoyance I'm sure to your tech support team constantly enquiring about such a product as I could no longer safely use a hose, so love glove and water, plus chamois/big green sucker are my go. For at least three years I have been aware that you have been personally using this product but would not release it until you were 100+ percent satisfied to launch it publicly, I am delighted but unfortunately it will be on the back burner until I save the cash and quietly make a purchase.
---