Our Open Day 2015 - through Sofia's eyes.
7 May 2015 admin

My first Bowden´s Own Open Day – What a treat!
My interest in cars started when my uncle brought home a 1979 Porsche 911SC and he took me for a spin. Wow!! My interest in cars was born and since then I have worked for both Mercedes-Benz in Sweden and BMW internationally.
Man of the Day - Big rev Kev Bartlett.
I have recently joined the Bowden´s Own team to look after all marketing activities (lucky me) and as a rookie to the Open Day I was blown away by seeing the collection of these vital pieces of Australian motor racing history.
David showing the Ardun headed engine off in the Allard.
The knowledge and passion that the Bowden boys have for their cars, the stories from a true racing legend Kevin Bartlett and the presence of over 100 Australian car enthusiasts from across the country made the day truly unforgettable. A real treat money can´t buy!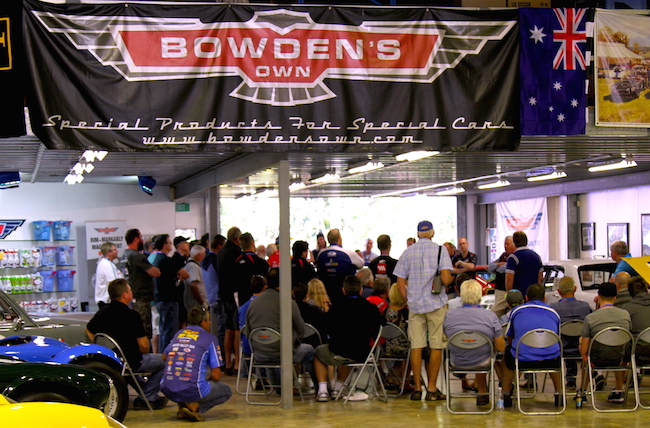 KB talking to the group in the afternoon.
So make sure you secure your spot for the next Open Day in September – You don´t want to miss out!
Click here to read about attending our next Open Day tour.
Images and text by Sofia - welcome to the team!