Adding protection
Now that the van is clean, it's time to add some protection. In the past, this would involve grabbing out your chosen wax, buffing it on and then buffing it off in small sections at a time which just isn't any fun on something as large as a caravan! We spent a few years developing what we would call the biggest cheat in car care - Happy Ending. It's a super hydrophobic finishing foam that is applied with the Snow Blow Cannon to a clean, wet surface, then immediately rinsed off with the pressure washer. Happy Ending adds super hydrophobic properties to the paint, while also making it super slick and shiny, which helps keep it cleaner for longer, and makes the next time you wash an absolute breeze as the dirt comes off so easily.

Please Note: DO NOT USE ON HOT/WARM PANELS, IN THE DIRECT SUN AND NEVER ALLOW TO DRY.
It's best used in the shade on cool panels, for a caravan you may need to break each side of the van into two sections to prevent the product from drying.
Mix 900mL of water with 100mL of Happy Ending in your Happy Ending Cannon Bottle, and attach to your Snow Blow Cannon. Starting from the back, evenly apply a thin layer of Happy Ending over your chosen section, using a wide fan setting on the cannon.

IMMEDIATELY switch to your pressure washer lance and thoroughly rinse off the entire section starting from the top and working your way down. Continue around the van until it's complete, working in smaller sections.

You may need to apply two coats of Happy Ending to really see the super hydrophobic water behaviour, thanks to the larger particle size of modern gel coat.

On the slight chance that you get any streaking or uneven patchiness when using Happy Ending, simply wipe over the marks with the Big Green Sucker or Big Softie cloth using a bit of extra pressure on the towel to remove these "high spots". If the marks are left to dry, don't freak out, as the Paint Cleanse and Restore can remove them easily.
See our full Happy Ending guide here, IT'S CRITICAL TO FOLLOW THE DIRECTIONS FOR HAPPY ENDING.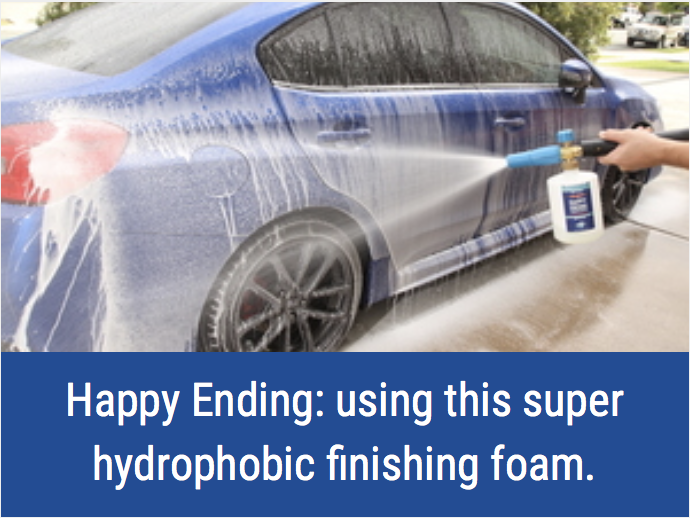 Happy Ending is the quick and easy way for lazy people like us, but for those who want a spend a bit more time and see a better result, Bead Machine is our most protective and durable sealant which is applied to a dry surface with two cloths. This takes a bit more time, but once it's done you can easily maintain it with Happy Ending when necessary as a quick top up of protection.
After rinsing off the Happy Ending, thoroughly rinse the van down with the open end of the hose, to flood the panels which will now be very hydrophobic leaving very little water behind, which means less drying time for you!