Perfectly clean glass - just get Naked!
One of the more important things for a safe and pleasant driving experience is having perfectly clean glass, so you can safely see out of your car. This is especially important when driving into early morning or afternoon sun. At Bowden's Own, we take this pretty seriously, which is why we have put a lot of time and thought into creating products that work together to give you perfectly clear glass, quickly and easily.

Naked glass
Usually, the issue of streaky glass is due to either bad technique or using a cleaner that simply doesn't work that well. In this article we can show you how to get great results with the combination of great products and technique.
We have put some serious work into creating this glass cleaner, which we call Naked Glass, for the fact that it leaves your glass clean and bare like nothing is there... Oooh it's Naked.
New Formula
Our chemists have made some great breakthroughs with new polymer technology, which are now incorporated into our latest 'Naked Glass' cleaner. It's always been one of our most popular products, and with this new formula, it's really been taken to the next level. It gives a guaranteed streak-free finish, faster than ever. The new chemistry also keeps your glass cleaner for longer. It helps minimize fogging, is tint safe, environmentally friendly and quite importantly, very simple to use.
Key points are:
Non streaking formulation. Something that was essential to us after frustratingly using so many of the other "car friendly" cleaners that left half the product on the windscreen, making a nightmare job removing it all.
Stops dust particles attaching to the glass surface and helps resist hazing. Just a cool little additive we put in the mix, because we wanted it to stay cleaner for longer.
Effective cleaning agents remove haze, grime and minimise fogging. Enough cannot be said about this aspect of the Naked Glass. As we did our testing and found on dirty screens that most of the glass cleaners took a lot of extra work to get a great finish - not ours! Also, with the windscreen being clean, we have found that it's less susceptible to fogging up; something essential in the older cars that don't have effective air con or heating in them to help demist the windscreen.
Fast drying and easy to polish off. Again, this is all about having an easy product to use, giving great results every time. For this reason it's also very good for cleaning mirrors and chrome as it leaves no residue, just a beautiful, shiny finish.
No harmful ammonia. We didn't want this ingredient in the formula, due to its links to salivary gland cancer. Think about that next time your're spraying a household glass cleaner around the interior of your car, or any other closed off, confined area, whilst breathing in those toxic fumes. By having no ammonia, Naked Glass is safe and compatible with all aftermarket and OEM tinted windows. Ammonia is also no good for plastics, rubber or fabric. The over-spray gets on them and works to break them down. It was essential that we removed this ingredient from our formula.
GETTING EPIC RESULTS
We have literally cleaned thousands of windows, and to get truly epic results you need to use Naked Glass with a quality, plush microfibre cloth. Our new feather soft Big Softie cloth, with its dual-sided composition is perfect for using with glass cleaners. The low pile side for application; and the super absorbent deep pile side for a final streak-free wipe down.
All glass cleaners are sensitive to dirty cloths, so don't use a cloth that was previously used for waxing or polishing, as there's a very big chance of product leeching out and smearing the glass. Always have a separate clean cloth that is purely dedicated for your glass.
Make sure your cleaning out of the sun and not in an overly hot cabin. The hotter it is, the more the chance the product will evaporate (called flashing) and will not be able to clean the glass. Then on the other side, using it on a very wet and cold day gives it less of a chance of evaporating, thus a higher potential for leaving streaks. A simple formula we have used is that if it's hot, use more product and if it's cold and wet, use a little less.
Step 1
EASY APPLICATION
With Naked Glass and a Big Softie in hand, follow these simple steps for the perfect finish.
Lightly mist Naked Glass into a folded Big Softie cloth and apply to the glass. DO NOT drench the cloth - a spray or two is always enough.
We say to spray into a cloth and apply so you don't get over spray everywhere, saving you time in cleaning up later. Only if the glass is really, really dirty is it a good idea to spray a little bit extra directly onto the glass.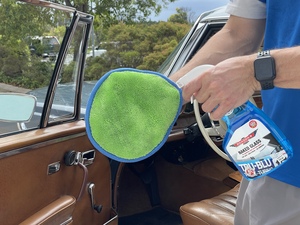 Step 2
FAST REMOVAL
Turn and fold the cloth to the dry, plush pile side and gently buff the residue away to a perfect finish.
If your cloth is feeling wet, or you begin to notice slight streaking, it's time to swap it for a fresh and dry one. It's imperative the cloth is dry to get the perfect finish.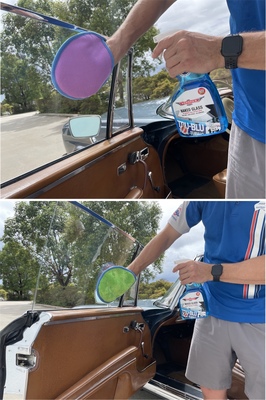 EXTRA TIPS
VERY DIRTY GLASS AND CHROME
For very dirty glass, we find spraying the product nice and evenly over the glass surface, then letting it sit for a few seconds before buffing it all off with the Big Softie cloth, gives the best result. In some cases it might be best to use two cloths, one for application and another for removal.
With using this method in your interior, clean off the inveitable overspray on your dash with our Vinyl Care; this will clean, enhance and protect the dash at the same time.
And that's it, you can now go for a drive with no fear of the early morning or late afternoon sun as your glass is perfectly CLEAN, CLEAR & NAKED.
For some extra uses, try Naked Glass on hard chrome plated parts (not plastic chrome) and any mirrors. Spray it directly onto the surface (as long as you're not going to get messy over-spray everywhere!) and remove it with the Big Softie. You will be pretty happy how well it cleans them up with very little work.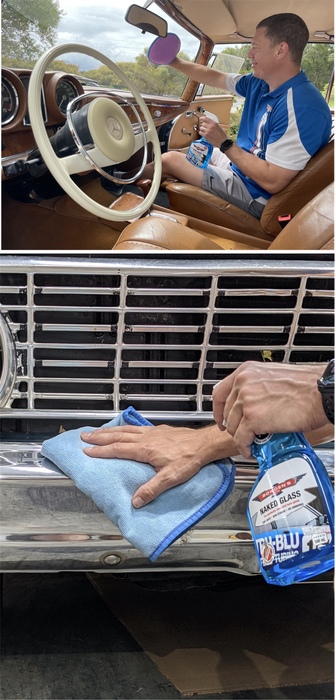 GET NAKED FOR FREE
WHAAAT?
We love our car care fans, so when you come and see us at one of the many events we attend each year, be sure to bring your empty Naked Glass 500ml bottle to our Bowden's Own tent and we will refill it for FREE!
*Offer only available at events where the Bowden's Own refill station is present. Check out our events schedule on the "EVENTS" page.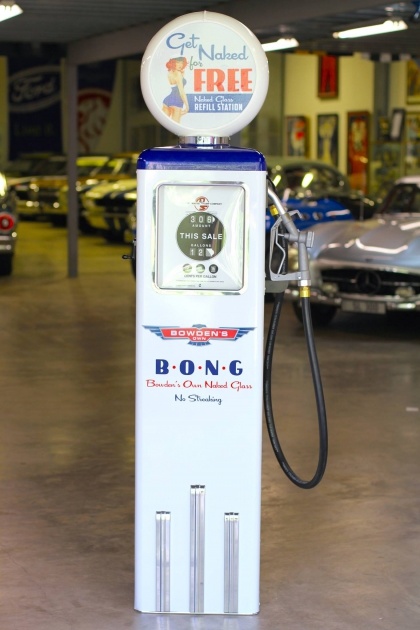 Any questions?
You can get these great car care products at all of our great retailers nationwide. Find your closest one in the link at the bottom of this article.
If you have any questions or feedback about this article please contact us by email - info@bowdensown.com.au or call our office on 1800 351 308.
Love your car,
Dan Bowden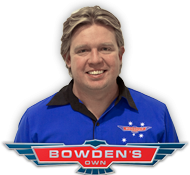 ---