The 2014 Bathurst at Bowden's
16 October 2014

Any true Aussie rev head has that one special day of the year, where they religiously prepare themselves for a full day of sitting in front of the tv, to watch the huge Bathurst 1000 race. This tradition has been going on since the 60?s for many, including our family, where we have not missed a single Bathurst day together since I can remember!
A few years ago I suggested to Dad (David) about how good it would be to watch the race in our shed, with a few of the iconic Bathurst race cars around us, he loved the thought and said lets do it.. I told a few car mates about what we were doing and they asked if they could join us? I said yeah why not, then they told their friends and it grew from there! I suggested to Dad that it would be cool fun to watch it with a few other car guys and he was all for the idea. And that's where we got serious, I hunted around and found the biggest screen I could afford to get, plus a unique grandstand that we could fit the camping chairs on, just like being at the race itself. I had a great car fanatic mate, Aaron come in with his audio equipment setup and from there we had our event!
Dad had no idea of the scale I had planned, until the Saturday night before where he came down and saw the set-up.. Oh yes he loved it! When those first fans came into our shed for that very first event, we had a magnificent race day experience and from there they keep getting bigger and better each year!
This year we got a slightly deeper grandstand for more legroom, the most powerful projector we could find, for the biggest screen we can fit in the shed. It's a great combo that really makes the event, Aaron has his audio set-up bigger with more radio microphones, better quality front speakers and now subwoofers under the stages, just to give that bit more oomph during the race starts and restarts!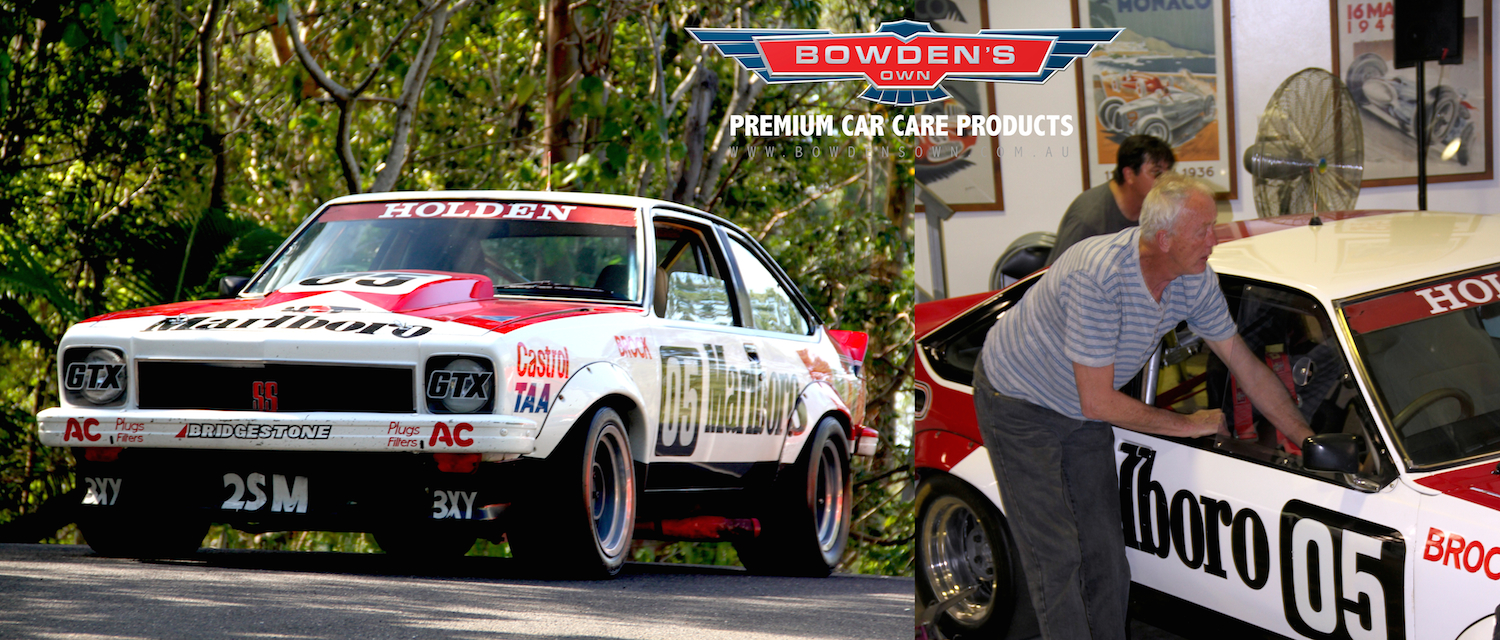 Phil Brock helping move his brothers famous 1979 Bathurst winner into place.
It takes a full two days to set the shed up for the event, a mega organisational day on the race Sunday and another two to put all back together after the event. It would not be possible to do this without our team of race fanatics who come and help me each year. Big thanks to Dennis, Darren, Stu, John, Angus, Aaron, Pete, John, Rohan, Phil, Mark, Peter, Casey, Nicole, Kingo, Jason and my brother Chris.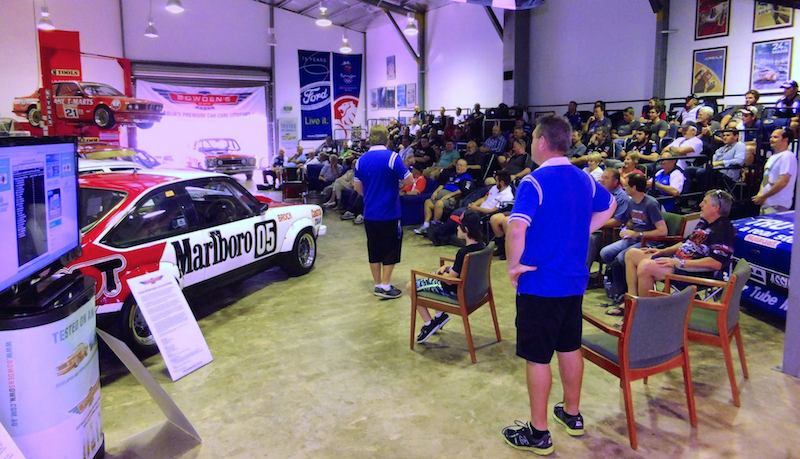 Dan Bowden welcoming the race fanatics to our shed.
This years event was yet again totally booked out the week before the event, with people coming from all over Australia to enjoy the day with us. We have a lot of cars to choose from to have in the shed with us, and selected the Brock 79 amd 87 Bathurst winners to be on one side of the screen, with the French 71 GTHO, KB?s Camaro, Bond #2 Falcon, Bob Jane 635 bimmer, Moffat 1970 Bathurst winner and JPS 635 fanning off to the other side. As people walked in they were to find the Dick Johnson 1981 and 1989 Bathurst winning Tru Blu Falcon and Sierra with them as well? A lot of real Bathurst history in those heavyweights, which brought many a smile to all the fans, no matter if they were going for Ford, Holden, Nissan, Merc or Volvo!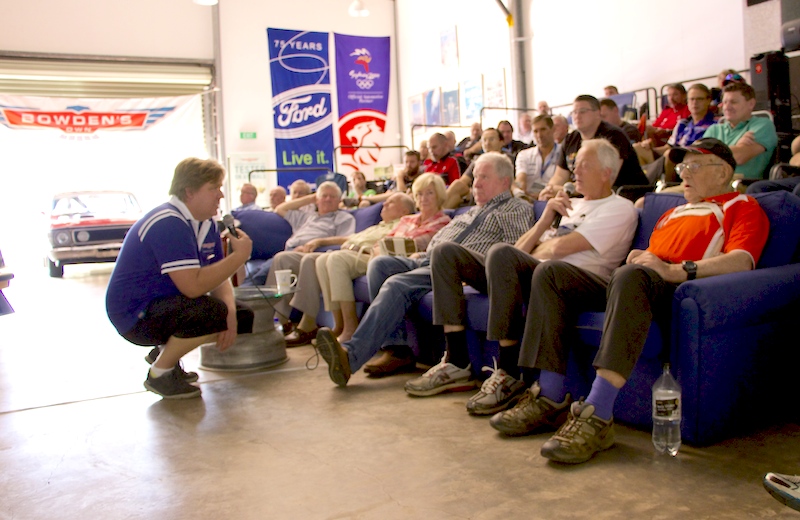 Dan Talking with the real legends of the day.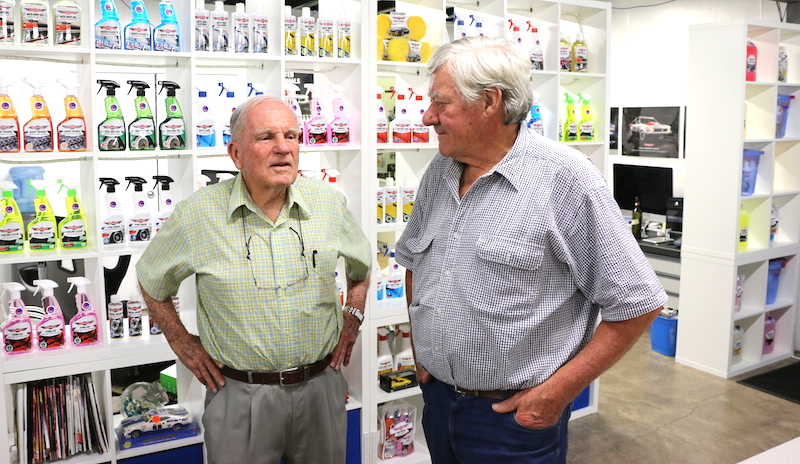 Frenchy and KB catching up.
The cars are one to give some real substance to the day, but getting the guys who raced them is another. Hearing these Bathurst legends stories first hand, of their wins, losses and many other funny memories from their many years of contesting the great race is more than entertaining! This year we were privileged to have John French (81 Bathurst winner with Dick Johnson), Kevin Bartlett (1974 Winner with John Goss), Phil Brock (who had one hell of a race in 1977 with brother Peter, finishing 3rd), female driver from 1969 and 1970 Karol Corness and multiple Bathurst starter/ Ford rally ace Bruce 'Hotto' Hodgson all on our legends lounge for the day. Every advert break we had a chat with them about the race, their racing memories about the many iconic Bathurst cars we had near us with all the races stops and starts we did plenty of talking!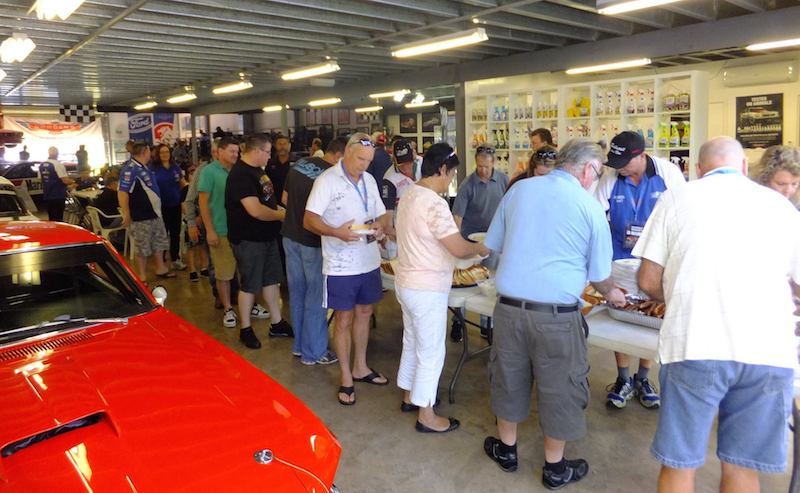 BBQ Lunch break was well timed!
The race itself was quite different, we thankfully timed the race stoppage to repair the track with our big BBQ lunch, and got to kick a few of the cars over in there aswell, just to keep everyone stirred up.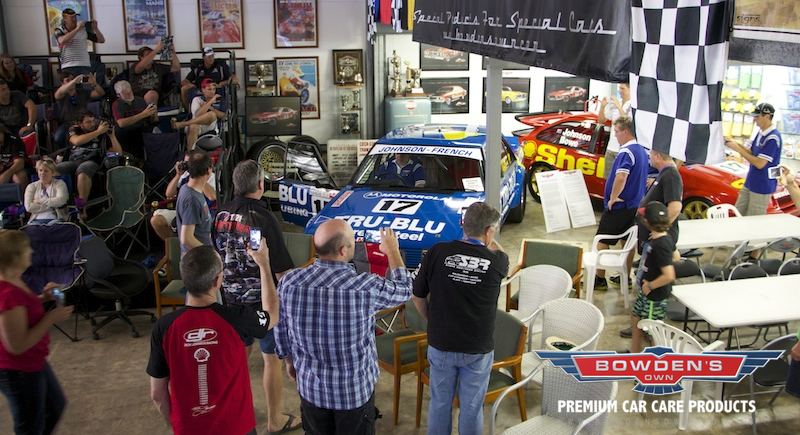 Tru Blu comes to life during lunch.
We were constantly asking the drivers who they were backing, or thought were looking strongest to take the win, KB with his many years of racing was to quite funnily give his pick and then they would crash out, stop or have some other issue face them and take them out of contention, even down to the very last lap where he had picked Whincup to take the flag just 15 minutes earlier.. and then he ran out of fuel.. It was of course a that no-one would have thought was going to win taking the prize. Well done to Chaz and Morris in the FPR Ford, that was one hell of a race to win! Likewise for James Moffat and Taz Douglas in second with the Nissan and Nic Percat's and Oliver Gavins Holden taking a deserved 3rd.
Best Bathurst set-up in Australia? We think so. :)
That last lap had the shed erupt like feeding time in the zoo, I don't think anyone saw it coming and the fanatics here loved it. The atmosphere from everyone who comes along and gets into the race is really what makes this event work, and the last few laps certainly showed this!
Thanks again to all those who made it along for this years race, it was a great experience to share it with you all and we will look forward to doing it once more next year.
Loving the 1000,
Dan Bowden