Bathurst 2013 - Greens Tuf returns
4 November 2013

Bathurst 2013 was a memorable one for us, with Aussie race legend Dick Johnson returning to take a few laps in his famous old beast Greens Tuf. It is the first time her royal green fatness has been to Bathurst since 1984, and the trip was to coincide with Dick Johnson racing running the famous retro green livery on the Max Mosart V8 Super Car. It was all done under much secrecy and planning, many months before the race event. Greens Tuf was already down at DJR and the boys there gave her a quick look over, to make sure she would be safe and a service with new fluids going in to keep her happy for the few laps!
Dick took her to the Performance Driving Centre for a few laps the week before the big race, just to make sure all was ok, Dick gave David a call straight after the laps to report it was very, very ok!!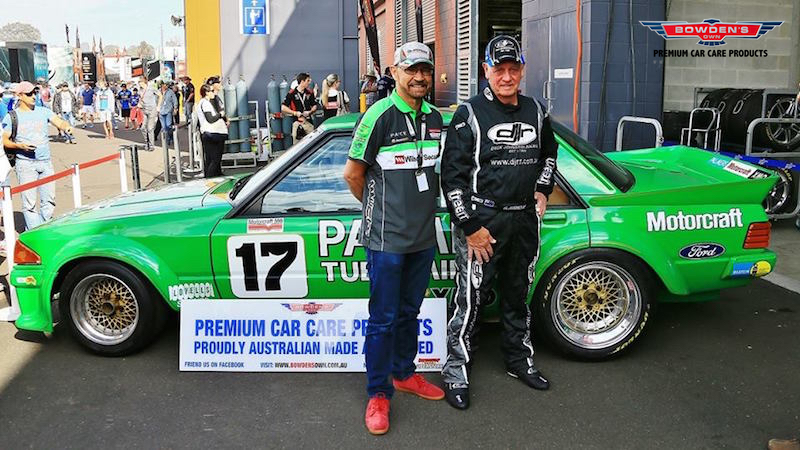 Dick and some Tasmanian bloke in front of greens tuf. :)
Come the race weekend the big announcement was made, both green machines were put together in the Bathurst pits and the media went nuts. The old green girl stood pride of place in front of the DJR pits for the weekend, so all the fans could get a look at what a real race car looks like.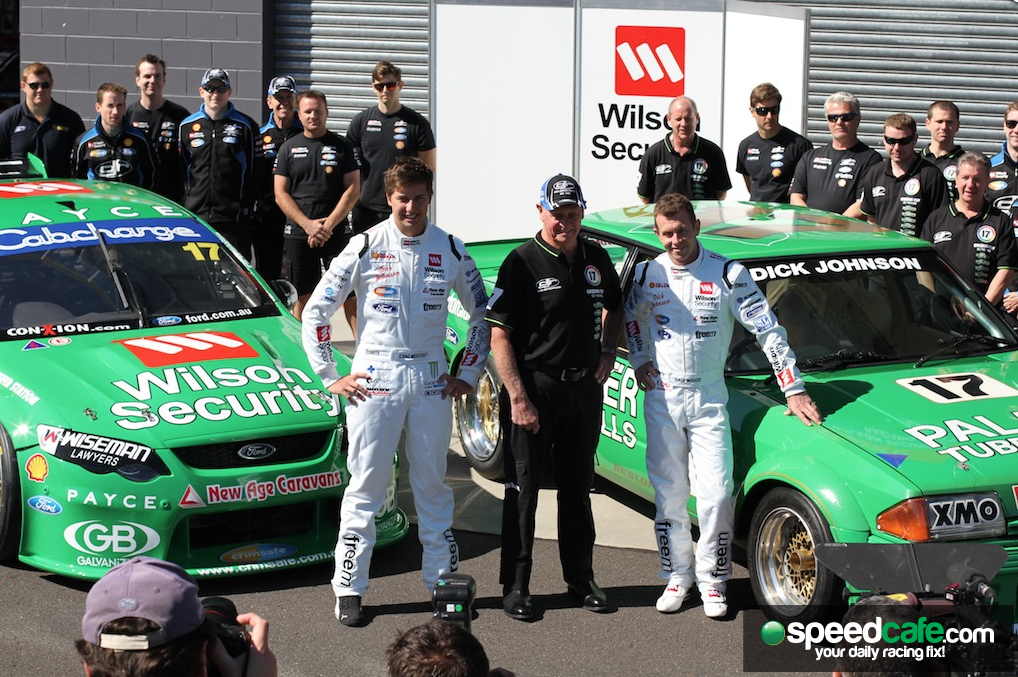 In the pits, shots here and below are from the Speedcafe.com release.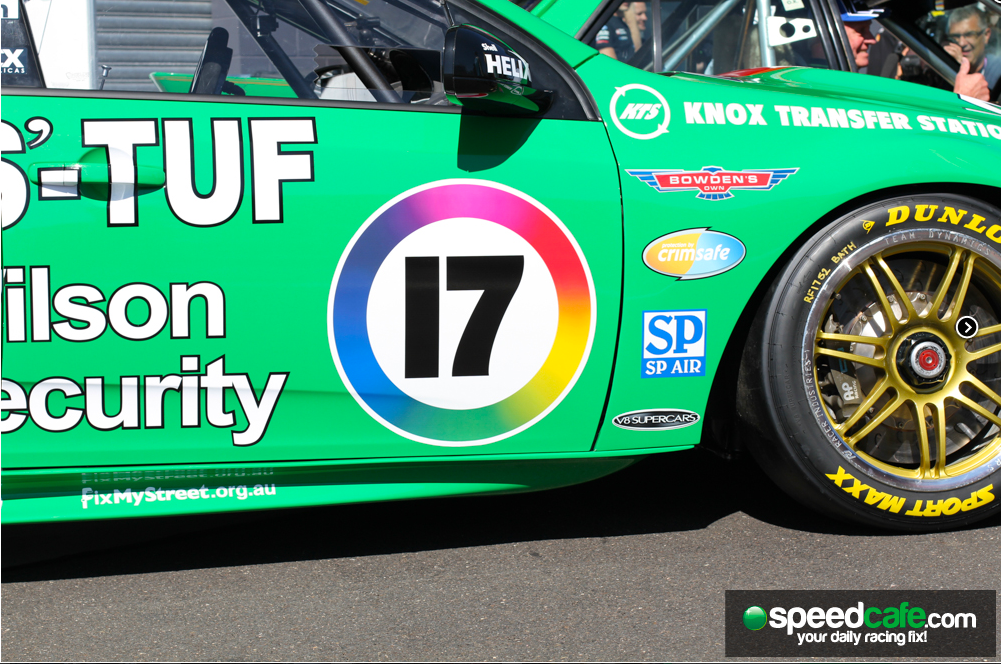 For those with the eagle eyes you would see the Bowden's Bird on the flanks of the new retro Greens Tuf, a small token of thanks from DJR for how we have helped them over the years.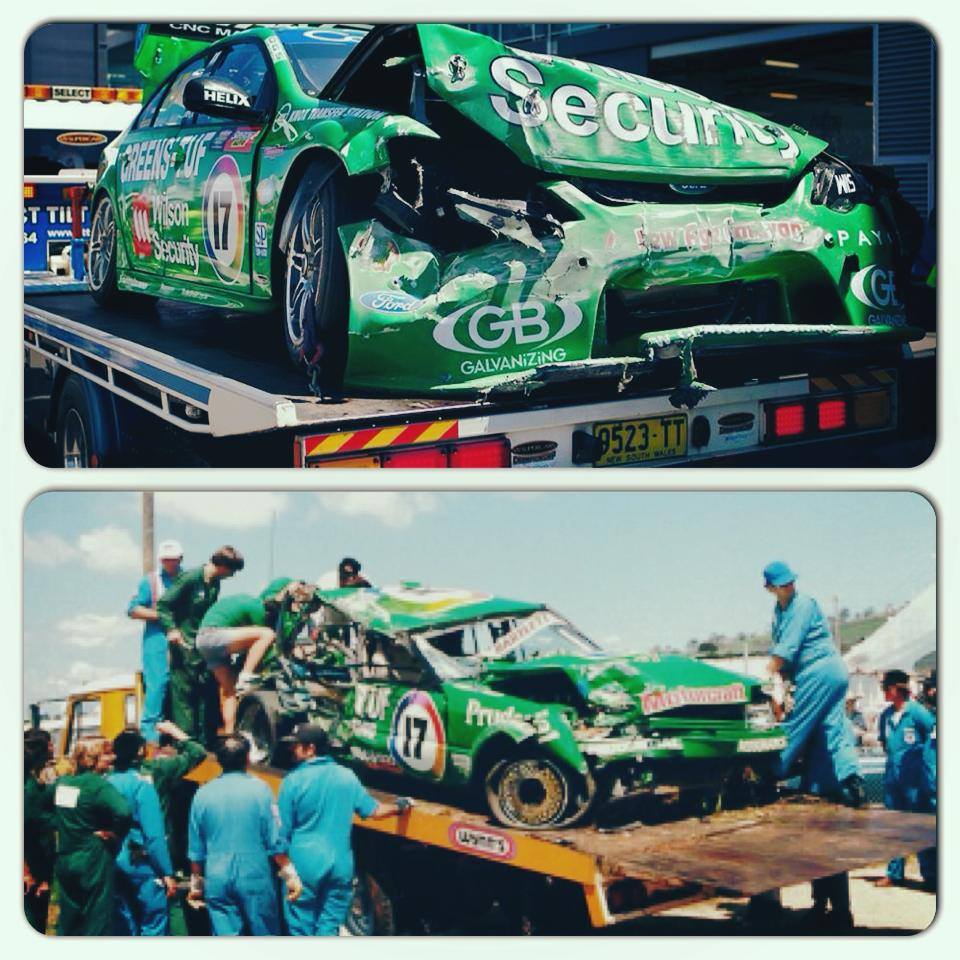 All a bit too familiar we think..
As many would know, in practice Chas Mosart was giving his 110% and had a bit of a mishap in the new Greens Tuf, hitting the wall in a reasonable way.. It was a little bit too familiar for the DJR guys with a similar thing having happened those 30 years earlier. Testimony to the team, the car was rebuilt overnight and received some huge cheers when it appeared back on track.
TOM.. DO NOT SIT ON THE CAR.
While it was on display we had TV "celebrity" Tom Williamson come and show us all on national TV how to not respect a national racing icon.. We were not with the car or had any idea this TV segment was happening, nor did anyone from DJR it seems, as Tom (quite obviously a non car lover) went about talking about the car and then promptly sitting on it after the end of his chat..He did this at least 4 times we hear from those shocked devotee's who where there, till he got the perfect take..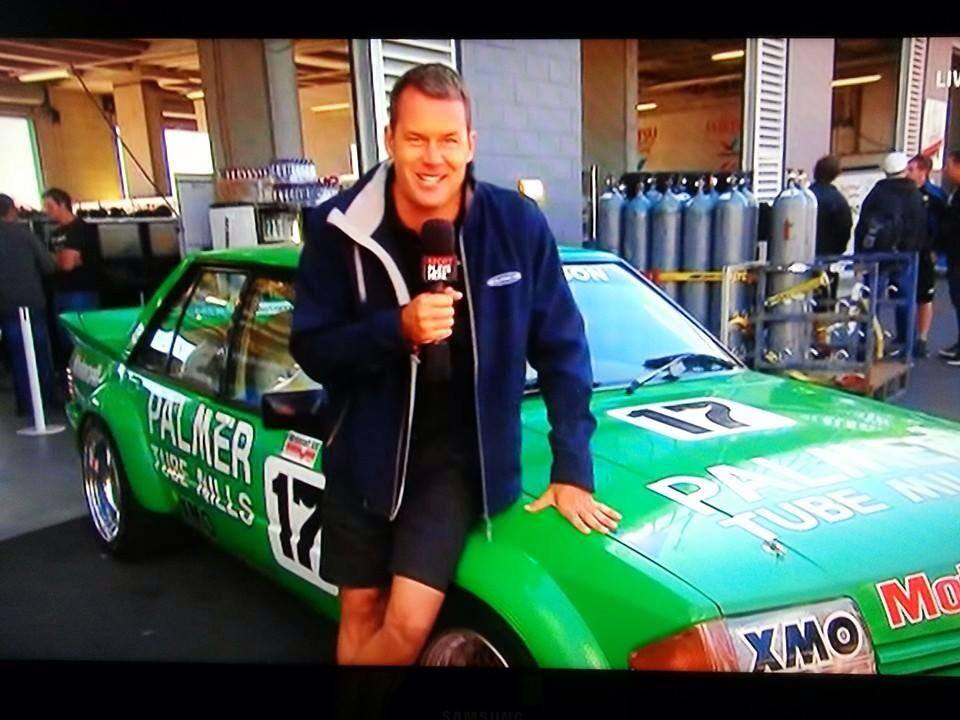 Do not try this at home folks.. Perfect example on how you show total disrespect to another persons price and joy.
With Greens Tuf being original unrestored, a race hardened survivor from 1984 and now very much a preservation case for us. To say we were less than impressed when we were to see the shot of Tom on the car above, is a vast understatement. Thankfully it was not damaged, but it is another lesson to why we need to be so protective on who and where we will loan cars to, to make sure incidents like this do not happen again.
THE SUNDAY MORNING LAPS
Dick had made requests to the powers that be at V8 Super Cars for a month on getting some track time before the race with Greens Tuf, still it was only the day before it was actually confirmed he could join in with some other cars doing demonstrations before the race. We had been told that David Bowden could join him in the passengers seat for the few laps, but this was stopped by the officials just before they went out on track. Bugger!
Dick got to take her out and from where I was standing at the Caltex Chase, you could hear her throaty noise from the moment DJ left the pits, gear change for gear change across the top of the mountain with the cheers of the crowd following her on that lap. Then she finally appeared over the hump on Conrod Straight, exactly as you could have imagined her appearing to any race goers in 1984. As she roared past, it got a bit emotional for me and by the cheers and local talk I could hear of the crowd as she went around, I know we were not the only ones excited to see her doing these few laps.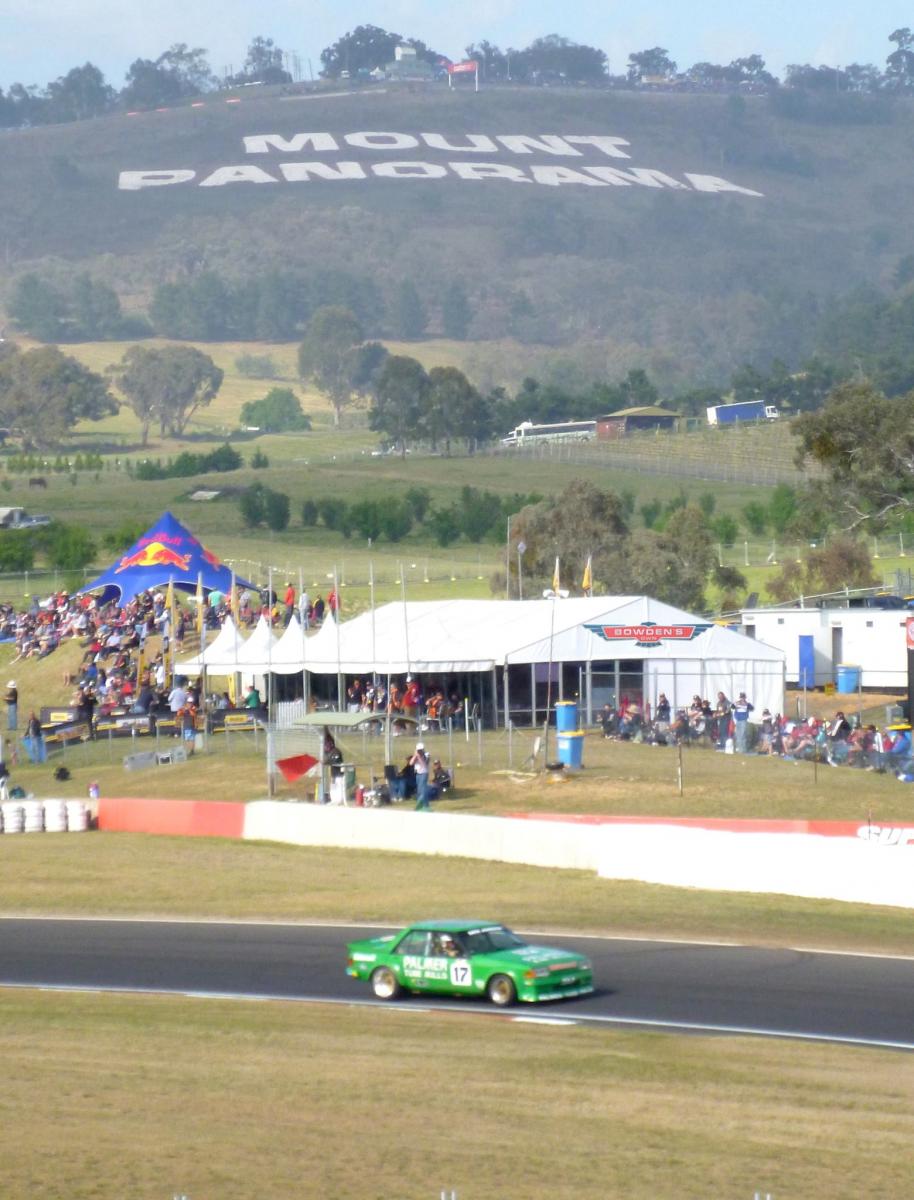 My shot as they went past, a great moment!
Sadly this part of the race weekend was not picked up by, or acknowledged by the team at Channel 7. Beaming the broadcast to the hundreds of thousands of race fans nationwide.. We understand that it is a huge task putting together the TV program for the event, but why they would not show just a small bit of the three laps DJ did is really beyond us. Bathurst is nothing without its long and diverse 50 year race history, and there are few cars/ drivers still here that are as historically significant than these two. You could say they were the biggest combination of the weekend by far!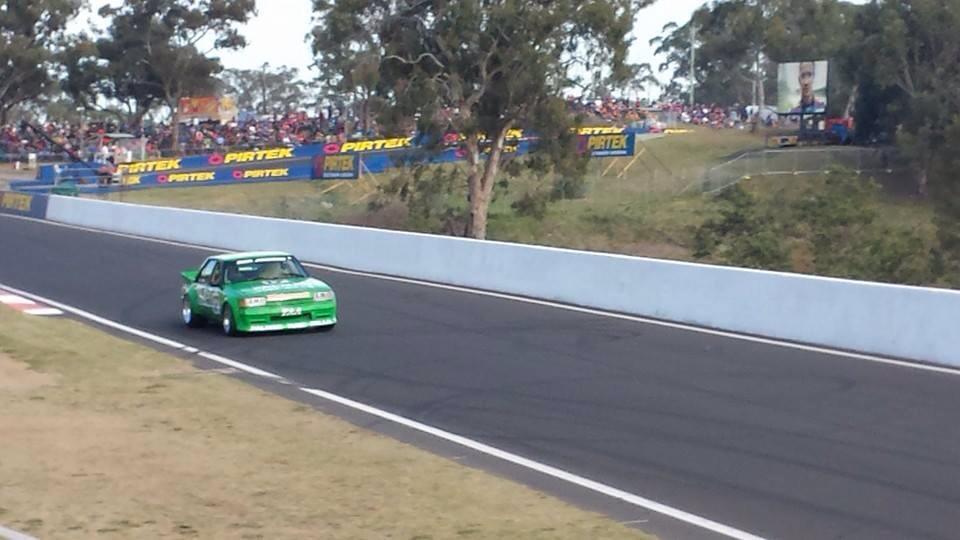 Fans were cheering hard here as they roared into Skyline.
It's a rare event to get the chance to have both car and driver reunited together, especially at Bathurst. We believe (maybe we are a bit biased?) most race fans would have loved to have seen this part of the day and known identified it to be truly memorable. But instead, those at home were tp see a replayed piece on 888 racing, an advertising segement and then a new blue Volvo road car being driven by Jim Richards, which was on track at the same time Greens Tuf and 3 equally famous race Nissan's were doing their laps. By the tone of comments on our facebook page again, there were quite a few not too happy campers.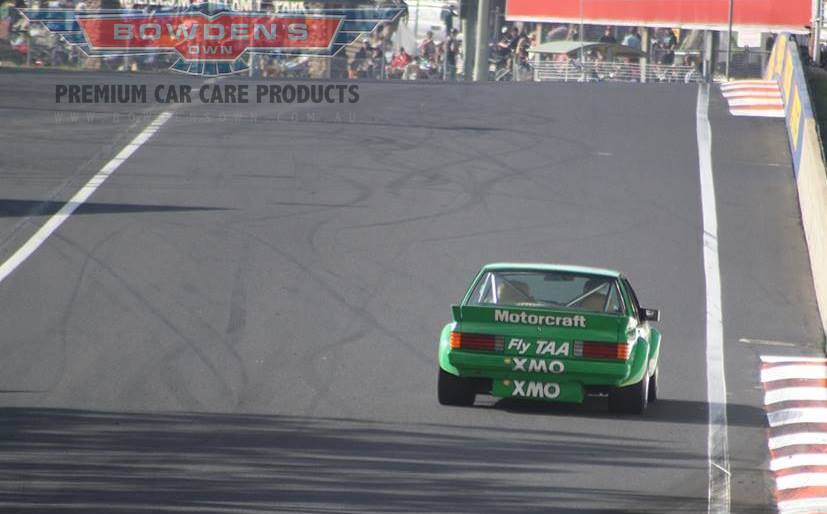 Fattest Falcon at Bathurst.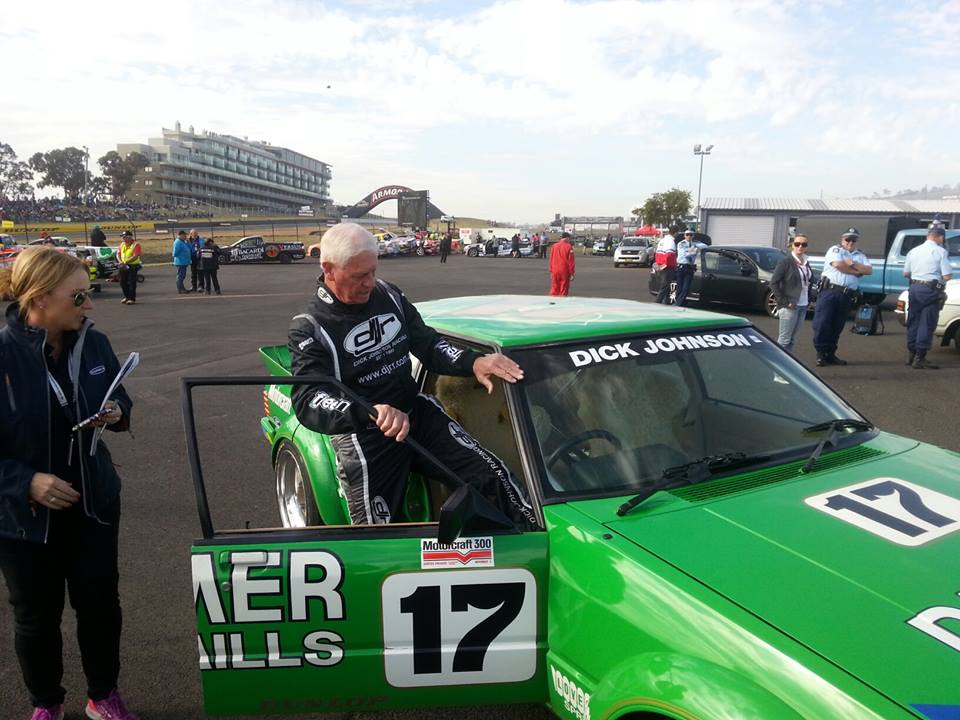 Lap completed, Dick emerges from his beast.. Both true Aussie legends.
VIDEO'S OF THE RUN
So in the absence of there being any footage of the airing network, here are some clips shared with us from the fans in the crowd. Hope you guys enjoy it. Just be aware that all these video's link to other pages, so click the image to get to them and press play from there.
Taking off out of the pits, and up Mt Straight.
Nissans running past, then wait for the green beast right after.
My favourite clip, turn the sound up for this one!!
Final slow down lap.
Anyhow, all said it was a great weekend for us, those few laps of Greens Tuf and Dick back out on track had us beaming. And still brings a good smile out even now. thanks to all those again who sent the images and video's in, if you have any others you took from this weekend and you could share with us, please do!
And even though i drive a Holden ute.. I was especiallly stoked to see Frosty and Richo's FPR machine win the race. Good work boys!
Loving the mighty green beast at Bathurst,
Dan Bowden