All Aussie Bucket
7 December 2017 Brett Hobbs

Our limited edition All Aussie Bucket has hit the shelves of your local Autobarn and some Auto Pro stores (call your local store to see if they have stock). We're very proud of this 100% Aussie bucket, which consists of:
Wash Bucket + Sealable Bucket Lid - Our 15L Aussie made bucket for your wash suds + our sealable bucket lid.
Summer Edition Wax Wash - Custom Formualted and hand blended for a fantastic summer time glow.
Naked Glass - A

non streaking cleaner for perfectly clear and bare glass.

Bugger Off -

The perfect companion you need for your next big road trip. Gets rid of kamikaze bug marks, fast.

Wheely Clean - The fast and easy way to remove heavy brake dust.
After Glow Mini Me - A fantastic drying aid, that leaves a beautiful shine and great protection with each use.
Fully Slick -

A protective detailing spray that leaves a beautiful glossy and slick surface.

Tyre Sheen - Your 'must use product' for a long-lasting sheen that doesn't fling.
Never been done before - this bucket is 100% Australian made. The bucket, the lid, the bottles, the liquids, the labels - every single thing in this bucket, including the bucket, is 100% Australian made. This is something a bit different for us, and something we haven't done before, and the custom blended Summer Edition Wax Wash is one we're pretty excited to be able to release. It deep cleans and feels exactly like the rich Aussie made carnauba infused Wax Wash we have, but has a new "true blue" look and fragrance that was modelled from the Qld summer days we so love! It also has some cool little additions for extra UV protection and a touch extra "nuba" to help give a great shine to your car.
This limited edition blend was made only for this bucket, but be quick as numbers are limited, and they're selling fast!
If you have any questions, please email info@bowdensown.com.au or FREECALL our office on 1800 351 308.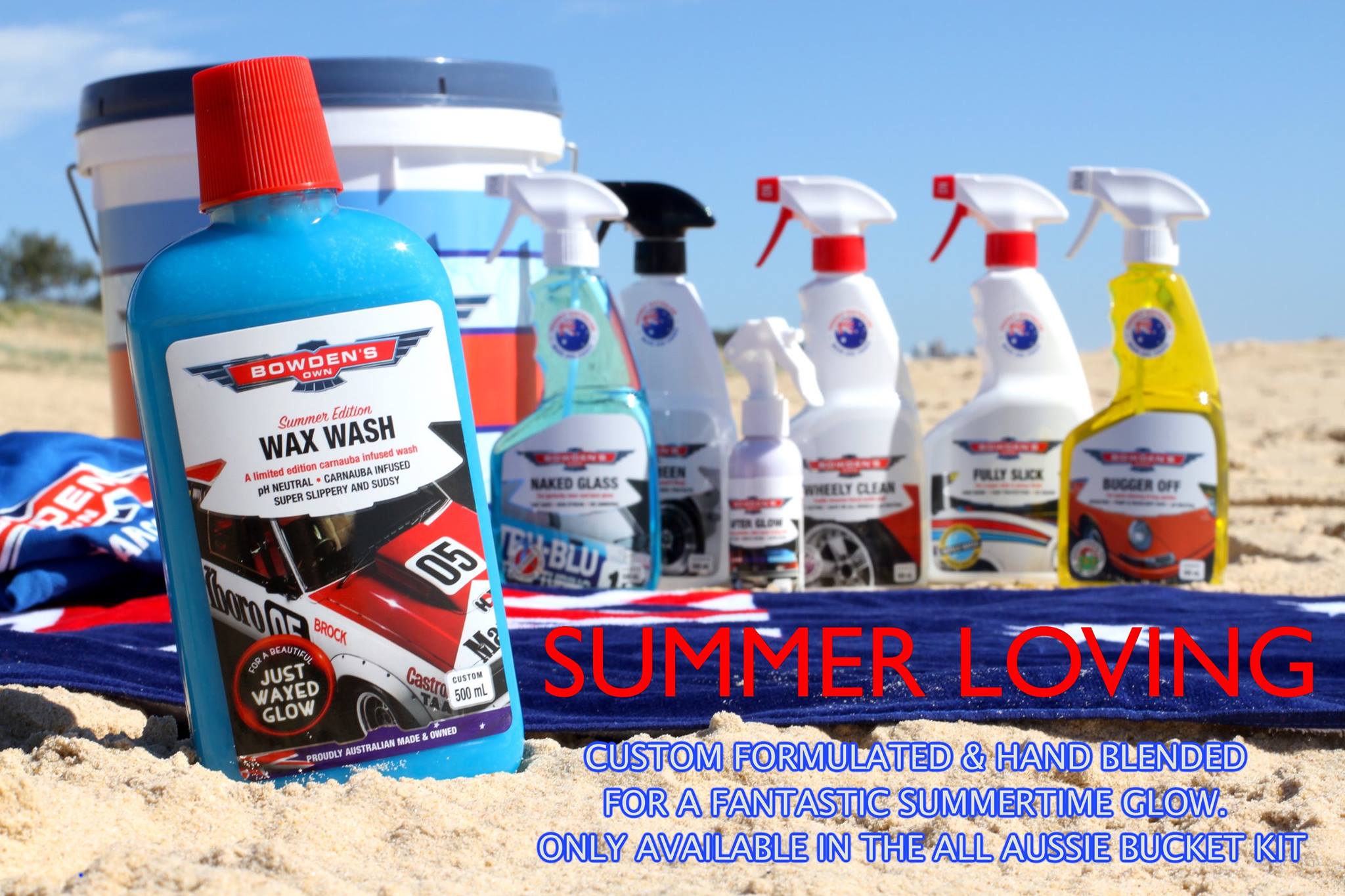 ---
Comments (1)
Bowden's Summer Edition Wax Wash

By:

Malcolm Gladstone

on 18 February 2022

This is fantastic stuff! I just can't fined it anymore in either Autobarn or Supercheap Auto! Please can you tell me my nearest supplier to Lismore NSW 2480? Thanks for a great product!!
---