Choosing the right adapter for your Snow Blow Cannon.
18 December 2016

A quick guide on choosing the right adapter to connect our Snow Blow Cannon to your pressure washer.
The Snow Blow Cannon is a great detailing tool we custom made for snow foaming our cars with a pressure washer. The first question everyone asks us is "will the Cannon fit my XXXXXX brand pressure washer". And the good news is that the answer is just about always a yes!

First, check out our handy chart here to see if your machine is listed, if not, follow along with the rest of the guide.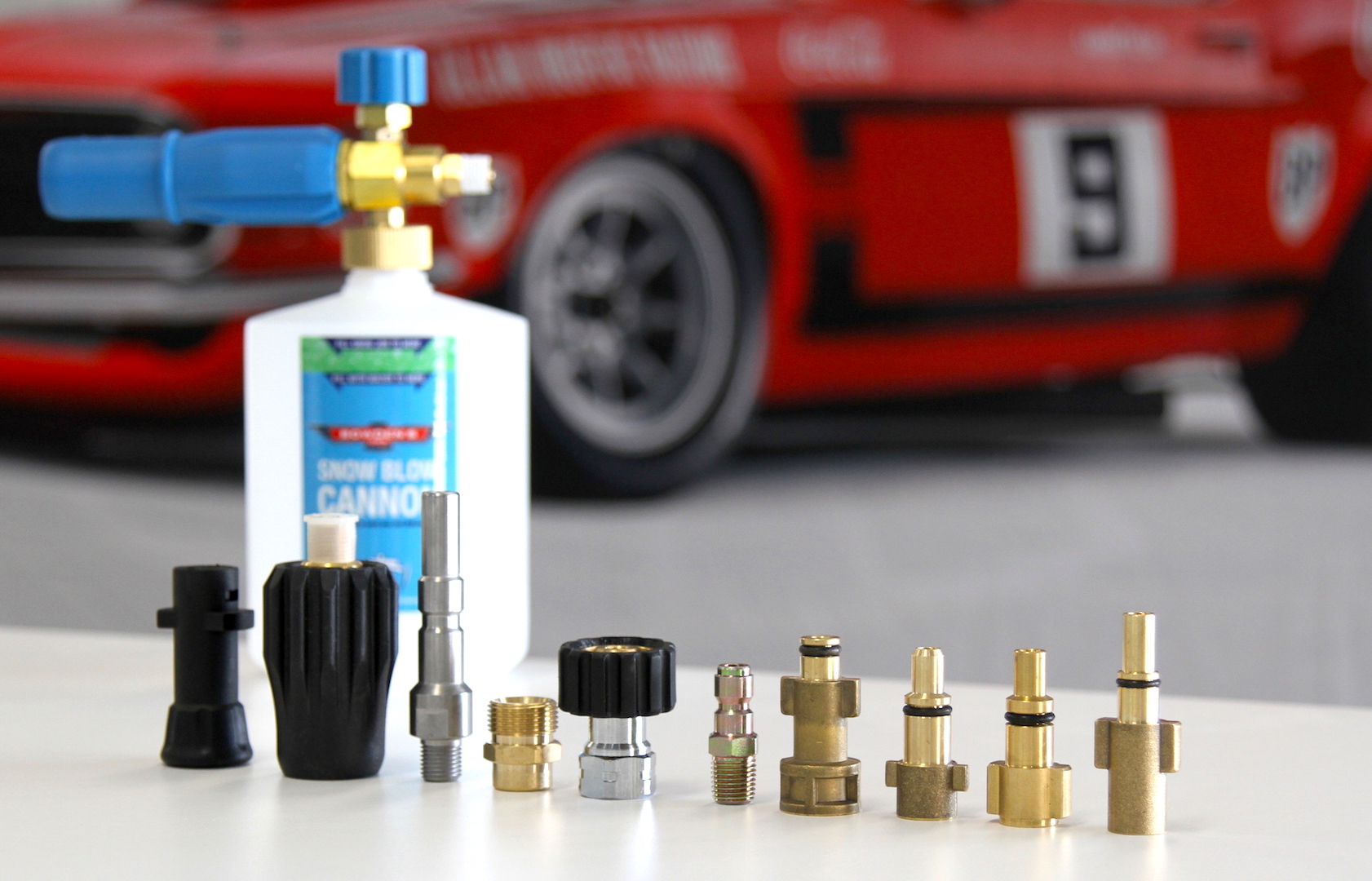 Identifying your adapter
With there being literally thousands of different pressure washers on the market over the last few decades, it can get pretty confusing trying to identify which adapter you need. But the good news is that the popular, mainstream and professional brands all seem to use one of 9 different adapters (many brands use two or three different adapters depending on the machine and model). It's impossible for us to know each and every one intimately, so we need you to do some light detective work and find out which adapter will best suit your machine.

Grab your pressure washers' lance. The lance will have a trigger at one end and a connection that either unscrews, clips or swivels off, so you can add different attachments to it. The part that detaches from the lance is what you need to be looking at, so it can be replicated with our adapters to fit your machine.

First, visually compare and measure up your connection from this chart of our 9 adapters below. With most machines it's pretty easy to find the right one, but a couple here look similar, so always double check the measurements with a tape measure / ruler or some vernier calipers for a precise measurement. The location of the rubber "O" rings, side "winglets" and the size of the shaft between them are the important things to double check.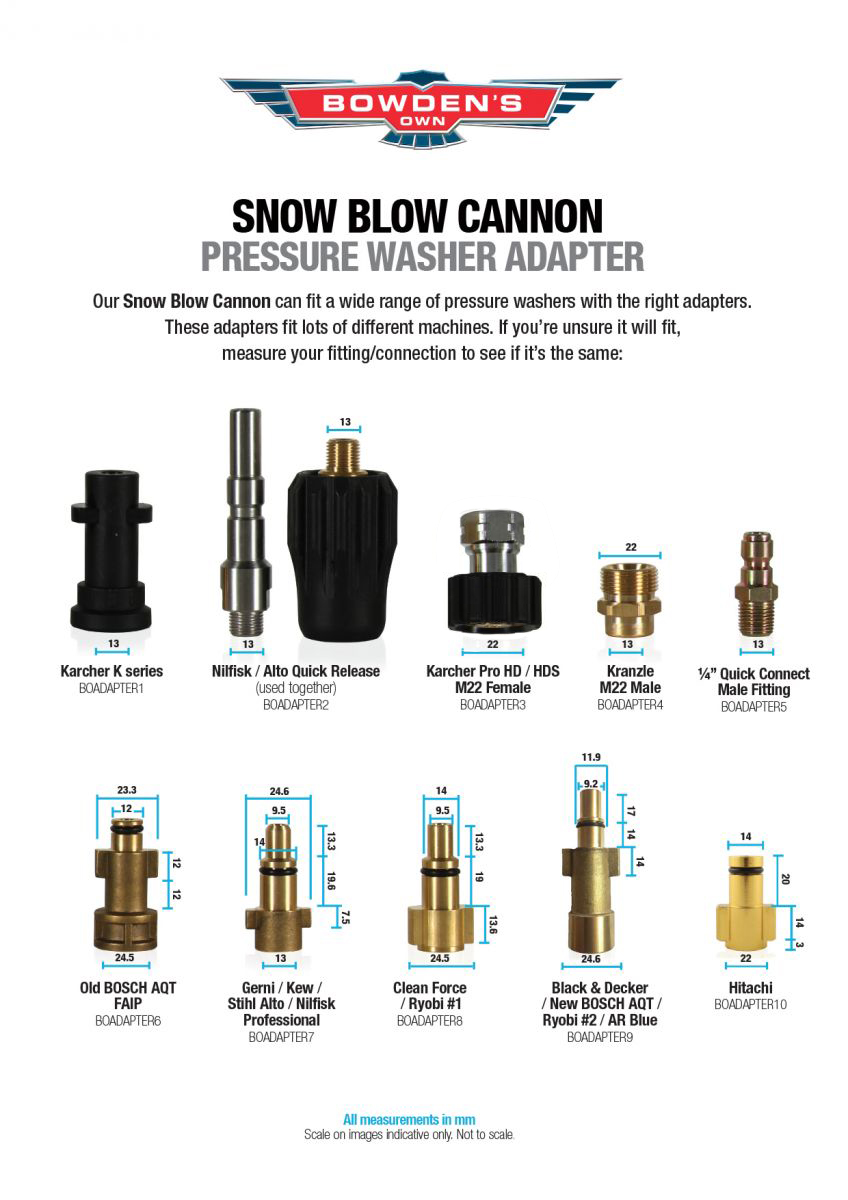 We have included some brand names of many popular machines that use the different adapters in this chart, but of course these adapters are not exclusive to just those machines.

In these images the adapter measured up as the popular Gerni brand (note the tip is slightly different, but the "O" ring and winglets were the same), so we have used it to connect up the Snow Blow Cannon. It screws tightly into the 1/4" thread extension of the Cannon, which is then ready to swivel into the lance of the pressure washer.
As we understand it can be a bit tricky, here's some more images of the different adapters to further help you out.
The Karcher is for the super popular "K series" machine. Note that the cheaper versions don't let the lance swivel, so you will be using it gangster style with the gun on its side, or add some extra nylon thread tape to help it sit upright. The Lavor type on the right fits literally hundreds of different machines including some Ryobi machines.

The M22 (name comes from its 22 mm thread) adapter comes in both a male and female version. They are found on many industrial and professional pressure washers.

Bosch had an adapter all of its own for years, but recently swapped its new machines to the more popular AR Blue / Black and Decker type on the right.

We have two quick connects, with the 1/4" quick connect being the same as used in workshops air tools. The other is a special Nilfisk 2 piece click together connection. To mount either of these you must unscrew the extension from the cannon (easy to do with a shifter) and thread the adapter straight into the cannon.

When buying our Cannon from a store, they all come with the popular Karcher K series and Gerni / Nilfisk / Stihl adapters in the box, with the others being available to order in as a seperate purchase. Contact us direct on 1800 351 308 for more details on these.
Here are some popular machines and the adapters they use:
Aldi Workzone - 2019 model uses BOADAPTER9 - Previous machine uses BOADAPTER8. Check images for which one you need.
Bosch, Ryobi - BOADAPTER9: fits Bosch retail machines 33 - 11 / 45 - 14 models. Ryobi - Fits RPW-*G & *SC models - (NOT Ryobi RPW170-G, which uses the M22 male, BOADAPTER4).
Clean Force (electric) - (Autobarn/Autopro) - BOADAPTER8
Gerni - BOADAPTER7: fits all Gerni retail machines from the 3300 to the 7300 models. It also fits the discontinued 100.3 to 160.2 models.
Husqvarna - BOADAPTER7: For the PW125, 235, 360 and 460 models
Karcher K Series - BOADAPTER1: fits Karcher retail machines K2 - K7 models. Some newer machines may require a slight modification of the winglets to fit.
Stihl - BOADAPTER7: fits Stihl retail machines RE88, RE109, RE119, RE129 PLUS, RE130 PLUS, Stihl - model RE163 PLUS uses BOADAPTER2
See our ever growing database, with helpful pictures here - Adapter Database
Your local retail store where you bought the cannon from can order the correct adapter in for you, or you can purchase it from our webstore here -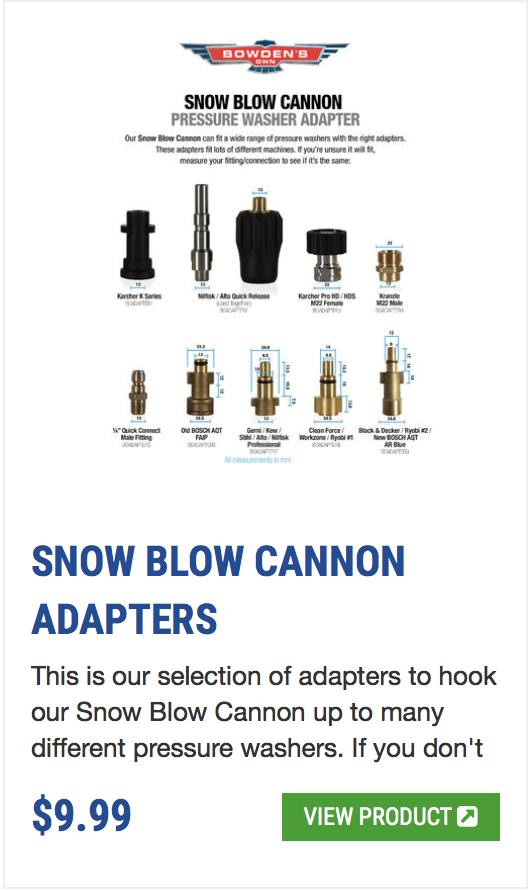 Still not sure which one you need?
If you still don't see your connection piece here, or are unsure, then please email us info@bowdensown.com.au with information of your pressure washers model (and age) and please include images of the lances' connections, so we can help you identify it and get you snow foaming as soon as possible.
Love your car,
Dan Bowden
---
---