Fabratection, a super hydrophobic fabric protectant
30 November 2018 Dan Bowden

Another great new product has just need added to the range, filling a huge gap we had, making me personally very happy for it to be here!


We'd commissioned our chemist to begin developing our own Fabric protectant formulas in 2010, so by 2012 we had signed off on a solvent based one that had all the traits I was after; great protection, water beading, long lasting and pretty easy to use. I was so confident this one was a winner that I had it named Fabratection and a label was designed and printed up (as well as being mentioned on our Sublime Clean's instruction on the label) as I awaited our chemists to get final reports back to me on our new product. We made a big and expensive mistake that made me change the procedure of how we checked ingredients in our car care from that time on.
When the individual ingredient reports came back, we found a major issue, (prepare for some light chemical geek talk) with one of the main ingredients, a C8 long chain perflurocarbon, comes from a group of chemicals known as perfluorinates. This group was shown to be anything but environmentally friendly. The toxic perfluorinated ingredients break down and form into two different products; perfluorooctanoic acid (PFOA) and perfluorooctane sulfonic acid (PFOS) that cannot ever break down environmentally. They are both toxic and bioaccumulative with independent reports showing them appearing in fish, dolphins, eagles, polar bears, even humans. Sure it would protect and keep water beading for years on your seats, but it saddened me to see all fabric protectants used with cars, convertible tops, clothing, tents etc were using this ingredient (it's now illegal to use if blending products in most western countries, but many cheaper products from China still use it). I chose to shelve the product at the last hour, as I could never morally sell anything that is environmentally unsound, especially when our family name was on it.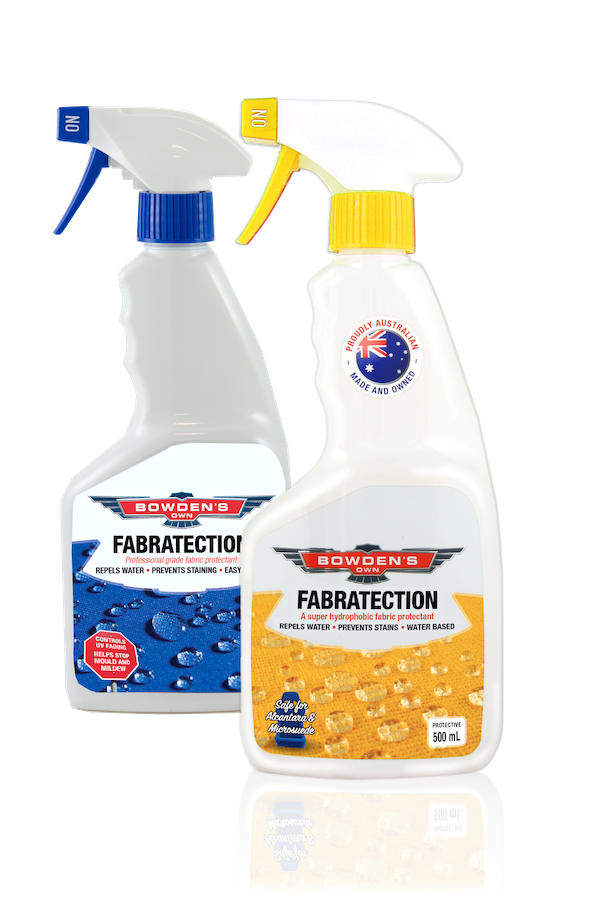 Our first blue label product that we never released in 2012, with the new golden Fabratection.
Fast forward to 2018 and a lot has thankfully changed in the industry and the technology in fabric protectants. The rise of nanotechnology and its implication for many car care formulas has been an interesting ride for the last decade. We first saw some new fabric protectants coming out of Asia about 4 years ago and it made us look deeper into it, but still could not get assurances that the ingredients would be safe and able to break down over time. So we sat on our hands a little longer, kept trying a few things - they failed, till something new hit our chemists desk. This new one allowed the final product to be water based, environmentally friendly, not toxic or bioaccumlative and importantly when blended with other ingredients it also worked to create a super hydrophobic product, so you get great beading and water action, even better than what we had originally.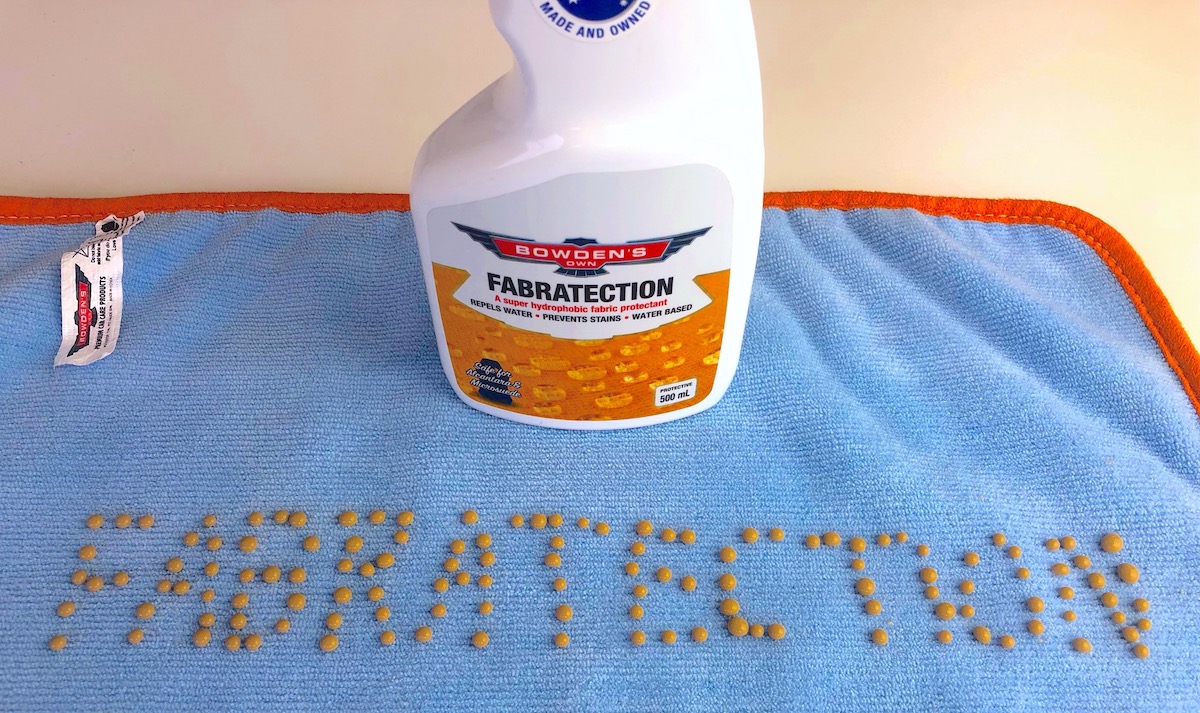 We have been testing this new version of Fabratection (we kept the original name) for the last year and are stoked with the way it works. Due to its different Aussie chemistry, there are some differences with the way it works and how you need to use it as well.

The key points to this new Fabratection formula:
Water based – making it safe for Alcantara and Microsuedes, which is used in an abundance of cars these days. Any solvent based protectants will affect the longevity of these microfibre fabrics.
Great for all interior fabric trim, from seat belts to fabric seats, carpet, even fantastic for exterior fabric convertible roofs as well.
Helps stops liquid stains from accidental spills and makes cleaning it up a breeze as well.
Makes easier cleaning – as Fabratection bonds to the fibres, it prevents mud, sweat, light oils, food, pet mishaps and other items from bonding to the fabrics, making it a lot easier to clean off in the event of any incidents.
Crazy beading – It's a superhydrophobic product, so after the treatment and curing stages it repels water beautifully. The contact angles on the beading we see on some tight and dense fabrics is quite insane, not to mention a cool thing to get pics of!
It's also a light oleophobic product, meaning it can repel most oils, acid and alkaline products as well.
Good abrasion resistance, so it won't wipe off when touched or rubbed.
UV protection – Important for fabrics in cars and many being more susceptible to losing colour if in the sun over time.
Importantly does not change the feel or look of the material and still allows it to breathe.
Free of the evil perfluorooctanoic acid (PFOA), perfluorooctane sulfonic acid (PFOS) and another commonly used ingredient that doesn't break down called alkylphenol ethoxylate (APEO).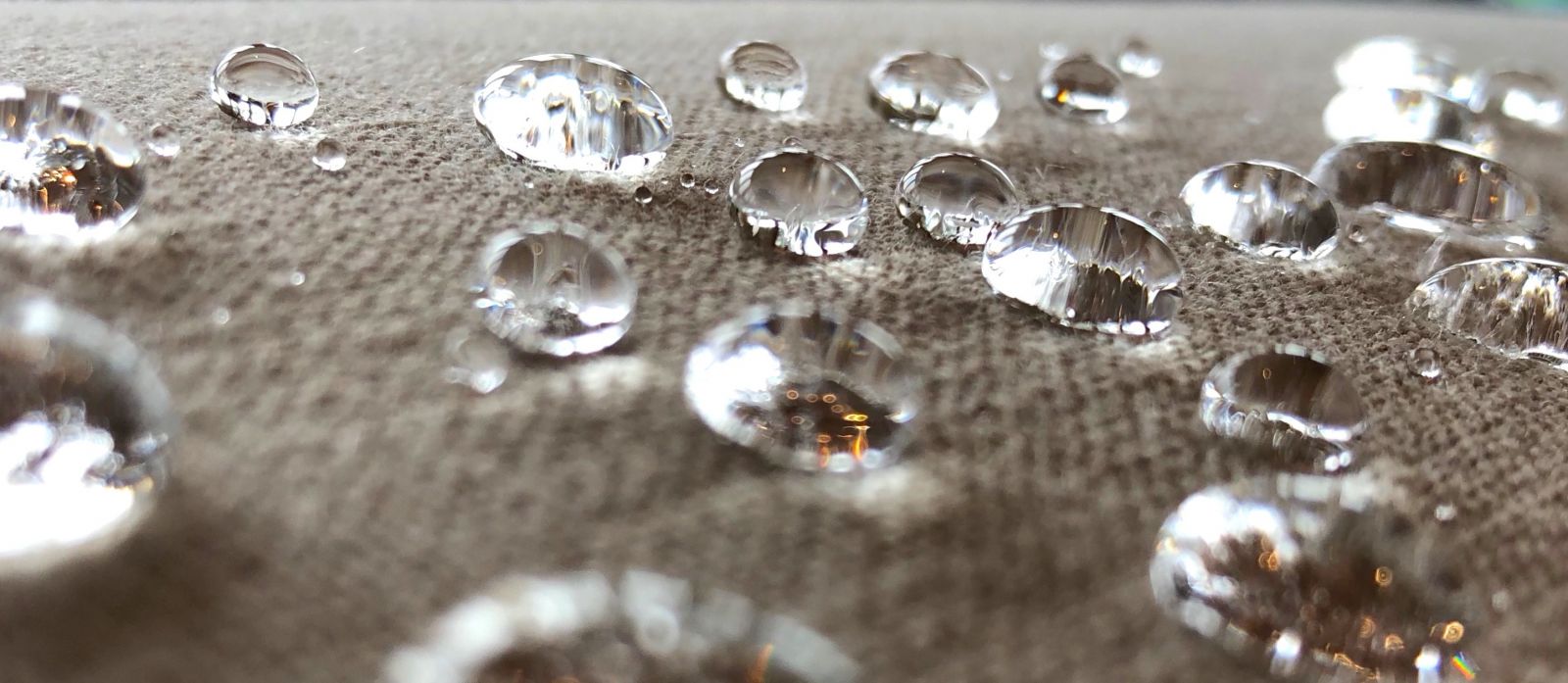 Now, due to the fact that we have chosen a water based and environmentally sound formula there are also some slight differences to the older fabric protectants.
Firstly, due to the ingredients safely breaking down in the environment over a shorter period of time, they won't last as long or bond as strong as the older unsafe fabric protectants will. We find at around 6 months you should look at reapplying it on high wear areas (drivers seat, convertible tops etc), lower wear areas however, is a yearly job.
Fabratection will take a while to cure - you cannot get it wet for at least a day or two. The longer you can wait, the better it is in fact, especially on denser materials like carpets.
It has a shelf life of just over one year after first use. This is when it will start to lose a slight amount of effectiveness. It still can be used after this, but won't be as good as it was when new. It needs to be stored in a cool spot out of direct sunlight; 4 to 40 degrees C is its happy place.
It's not cheap – you could say that nothing good in the world is, but all these new generation of fabric protectants use very costly ingredients and the final product price reflects this. That said, we note that Fabratection is much more cost effective than those who use this technology in Australia, and we have not watered down the active ingredients to do this either!
We are still working on these things to help formulate them out where we can, but the chemistry does not exist just yet. Still, these negatives are far outweighed in our eyes by having a safe, new generation of fabric protection product - hence the reason why we have now released it.
To learn more on using it, please check it out in our guides and video's here: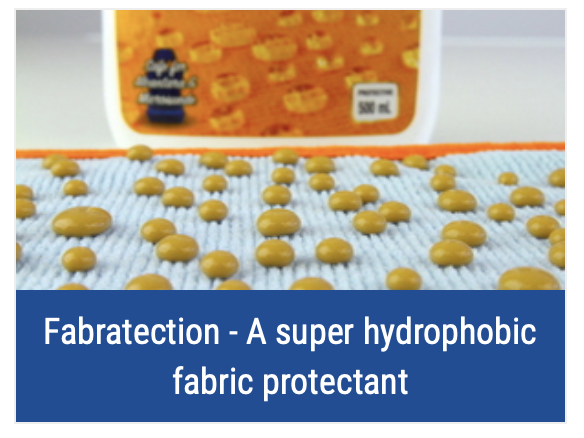 You can find Fabratection at many of our supporting Autobarn stores as well as special ordering it in from many of our resellers across Australia, with part code: BOFTECT.

If you have any questions, please email info@bowdensown.com.au or FREECALL our office on 1800 351 308.
Love your car,
Dan Bowden
---
---