New 2020 flow chart.
15 June 2020 Dan Bowden

With the introduction of our latest products, we saw the need to make an updated product flow chart, so you can get a simple order to use our gear on your daily driver and get great results.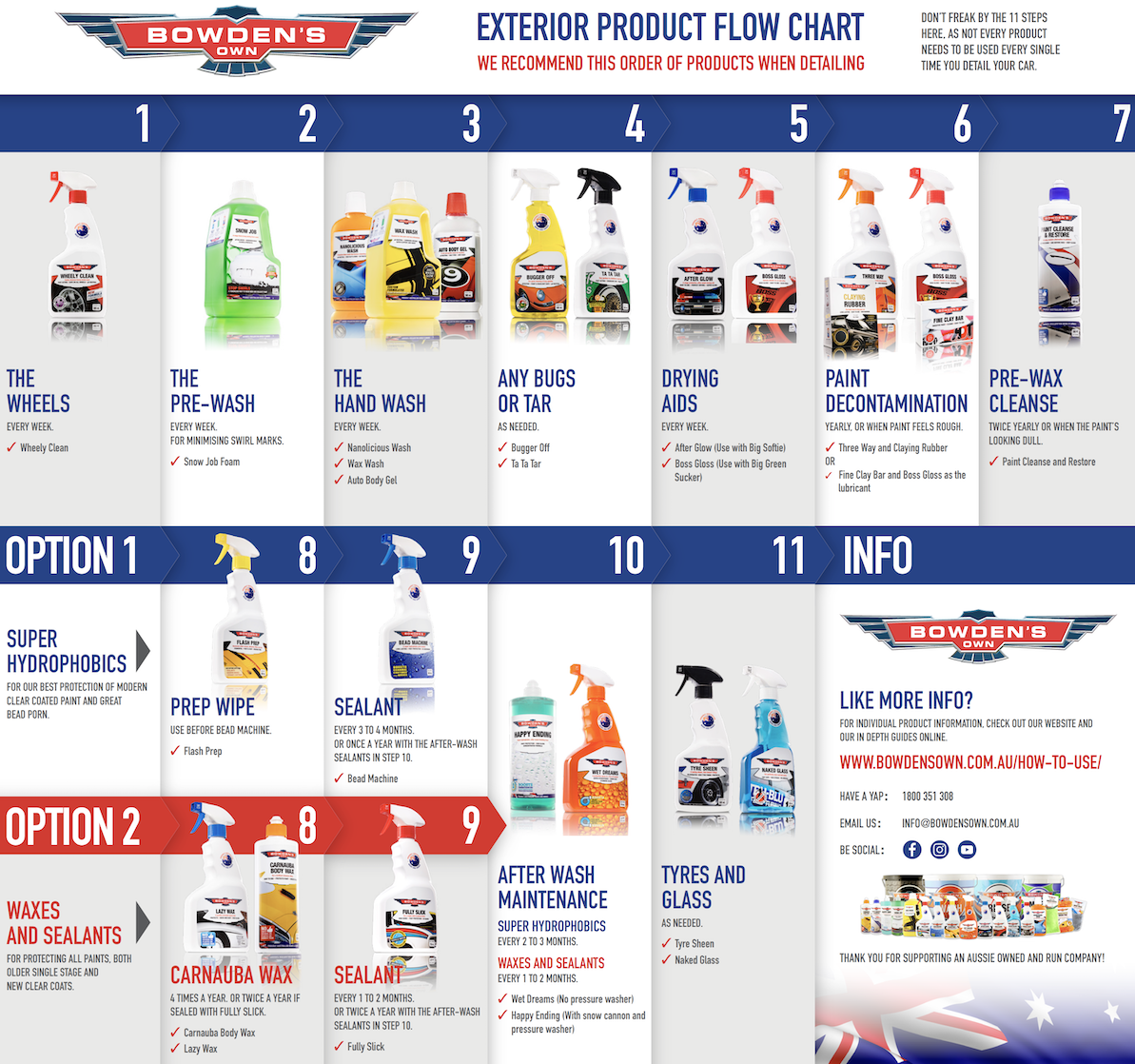 OPTION ONE OR TWO?
The biggest thing you will see is the split of step 8 and 9 being two seperate options: Option one for using the new super hydrophobics or option two with the more "traditional" waxes and sealants. With our lifetime of collecting and loving cars, we completely understand that no single product, or system of products, will be ideal for every single person, let alone every type of car, which is why we have the different selections there to better help people get what they want and need.
Option 1 - Super Hydrophobic products are the most protective and long lasting in our range. They are great for modern, daily driven cars, and if you really love intense beading and water sheeting. Bead Machine will work best on newer clear coated paint and professionally ceramic coated cars, as they are better sealed and allow for a great, stronger bond to the paint or coating. The better the condition of the paint, the better they will work.
Beaut Beads: This is considered a super hydrophobic, so it fits with Option 1 here. If you're using Beaut Beads on your vehicle, it's recommended to be layed down as the first layer on bare paint. This is because its formula lends itself to being applied first due to the solvents in the wax - if it's put on top of other sealants, it will affect them as it's applied to the paint. Once the Beaut Beads is applied to the paint, let it cure for 4 hours, then apply Bead Machine as the final sealant if you wish.
Option 2 - Waxes and Sealants are for those of us with cars that have older, slightly neglected paints, or have a single stage (no clear coat) paints. They work well on all paint types and are great value all rounders. We love waxes as they give a lovely warm glow to your paint, something no synthetic products can replicate. With Fully Slick as the final sealant, you also get the slickest feel from your paint - something car enthusiasts have always loved! I also personally feel these are the best option for people who have a more pampered or classic car that only comes out of a weekend or a few times a year.

Layering a sealant over a wax? This is one thing that goes against the grain to what you may see and read on the detailing interwebs. There is a legitimate reason and method to our apparent madness here - namely that all cream or paste waxes need to be blended with solvents to help emulsify the carnuaba and other waxes. If you did not have them, the waxes would not soften and be able to spread over your paint, or be easy to remove after the application. When rubbing the wax onto your paint, the solvents still in the blend are also partially removing / affecting anything that has been applied previously (this can apply to ceramic coatings as well). So, the layering of a synthetic base sealant as the first step and then the wax after doesn't make sense to us. Our years of in-depth, lab and real world testing here have well proven this past just being a theory now.
But, you can use a water based, solvent free spray sealant on top of a wax, as they won't negatively affect or remove the wax once it has cured. This is why we have always recommended using our water based synthetic sealant, Fully Slick, on our carnauba waxes, helping boosting their longevity and protection from the elements.
ALL AUSSIE BUCKET FLOW CHART
If you're lucky enough to have picked up one of the All Aussie Buckets with our new Beaut Beads paste wax, here's the specific flow chart for the bucket.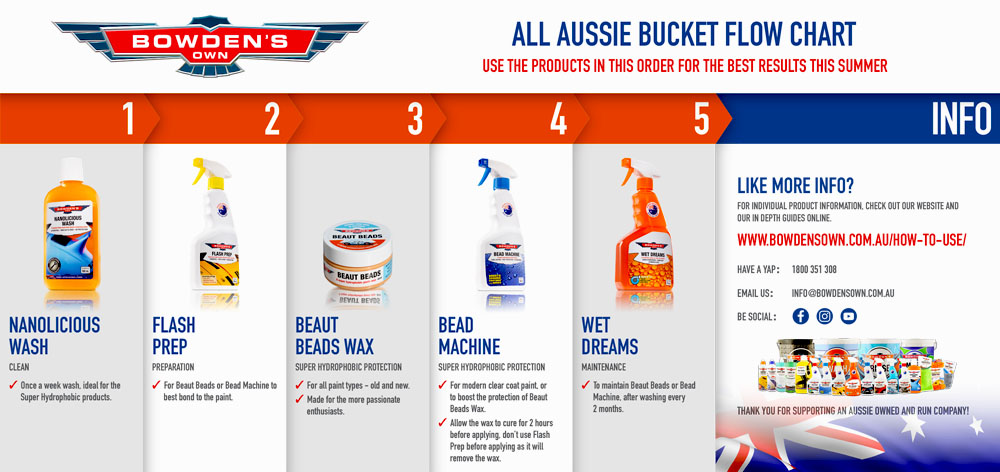 A SIMPLE MAINTENANCE SYSTEM
This bigger complete exterior chart is of course not gospel for every time you detail your car either. Here is a good 5-6 step maintenance loop with the steps we use when washing weekly. It's also a great system if you are just getting into using our car care as well.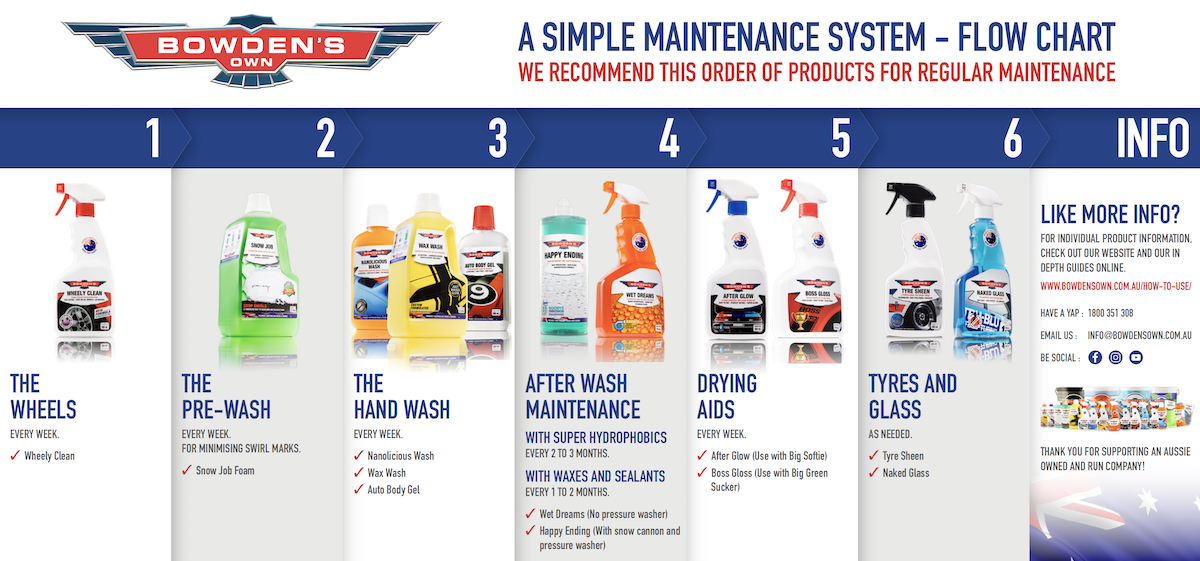 Every few months you can add in step 4 - Wet Dreams or Happy Ending, before drying the car off. This will give you the easiest top up of great, on-going protection and make the car easier to keep clean as well.
You can download this flow chart in the link down below.
MORE IN DEPTH INFORMATION
You can have a read of the individual product guides that go with these different products by clicking here. They will show you the techniques we use to get the best results with them, as well as which microfibre we like to use with each product.
ONE FOR THE WALL
These flow charts can be downloaded from the links below, so you can print them out and put them on your garage or bedroom wall (the missus will love it). Or you can email us with your postal address and we can post you a double sided, DL sized flyer with it too.
Exterior Flow Chart

All Aussie Bucket Flow Chart

Simple Maintenance Flow Chart



I hope these new charts help make it easier and keep the fun up with using our car care. Please feel free to contact us if you have any questions about these, or our car care in general - info@bowdensown.com.au or call 1800 351 308, 9am - 4pm Monday to Friday.

Go with the flow,
Dan Bowden
---
Comments (7)
The flow chart is awesome!

I was only just summarising the flow for the upcoming detailing of my cars from the "how to" video comments, when I saw the link to this article come through on email! One car has just been professionally ceramic coated, another that is in great condition but needs a sealant reapplied, and the last that needs a bit of TLC. 3 different requirements, so the flow chart worked a 'treat, showing which steps are needed and/or can be skipped easily. Cheers!
---
Removed the Confusion

By:

PeterT

on 4 July 2020

Thanks for that, it is now much clearer and easier to figure out the best use of Bowdens to achieve a great outcome. Kudos.
---
Great Flow Charts!

By:

Brian Howard

on 4 July 2020

Thanks Bowdens. Great charts to help keep in focus the proper order of things and where the options fall in place. Very helpful, ta!
---
Very handy

By:

Richard

on 3 July 2020

Great bit of kit for referencing different levels of maintenance of your vehicle.
---
Flow chart

By:

Debby Brown

on 3 July 2020

This is an excellent idea, I actually tried to create a flow chart myself but I have printed yours out and put it on my wall in my garage where I do all my car care. Thanks heaps. I have heaps of friends comment on how great my cars always look and ask what I use, I can now give them a flow chart and tell them where to buy the products. You guys are legends and I love your products.
---