NEW Bowden's Own SoftWear collection
1 April 2021 Rob Naylor

We're always searching for ways to improve the detailing experience, while having a bit of fun at the same time. After years of marvelling at the quality and feel of our microfibre cloths, one day a thought dawned on us; what if our detailing work wear could feel this good?! Never ones to shy away from a project (there's always a few floating around the shed), the search was on. Finally after a series of extensive trials, a brutal testing regimen and a fair dose of chaffing, we're proud to introduce the Bowden's SoftWear collection - purpose built dacks, all designed with true detailing fanatics and discerning professionals in mind.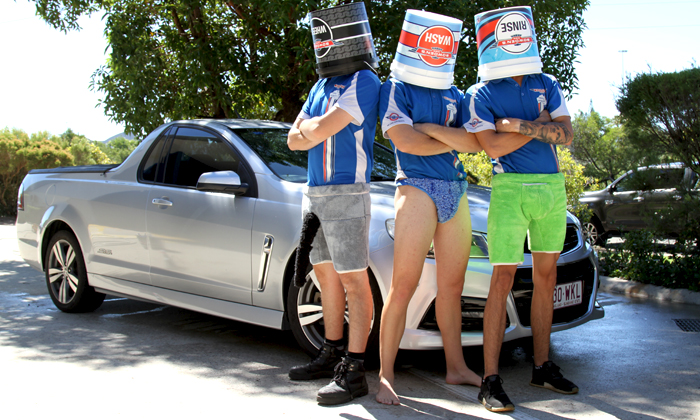 THE BIG GREEN STUFFERS
The ultimate detailing shorts for the serious fanatic
If you're anything like us, you have a favourite set of shorts to detail in – super-soft, comfy and with nothing that can accidentally scratch your pride and joy. We've taken that to the next level with our custom-built detailing shorts; The Big Green Stuffers.
The subtly padded crotch panel of The Big Green Stuffers isn't just there for looks - it effectively turns your groin into a padded platform that's ideal for comfortably supporting detailing tools like pumping up The Frother (our new portable hand pressurised foamer). The padding also protects your family jewels from impacts with sharp edges.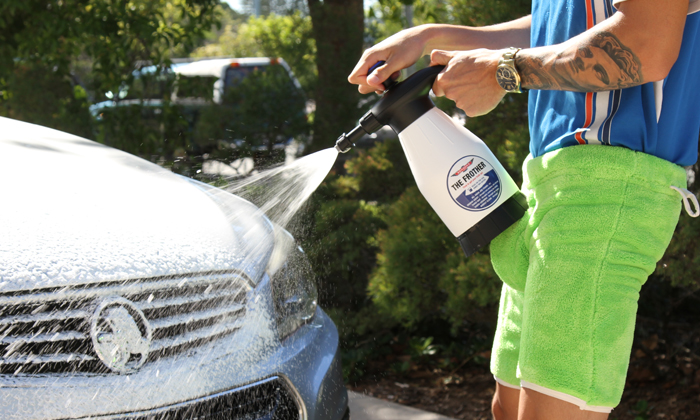 Featuring the same highly absorbent microfibre as our Big Green Sucker drying towel, these shorts seriously suck… up moisture. This not only means awesome moisture wicking for those sweatier detailing days, they also make a really convenient hands-free drying towel. And with hidden seams and no exposed stitching, you can be sure they're not going to scratch you or your vehicle.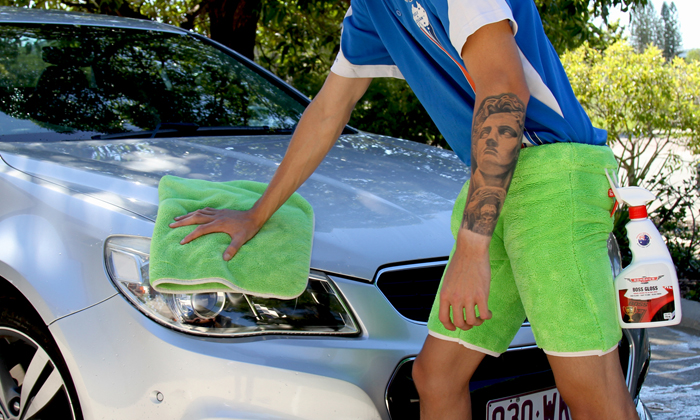 Available in both men's and women's styles, The Big Green Stuffers have rapidly become our new favourite detailing dacks.
THE BLUE BANGER
Serioulsy cool and liberating professional work wear
For the cheekier personality, The Blue Banger is a unique combination of fasionable minimalist style, with surprising comfort and practicality. While men's g-strings aren't exactly commonplace, we think you'll be pleasantly surprised by the comfort, extra breathability and liberating feeling of freedom the The Blue Banger provides.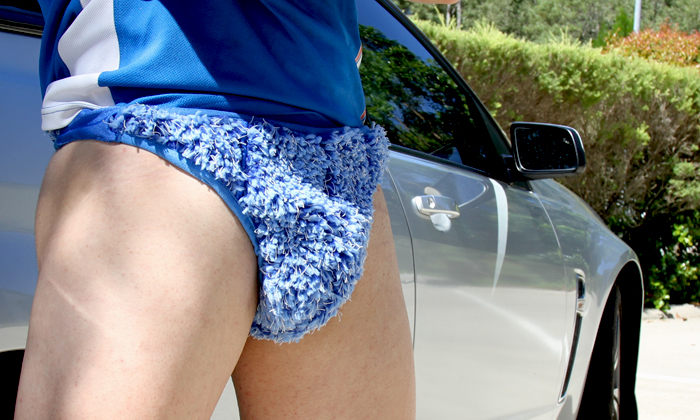 Whilst undeniably making a bold fashion statement, we found the minimalist design of The Blue Banger ensures you stay cool and comfortable, even on the very hottest summer days. The Blue Banger is the perfect choice for more intimate closed-door detailing sessions and gives you the support you need, with a sense of freedom we think you'll love.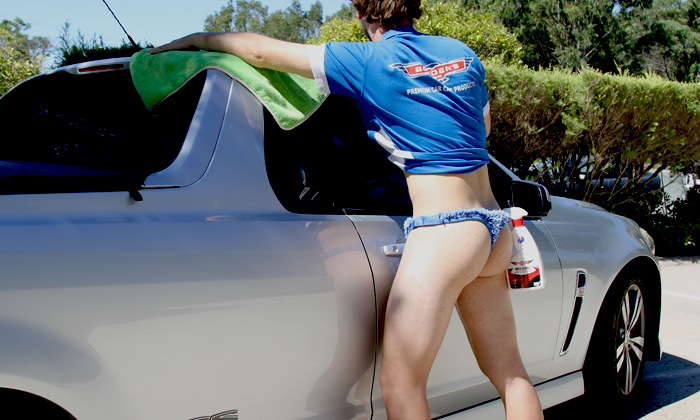 THE SOCK-IT
A bold revolution in workshop wear
Ever been in the middle of a messy job and your phone starts ringing? Next thing you're dashing around like a headless chicken looking for a spare rag. Never again with The Sock-It, our specially designed workshop shorts featuring our exclusive and patent pending Rub-It-Out built-in hand wiping sock. Being a comfortable and tastefully understated work short, The Sock-It is going to be a favourite for many car fanatics who are serious about tinkering in their sheds. Once you get your hands on The Sock It, you'll never look back.
The Sock-It's built-in wiping sock has a firm feel, giving enough resistance for one-handed cleaning, whilst the deep shagpile is ideal for trapping greasy dirt and gunk.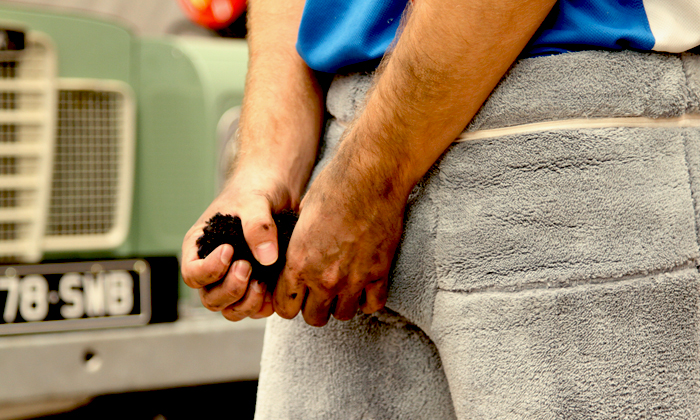 The Sock-It also features super-plush Drop Bear fur side and rear panels, both for exceptional stretch, comfort and added scratch protection when leaning against your vehicle.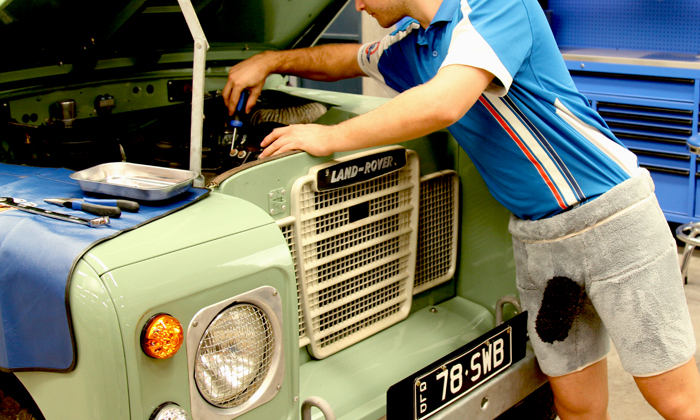 Available in both Stubby and Big Hands sizes, whatever your hand size, there's a Sock-It to fit.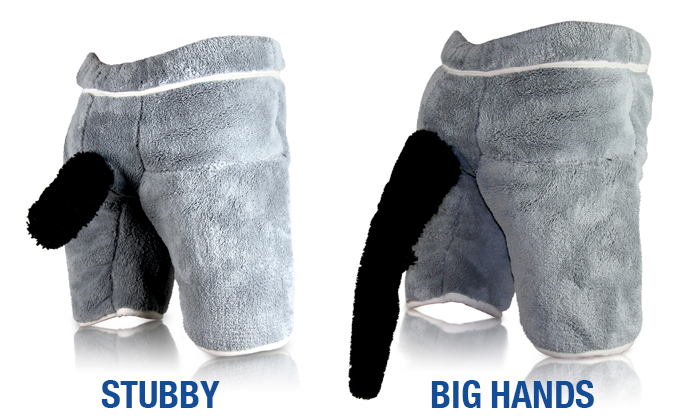 We're super proud of our new SoftWear collection, especially since they're designed and hand-crafted in Australia. They're definitely our new favourite work wear and we hope they'll be yours too. But you'll need to get into them soon, as they're very limited numbers and once they're gone, they're gone. Click on the links below for more details or to shop the full collection, and keep an eye out for them at an automotive store near you.
---
---
Comments (3)
Sexy Pants

By:

Sam Sciberras

on 1 April 2021

I love your imaginations all very practical, like all your products.
---
I pity the fool who doesn't purchase these

By:

David Rich

on 1 April 2021

I didn't know Bowdens made detailing underwear. This is just amazing....I'm surprised you didn't get Warwick Capper to model them. I hear you have sold out, I was a fool to not have placed my order sooner.
---
Love April

I do enjoy your new products and news items that are released this time each year. :)
---