Targa Great Barrier Reef, our Steve Bradbury story.
2 October 2020 Dan Bowden

Being a bit of a Mustang fanatic, which stems from growing up in a family who has a deep passion for their fantastic racing history both here in Australia and overseas, it was always a dream of mine to get to own and race an early Stang one day.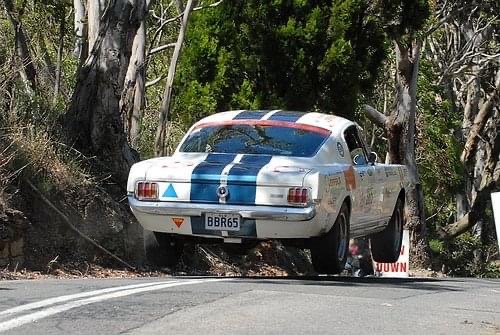 "Wild" Bill in full flight with the Mustang at Classic Adelaide many moons ago!
In June 2018 the dream came a little closer to reality with thanks to Ecurie Bowden (AKA my brother, Chris) managing to do deal with a great family friend "Wild" Billy Brentzell, on his very well campaigned 1965 Shelby GT350 R model tribute. I first met Bill at Targa Tasmania in 1999 while competing in a 1950's 356 Porsche. I adored his traditional Wimbledon white and blue cobra striped fastback and always wondered what it would be like to run one in a Targa Rally. I stopped racing when I sold my beloved 356 rally Porsche to help keep our car care company Bowden's Own running in 2005, while Bill kept running till 2015 in his ever developing Mustang, by its final reiteration, it was a stunning guardsman blue with white stripes (Shelby race team colours) - a tribute of the R model that US legend Mark Donahue raced in the mid 60's.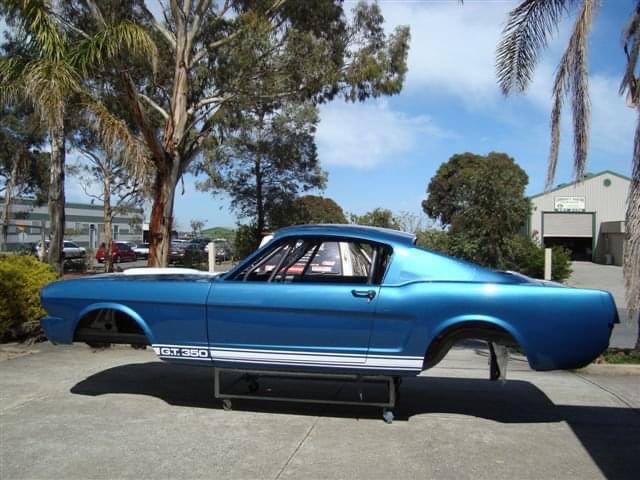 2010 and Bill reveals his new Guardsman blue paint scheme.
To me the greatest racing in the world are the Targa rallies we have here in Australia, where you get to run on amazing twisty, fast and challenging roads without fear of someone coming the other way, or getting a speeding ticket for your joy of going fast! It's really as pure of a driving experience as I have ever had and the 3 to 5 days they run over is some of the best fun you can ever have with your clothes on!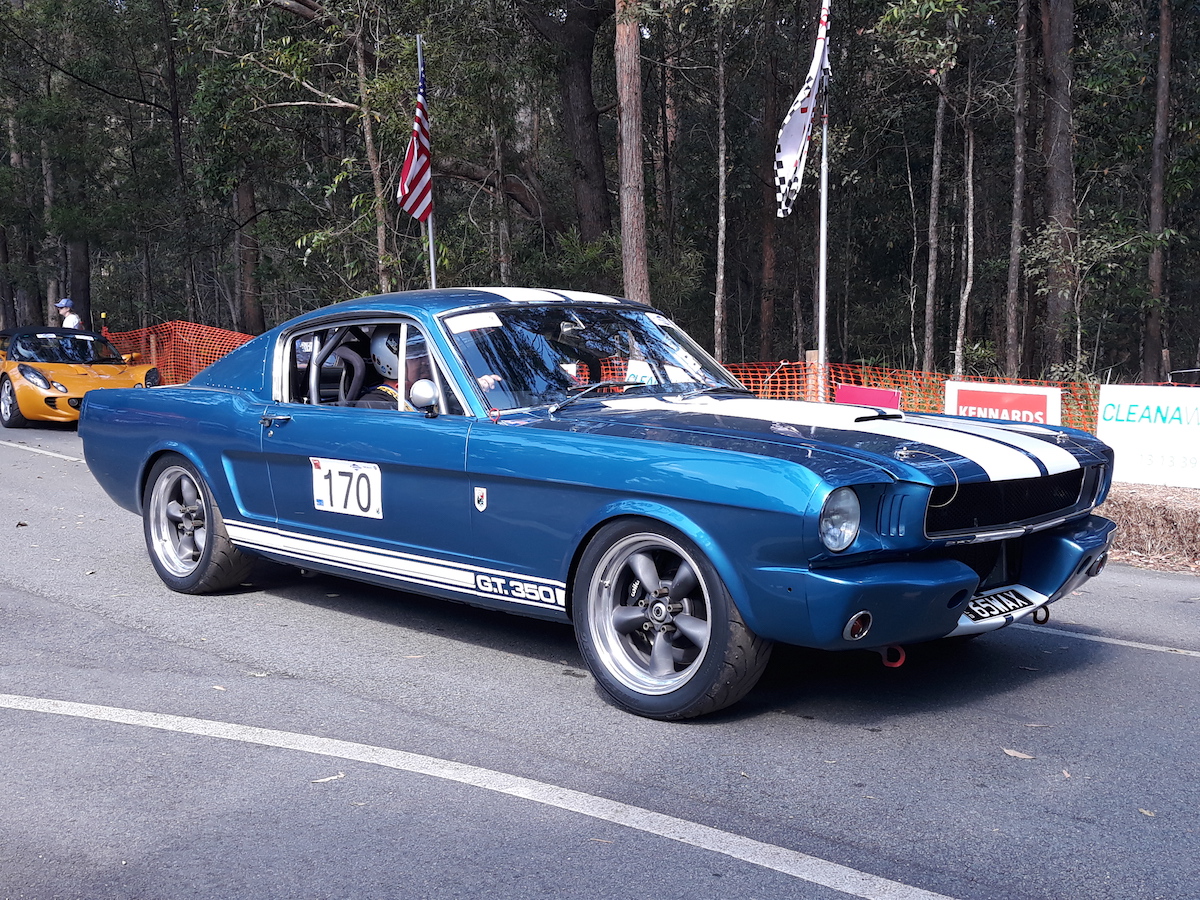 The first ever event at the Noosa Hillclimb in November 2018, great fun.
My one and really only goal has been to get back to doing Targa once I could afford to again, which has taken 15 years! Getting the Stang from Bill was the first step. In the first year of ownership I changed a few subtle things to personally suit me better and replaced and rebuilt lots of other bits and pieces for safety, which you need to do on any car that has been well used in racing. The very first event was the Noosa Hillclimb, which is a short, but fun run up a tight and twisty course that can be very perilous if your ambition overrides your talent. Being the first time in the car I took it easy all weekend and thoroughly enjoyed being back in the pits amongst fellow rev heads. I had an enthusiastic chat with Phil "Holly Wood" Ross from Shannon's about the Targa Great Barrier Reef that was run from Cairns and he raved about just how good it was. It was from that day on it was on my "to do" list.
It was always my intention to get back to doing a Targa, but a huge and ever growing workload always kept getting in the way. I missed that following years Targa Tassie so come 2020 I was looking to get there and do it, however the COVID-19 hit, and it as well as everything else came to a standstill. Then a unique travel window opened up in Qld and we were told the Targa Great Barrier Reef would be run, so we entered.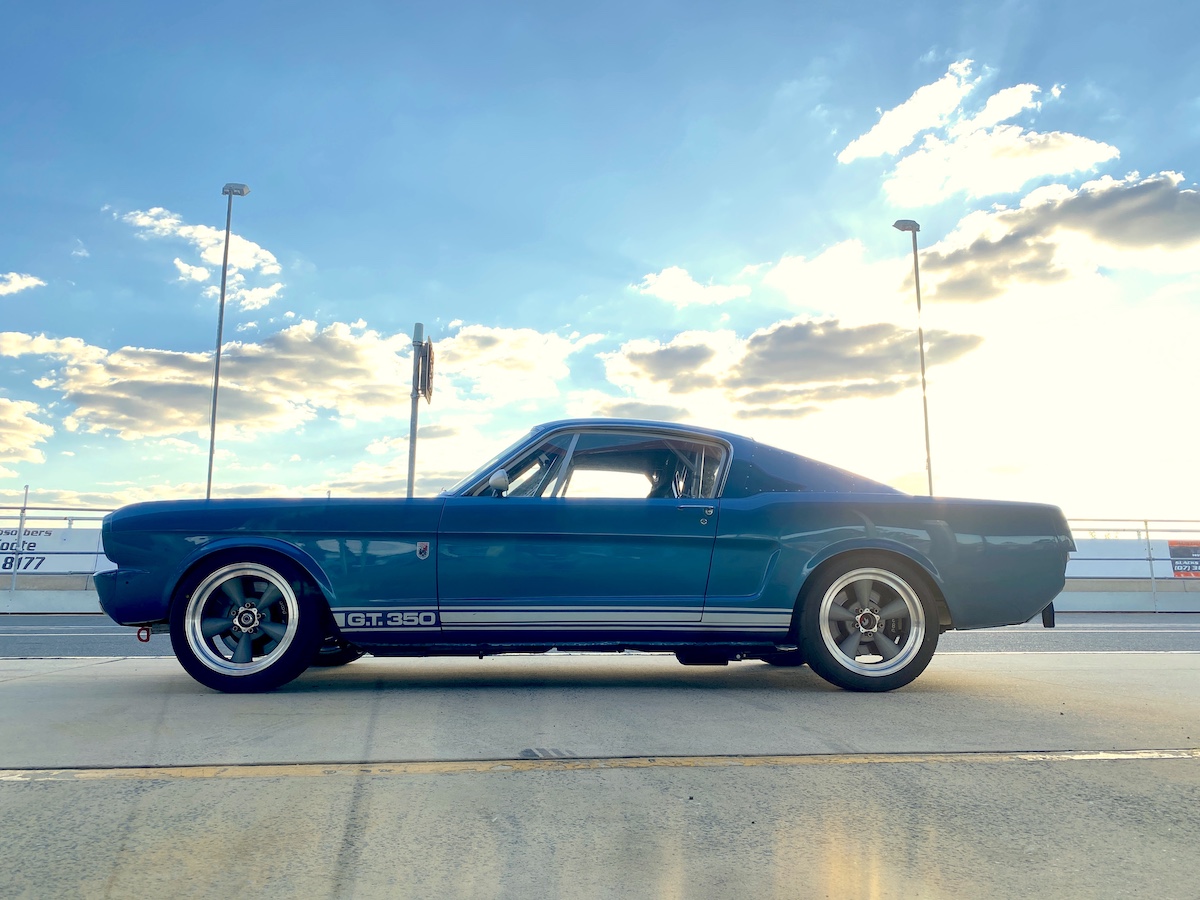 Qld Raceway track test, a fun afternoon of learning.
My preparation for the rally was hurried to say the least, originally I was to share the driving with my brother Chris, but he let me know he gets car sick as a navigator, so being a navigator for him over 3 days did not enthuse me so much. One of my best mates wives, Tiffanie, does navigating for her Dad in dirt rallying (proper rallying she calls it), so I asked if she would like to join me in Cairns and she was thankfully all for it. We took the car to Queensland Raceway for its first track test and found a large host of things needed to be remedied. Mr Tuning in Ormeau (the road and club racing offshoot of the successful McElrea Racing) was thankfully able to do the work, which they only completed the day before it got shipped off to Cairns.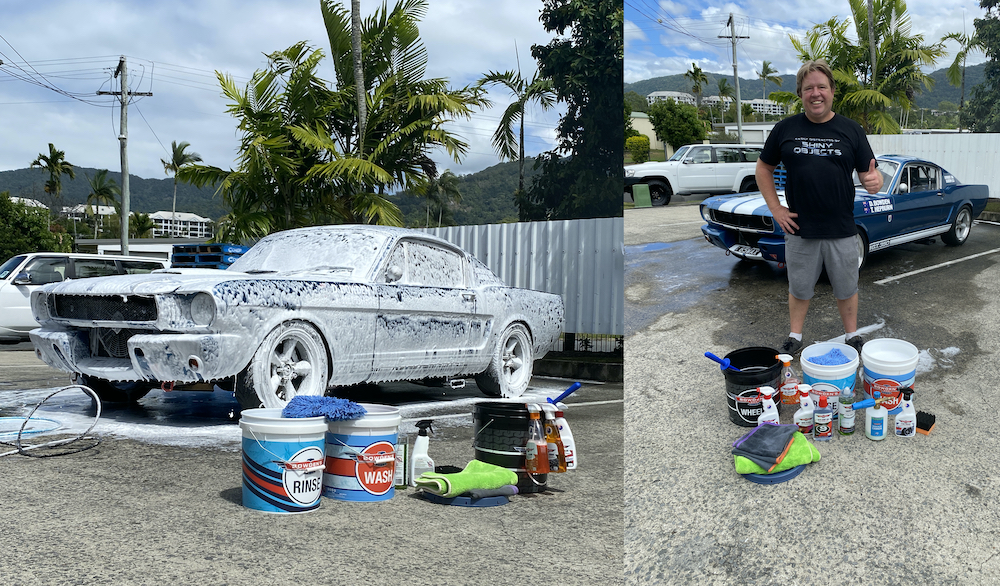 Important pre-race prep at the back of Autobarn in Cairns (thank you guys).
I drove the 2000km to Cairns, visiting our supporting stores and giving talks most nights on the way up. Tiff was smarter and flew in with her family direct. Now, when you arrive, you try and do it a few days earlier and run off in a hire car to do some checking of the roads you would be racing on, known as a recce. But being short of time, this never got to happen! We washed and detailed the car at the back of the local Autobarn store in Cairns (a super important priority for me), and as we had no support team (I was the mechanic and chief car cleaner), we fixed up and fitted the last few things that needed to be done that afternoon, and were then to start the rally the next morning.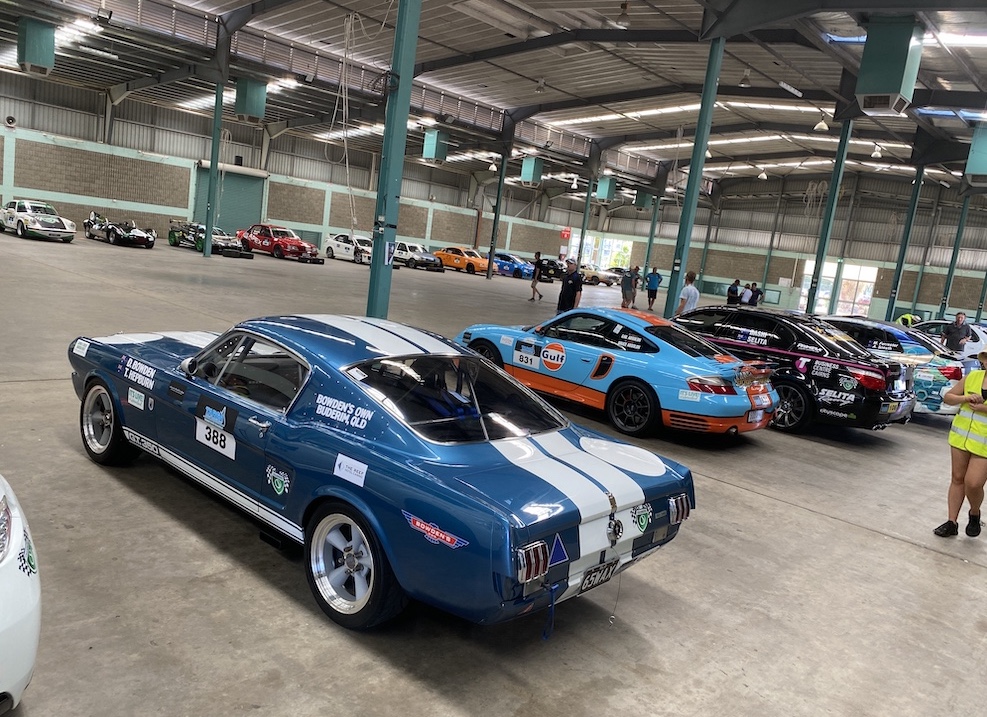 So many great and varied cars in each rally, like the people who drive them!
The first day had our nerves on the rev limiter. The day was pleasure and pain - in fact it might have just been pure torture. Having not done a rally in 15 years I was not sure what to expect. The first stage was one the organisers made sure we would go slow on, to get a feel for driving at speed. It was a super narrow and bumpy road with long straights and I was to find we had an issue with bump steer on the uneven roads at speed. Not very reassuring. Stage two was a road I had come north to drive, a bucket list road - the famous Gilles Range. This is supposed to be 22km of pure tarmac heaven, with 263 very tight and twisty bends over 800m of elevation. The road is on some of the sweetest, smooth tarmac you will ever see. However, for me it was not quite that, as I had perhaps the heaviest steering possible with 7 degrees castor, a good amount if toe in and the 16:1 ratio manual steering box. With no power steer, my arms were not ready!! Half way up and I literally could not wait for the stage to end, this was the torture of finally getting to drive one of the best roads ever and not being perfectly equipped car-wise or physically! We had one more stage before lunch and then we had to go back down the range the opposite way. By half way down I was feeling a little defeated, as the brakes were starting to feel a little low, so we just took it easy and finished the stage. Likewise the final stages that day at the back of Cairns running up and then down from Copperload Dam, just more crazy tight and twisty roads I really did not cherish or want to see! Tiff was awesome all day, calling perfect notes, really getting into it, but for me it was not the fun return to rallying that I remembered or loved. When I got back that night it's all I could think about, well that and how do I clean the car, with no easy access to a wash area it became very obvious to me that I need to look into creating a good rinseless wash, real 1st world problems...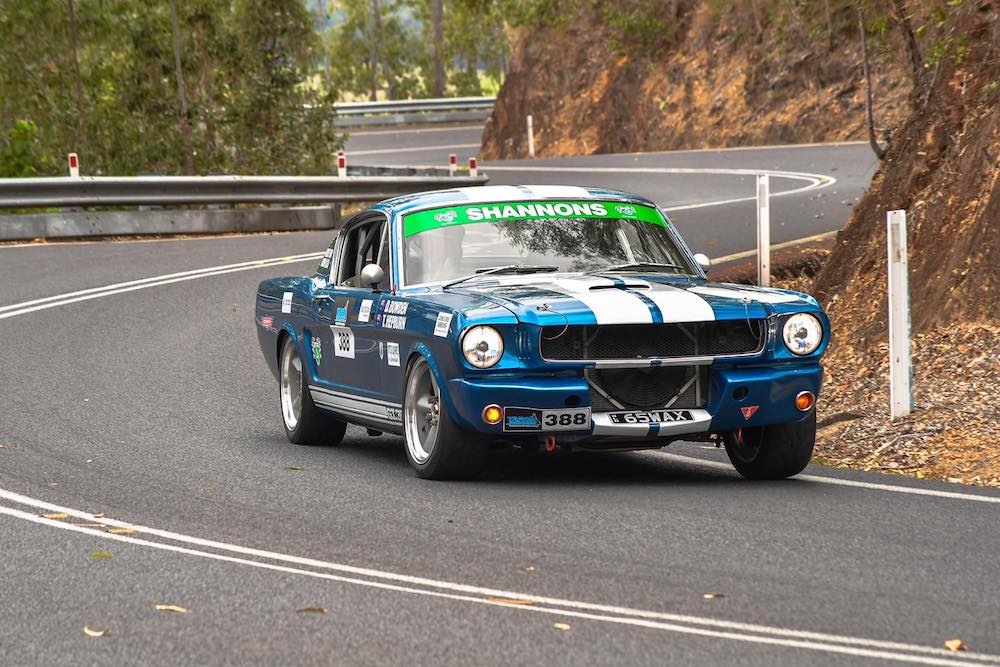 Day one - Gilles Range, a real handful, looked much better in the pics here for me!
The next day was a different kettle of fish to the first, heading an hour south of Cairns with 6 stages of super-fast and open roads. These suited the more powerful cars and is more what the Mustang was made for. The Mena Creek stage was the highlight for us - a 13km stretch of amazing undulating country back roads, no different to a fast roller coaster! We were hitting over 200km/h more than a few times, touching just on 230km/h before I pulled my head in a bit! The noise of the small block V8 was as glorious as it gets, and the car, driver and navigator all loved it. Still had the issues of the bump steer which were unnerving, but I much preferred dealing with that, over the crazy tight, slower corners of the previous day. This is what I had come for and by the end of the day we were all pretty happy. Sadly though, two great friends of ours, Jon and Gina Siddons, who were leading the rally in their super rapid 240Z, did a head gasket and were forced to retire, as did the 2nd place equally rapid Commodore with fuel issues. My intention was not to try and be competitive - I never checked my times, just purely being there for the driving experience and to finish the rally in once piece. So I was not really aware of where we were placed till Gina started messaging me that afternoon, saying if I held it together on the last day we could maybe win. Urrggghh, this was not what I wanted to hear or know about. On a side note, that afternoon we had the rolling parade through all the back roads of Cairns, which was amazing - literally thousands of people were out on the side of the roads waving and cheering as the entire field went past them. The Mustang was a touch popular with the crowds and it was a nice way to end the day.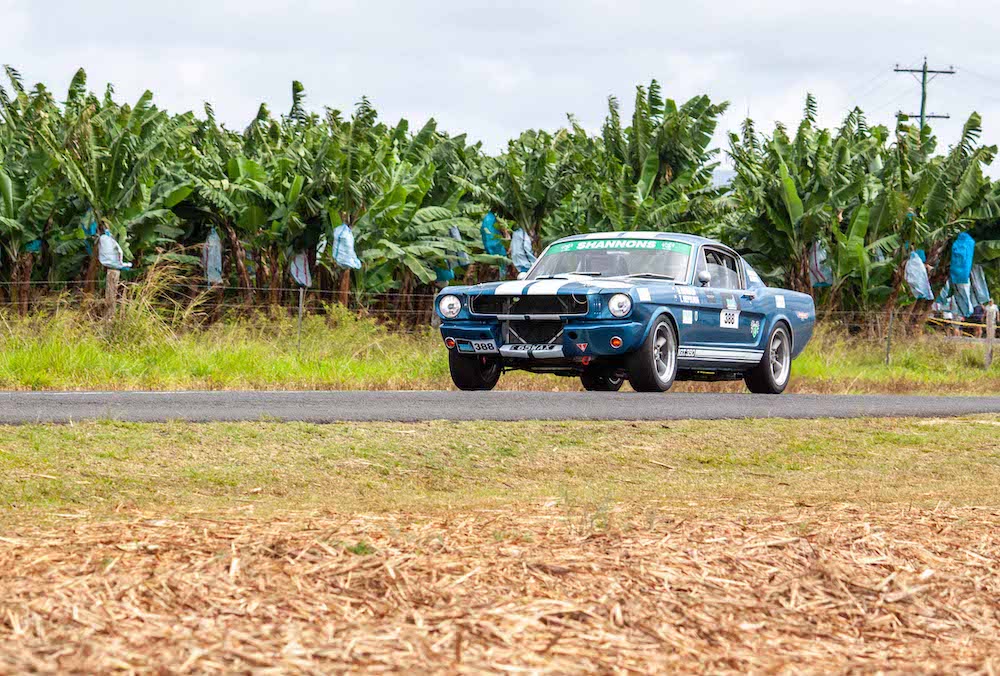 Day two, open roads through the farming land, we loved it!
The third and final day started with another bucket list road; Kuranda Range. This was totally perfect for the Mustang - in fact it's perfect for anyone who loves driving. A serpentine stretch full of amazingly perfect corners, without a bump in the wrong place. One memorable section in the middle was best described as dancing, as you moved at high speed left to right through a series of corners. After we finished I deeply wished that we had of done a recce of this stage alone, to have better known and enjoyed it! We followed this with another stage that was sooo crazy fast and sooo narrow you could only fit one car wide on it. If you were to catch another car in front, it would have been impossible to pass. Doing 200km/h on a road like this is something I never thought I would experience or ever do, but that box is now ticked. The big stage of this day was something I was looking forward to, but sadly was to become another pleasure and pain experience. Millaa Millaa is nearly 28km of open, windy, undulating roads, which should have been fantastic, expect the local council thought it would be a good time to resurface the first 5km of the stage and use the rally cars to sweep it for them. The loose stones made it super slippery, but the noise of the tens of thousands of stones hitting the underside, in a car with no interior or sound deadening, was outright frightful. Even with the helmets on and the intercom, we could barely communicate to each other talking over the noise. I was quite happy to get this one finished. At lunch we began picking the hundreds of tar embedded stones off the wheels and I noticed the damage it has created. Our inner guards, even after being lined with neoprene, were all pitted and banged up, looking more like a reverse golf ball than the lovely smooth finish they used to be. Even worse was knowing we had to run back over the same section in the opposite direction after lunch. Our brake pedal had been getting a bit lower by the end of this stage, with few left foot taps needed to bring it back up in any faster sections. So, we took it really easy on the way back, as we wanted to finish the rally in once piece. The road was still super fun, till the last 5km's that had become even more horrific, as the now super warm bitumen was well and truly ripped up from near 200 cars having gone over it.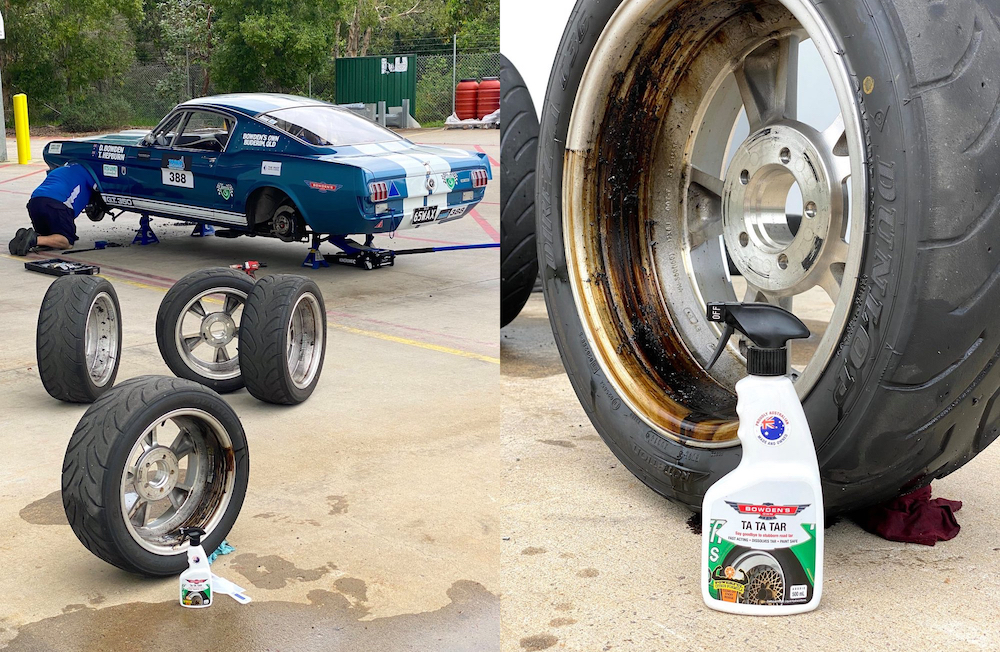 Little bit of tar - thankfully we have an epic product to help us there.
I must say that the entire rally roads were awesome, this short bit of road was the only negative of the entire event. I only wished they had of started or finished us a few km earlier to avoid that fresh resurfaced section. I was still thinking this a week later when we cleaned off the 2kg of stones and tar that were still embedded on the wheels and the underside of the car.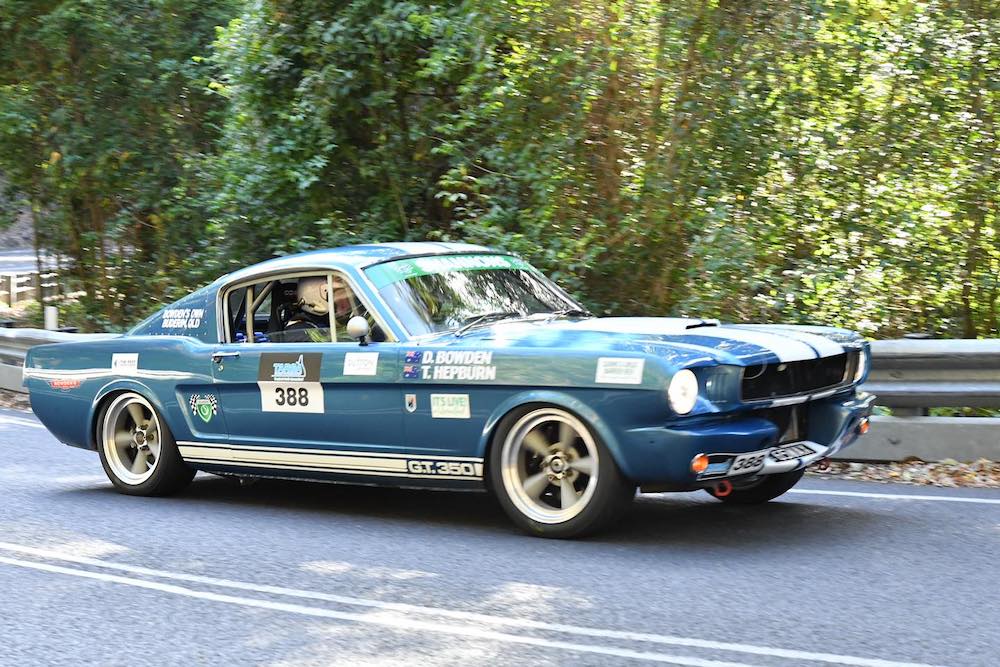 Day 3 - Kuranda Range - a bucket list bit of road!
We got to the end, not really knowing where we were placed, only to be told when we crossed the line that we had won the Classic GT section outright. I am the first to admit that this was not from our outright speed, but more so the varied mechanical issues our great fellow competitors had. So the old adage of "to finish first, first you have to finish" was very clear in my head there. It was a good way to come back after 15 years of no rallies.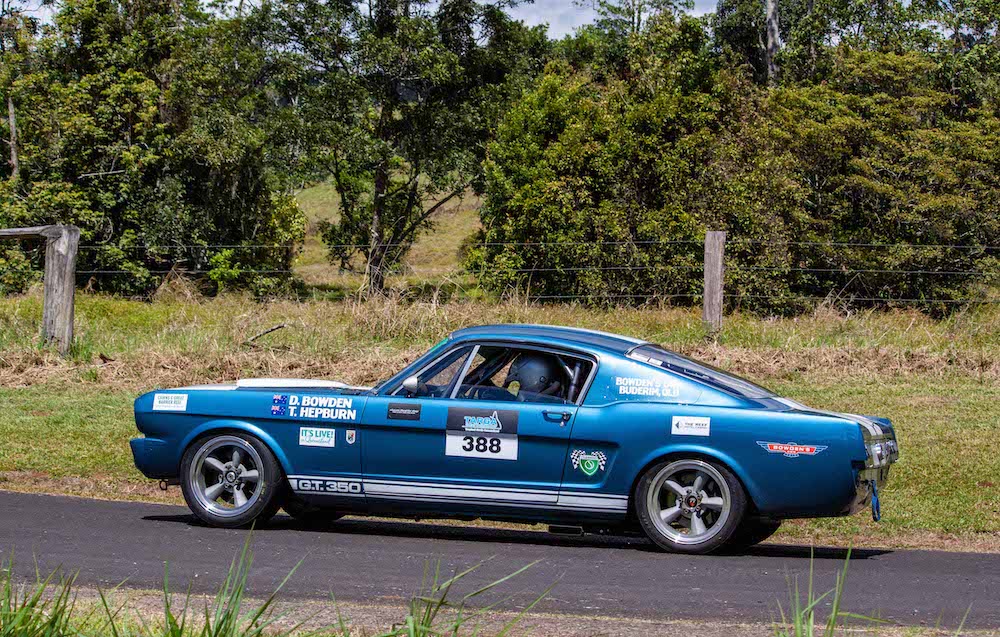 Getting to do a event like this on fast, open roads in a car you love, is as good as it gets.
My teammate Tiffanie was flawless the entire rally, in fact the best navigator I have ever had from the half dozen of rallies I had run in the past. As we crossed the line she was to tell me that she had never won anything her entire life, so it became a pretty emotional moment, even more so when her two beautiful and very excited girls and husband (my mate Shane) came up and shared this great experience with her.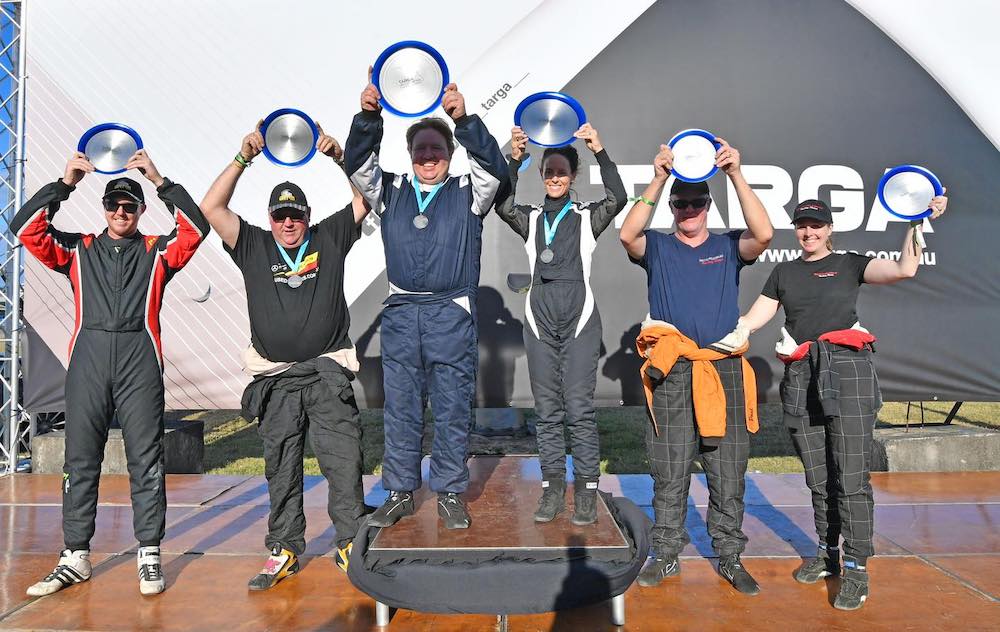 Seriously did not expect us to be on the podium, let alone be winning the Classic GT section when we started.
Targa rallies are a true endurance event, you always have drama and excitement, which is part of the reason why you do them. For me it's also the personal challenge of completing a rally and the amazing privilege we get to be able to enjoy some of the greatest roads in the country in a car you love. Not to mention be able to do this in a safe and organised way that you won't go to jail for if you were to do it otherwise! In truth they are worth every dollar you spend for the pure driving experience, no matter if you win or not.
There are different groups in the rally so any petrol head can join in and do them, from full competition like we did, to the fun tour section where you do on the same closed roads behind a fast "pace" car. If you enjoy your driving and your car, be sure to check out the Targa website for more information, as i strongly feel it's something any car lover should do at least once if they can.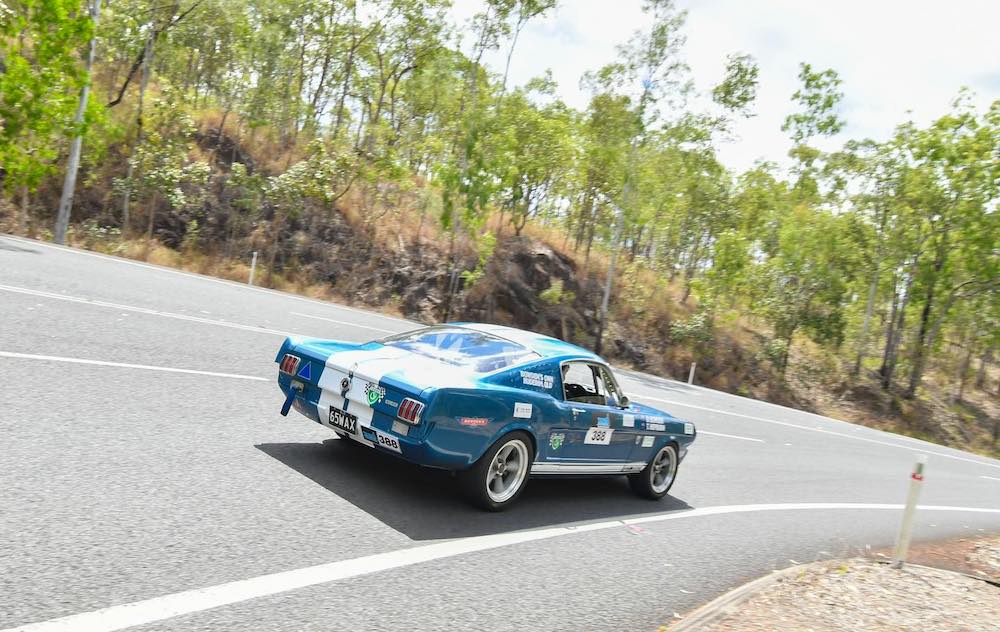 A big thank you to all the great people who came and said hello to us throughout the days there - always fun to meet with fellow passionate car nutters. Also a massive thanks to my brother Chris for getting me organised to leave the office and do the rally. Thank you to Shane for letting me borrow his wife for those few days and even for doing my washing! Plus the team at Mr Tuning who did so much work before we left and it 100% meant that the car finished! We have a few more updates (hopefully power steering) coming before the next rally in Adelaide this November. I hope this one is just as fun and a little bit smoother for us!
Enjoy the drive,
Dan Bowden
---
Comments (1)
Achievement plus

By:

Lea Hepburn

on 2 October 2020

Congratulations to you Dan and your very cool calm and collective side-kick Tiff. You'd both be busting with pride. We enjoyed reading about your journey and looking forward to hearing about more successes.
---