Our new microfibre range.
23 September 2015 Dan Bowden

We love quality microfibre, ever since we first "discovered" it nearly 15 years ago, we have seen how it makes all the car detailing jobs that much faster and easier. We have just finished almost a year of intensive testing on a new generation of microfibre, that will blow anything you may have previously used into the water! We have different purpose specific cloths to use all around your car, from drying to final finishing, so read on and learn more about microfibre and the new cloths we have.
What is Microfibre?
As the name refers to, it's a man-made extremely small fibre, as small as a "poofteenth" of the size of a human hair, yep thats really small! After years of development there are now a great variety of different fibres being made and it's good to report that many of them are ideal for car care. The better and more effective types are a split fibre design, that allows each individual fibre to absorb and hold greater amounts of dirt, water and other material that traditional cloths as you can see in the diagram below.

You mention GSM?
You will always hear about the GSM of different towels, which is short for Grams Per Square Metre. This refers to the weight or density of the towel the heavier and thicker it is, the more fibres and higher GSM it has. Higher GSM towels if designed right are more effective at cleaning, safer on delicate surfaces, will last longer, are more absorbent. These are the main points we have really focussed on with creating our new range.
Percentage Ratio?
The other term item you will hear about with microfibre is the ratio / combination of Polyester and Polymide in the cloths. Generally the higher the polyamide the softer the cloth is. In our cloths we look at a 70/30, (Polyester/ Polyamide) the highest we can go while still ensuring the softness required for delicate areas like paint while still kepping good strength in the cloth.
On the outer edge
The outer stitching has always been an issue for microfibre, and it's something we have researched into heavily, as it can scratch paint. Silk stitching, raised stitching (especially on corners) are all to blame, with many people using these cloths trying to adjust their cleaning technique so the edges would never touch the paint, but as we know it's not always possible. We have also looked extensively at edgeless towels, but again we find that over time the sides would slowly pull apart, not good either.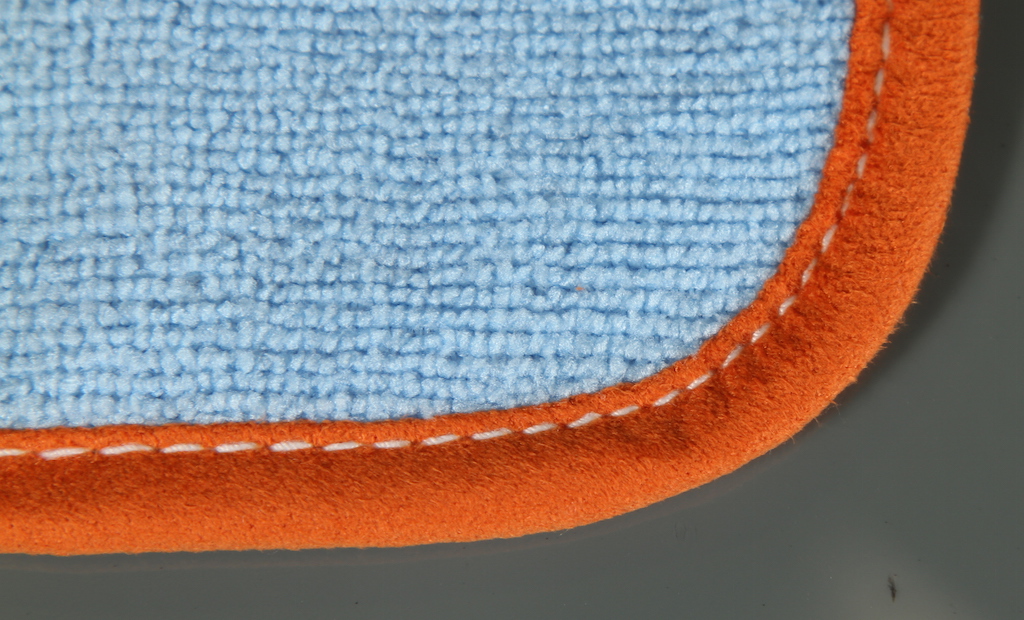 After much trial and error we have our new "Micro-Soft" edges, that is made from a soft and no scratching microfibre piping that surrounds the perimeter of the cloth. The stitching is recessed into the piping, so it cannot touch the paint, eliminating one of the bigger issues we used to face as it could mico-marr delicate clear coat paint if pushed into it. We also have no more corners on any of these cloths, beautifully rounded, to end the problem of corner stitching build up, that will scratch your paint. We have also incorporated some new "breakable" white tags on the cloths, that are very easy to remove, either cut ot tear off, and in the event that you don't, they will not scratch either.
Not all microfibre is the same
Lots of people ask me about the cheap bundles of microfibre you see in many auto parts stores, thinking it is the same as the higher quality towels. Not the case at all... The bundles are generally not a split microfibre, so they are no where near as effective in cleaning. They will also be very thin and of a low GSM and polyamide count, meaning they are weak, hard and will not last long, as well as guaranteed to micro-scratch delicate clear coat paint. If you really do love your car and want it looking its best, only use great quality cloths!
Our new microfibre will last years when looked after correctly, as well as not damage your cars finish. We have been intensively testing them on our own collection for over a year now, using and washing them almost weekly, and the final cloths we chose are the best of the best. We feel we have put together a nice combination of different cloths that other car fanatics will love as much as we do.
Circle Work
Named after the action you do when applying our non abrasive cleanser and wax (and what many lads do in their cars in paddocks), this new applicator pad is better than ever. The right size, 15 cm round is not too small and not too big that it becomes hard work to apply the products. Nice padded foam to give a even surface area, with no finger pressure points, for a perfect, even finish.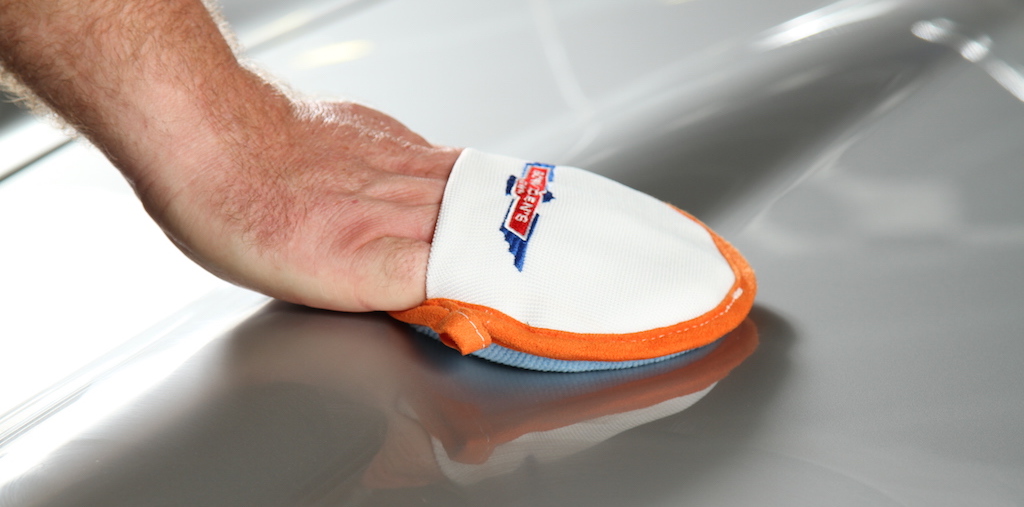 New elastic pouch for your hand, so you can not drop it and it never feels loose as you move it over the paint. The material we use is great for product application, a minimally absorbent type of microfibre, so you don't lose the product into the applicator. They have two different coloured edges, (blue or orange) so you can visually work out which one you have used for different products and end the chances of ever mixing the wax and cleanser together. These pads really do make the job, faster and better than ever before.
Big Softie
If you're after a decent sized and super effective quality microfibre cloth, this is made for you. The Big Softie is a short pile, feather soft ultra microfibre, ideal for removing wax, cleanser, polish, detailing sprays and glass cleaners from delicate surfaces. Those new micro-soft edges are soft and gentle for a perfect finish, without scratches and swirls!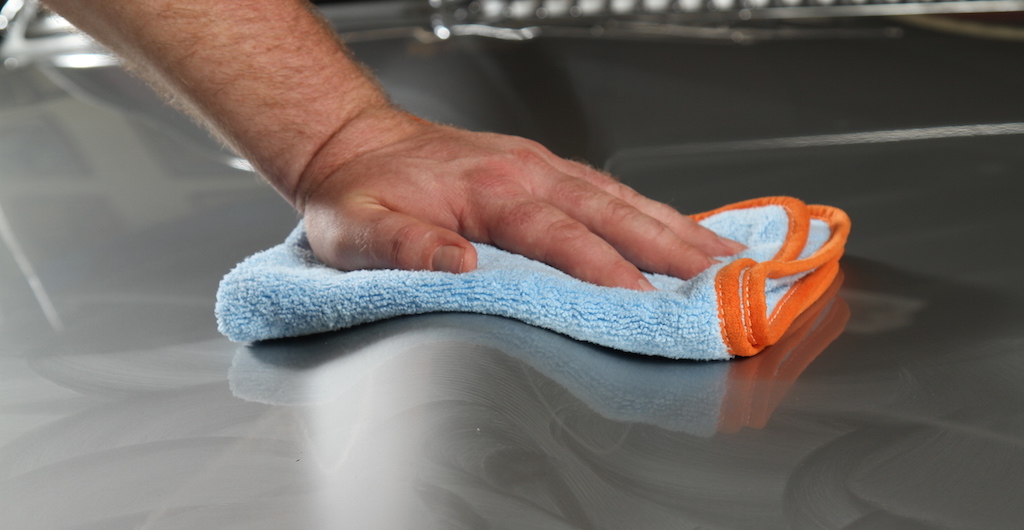 They have two sides with different levels of plushness as well, reason for this is that the low pile side is best for the initial product removal and then turn it over to the plush side, for a perfect final finish. Use it this way with all glass cleaners, cleansers, polishes and waxes. We have also colour matched them with the Circle Work pads above to separate them for use with different products, the jury is out, but I personally believe the Gulf coloured ones are a little bit quicker. They are a great 40 x 50 cm in size and an ideal 330 GSM.
The Drop Bear
My favourite cloth, and one we needed for the safest clean when detailing our cars without water. It's really made for delicate surfaces, like clear coat paints, with its super soft and absolutely divine plushness. At 960 GSM the Drop Bear is a real monster (one of the highest thread counts in the world) and unlike other towels it isn't two cloth's sewn together to artificially get this density, this is one pure cloth!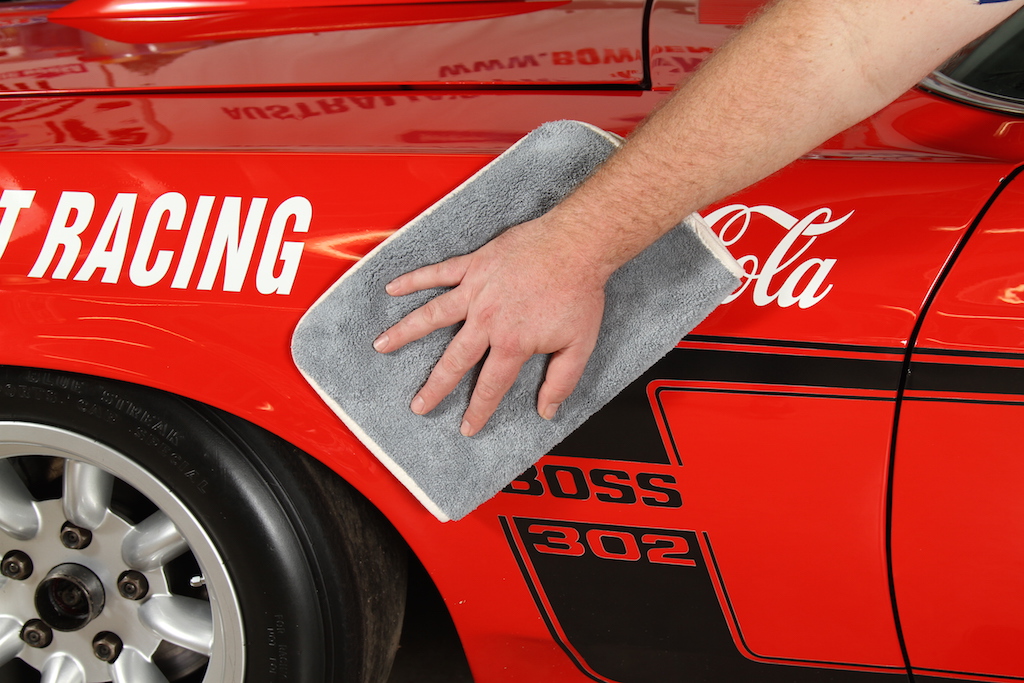 We use it for final wax and detailing spray removal, as well as using it with the naked glass too. About the only issue we get is if we leave it to dry outside after washing, it will attract Drop Bears to the shed, a dangerous animal to have anywhere near your residence, so you have been warned!
Dirty Deeds
While helping a car mate clean his car a little while ago, I just about died when he started cleaning the dirty door jams of his car with one of the good microfibre cloths we were going to use for waxing! So it gave me a thought to have a cloth made specifically for the dirtier jobs around the car, in a dark colour to help hide the inevitable staining, and really help quickly identify them for those dirtier jobs amongst all your other cloths.
The Dirty Deeds is a very strong microfibre weave, that won't scratch and is ideal for cleaning engine bays, metal polishing, wheels, inner guards and of course the door jams. We have them in packs of two, with different coloured edges, to again help separate them for different jobs (Purple for Metal polishing etc) . After much testing we also have found they work really well when being used to the sound of any good AC/ DC song!
DeBugger
A new type of microfibre weave that we have found is brilliant for helping clean bugs from your car. The cloths unique diamond shape weave removes splatter faster than ever, it does not scratch and is safe on all the different plastic, metal and painted surfaces as well. We use it with the new Bugger Off spray and have had some brilliant results. People who do road trips often will need this cloth!
​Square Bear
Created for even cleaning and application of all Leather, Vinyl and Fabric products over uneven interior surfaces. With its low absorbency microfibre, more product goes onto the surface you're cleaning, rather than being wasted in the applicator. This microfibre also aids in the cleaning process, making the vinyl fabric and leather cleaners/ protectants more effective, but still soft enough to not create any damage.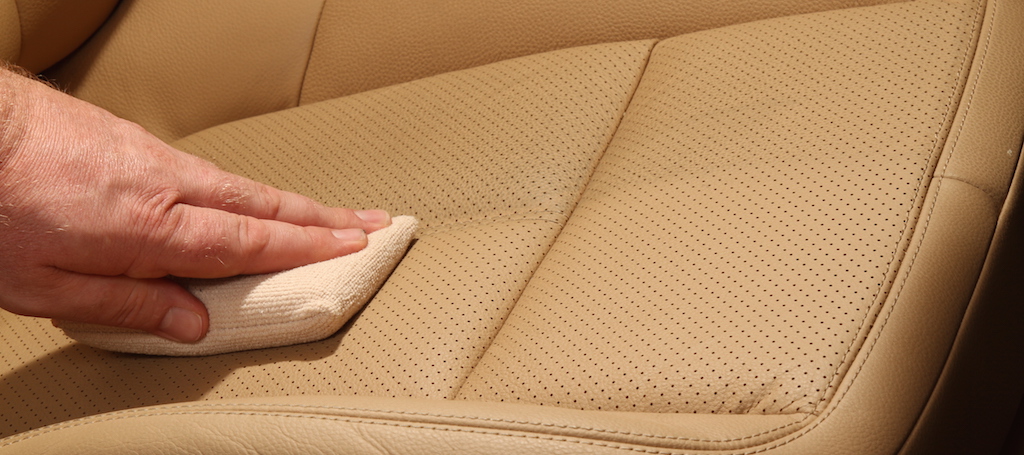 The cushioning sponge inner is a size that fits well in your hand, giving you control of where the product needs to go, into tight creases and crevices, while helping stop product overspray and overlap issues you get when you have seats with both leather and a fabric like micro suede. Your life is unbearable without this effective applicator.
Plush Daddy
The Plush Daddy is another unique dual sided cloth, this time for cleaning the interior of your car. One side of the cloth being the super plush and luxurious ultra microfibre for fast cleaning of dust and finger marks, that is safe around the delicate surfaces in your cabin.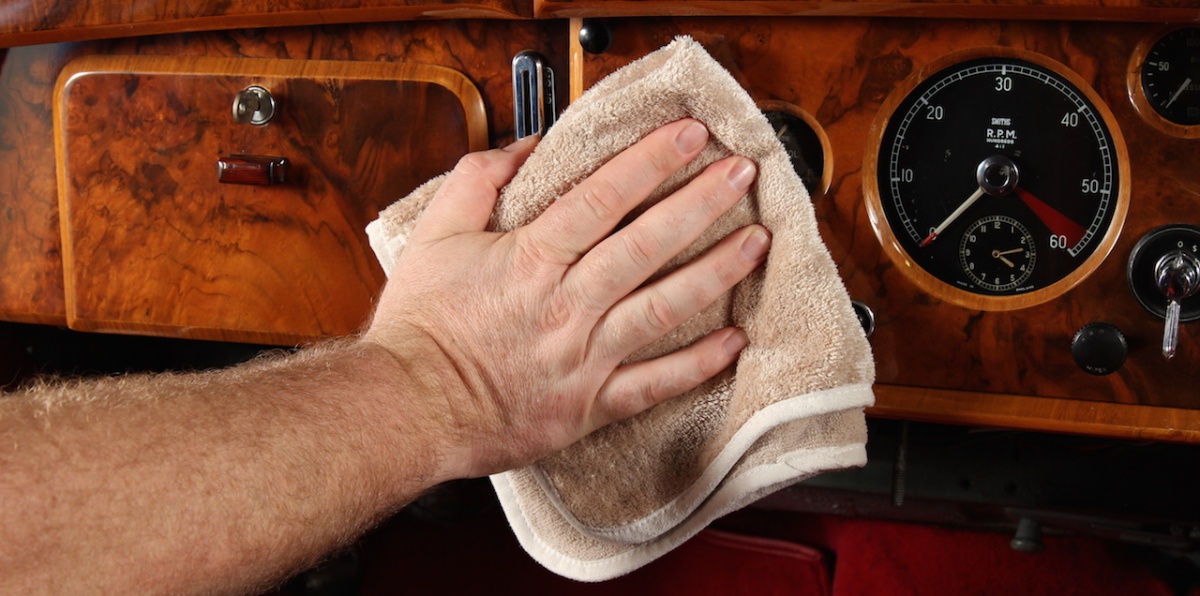 Flip the Daddy over and you will find the other side is a low pile weave that is for removing all leather, fabric and vinyl cleaning products, leaving a perfect finish every time.
You will love the Daddy!
Microfibre Wash
This new Microfibre Wash is what we made to look after these new cloths. It deep cleans all these cloths and applicators from wax, cleanser, polish and all other detailing chemicals. We have been delighted how the microfibre is restored after each wash, so they keep performing like they were when new. It rinses totally clean from the fibres, leaving no detergent residue to block up and impede the microfibre's cleaning power, like a traditional clothes wash will.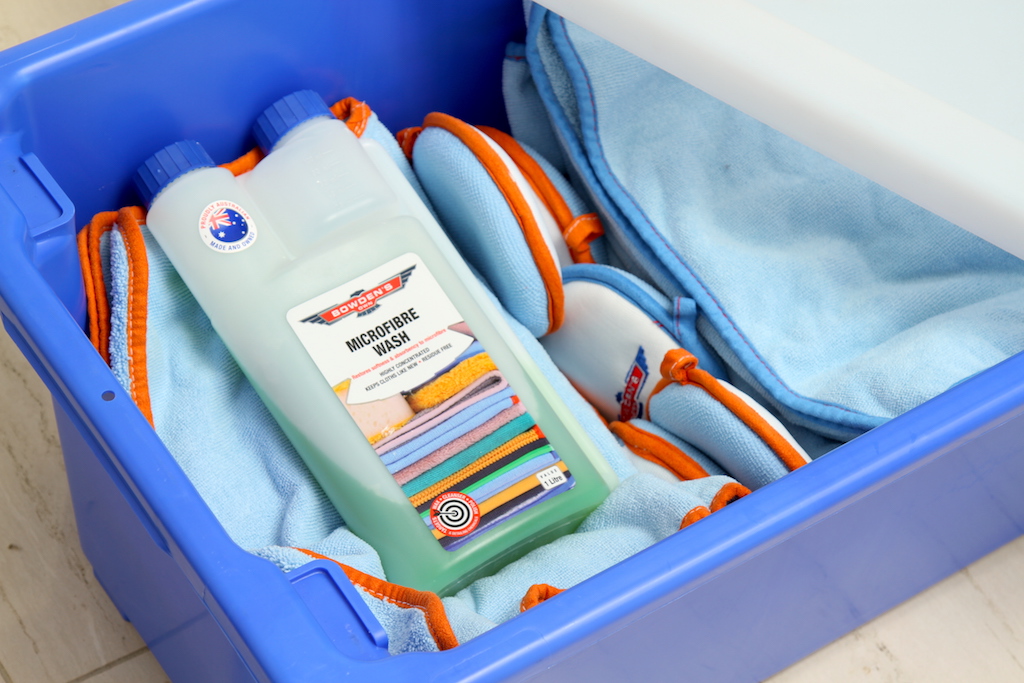 Just 20 mL is all that's needed for normal washing of around a dozen cloths in either hand or machine washing. it's compatible for top & front loading machines even the new High Efficiency versions. This is strongly recommended for anyone who is getting these new cloth's, we are pretty happy at how our cloths have come up over the last 9 months of continual weekly washing.
These new series of cloths are used almost daily in our sheds and we are loving the results they give, I am sure you will as well. You will be able to find them, or special order them from many of our great retailers nationwide, find the closest one to you with the stockist link at the very bottom of this page.
If you have any questions, please email info@bowdensown.com.au or FREECALL our office on 1800 351 308.
Love your car,
Dan Bowden