The Foursome
6 September 2018 Dan Bowden

A handy set of round brushes for detailing all around your car or bike.
We've custom made this great combination of 4 round detailing brushes for the more fanatical car care lovers out there. We found that one single brush cannot do all the detailing jobs around our cars and bikes. So these different sizes and bristle lengths will make lighter work of the more intricate detailing jobs when used with our various Aussie car care products.


All the brushes have non-slip handles, are metal free with a quality plastic construction and super soft boars hair bristles to ensure they won't ever scratch any delicate surfaces. The bristles were custom chosen after much back and forth testing for the quality of them and also made extra long on a couple of the brushes to best suit how we wished to use them.

BIG BOY BRETT
This 20mm brush is awesome for cleaning bigger open areas, like in engine bays, rocker covers, manifolds, plastic engine covers and tyres.
USE WITH: Any of our car washes or Orange Agent for the more grease and grime built up areas.

NUTS AND GUTS
This 18mm size brush is really awesome for wheel cleaning and bug removal. But this is the most versatile brush due to its medium size and extra-long bristles to hold more product and give extra agitation, as well as get right into the harder to reach spots when detailing. Wheel nuts, bug guts, fuel caps, badges, louvres and grills, door jambs, intricate wheels, tonneau stitching, the list goes on and on.
USE WITH: Wheely Clean, Bugger Off, Orange Agent, Sublime Clean.

THE POUNCER
FOR: The 14mm size will get right into more intricate areas and tighter spots you find with interiors and around the car. Cleaning stitching on leather trim, working on stains in fabrics and outside brake caliper cleaning, as well as those hard to get to areas in engine bays.
USE WITH: Leather Love, Vinyl Care, Fabra Cadabra, Wheely Clean, Orange Agent.

LITTLE PEDRO
FOR: This skinny 10mm brush is for fine dusting of interior vents, around switches and other delicate trim. A great aid while vacuuming, to release dirt and dust particles in crevices, seams, gaps and other impossible to reach spots.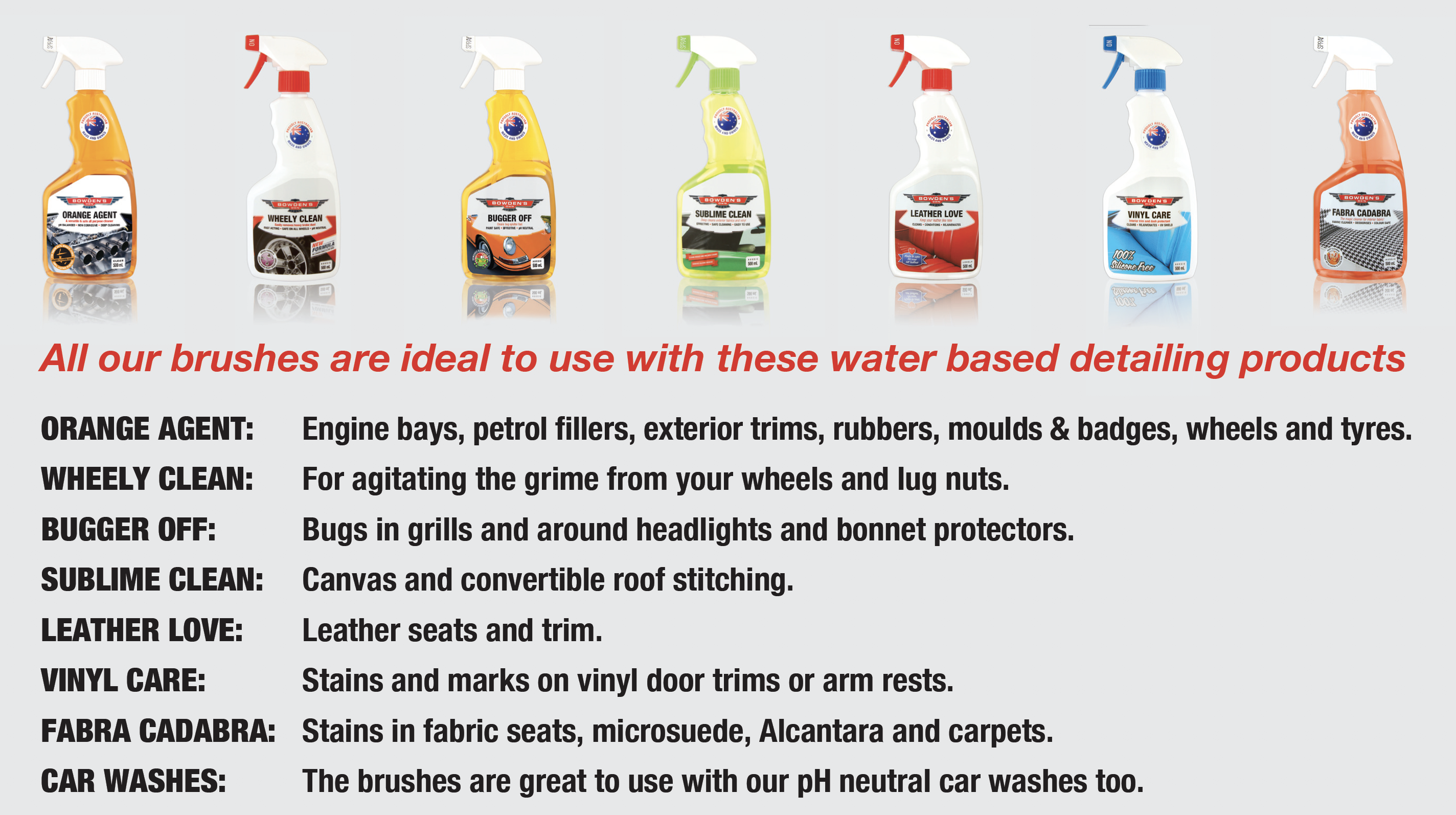 This great set of detailing brushes will be available at Autobarn and other independent stores soon, with a recommended retail price of $29.99. To order one, please quote the part code: BO4SOME
I hope you'll love these brushes as much as we do.

If you have any questions, please email info@bowdensown.com.au or FREECALL our office on 1800 351 308.

Dan Bowden
---
---