Wet Dreams - you won't believe it's not ceramic!
20 May 2019 Dan Bowden

An awesome new, super hydrophobic formula that creates epic protection, shine and a super slick feel after you wash. This is in a convenient spray on and rinse off application, for those who don't use a pressure washer. The way it works on a still wet surface is a total dream - hence we have named it - Wet Dreams.
Wet Dreams was developed over the last year alongside our Happy Ending finishing foam, with lots of fine tuning to make them easy to use and give amazing results with little to no work needed.
It was two years ago we had some new water-based, super hydrophobic ingredients come across our chemists desk and get our total attention. These ingredients safety data sheets unfortunately gave us some concerns due to the engineered "SiO2" nano sized silica dioxide particles in them. There have been numerous scientific reports on nanotoxicity over the last decade with these types of ingredients (both for and against them), and as there is still no conclusive evidence for their long term safety, we have chosen to refrain from using them. So our chemists begin working with a local scientific company to create some new super hydrophobic "lotus effect" ingredients to our specifications right here in Australia.

Made for Aussie conditions
The formula was to receive a lot of tweeks over the 8 months of intensive testing on numerous cars at our Queensland HQ. The reformulations were needed to get the right balance of ingredients for amazing beading and shine, while not creating the dreaded streaking when used in our heat and humidity. By developing it over the hottest and longest damn summer on record, we found ways to combat these issues that are common for this type of fast curing product. In the end we had something that was very awesome, as well as having every single ingredient proudly made right here in Australia.
Different to Happy Ending?
Wet Dreams has a few distinct formula changes in comparison to the Happy Ending finishing foam, to better target how you apply it with a spray trigger, and then remove it with a jet of water from a household hose. The change of concentration in its active ingredients gives a faster cure time and also allows its hydrophobic protection to be activated by a jet of water. The durability, shine, and the slippery feel are all pretty similar to the Happy Ending finishing foam, but we found that its initial bead porn can be slightly better as it cures much faster.

How do I use it?
Wet Dreams is used at the end of the wash on a clean and still wet car. You need to be working out of the sun, in the morning or afternoon, on panels and surfaces that are cool to the touch. Start by quickly rinsing each panel with water before use, then mist Wet Dreams directly to one panel at a time. Wipe over the panel with a folded and damp Big Softie cloth, to get an even application of the product across the surface. Rinse the panel down immediately after with a strong jet of water from your hose to reveal fantastic, bead porn magic!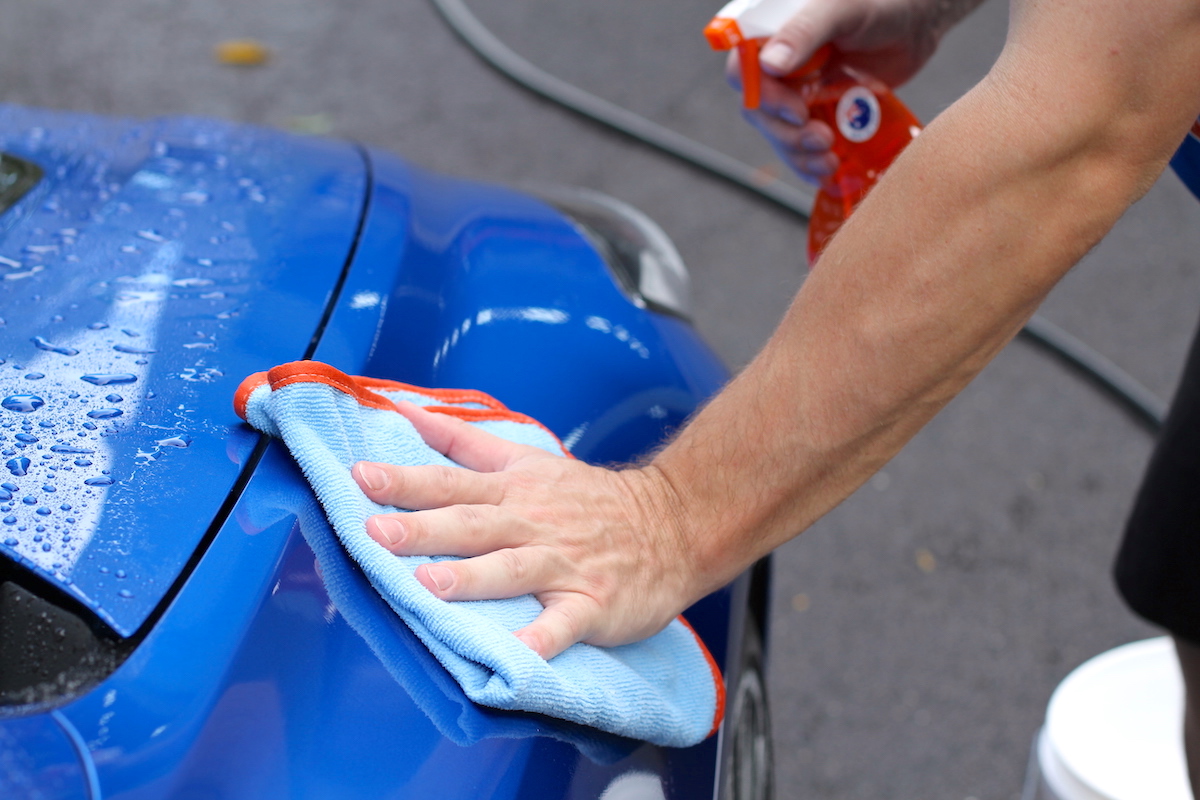 You can also use Wet Dreams as a simple spray on and pressure wash off product. Be aware that if you miss any sections when misting it on, that the beading won't be as good in that area - so you'll use a bit more product than the above spray on, wipe in with a cloth and rinse method. It's important that you use a pressure washer for its removal with this technique, as it aids the spreading over the surface as well as reducing the chance of it ever streaking. We also use it this way to quickly top up the protection and water beading on any smaller sections during a normal wash, where it may have started to decrease over time.
We love using Wet Dreams on wheels with the spray on and pressure wash off technique, as it's not affected or burnt away by heat and is really aids easier removal of brake dust and grime with Wheely Clean or Orange Agent after its use. Likewise it's great for making the Snow Job or our car washes more effective, as the dirt and grime finds it a lot harder to cling to the treated, more slippery surface.
Next level drying
You still use our Big Green Sucker with Boss Gloss to dry as you normally would, but as the surface is now super slick, its effectiveness increases dramatically, as the towel just glides over the slick and beautifully hydrophobic finish and pushes the water into the drying cloth or towel. We have also found that After Glow does not affect the hydrophobic nature of the surface (we were suprised by this as well), and it can be used as the drying aid with a damp Big Softie cloth too. You'll notice after drying the amazing shine it leaves as well. On a digital gloss meter we have in our laboratory it rates the highest of all our products for a reflective shine.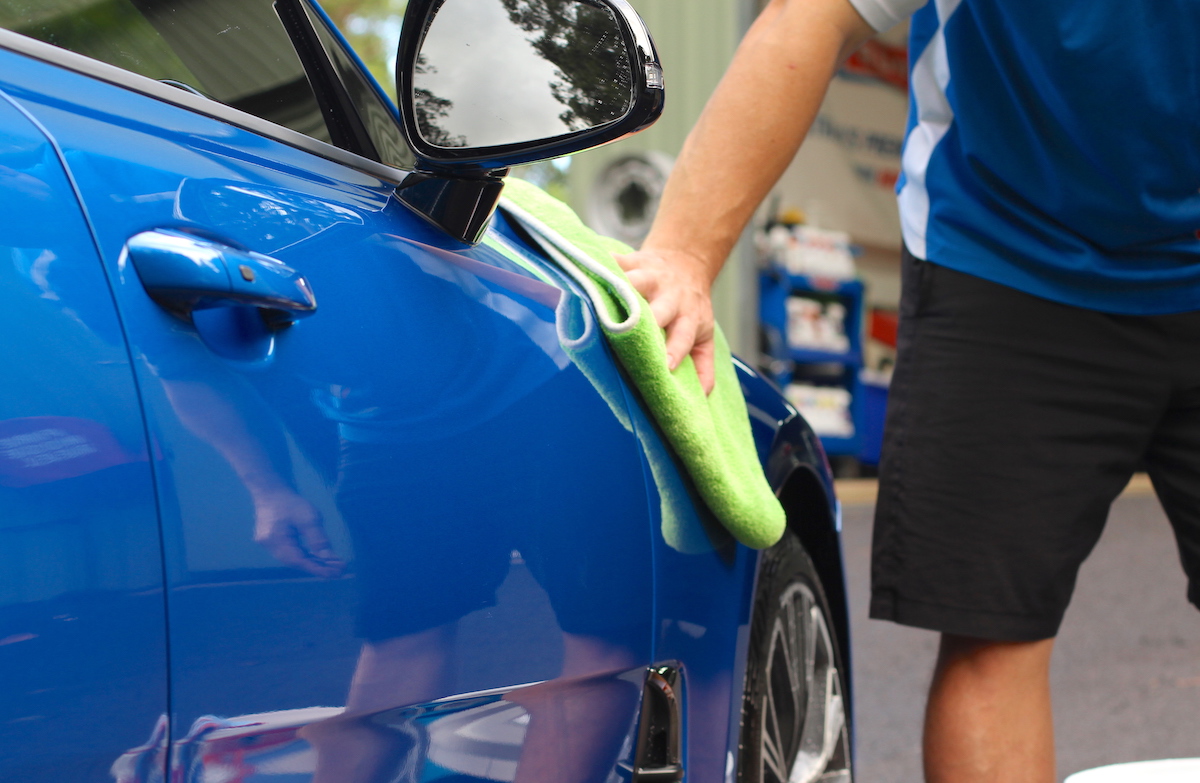 How long does it last?
The protection it creates lasts up to 2 months on daily driven cars and longer on the more pampered garage queens. The big 770ml bottle will do up to 6 or 7 regular sized cars, so the one bottle should last a two car "family" for around 6 months.

Works best on modern clear coat paint
After our testing on all types of cars, we've found it gives the best effect on modern clear coat paint, that's free of contamination and in overall good condition. If you have an older classic car, hang in there for a little bit longer as we have something new being made just for you....
Boosts professional paint protection coatings
It's amazing for maintaining cars that have been professionally ceramic coated/paint protected, boosting the crazy water beading to how the coating was when new. It also works on cars with Paint Protection Film (PPF) or ones that have been vinyl wrapped.
Great on the exterior surfaces
It protects all hard exterior surfaces including paint, plastic trims, perspex and glass. We don't recommend using it directly on convertible tops, soft ute tonneaus or 4x4/van cloth awnings, as it can leave an uneven finish. You can use it around them, (which is why this can be a better option than the Happy Ending foam) just don't apply it directly onto those areas, and be sure to wipe and rinse away any overspray from them after application. We also don't like to use it on windscreens as it can give a light smearing the first time you hit your wipers. If you do get it on the screen, don't freak, just give the glass a quick clean at the end of the detail with Naked Glass to easily remove it.

So good that you won't believe it's not "ceramic".
Wet Dreams is not SiO2 or TiO2 (engineered nano sized silica or titanium particles) based, nor do we feel the need to state it has the currently hyped buzz word of being "ceramic", although it does share the same super hydrophobic and protective properties you associate with that type of product. Our way to create this epic surface effect is with the unique group of locally made synthetic polymers and other hard to find ingredients like Bunyip milk (don't ask how we get "milk" from a wild teatless animal like this). After talking with our chemists, scientists and a multitude of ingredient manufacturers, I don't personally feel any of the current water based sprays should use the term "ceramic". This term is more scientifically associated with describing ingredients used in professional ceramic paint protection coatings, which are a very different form of expensive chemistry. But marketing teams are now seemingly naming everything that beads as ceramic, upsetting many pro detailers and creating confusion for car enthusiasts with this now somewhat misleading term.
How often do I need to use it?
You don't need to use it after every wash. Use it once you begin to notice a drop in the water beading, to quickly boost the protection. We have found in real world testing that the beading effect can last at least two months, however a monthly use is a good timeframe to best maintain your daily driver, or every few months on a car that leads a more pampered life out of the elements.

You too will share this same goofy, satisfied look after Wet Dreams.
How does this fit into the car care system?
Wet Dreams is a sacrificial sealant to give a quick boost of protection and shine when doing a wash and not using a pressure washer. It makes washing the car easier as less dirt will stick to it and makes drying a breeze as well. It's also perfect if you have a motorbike, ute or 4x4 with a soft tonneau so you can better control where the product goes, something that's more difficult with a foam cannon when using Happy Ending.
Our testing has also shown it will work great with your favourite drying aids like After Glow with a damp Big Softie cloth, or Boss Gloss and The Big Green Sucker to dry the car, without affecting the beading effect.
It's a pH neutral, water-based and UV protectant formula will bond to and boost the protection of all our current waxes and sealants. There is no reason to apply any other products on top of Wet Dreams after its initial use either.
It is ideal to be used as a stand alone maintenance product for any professionally applied ceramic coating, keeping it looking and working like it was when new.


Where and when can I get it?
Wet Dreams has a RRP of $34.99, which we think is pretty good value for a product using this kind of technology. Autobarn stores across Australia should have this on their shelves now, as well as a few selected Autopro stores as well. After seeing how Happy Ending sold out really quick on its release day the other week, it would be best to call your local store to organise your bottle of Wet Dreams! It can also be special ordered from July 1st with part code BODREAMS from our other great resellers.
Comes in a pack too
We have a Wet Dreams pack available as well, with the big 770ml bottle and a Big Softie cloth. It's RRP is $44.99 and the part code is BODREAMSP
Thanks for reading this and I hope you soon get to enjoy the Wet Dreams as much as we now do.
If you have any questions, please email info@bowdensown.com.au or FREECALL our office on 1800 351 308.
Love your car,
Dan Bowden
---
---
Comments (3)
Wet Dreams.

By:

Jeff Kesby

on 14 October 2020

Home earlier than usual today ,in time to wet dream the Audi. Now shining beautifully. I am hooked next Wet Dream the wife's FWD. used the big green sucker for final dry, do not know how i put up with a chamois for the last 40 years.
---
Fantastic Product!!!

Hi Guys, I was considering exploring ceramics given all the noise - but unsure of health issues - and now with Wet Dreams I don't need to! This is an amazing product I have used on 3 of my cars - the water beading is great and the gloss is amazing! Love it!
---
Great company! Fantastic results!

What a great company supporting Aussie made products and companies. Can't wait to add this to my Bowdens collection. Once you try Bowdens products, you'll never want to use anything else. Their range is fantastic! Great quality products at resonable prices. Thanks Bowdens!
---