"The Grey Pussy" 1958 Mk1 Jaguar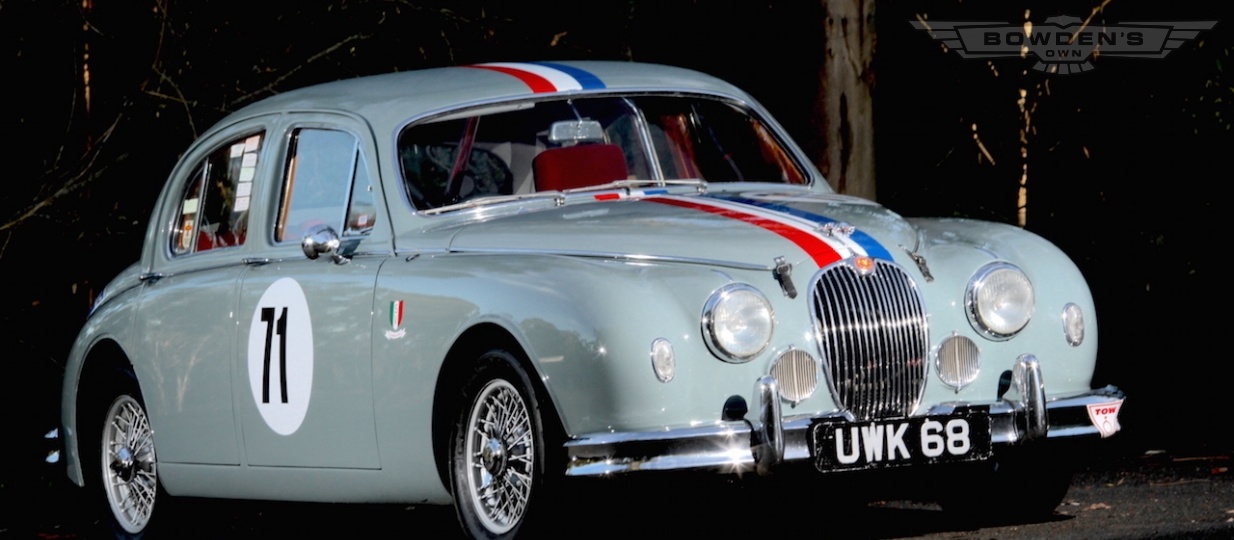 "The Grey Pussy" 1958 Mk1 Jaguar
Driven by David McKay, Ron Hodgson and Ian "Pete" Geoghegan, the Grey Pussy is a very significant part of early Australian racing history.
Front Suspension Type:
Independent with wishbones, coil springs, tubular shocks and anti-roll bar
Rear Suspension Type:
Cantilevered live axle with quarter elliptic springs, radius arms, Panhard rod and telescopic shocks
Wheel Type:
72 Spoke Factory Competition Pattern Wire Wheels
---
One of the most important surviving cars from the early days of Australian touring car racing, the Mk 1, 3.4 litre "Grey Pussy" Jaguar was to herald in a new era of racing saloons. Driven by David McKay, Ron Hodgson and Ian "Pete" Geoghegan, this factory built competition Jaguar has had a great life, and about to begin a new stage it joins our collection of sports and touring cars. Read her fantastic story here.
When Australians view something or someone with affection we like to give them nicknames or names of affection. When well known Australian motoring journalist and now racing legend, David McKay imported a new Jaguar 3.4 litre Saloon in late 1958 and met with immediate competition success. It was soon given the name of the "Grey Pussy".
While somewhat irreverent, the name stuck and the car is still known by the name throughout the country. However it is known by more things than just its name because during its competition heyday it faced the starter's flag a total of 58 times and from these received the winner's chequered flag 36 times. It came in 2nd on 16 occasions, managed 3 thirds and suffered just 3 DNFs. While not quite a household name, David McKay was a popular motoring journalist based in Sydney and writing for such publications as Sydney's Daily Telegraph he was known to more than just those interested in motor sport.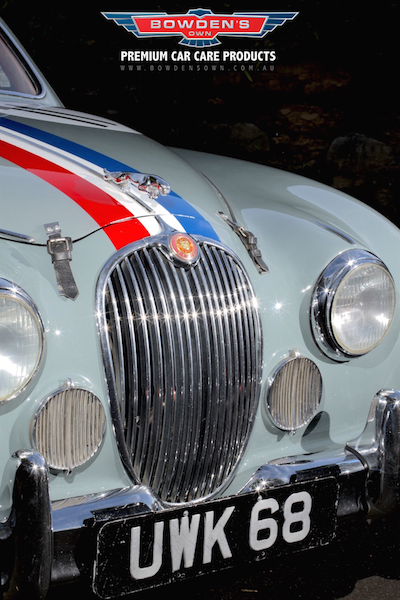 Born in Sydney David McKay saw active service during WW2 as a tank driver in New Guinea and post the hostilities put bread on the table through driving trucks interstate in what passed for highways during the period. However his family was not without influence as his father Claude founded a popular Sydney newspaper called Smith's Weekly in partnership with Clyde Packer. A name that survives significantly in Australian and international multimedia and gambling interests.
While in no way trained as a journalist, McKay started a motoring page in Smith's Weekly in 1949. Interested in motor sport he also tried his hand at the Australian racing scene at the time by running at Bathurst in October 1950 in a green road equipped MG TC. He also tried his hand at the increasing popular Redex round-Australia trials and other rallies as both driver and navigator.
David McKay soon became known for his forceful testing and reporting style as he wasn't backward in saying what he thought about a new car on the market, over the years writing for both the Daily Telegraph and Sunday Telegraph. His "Behind the Wheel" column soon became compulsory reading for all motoring enthusiasts. This was even more so when his writing also included additional columns on everyday motorsport. His writing style brought both praise and chagrin from manufacturers in the Australian market.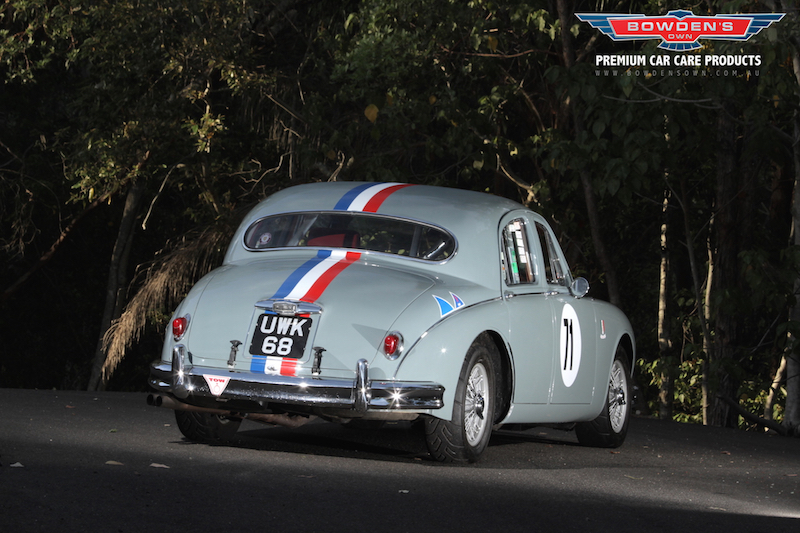 Kangaroo Stable and Scuderia Veloce
In 1955 David was in Europe and teamed with fellow Australians Tony Gaze, Jack Brabham, Tom Sulman, Les Cosh and Dick Cobden to form the Kangaroo Stable. Equipped with Aston Martin DB3Ss, the team looked set to make a comfortable living from starting money alone from the lucrative European Circuit and with Gaze, David McKay, did finish second in the 1955 Hyeres 12-hour race in the south of France. Unfortunately the tragic events at Le Mans of that year put paid to their further plans, as sports cars racing was halted in many countries across Europe. However as Tony Gaze explained in his interview for Vintage Racecar of February 2005. "The only races that we could go to were the Portuguese races because they didn't care if you killed yourself."
While David McKay is remembered for his hard writing he is also fondly recalled as being a racing driver of some capability. Not only did he win the 1958 Australian Sports Car Championship in an Aston Martin DB3S, the inaugural Touring Car Championship in 1960, but also was first across the line in the 1961 Australian Grand Prix in a Cooper Climax T51. Unfortunately he had been previously penalised a minute for jumping the start which placed him in third position.
Such successes came under his new race team called Scuderia Veloce, the first professional race team in Australia. It was through 'Scuds' that McKay went on to not only further compete himself, but also sponsor visiting race drivers to Australia such as Graham Hill and Jackie Stewart. Scuderia Veloce eventually morphed into a new car dealership that still exists, albeit under different ownership.
A constant visitor to Europe during his working career, McKay spent the early part of his retirement years living on the Continent, which allowed him to move amongst the many friends earned. When he moved back to Australia McKay settled just south of Sydney and passed away in 2004 aged 83.
Australian Saloon Racing
It would be nice to say that Australians are enamoured with open-wheeler and sports car racing, but the simple fact of the matter is that put a few racing sedans on the circuit the spectators will come in droves. The same goes for TV as our annual Bathurst 1000 is a clear example.
This was becoming clear even during the 1950s when spectators wanted to see hot Holdens up against worked Ford Zephyrs or racing Austins. It was also clear to David McKay that Australian's loved watching everyday cars competing against like vehicles.
Similarly McKay was also becoming acutely aware of the promotional and advertising possibilities that could be achieved through motor racing. With this in mind he had managed to succeed gaining some sponsorship from Ampol, the Australian fuel company. Being the 1950s the idea of plastering advertising slogans and the like on racing cars was decidedly frowned upon by the Confederation of Australian Motor Sport.
It is not known how much convincing it took, but David McKay managed to persuade Ampol to buy a new Jaguar with a view of racing in the blossoming touring car races. McKay had heard that Jaguar's new 3.4 litre saloon in the hands of such noted drivers as Stirling Moss, Mike Hawthorn and Tommy Sopwith was the car to beat in England.
So through Sydney Jaguar distributor Brysons, an order was placed direct with Lofty England for a 3.4 Saloon and that it be prepared for racing by the Jaguar Competition Workshop. It was McKay's plan to use the car as everyday transport and also race it during race meetings. All the time of course, would the name of Ampol be paramount.
On 25th July 1958 the "Grey Pussy" rolled down the Brown's Lane assembly line and following on, spent 6 weeks being prepared by Lofty England and his team in the Coventry based Jaguar competition workshop. Interestingly Lofty England had heard that fuel on sale in Australia was of questionable quality, so he had the car fitted with low compression pistons to compensate. Also fitted were slightly wilder D type camshafts, a polished and flowed cylinder head, twin SUs, bronzed big end bearings from Vanwall, lightweight flywheel and race clutch, limited slip diff, high ratio steering box, stiffened race suspension with race shock absorbers and heavier sway bars, an extended shifter, boot mounted battery, tailored race bucket seats and 72 spoke wire wheels.
David's plan was to take delivery of the car and try it out in a European rally before shipping it to Australia. However it wasn't meant to be, as it wasn't finished until 4 September 1959 and he already had the car entered for its first race at the 6 October Australian Grand Prix meeting at Bathurst west of Sydney. To "bed" the car in, he did a trip from London to Nurburgring in Germany to watch the GP race. The Jaguar got a lot of close admiring looks in the pits! The car was shipped and arrived in time for Bathurst, and was quick in practice, however it was retired in its first race due to steering problems, where the engine would tilt on the fast left hand corners and have the choke cable foul the steering rack. It was quickly rectified and McKay was first to win in 2 other races over the weekend.
McKay was to note the Jaguar would reach 135mph down Conrod straight, a lot faster than his competition could muster. The writing was on the wall, for the numerous Holden and Zephyr racers, that things were about to change forever.
Those stripes.
While advertising was banned in all forms of motor sport at the time McKay did add red, white and blue stripes running down the middle of the car. The colours were that of his sponsor Ampol, something well known to all motor racing enthusiasts and soon nearly everyone who read the Daily Telegraph.
McKay wrote a story that England had at last built a post-war super car at what was a relatively modest price. In a time when Bentleys would set you back £8,000 for just £2,800 it was possible to buy a car and after using it for normal use during the week, go out and win races on the weekend. It was also a time when TV was still a novelty and the Bathurst races were shown prime time. A car that could be taken to the shops in town and later do 130mph down Conrod Straight at Bathurst caught the publics' imagination.
Plus it wasn't just in the motoring press that the Jaguar and Ampol received the promotion, as McKay's then wife Betty was doing some writing for the icon of Australian women's magazine, the Women's Weekly and yes it was mentioned whenever the occasion warranted as she drove the car as well.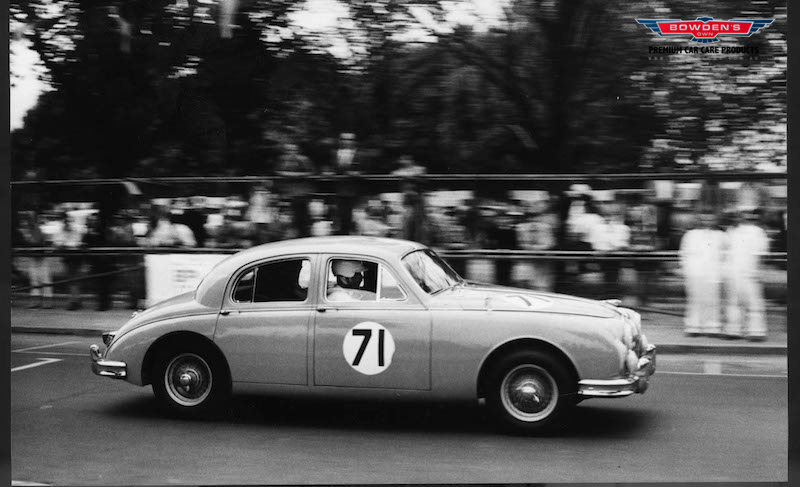 Victorian TT
The next event was the Victorian TT in March 1959 at Melbourne's Albert Park circuit. Held in the same area as the current AGP the Albert Park was an open circuit with wide curves, just perfect for McKay's Jaguar. Needless to say success followed as McKay had no problems seeing off the Repco Holdens to win both races over the weekend.
Between October 1958 and March 1959 David McKay entered the car in 7 events of which he won 5, came 2nd in another and the original DNF in Bathurst. However his run of successes wasn't to last.
There was one interesting interlude when McKay also obtained support from the Victa motor mowing. Mervyn Victor Richardson was the inventor of the rotary lawn mower that was destined to turn "grass into lawn" around the world and was also a keen motoring enthusiast. The arrangement was that McKay would do a series of ads for Victa featuring him cutting his lawn with the "Grey Pussy" in the background. The arrangement blossomed with not only McKay receiving a gratis Victa lawnmower, but plans were put into place to buy a new Cooper open wheeler with the intent of fitting it with a multi-cylinder two-stroke engine that would overpower the all-conquering Climax engines. While the car did happen, it was fitted with a 2-litre Climax engine. However success didn't follow and Richardson wasn't prepared to part with any more cash, so the car was sold.
In April 1960 Ampol decided to withdraw its sponsorship which meant that as the Jaguar was their property it had to go. With his name behind him, McKay quickly obtained sponsorship from rival Shell and attempted to buy the car from Ampol, but they didn't like the idea of "their" car running under Shell sponsorship.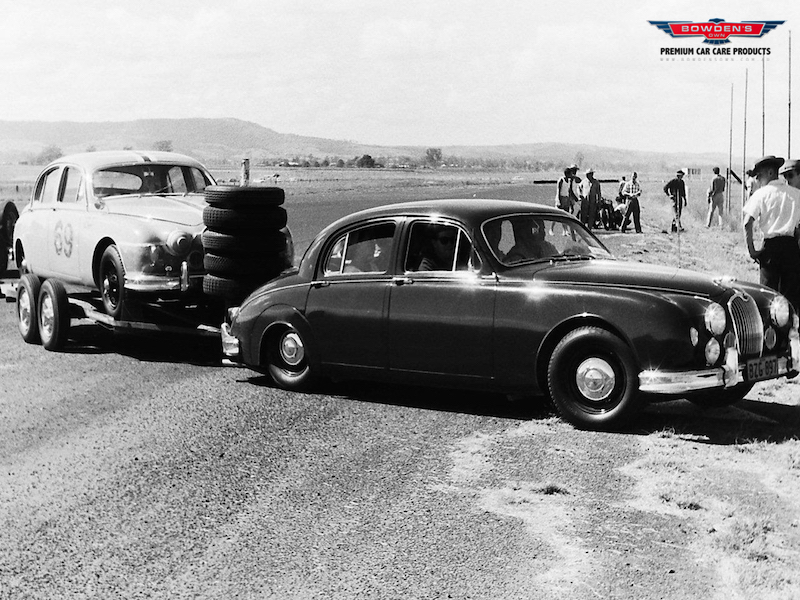 From Ampol to Hodgson.
Another competitor at the time was young car dealer Ron Hodgson who had been running a very quick Ford Zephyr. Super competitive Hodgson was close to the front runners with the Zephyr, but the winner's trophy continued to allude him. Hodgson would go on to be a household name in Australia as a used car dealer of some repute. Ampol sold the "Grey Pussy" to Ron Hodgson while McKay went on to run another Jaguar 3.4 with sponsorship shared between Jaguar distributors Brysons and Shell. It was red in colour and soon sported a white stripe in recognition of the arrangement with Shell. After Shell, Hodgson received sponsorship from Castrol for the "Grey Pussy" and this time the stripes were changed to green and gold.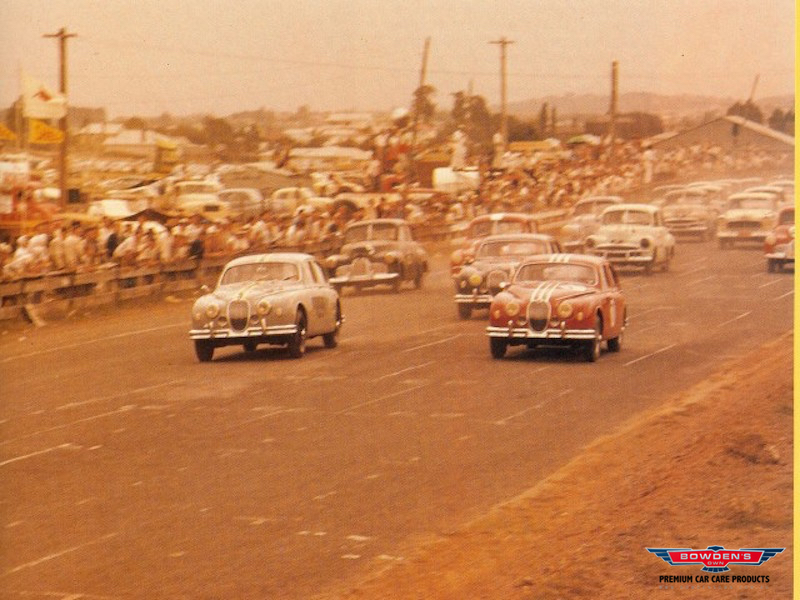 It was also to run in the very first Australian Touring Car Championsip race at Gnoo Blas. Hodgson had upgraded the engine to 3.8 litres and fitted triple webers in prepring for this, much to the consternation of both McKay and Bill Pitt in their new 3.4 red competiton Jaguars. The race itself had Hodgson starting in third, Mckay on pole and Pitt in next to him. Hodgson made an early lead in the race, but with McKay catching him, he made out braked himself and headed down the main straights escape road, flustered he then stalled and flooded the Jaguar, pushing him back to last place after stopping for over a minute. He drove as hard as he could, making his way back to third, but unable to catch eventual winner McKay and Pitt in 2nd.
In Hodgson hands the "Grey Pussy" saw more success with 4 wins from 9 starts along with 2 seconds as well as 2 thirds and one DNF.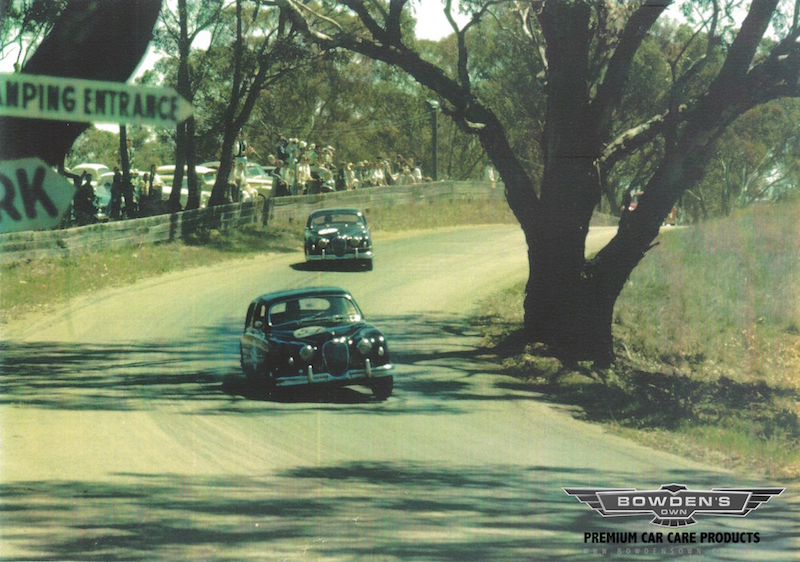 Geoghegan's amazing run.
At the Easter 1960 Bathurst race meeting the "Grey Pussy" once again changed hands. This time to an up and coming race driver by the name of Ian Geoghegan. Known almost universally then and now as 'Pete' he was a member of what is perhaps the first Australian racing dynasties with father Tom's experiences stretching back to before WW2. Older brother Leo's name was already made within Australia and Pete's time at the top was coming. Having previous competed in such diverse machinery as a supercharged Standard 10 and early model Holden the "Grey Pussy" was added to the Geoghegan stable.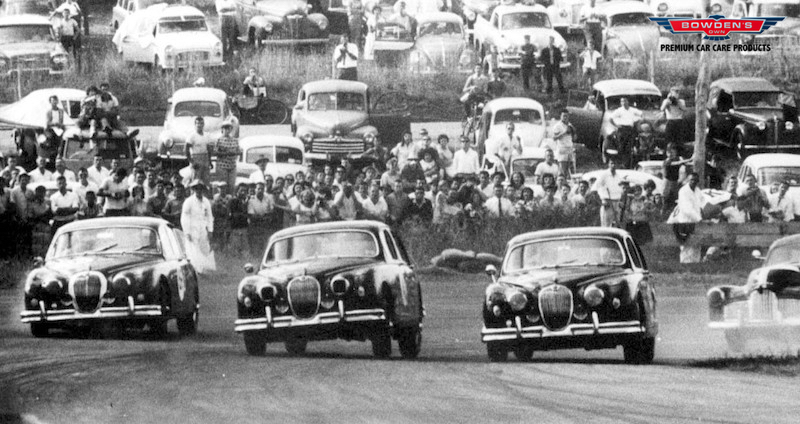 As with all cars in the Geoghegan the "Grey Pussy" was soon wearing a coat of black paint and to say Pete's success with the car was prolific would be an understatement. From April 1960 through to January 1963 Pete Geoghegan entered the Jaguar in 44 separate events of which he was first across the line an amazing 28 times, along with 13 seconds and one third. Such continued success of course meant considerable work and during the Geoghegan period the engine was worked considerably.
Like so many racing cars the "Grey Pussy" was only as good as its last win. Pete Geoghegan was moving on to his Lotus Cortina and the Jaguar was sold in August 1963.
Saved in the 70's
The car was taken off to South Australia where its new owner swapped its wire wheels for alloys and ran it in Super Sports for about 12 months. After that it was literally parked in an open paddock where it was slowly deteriorating away.
It was destined to stay unmoved in the paddock until 1978 when it was purchased by a Jaguar spare parts dealer who apart from getting the car going also gave it a quick coat of black paint. No doubt with dreams of success in his mind the "Grey Pussy" was once used ignominiously in Super Sports.
Some 3 years later Jaguar Rover Australia (JRA) entered the scene as they wanted to promote the Jaguar marque at events around Australia. Coming up quickly was a race meeting at Sandown in Melbourne and what better car to promote Jaguar than the "Grey Pussy"? So it was rescued from its plight in South Australia and brought back to the East Coast.
Finally the "Grey Pussy" was grey again albeit an incorrect shade and was also fitted with an unoriginal 4.2 litre engine from a Jaguar XJ6 SIII and in this guise was run at Sandown – with David McKay at the wheel. In an unusual arrangement JRA was happy to lend the car out to those interested. For instance, Sydney disc-jockey and Jaguar fancier, Doug Mulray was custodian of the car for half of the 1980s. Also Ron Hodgson was given a drive of the car at an historic meeting at Amaroo Park, but unfortunately put it into a fence, left hand front guard first. It was quickly repaired.
The Jaguar enthusiast.
Next owner Chris Haigh is a true Jaguar enthusiast, with his family having had numerous significant models of the marque over the years. In the early 90's he was looking for a new car to do some racing in, and he was to find that Jaguar Rover Australia had been sold to Inchcape and they had no need for the "Grey Pussy". By 10am the following morning the famous Jaguar was his.
After a few runs in different events, it became apparent that the car would need to be totally restored, and the task was given to Jaguar specialist Graeme Lord.
Over the next 12 months the car was totally stripped and rebuilt, bringing back a lot of the original elements of the car like a 3.4 litre engine, but keeping the triple Webers as run by Geoghegan and Hodgson.
McKay reunited.
Not long after the "Grey Pussy" was restored Chris received an invitation to run in the supporting events to the 1995 Australian Grand Prix. It was not an invitation to refuse especially when it was arranged for David McKay to once again get behind the wheel.
"David was wrapped in the car." Chris exclaimed. "He couldn't believe that it still existed let alone to be in perfect condition. After his run around the Albert Park GP circuit he said to Graham. "Son! Where were you in my day?"
"David also ran it a couple of years later in a parade event at Easter Creek while I ran it throughout the rest of the meeting. Since then Chris had regularly raced the car at events at such circuits as Phillip Island and Eastern Creek. By 2003 it was part of the growing Appendix J sedan car races, but by then I was starting to be concerned about the 'biff and barge' that was prevalent in some events. So at the end of 2003 he decided not to race it again."
Bathurst 50 years on.
When Chris heard that the Sydney based Festival of Sporting Cars had secured the rights to promote a club level race meeting at the famed Mount Panorama circuit Bathurst it was an opportunity not to be missed. That it would mark 50 years since the car had first competed in Australia at the same circuit, was of course highly significant.
"I found it a delight to drive at Bathurst as it's really suited to the circuit. Both the car and myself just loved going up the mountain, across the top in 4th and then it felt sort of leaping down the essess before taking it out to 5,800rpm down Conrod, which is about 130mph."
After many years of ownership, Chris had been thinking of finding a new custodian for the Grey Pussy, with a lot of interest being made from different overseas parties. But with so many of our important motorsport machines now living in other parts of the world, he had a strong wish for the car to remain here in Australia. After looking at a couple of the local museums and realising they would not care for the car the way he wished, he was to attend a Sydney car clubs visit the Bowden car collection in 2013. He saw first hand the passion the Bowden family share for the cars in the collection, the same as he had for the Jaguar. He spoke with David Bowden about the possibility of him wanting the Jaguar one day to join the stable. The answer was a resounding yes.
A year later, Bowden had moved a couple of cars along, to create room for the famous Jaguar in his shed. Since arriving in Buderim, it has been driven quite often, and we have found like so many others over the years, that this big pussycat is an absolute delight to drive throughout the many hinterland roads. We hope to be able to show and continue to demonstrate the Grey Pussy at a few local historic racing events in the coming years.
The "Grey Pussy" is one of two surviving competition Mk1 Jaguars in the world, and with its deep history here in Australia it is a natural addition to the Buderim based Bowden collection of iconic motorsport machinery. Majority of this text is from Patrick Quinns great article in the July 2009 edition of the Vintage Racecar Journal. You can get a copy of it by clicking here.