Ron Thorp's 1964 AC Shelby Cobra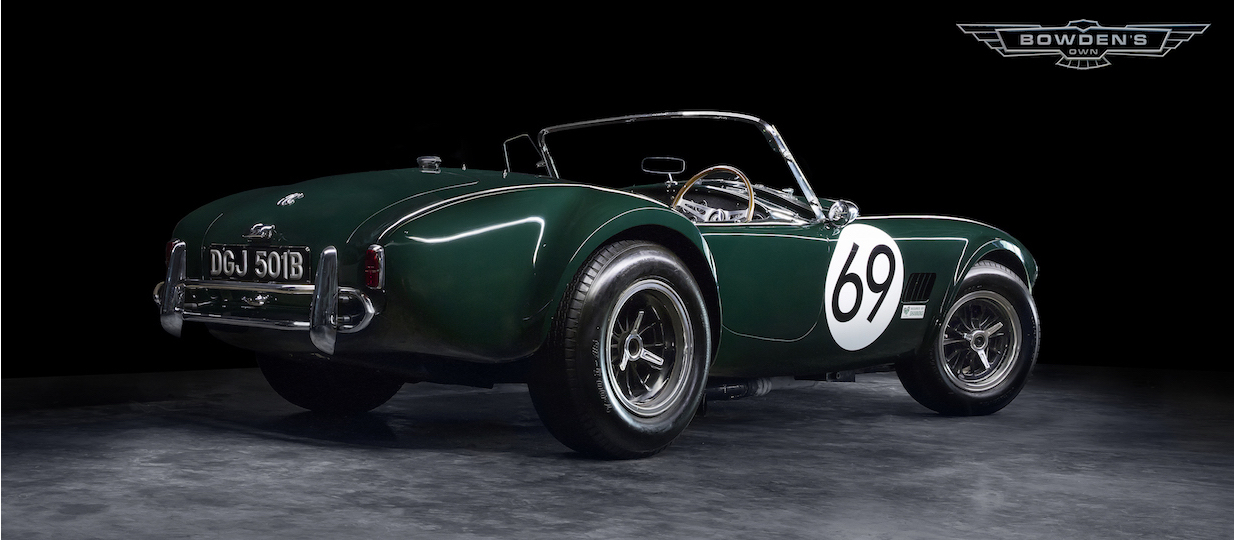 Ron Thorp's 1964 AC Shelby Cobra
Front Suspension Type:
lower wishbones, upper transverse leaf springs, Gabriel shock absorbers.
Rear Suspension Type:
Transverse leaf springs, Gabriel shock absorbers.
Front Brake Type:
Disc, 3 pot Girling calliper.
Rear Brake Type:
Disc, 2 pot Girling calliper.
The Shelby Cobra has gone down in history as one of the most iconic sports cars ever built. From the vision of Texan Carroll Shelby, the combination of a lightweight British sports car and a big American V8 made for a thrilling road car and super successful race car, winning multiple championships and races at some of the most famous tracks and events across the globe.
This particular Cobra, COB 6033, is one of the most winning, and original competition Cobra's left. Built and shipped direct from the UK, it was campaigned with great success in Australia at a diverse range of events by first owner Ron Thorp. The COB designation in its chassis number, denotes it as one of the factory built RHD Cobra's, that used the famous small block Ford 289 engine that Shelby had hotrodded into the leaf sprung British chassis. These cars were built by AC under licence from Shelby American and had some subtle differences to the US Shelby Cobra, like the AC badge on the boot and a lack of "Powered by Ford" badges on the flanks. Engines and gearbox were shipped from the USA and fitted at the UK factory. With only 61 RHD AC Shelby Cobra's built they are a lot rarer than the 655 US LHD versions, and for some, (like RHD driving countires) more desirable.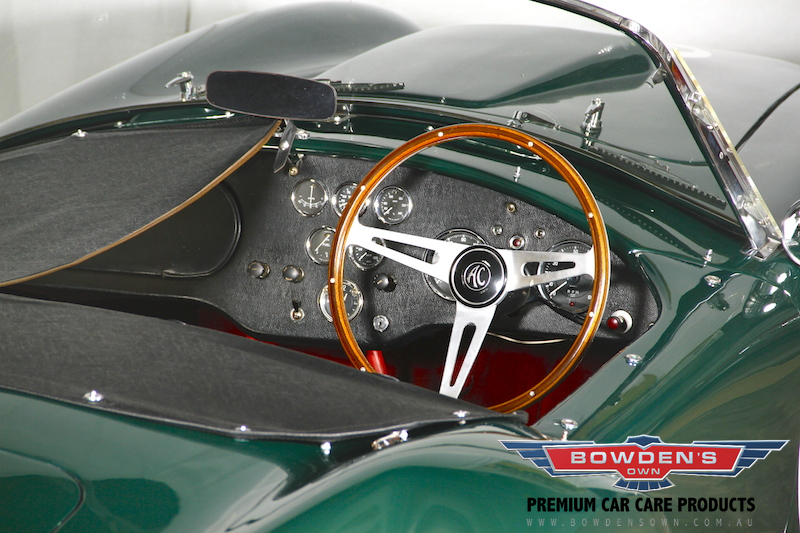 Our cars story begin when Ron Thorp called AC Cars, Thames Ditton, in mid 1964 to see about buying a Cobra as an upgrade to his DB3S Aston Martin race car. He had read many race magazine reports of the great success the Cobra's had in the USA and Europe, he liked British sports cars and thought it would be an ideal new racer for him. His sister was living in England and through her, he arranged a Vineyard Green MK2 Cobra with red interior (Despite factory records saying it had black, it was red and the only one ever built in this colour combination, which he requested as it matched the Aston Martin's colours) to be sent to Australia. It was also ordered with a matching green hardtop, so he could enter the car in a multitude of different race classes, putting the roof on to be an elligble for the GT class, then taking it off for any sports and racing car classes. Ron's sister visited the factory during different stages of its build, to take pictures of the cars progress to send back to an anxious and excited Ron in Australia. A couple of these shots can be seen below.
Rons sister visits COB6033 while being made at the AC factory in 1964.
Being shown the 1501 miles already clocked into the speedo.
COB 6033's speedo was wound on to 1501 miles, to sell as used car and therefore lower the tax into Australia. It was also registered in the UK as DGJ 501B. It was packed in a special wooden crate marked by AC cars "Cobra for Export" and shipped on 19th November, 1964 via 20th Century and Thomas Meadows, to Ron Thorp's Bargain Barn, his used car dealership in Wollongong, New South Wales. It finally hit Australian shores and picked up on Dec 24th 1964.
Ron said it was the best and biggest Christmas present he has ever opened.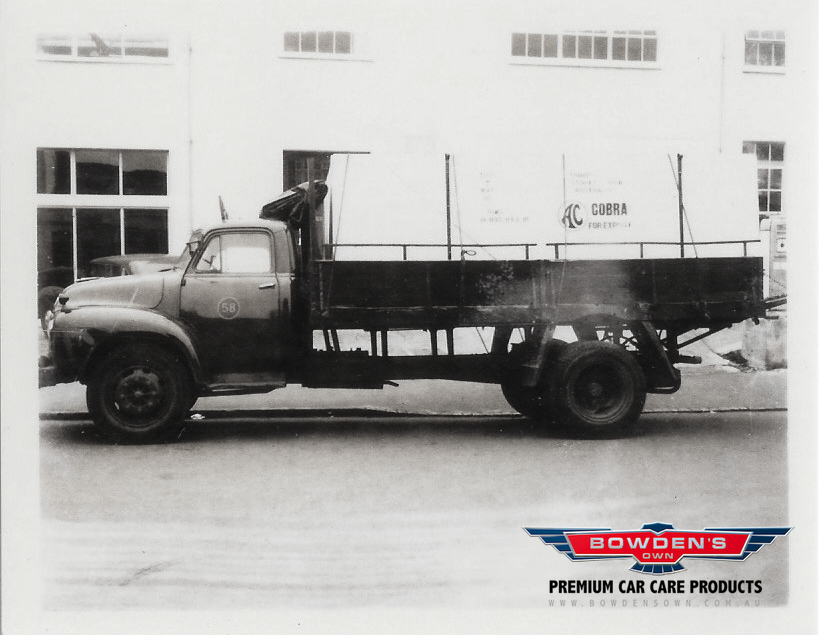 Picked up at the wharf in Sydney, Dec 24th 1965.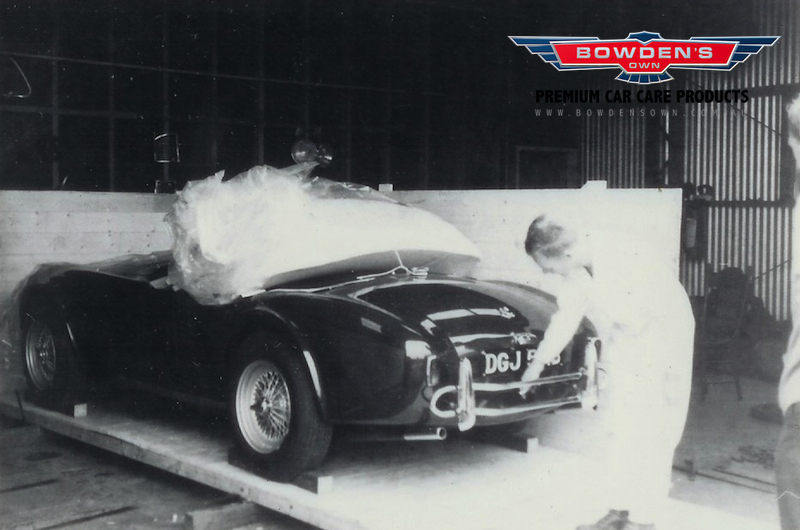 Unpacking at home, a great Christmas present.
A lot of people commnet about the race number "69" we have on the car, which Ron plainly says he used as he only ever had to carry two numbers wherever he went. If it was not number "69" it was "96". But as you will see there are quite a few different numbers she ran in her 3 years of racing.
RACE HISTORY -1965
Jan 11th, practised at Oran Park where it was noticed the oil pressure would drop on any left hand corners.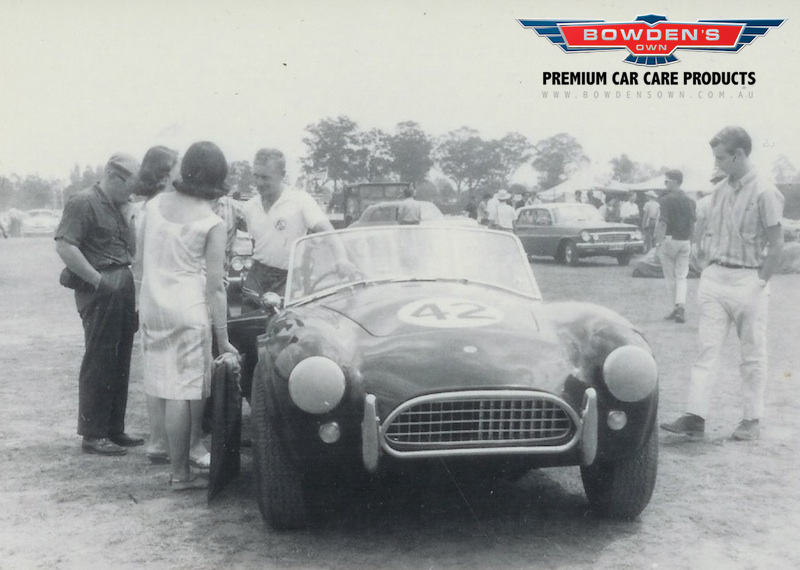 First race meeting at Warwick Farm.
First raced at Sydney's Warwick Farm, Feb 14th 1965. Was fitted with a front mounted three point roll over hoop, and small Perspex windshield that was mainly to be used in Hillclimbs. The car was still basically a road car. Placed third in class (and 14th outright) after Thorp experienced oil surge and fuel starvation problems. He ordered a T pan sump and a new manifold with matching Holley carburettor from Shelby, which was fitted in late March and fixed the problems. Also received and fitted was an oil radiator. The Cobra was locally registered with the plate DPP 745.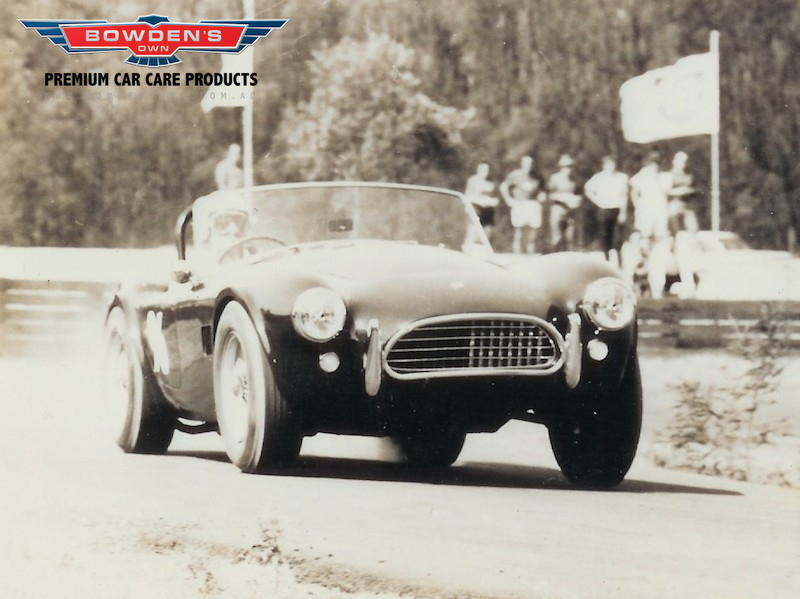 Smoking them up at the Bathurst Hillclimb
Feb 21st, Bathurst Hillclimb, 1st in Production Sports Car Class.
Feb 26th, Cover and feature story in "Australian Auto News Weekly".
Mar 14th, Silverdale Hillclimb 1st Outright.
Mar 21st, Tamworth Hillclimb 1st Outright.
Mar 28th, Lakeland Hillclimb 1st Outright.
Apr 11th, Huntley Hillclimb 1st Outright.
April 11th, Wollongong Hillclimb 1st Outright.
April 19th, Bathurst Race 1, 5th Outright. Race 2, 4th Outright (Speed on Conrod Straight 143.76 mph)
.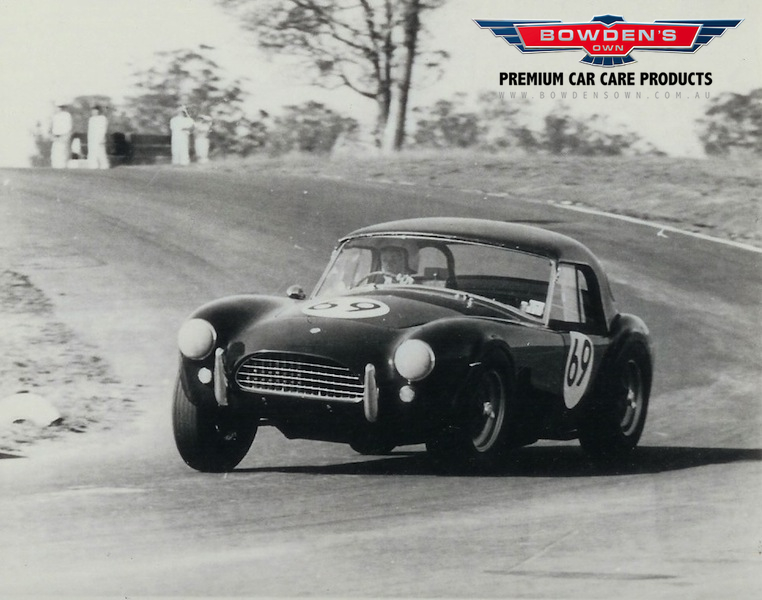 At the famous Oran Park.
May 1st, Oran Park, 9th Outright.
May 16th, Warwick Farm Race 1,10 th. Race 2, 4th Outright
May 23rd, Silverdale Hillclimb 1st in Production Sports Car Class.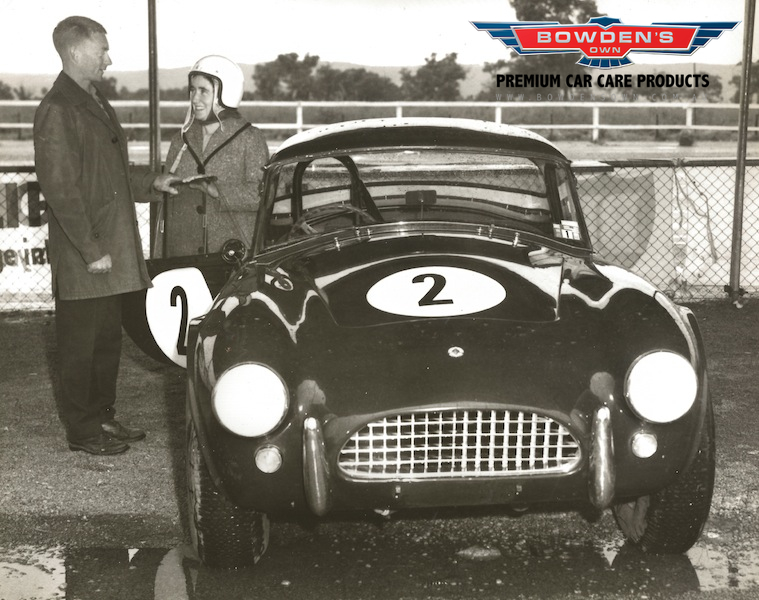 Ron and his wife Molly pose for a press shot at Cavesham.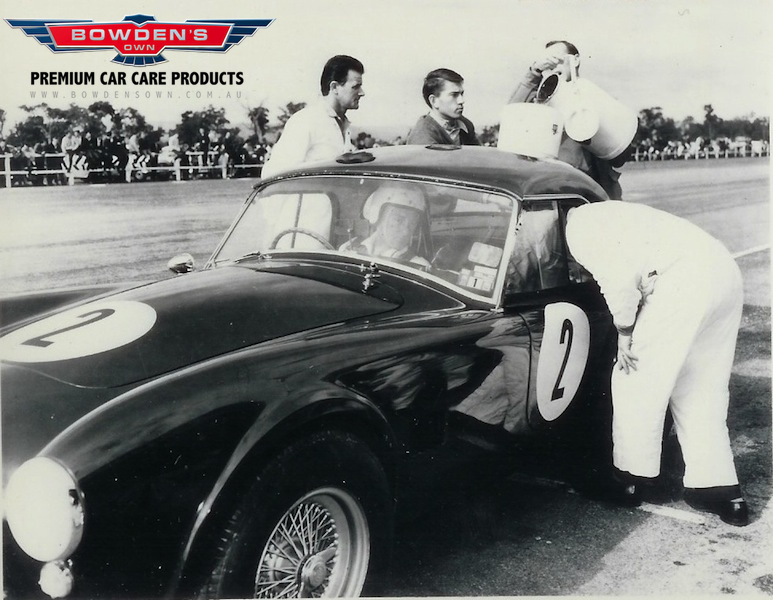 Pitstop at the Cavesham "Le-Mans" 6 hour race.
June 7th Caversham 6 hour, 2nd to the 250 LM ferrari of Spencer Martin and David McKay. Although Ron entered the race with his wife Molly down as the co-driver, as required by the rules, but he drove the entire 6 hours solo, massive effort that he did each year he ran there. Caversham is in Western Australia, Ron and Ann would load the Cobra in his Austin 3 ton Cobra transporter (see picture below) and drive 4300 kilometres (2600 Miles) on mostly rough and unsealed roads ther and back for this race each year. It took the little truck, its passenger and the well shaken Thorp, one week to get there. then he drove the 6 hour, hopped in and drove it all back home.. Legend.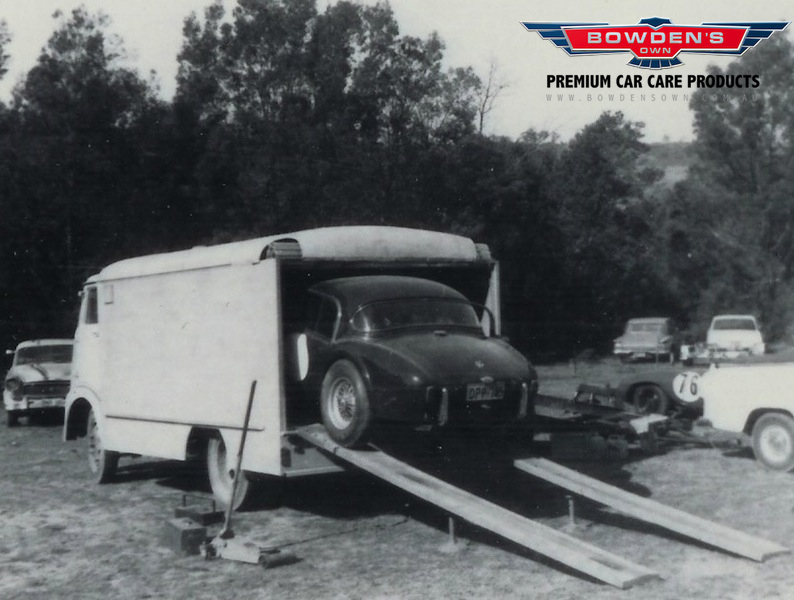 "Team Cobra" Austin transporter in WA.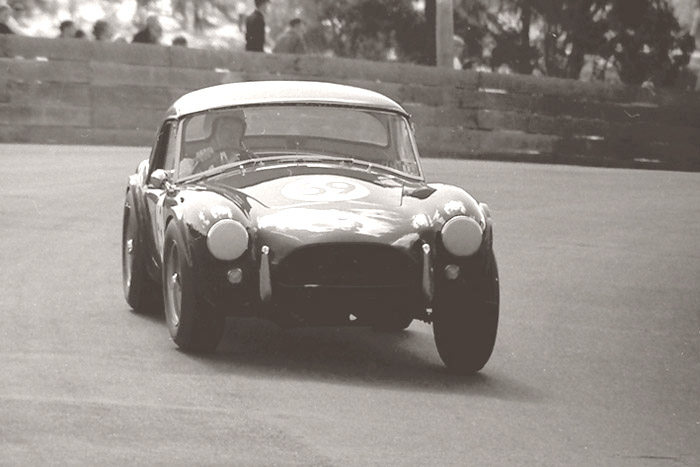 First run at Catalina Park NSW. From www.theroaringseason.com - pic by Bruce Wells.
Aug 22nd, Catalina Park, Race 1, 7th. Race 2, 6th Outright.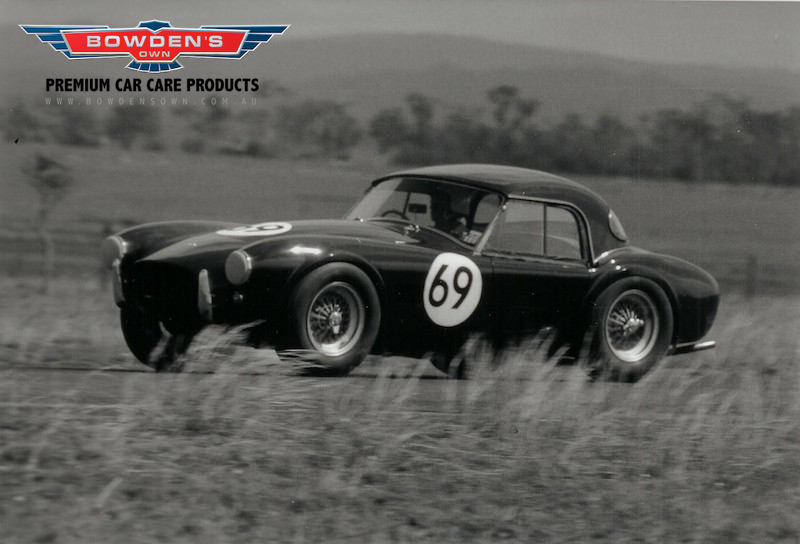 Racing at Lowood, Qld with the hardtop fitted.
Aug 29th, Lowood 2nd Outright.
Sept 11th, Newcastle Hillclimb, 1st Production Sports Car Class
After reading Bill Carrol's book "Ford Cobra Guide", that had an entire chapter on racing your Cobra, Thorp upgraded the car with an order from Shelby Automotive; He received and fitted, 4 x 48IDA Webers, with a matching Shelby manifold and a hoodscoop. More modifications were to come by the end of the racing year...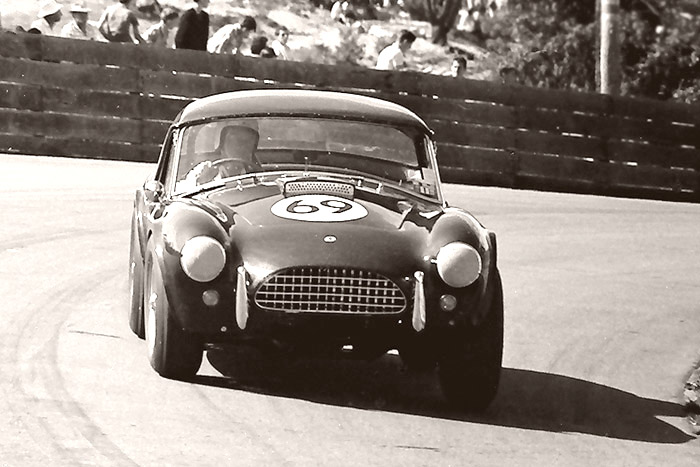 Catalina and the new Webers carbs fitted. From www.theroaringseason.com - pic by Bruce Wells.
Nov 7th, Catalina (Pictured on front cover of events race program) Race 1, 7th. Race 2, 7th Outright.
Nov 14th, Lakeside, DNS; Thorp travelled 1000km (620 Miles) North to Queensland for the Australian Tourist Trophy race, which was run at Lakeside International Raceway on Nov 14th. This was the event that Shelby sent over Ken Miles, Ron Butler and the factory 427 CSX 3002 to run in the race.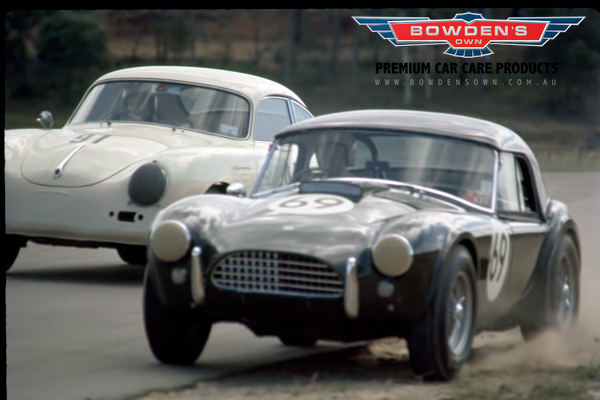 Rare colour shot from practise at Lakeside, passing the 356 Carrera of Tony Basile.
Thorp, who was very keen to race against the "works" Cobra, ran into trouble with some over zealous scrutineers who picked up that his wheels were ¼ of an inch proud of the guards. They offered Thorpe a solution of taping some wooden coat hangers to extend the guards. But Thorp gave them his thoughts on it and then went out and qualified the car. In the first race he was waiting on the starting grid when the chief scrutineer approached him and said it was ok for him to race with the guards as they were, but he would not be listed in the official results. He told them told them to shove it, drove off the grid, packed up the car and watched the race instead. He never raced at Lakeside Raceway again. this was the only tme that two Shelby Cobra's were on a track in Australia together.
Dec 5th, Warwick Farm, 3rd in Production Sports class.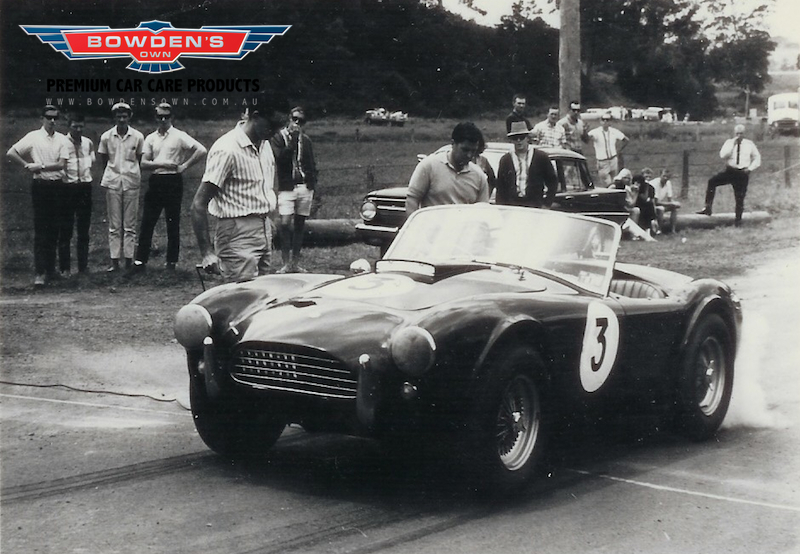 Showcasing his now traditional start at Huntley Hillclimb.
Dec 15th, Huntley Hillclimb, 1st Outright.
Thorp won the 1965 Australian Hillclimb Championship for Production Sports Cars (The championship was a series of seven hillclimbs, Thorp missed the first one in January at Amaroo NSW as the car was not ready, but he competed in the remaining six events.)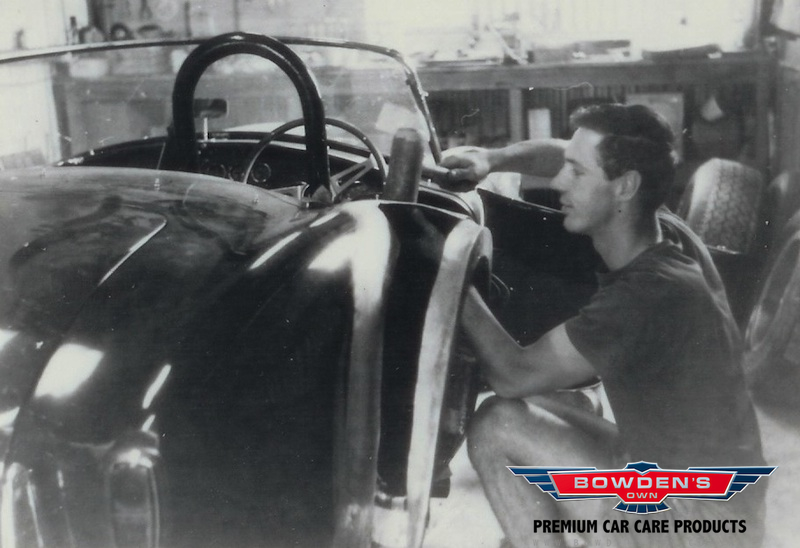 December 1965 and the Cobra's guards were modified to fit the bigger Halibrand wheels.
At the end of the season the final run of modifications were made to the Cobra, a set of magnesium Hailbrand wheels from Shelby were fitted as well as Derrington racing headers and side exhausts. Wider guards were also fabricated to fit the new wheels. He had a special lightweight perspex fairing made for hillclimbs and some circuit races to replace the heavy windscreen. Just before the 1966 Cavesham 6 hour race, new big brake scoops were made for the front and rear brakes.
1966
Jan 31st, Catalina Park, NSW Sports Racing Car Championship 5th Outright (Started from the rear of the Grid as he missed practise), Race 2, 4 th Outright.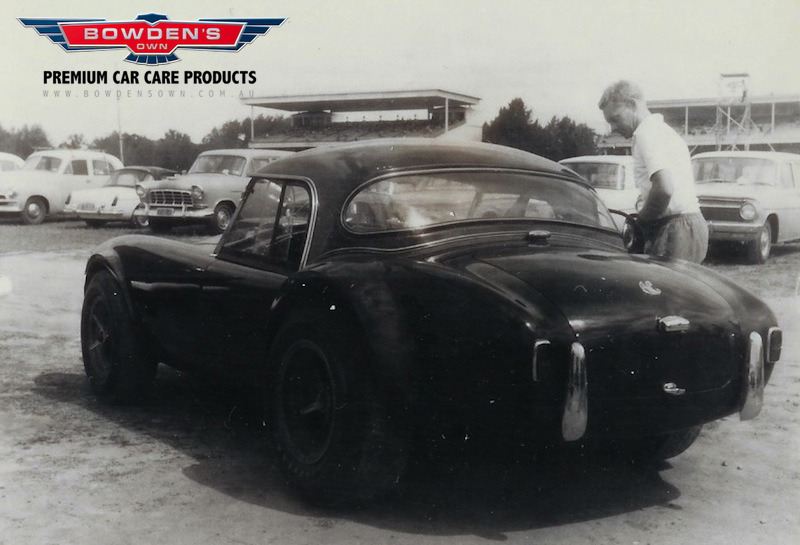 In the pits at Warwick Farm, showcasing its fat new look.
Feb 13th, Warwick Farm, DNF (Broken Throttle Linkage)
Feb 20th, Bathurst Hillclimb, 1st Sports and Racing Class.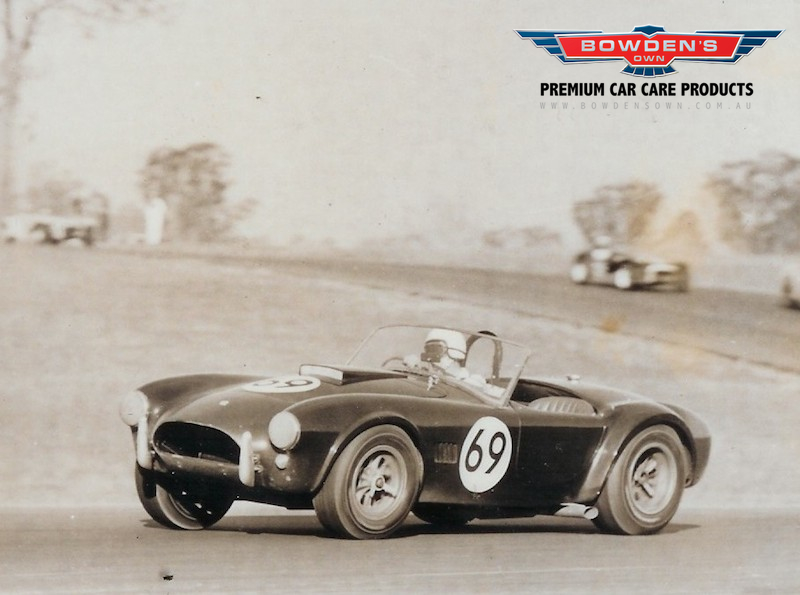 Going for the win at Oran Park in March.
Mar 6th, Oran Park Race 1, 5th Outright. Race 2, 1st Outright.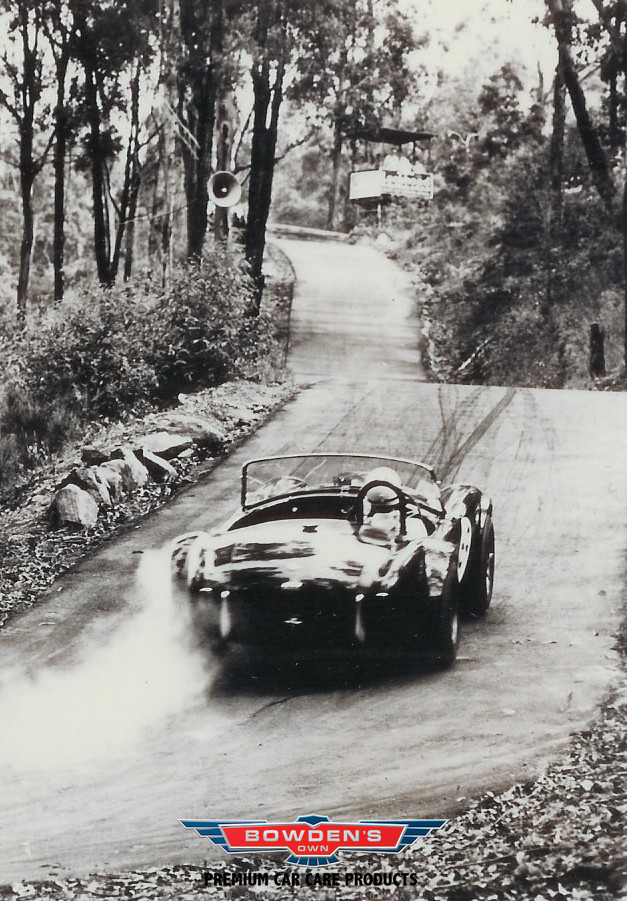 Burning up to the finish at Silverdale.
March 13th 1966 Silverdale Hillclimb, 1st Sports & Racing car Class
Mar 20th, ,Tamworth Hillclimb, 1st Sports & Racing car Class.
April 11th, Bathurst, 3rd Outright.
April 18th, Wollongong, 1st Sports & Racing car Class.
May 1st, Oran Park, 8th Outright.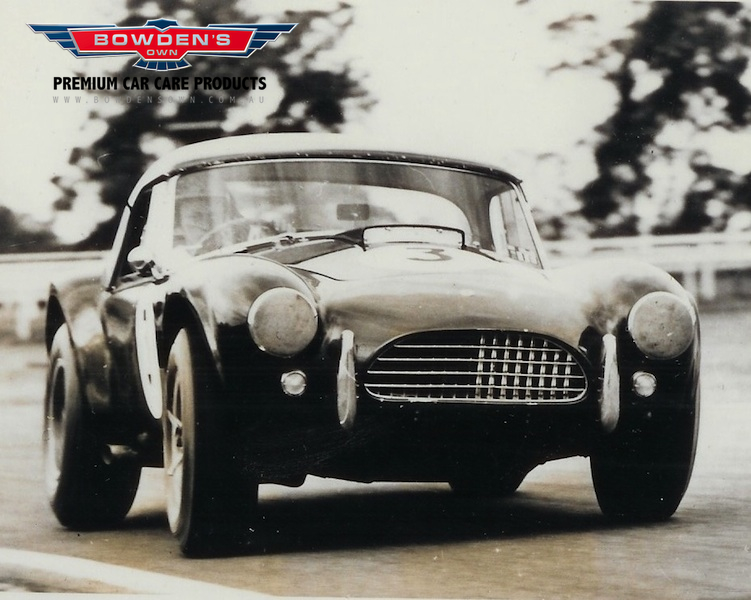 Pushing the Dunlops grip levels at Warwick Farm.
May 15th, Warwick Farm, Race 1, 11th Outright. Race 2, 2nd Outright.
May 22nd, Silverdale Hillclimb, 1st Sports & Racing car Class.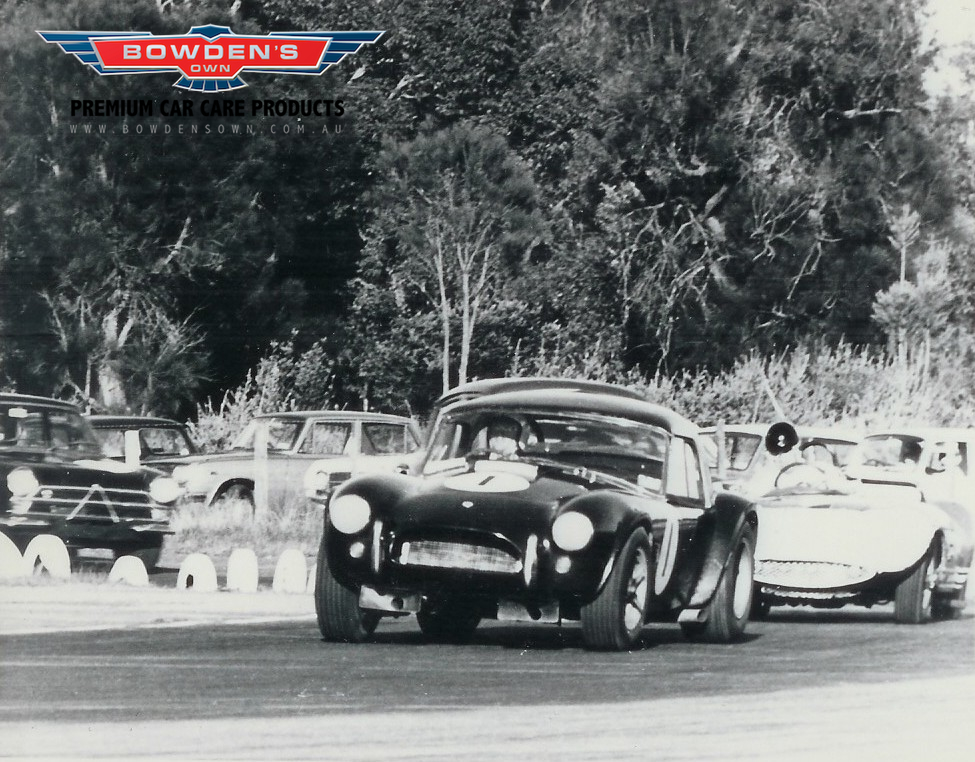 In the the west at the Cavesham 6 hour, where they won.
June 6th, Caversham 6 hour, 1st Outright (Another big drive solo).
June 13th, Mallala, Race 1, 7 th. Race 2, 4th Outright.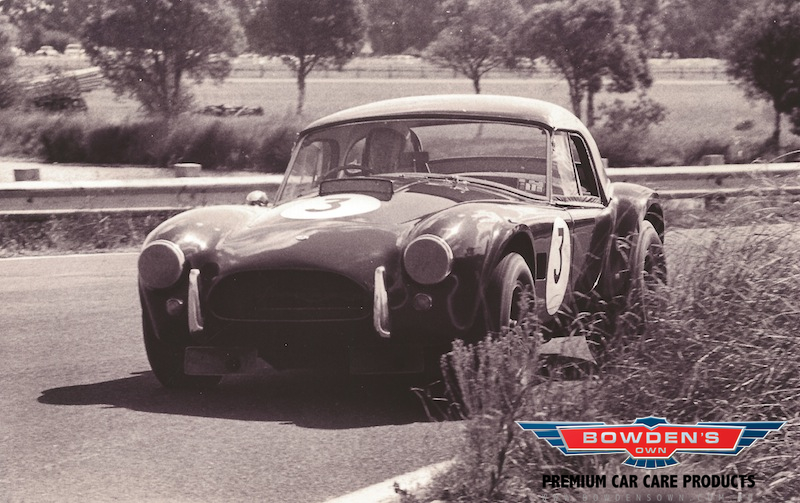 Warwick Farm, note the road registration sticker as he drove the Cobra to and from the track on race weekends.
July 17th, Warwick Farm, Race 1, 2nd . Race 2, 7 th outright.
Aug 21st, Surfers Paradise 12 Hour, Mostly driven solo, 1st Improved Production Class.
Aug 28th, Catalina Park, Race 1, 5th Outright. Race 2, 2nd. Race 3, 7 th (Mixed racing and Sports car race, 1 st Sports car home)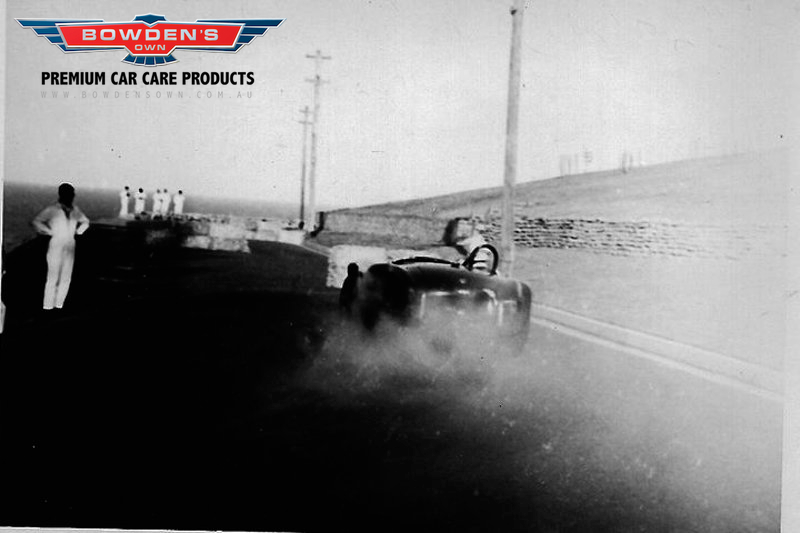 Newcastle Hillclimb takeoff along the water.- Pic from Phil Hall.
Sept 10th, Newcastle Hillclimb, 2nd Sports & Racing cars Class.
Sept 18th, Warwick Farm, Race 1, 6th Outright, Race 2, Unknown? (anyone know?).
Oct 23rd, Fountaindale 1st Outright.
Nov 16th, Grafton Hillclimb, 1st Sports & Racing cars Class.
Dec 4th, Warwick Farm, Race 1, 6th Outright. Race 2, 4th Outright.
Winner of the 1966 Australian Hillclimb Championship for Sports & Racing cars, and 2nd outright
1967
Jan 22nd, Amaroo Hillclimb 1st Sports & Racing car class.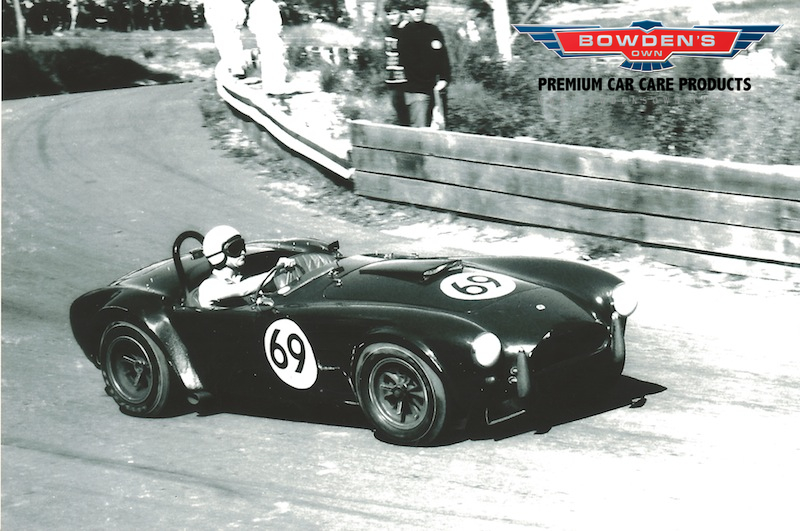 No screen and pushing hard at the unforgiving Catalina Park.
Jan 30th, Catalina Park Race 1, 5th Outright.
Feb 19th, Warwick Farm, Thorpe practised, but then had to leave to attend the birth of his son. His son was given the middle name of "Warwick" after the families favourite racetrack.
Feb 26th, Bathurst Hillclimb, 1st Outright and Sports & Racing cars Class.
"Racing Car News" Feb 1967, Feature car in article "Australia's Top Sports Cars"
Mar 27th, Bathurst, Race 1, 2nd Outright. Race 2 ,9th Outright.
Fun with the 250 LM hunting him down at Warwick Farm.
May 14th, Warwick Farm, Race 1, 10th Outright.
May 21st, Wollongong Hillclimb, 1st Sports and Racing Class.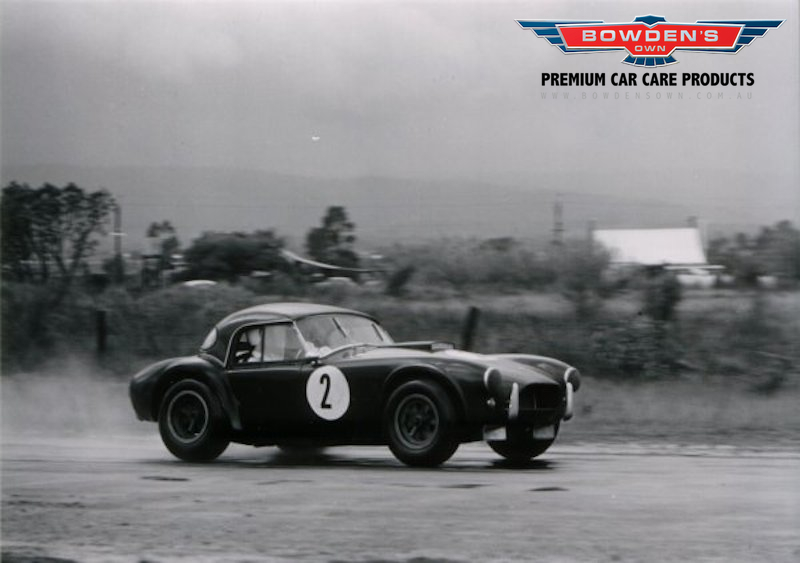 In the wet Cavesham 6 hour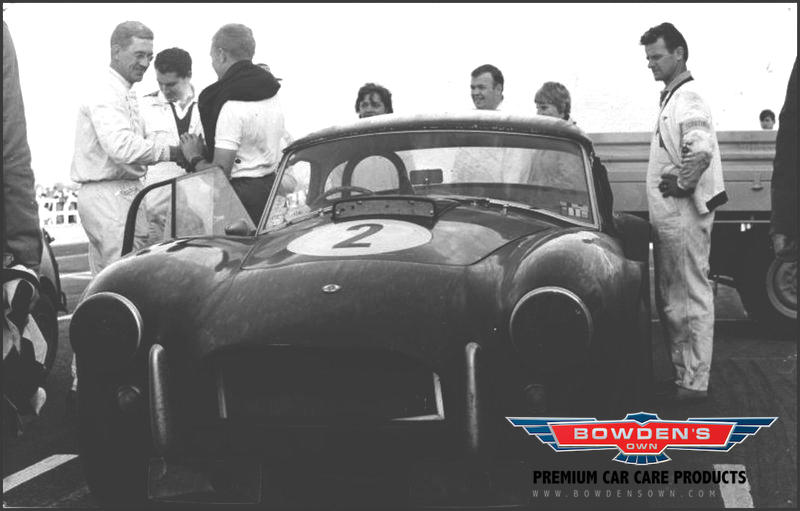 Ron getting congratulated after finishing 2nd in the 6 hour.
June 5th, Caversham 6 hour, after leading almost 6 hours he was caught and passed by the race winning Mini of Jeff Dunkerton and Doug Mould in the dying stages of the race. Ron says the Cobra just could not get the traction down like the Mini could. Still finished 2nd outright after another huge solo drive.
June 25th, Castlereigh NSW Sprint Championships; 1st Sports cars class (Ran an average of 13.8 over the ¼ mile, with the engine badly misfiring every run, Thorp said the car should have easily ran a 12 second pass if running right.)
July?? Dapto Hillclimb, 1st Sports and Racing cars class.
July 16th, Grafton Hillclimb, 1st Outright.
July 30th, Wollongong Hillclimb 1st Outright.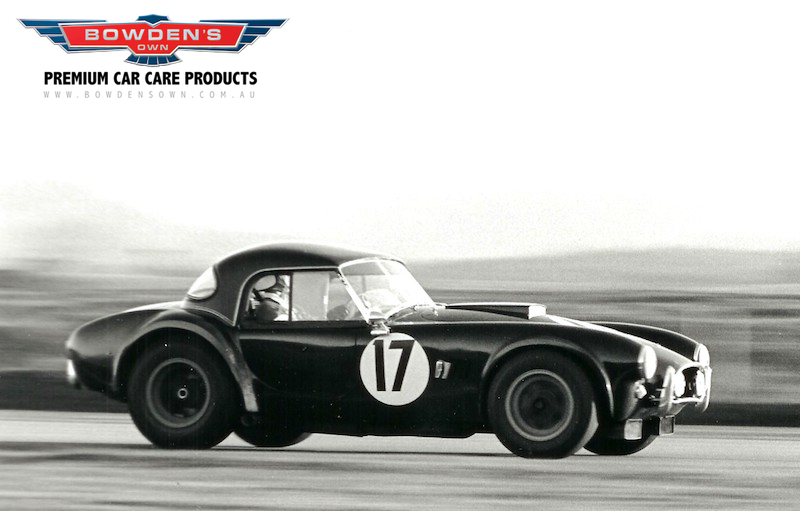 I think one of the best images of the Cobra, in full flight at the Surfers Paradise 12 hour.
Battling the winning 250 LM Ferrari of Brown and Cusack in the 12 hour.
Sept 3rd, Rothmans Surfers Paradise 12 Hour, where Ron again drove the majority of the race, and placed 1st in the Improved Production class.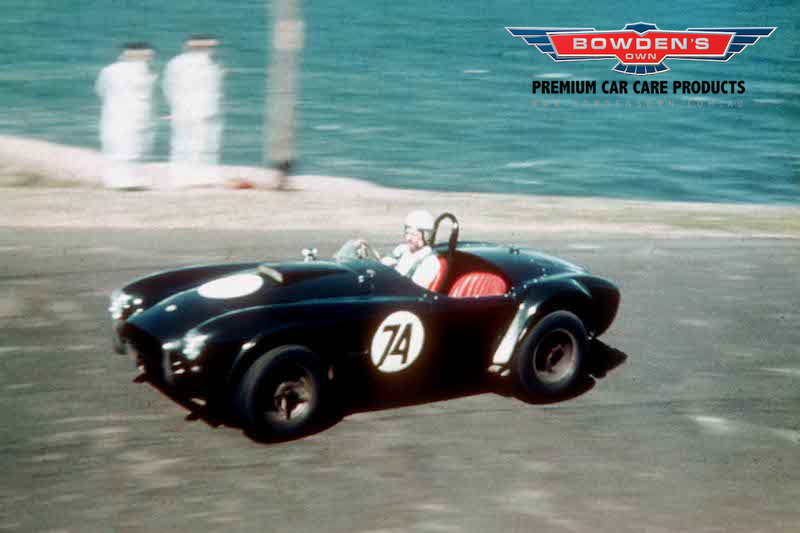 Racing along the shores of Newcastle.
Sept 9th, Newcastle Hillclimb. 1st Sports & Racing cars Class.
Sept 17th, Silverdale Hillclimb, 1st Outright.
Advertised for sale in October 1967 Racing Car news with Austin "Cobra" transporter, but not sold.
Oct 15th, Wollongong Hillclimb, 1st Sports and Racing cars class.
Nov 10th, Wollongong Hillclimb, 1st Outright.
Nov 26th, Bathurst Hillclimb, 2nd Outright.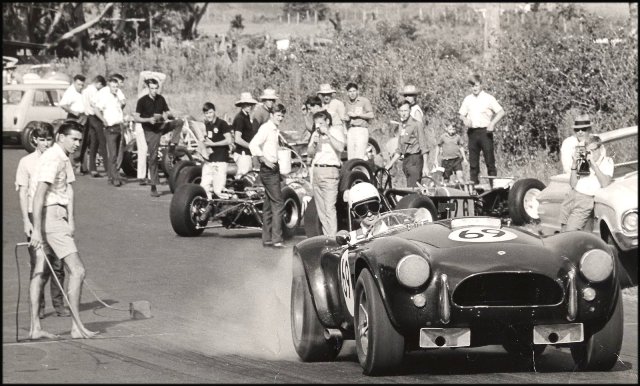 Final run in 1967, to win the Hillclimb Championship. Bloody awesome.
Ron and the Cobra ended their race career as the winners of the 1967 Australian Hillclimb Championship for Sports & Racing cars. Their 3rd year in a row.
POST RACE HISTORY
After having raced the car for almost every 2nd weekend, 3 years in a row, Ron was ready for a break and parked the Cobra in his shed in 1968. It was still used occasionally, but only on the road. He then pursued his new love of planes and flying. It is of credit to Thorp, that in all the time he raced the Cobra, he never once marked it.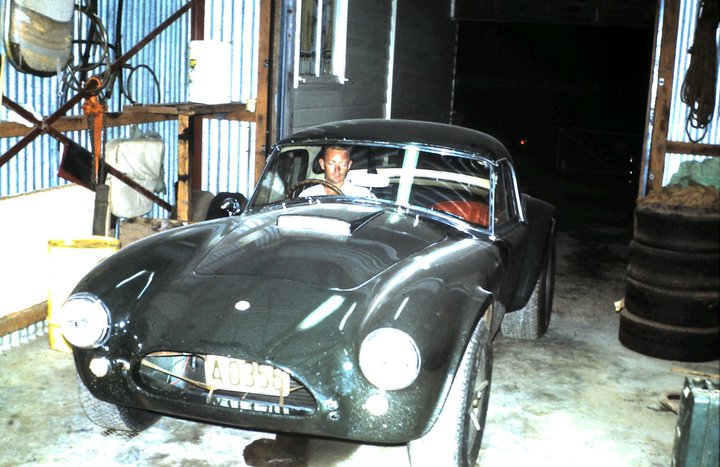 The Thorp barn, a young fan visited Ron and was lucky enough to get a ride in the early 70's.- Pic from "lucky" Phil Hall.
Geoff Dowdle was a young and avid car fanatic with a particular passion for Cobra', after seeing Ron's car race at a few local hillclimbs. He was looking to buy another Cobra and heard that Ron still owned and had the car in Wollongong. He located and approached Ron about buying the car, who declined his initial inquiry about purchasing it, but a year or so later he rang Dowdle back to see if he still wanted the car.
Dowdle had to sell his Austin Healy and Jaguar E type to raise the $6000.00 Thorp was asking. He did so and became the Cobra's new owner on the 12th of May, 1973, with 11 800 miles on the clock. Dowdle resprayed the car, keeping the original colour and retained the original interior. He left all the racing equipment on it and became well known in his local area through the car being such a noisy thing with the racing side pipe exhausts!
After many years of happy ownership, COB 6033 was sold to John Blandon, of South Australia in August 1980 for $42 000.00.
Entered by Blandon in numerous historical events including the Australian GP historic sports car races and the Classic Adelaide Rally. It was also featured in the books "Bathurst, the cradle of Australian Motorsport", "Ford Australia, The Racing History" and Blandon's own big book that documented many of the great race cars that had lived in Australia, aptly named "Historic Racing Cars in Australia".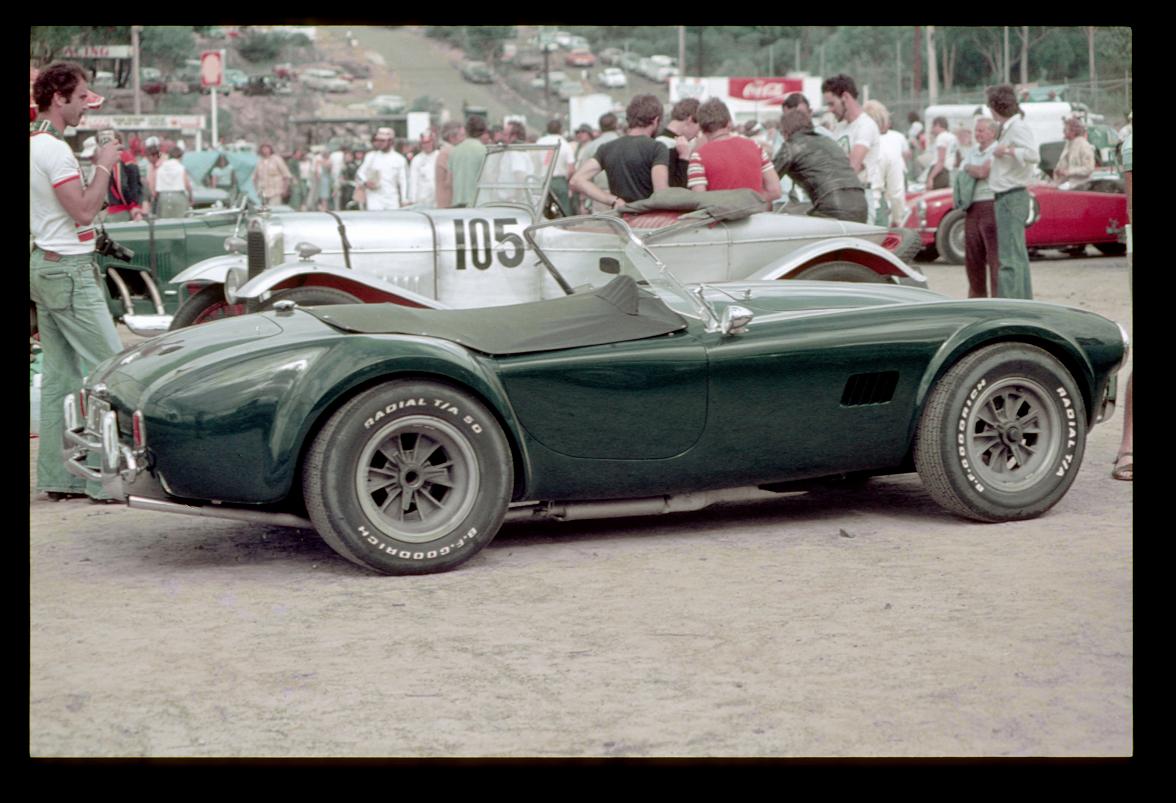 The Cobra while in John Blandon's custodianship.
Blandon, who was a bloody good bloke and was a large influence on the Australian motorsport scene, unfortunately passed away before his time in April 2004. The car was put up for auction, along with other cars from John's impressive collection at the first Bonhams auction in Sydney, May 2004. His 1977 Moffat Dealer Falcon Hardtop #2 and COB6033 were sold to David Bowden. We are pretty sure John would be happy that both cars went to a good home and are still very much loved.
COB6033 still has all its original racing components, original red interior, has now done just on 30,000 miles (minus the 1500 "done" in the UK). The factory hardtop, whilst a bit rough, still has the original vineyard green paint (and came up nicely with some of our Auto Body Cleanser and then wax).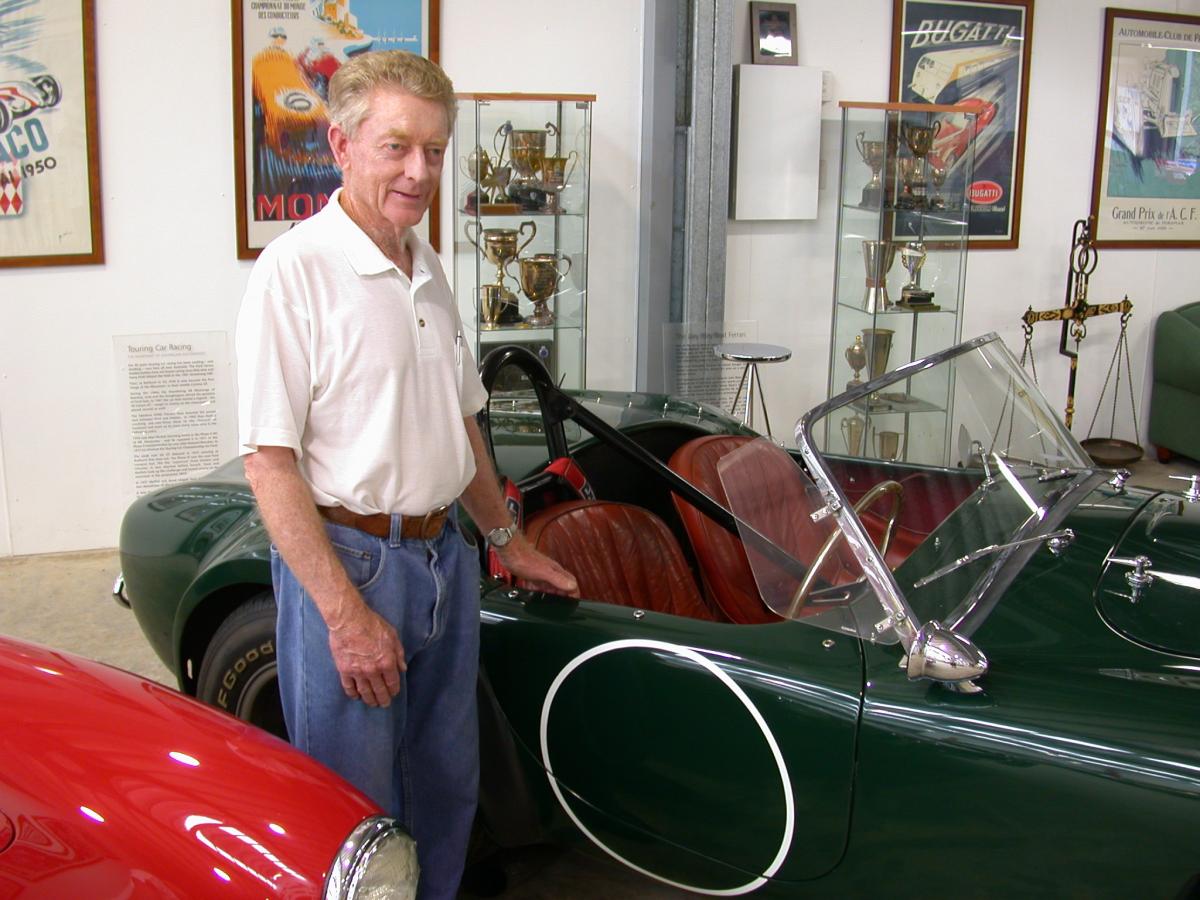 Ron Thorp visiting his famous car in 2005.
First Owner Ron Thorp and his son, Ron Warwick Thorp, also visited in 2005, both happy that the Cobra is being looked after and amongst good company. Ron bought along two huge scrap books with all the details of every race and event the car entered. The sheer volume of information they have of the cars period race history is amazing, from reports of every race (and the images shared in this article here) to lap reports, money spent on the car, even arm bands and tickets from the multitude of races they attended. We have never seen anything like this scrap book, It is a great testament to the Thorp family's love of the the little Cobra.
Second owner Geoff Dowdle visited Bowden a little bit later and gave him the original registration plate from England, DGJ 501B, which now proudly sits on the cars rump. It has been more recently featured in numerous Australian magazines including Unique Cars, Australian Classic Car and Australian Muscle Car.
GOODWOOD REVIVAL 2012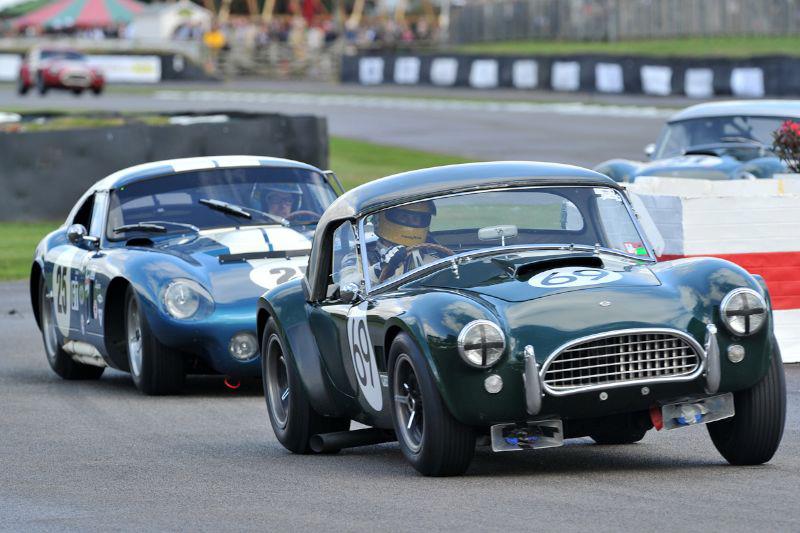 In early 2012 we were a bit delighted to get a letter rom Lord March with an invite to run the Cobra, in a special all competition Cobra race they had planned called the Shelby Cup. It was 50 years since the Cobra came into being, when Carroll Shelby mated the AC body with the Ford V8 engine an created an all time sports car classic, so this one off special 50 year anniversary event was well worth attending and sending COB6033 back over the pond for. Its first trip back to the homeland since arriving in 1964... To make it even more special we had Ron Thorp join us for the trip.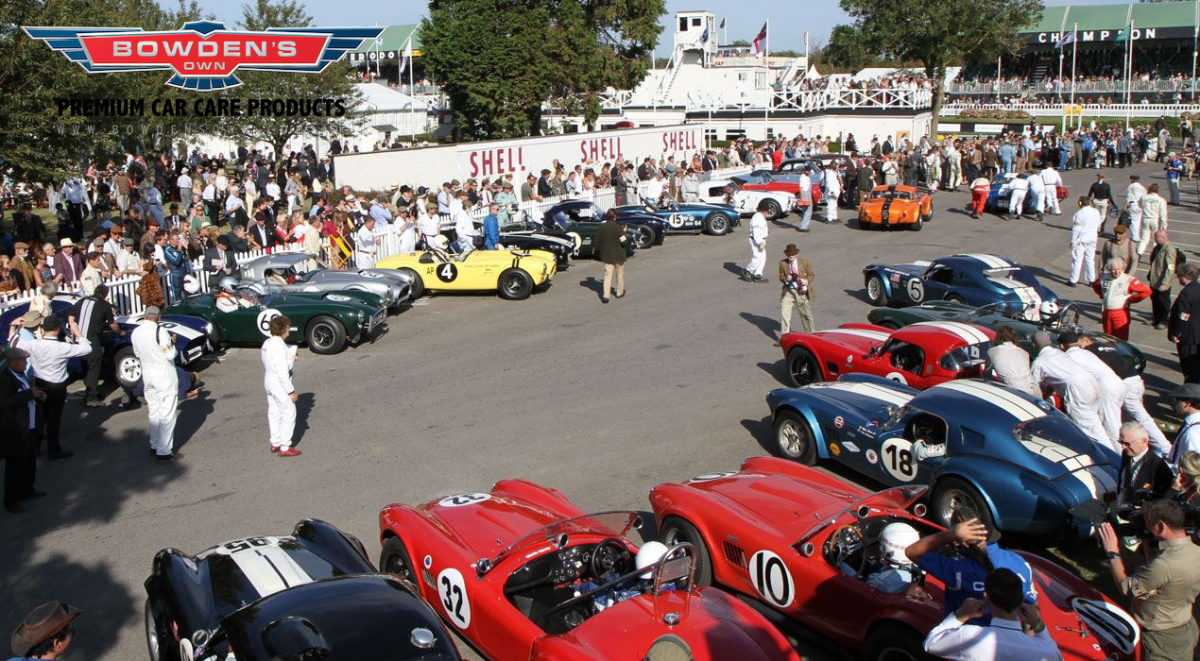 This is a field, all genuine period race Cobra's.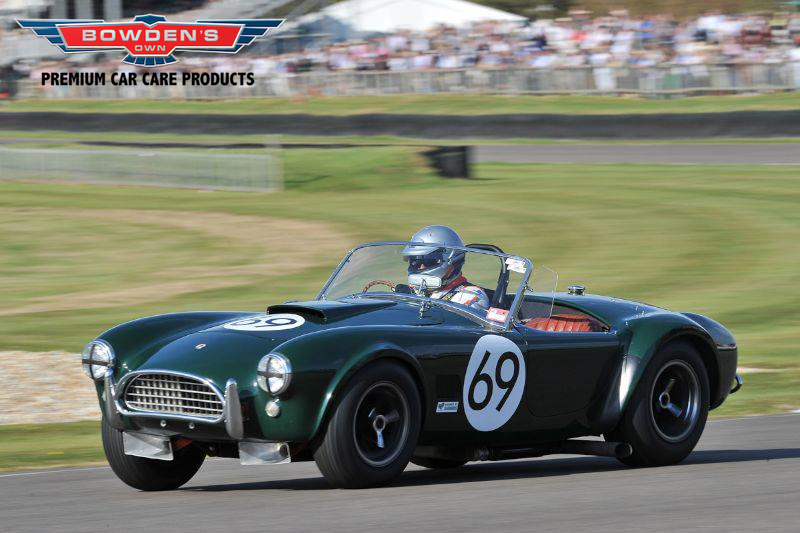 Chris Bowden having a pretty good day in the Cobra.
Read and see all about our big Goodwood trip, and the race with 33 other Cobra's at the Goodwood revival article here.
COB 6033 now spends its day's getting pampered in our sheds, with the ocassional spirited run through the hinterland and the odd car show and event. It is one of the favourite cars in the collection, being magnificent to drive, having all the right sounds, elligible for just about any car event you would like to do and best of all, she blows flames on the over-run! In fact, we say if there was just one car you could have and die a happy man.. I think this would be it.. Big call when you look what is in our sheds, but it is something that all previous owners have said, including ourselves.