How to clean and restore your plastic chrome
Have a look around many modern cars and you'll notice a chrome finish used around their grills and other areas. This is a plastic that's chromed, for the appearance and feel of real chrome, but is a cheaper, more lightweight and durable option for most manufacturers over traditional metal chromed parts. These types of plastic chromed parts are applied via a vacuum-metalised process, giving them a thin and somewhat more delicate, less durable metal look finish than the electrolytic chrome process used on metals. For this reason they will usually have a light protective clear coat applied to them after the plating.
We have a special combination of non aggressive products to clean and help restore them safely. You don't want to be using any type of polish, or even a clay bar, as the abrasives in them can scratch or micro-marr the soft finish and they will be virtually impossible to remove. Likewise, don't use any harsh or aggressive liquids on them as you can also etch or damage their surface.
This following cleaning method is for OEM plastic chrome that's not peeling off, has cracks, or any excessive wear/or rub through marks on it.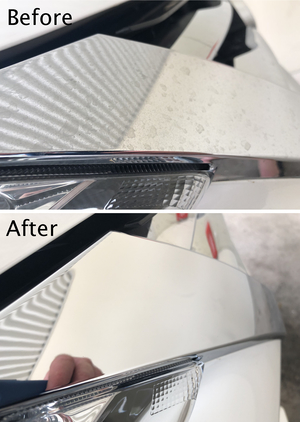 First Step - Safe Clean
First step is to wash and dry the car, or at least the area you will be working on. Then use the Clean Detail spray to give a further clean of the chromed surface. Spray it quite liberally onto the chrome and then wipe it away with the higher pile/plush side of the Big Softie microfibre cloth. This should help remove a lot of the embedded dirt and built up grime that normal washing will not always touch.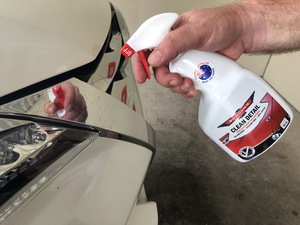 2nd Step - Deep Clean
Now that the area is clean, it's time for the deeper clean using our non abrasive Paint Cleanse and Restore product. This can help chemically remove light pitting, fresh water marks and other harder to clean marks from the surface. Shake the cleanser well, then put a 10 cent sized dollop onto the low pile side of a clean Big Softie cloth. Rub it gently into the chromed surface till you begin to notice it cleaning the marks away. Its unique combination of cleaners is what is doing the work here, chemically breaking down and removing them from the plastic chrome safely. Then turn the cloth to the plusher, high pile side and buff the area clean.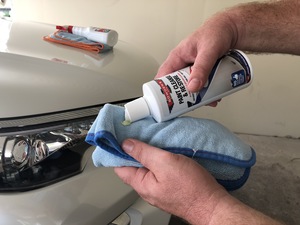 Final Step - Protect
The final step is to seal and protect the now shiny surface. For this we use either the Fully Slick or Bead Machine sprays.
With Fully Slick, 4 to 5 sprays into a folded Drop Bear Cloth, apply, and then right after buff it off with a dry side of the Drop Bear cloth.
With Bead Machine you use two Big Softie cloths as we say in its directions. Use a Big Softie folded to the low pile side for the application, spray 4 to 6 sprays into the cloth and apply. Then use a second dry Big Softie, also folded to the low pile side for the removal.
By adding this quick protection, the shine will last a lot longer and make it a lot easier to clean in the future as well.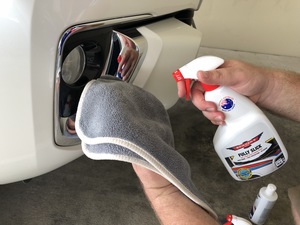 You should now have some lovely looking plastic chrome once more! Regular washing and using of the Fully Slick or After Glow will be the key to maintaining this finish over the coming years.
If you have any questions on this, or any other car care related items, please feel free to give our team a call on 1800 351 308 or email info@bowdensown.com.au
Love your car,
Dan Bowden