A starters guide for our car care products.
G'day there, you might be one of the many people interested in giving our car care a go, but with the bigger range we have you don't quite know where to start! Don't worry, you're not alone here, which is why we have written this article on a starter kit of products that you'll enjoy using and get really great results from. Let's run you through this system of three products and the accompanying gear we have to wash, dry and protect your beloved daily, modern drive car.
The list.
Keeping this nice and simple, let's start with a list of some of our best washing gear, plus one of our easiest to use spray sealants that you can use on the wet car after it's been washed and then a great and safe way to dry the car once you're done.
Nanolicious Wash - Our best wash for modern cars.
Shagtastic Wash Pad - A very good all rounder microfibre washing tool for safe and better washing.
Big Green Sucker - Our famous drying towel that's better, easier and faster for drying, which is why it's so popular.
Boss Gloss - A detailing spray that you use with the Big Green Sucker as a drying aid.
The Wash and Rinse buckets with Great Barrier Thingys: For helping give you a better, safe wash by hand.
Wet Dreams - An after-wash super hydrophobic sealant, you spray on, wipe and then hose off for epic protection and shine.
A Big Softie microfibre cloth - To use with the Wet Dreams.
You can get all of these products in three different money saving packs, namely the Nanolicious Wash Pack, Two Bucket Wash Kit and the Wet Dreams Pack.
Another good one to look at adding can be our Microfibre Wash, to care for your cloths after use and help keep them working like new.
Now let's run through using them together as a fun car care system!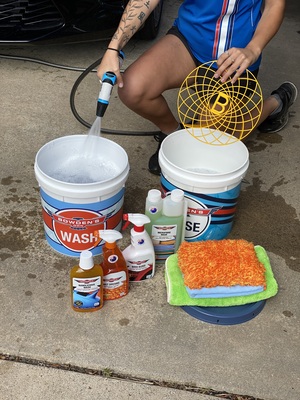 Step 1: The hand wash.
We use a washing system where the whole goal is to try and help minimise wash induced swirls and scratches.
Start by placing the Great Barrier Thingys into the bottom of your Wash and Rinse buckets - these will help stop heavier dirt and grime getting back into your wash tools. Now fill the Rinse bucket with water to around 3/4 full. This bucket will be used to rinse out your Shagtastic Wash Pad, one of our safe microfibre wash tools. Now fill the Wash Bucket to 3/4 full, then put in 30ml of Nanolicious Wash, using some pressure from the hose, to get some nice suds happening.
The two bucket wash kit will come with a lid - use it as a safe place to keep the Shagtastic Wash Pad on during the wash process, don't ever leave it or any of the other microfibre cloths on the ground or grass.
It's important to wash out of the direct sun, preferably first thing in the morning or the later afternoon on a car that's cool to the touch. All this is done to prevent premature drying of the wash suds, or rinse water, as the latter might create water spots if it dries too fast.
If the car is a little bit more dirty, use the hose jet to give it a quick pre-rinse and remove as much of the dirt as possible, especially on the lower and rear sections of the car.
Now dip the Shagtastic Wash Pad into the suds of the Wash bucket and start by washing in sections, starting from the cleaner top parts and doing the lower, dirtier bottom and rear parts last. Move the pad in straight lines over the panels, not circular motions, to minimise the chance of creating swirls and scratches if you were to pick up a bit of grime. Then rinse your wash pad out in the clean Rinse buckets water after each section (one section could be a panel, or half a panel depending on how dirty the car is).
TIP: When using our Shagtastic Wash Pad, take care around badges and sharp corners, as the shagadelic weave can get caught if you're not careful. Just use lighter pressure around these areas.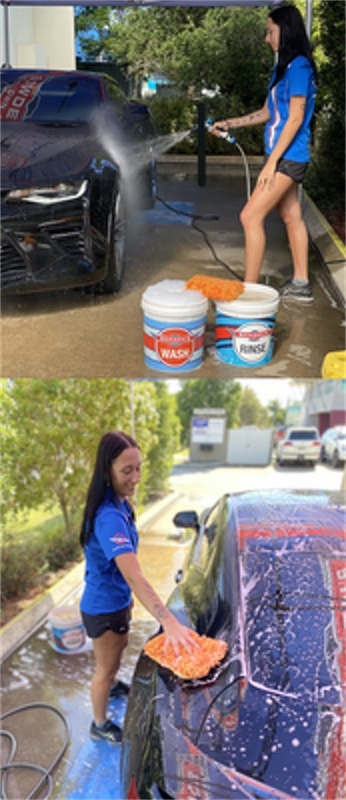 Step 2: Protection and shine.
So the car is now all clean and still wet from your rinsing off the wash suds, its time to add some great protection and shine! For this we use our super hydrophobic spray on sealant that creates great protection, shine and a super slick feel after you wash. It's a convenient spray on and rinse off application - the way it works on a still wet surface is a total dream. Hence why we have named it; Wet Dreams. Using this makes your car easier to wash, dry and keep clean overall.
Work on one wet panel area at a time, evenly mist Wet Dreams in a sweeping motion over the entire surface.
Wet and then wring out a Big Softie microfibre cloth, then wipe over in a back and forth methodical action to get an even coverage. (Continue to wring this cloth out between different panels/sections as well).
IMMEDIATELY rinse off thoroughly with a strong jet of water in a methodical side to side motion, from the top to the bottom, being sure to rinse any glass and adjoining panels that might have gotten overspray on them as well.
You will notice the instant protection and "bead porn" effect that's activated by friction from the strong jet of water over the surface. You'll notice the beading will get better over the next 10 to 15 minutes as the product cures on the surface. If you wish for more water beading after the first application, re-apply to the areas that need it for complete satisfaction.

Step 3: Drying.
Make smart use of the new found surface tension to help dry the car. Do this by taking the end off your hose and flooding the panels with water, sheeting the majority of the water droplets from the now coated surface.
Dry the car with our Big Green Sucker drying towel, with 6 to 8 mists of Boss Gloss as the drying aid into each side of the towel. Boss Gloss used this way will not affect the super hydrophobic surface.
It's at this stage where the smoothness of the surface will become apparent, and also how much easier the drying has become. It's very important to use a drying towel for the first time after applying, to ensure a perfect finish - never air dry the car or blow dry the car down after applying Wet Dreams. You can use a small blower to remove water from hard to reach areas though (mirrors, panel gaps, grills etc), just not to touchlessly dry the paint and treated surfaces.
We don't recommend using Wet Dreams on your windscreen. If any overspray has gotten on it, don't freak out, just clean both windscreen and wipers with Naked Glass and a Big Softie cloth to prevent the chance of the wipers smearing the next time you use them.
We have found that the protective finish and water beading will last for up to two months on daily driven cars - longer on cars that are better pampered or have better condition paint.
After you're done drying, go find a refreshing beverage and enjoy the new shine to your car. You too will share our same goofy, satisfied look when you see the amazing shine you've quickly created.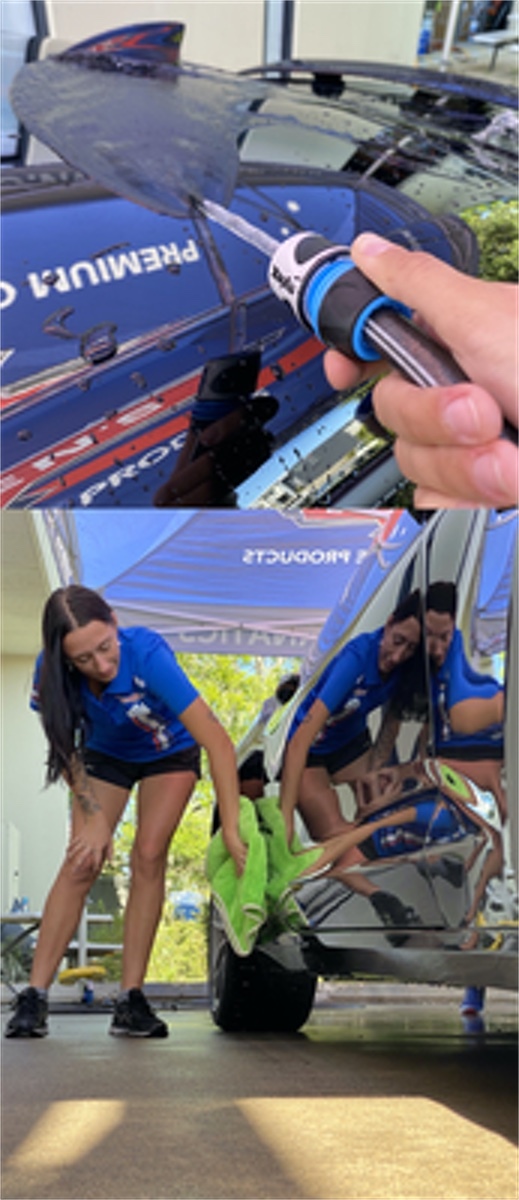 Step 4: Caring for the microfibre
Once done, it's very important to pre-rinse the Big Softie cloth in a bucket of clean water, as you don't want this towel to dry with the Wet Dreams product in it. If it does dry, the cloth will become super hydrophobic and forever repel water!
We recommend machine washing all your microfibre after each use, so after the pre-rinse, wash it with the Big Green Sucker and any other microfibre cloths with 20mls of our Microfibre Wash. Then either machine dry (preferred) or air dry indoors, so nothing can get into the cloth.
Store the cloths in a sealable plastic storage tub, so they are ready for the next time you need to use them.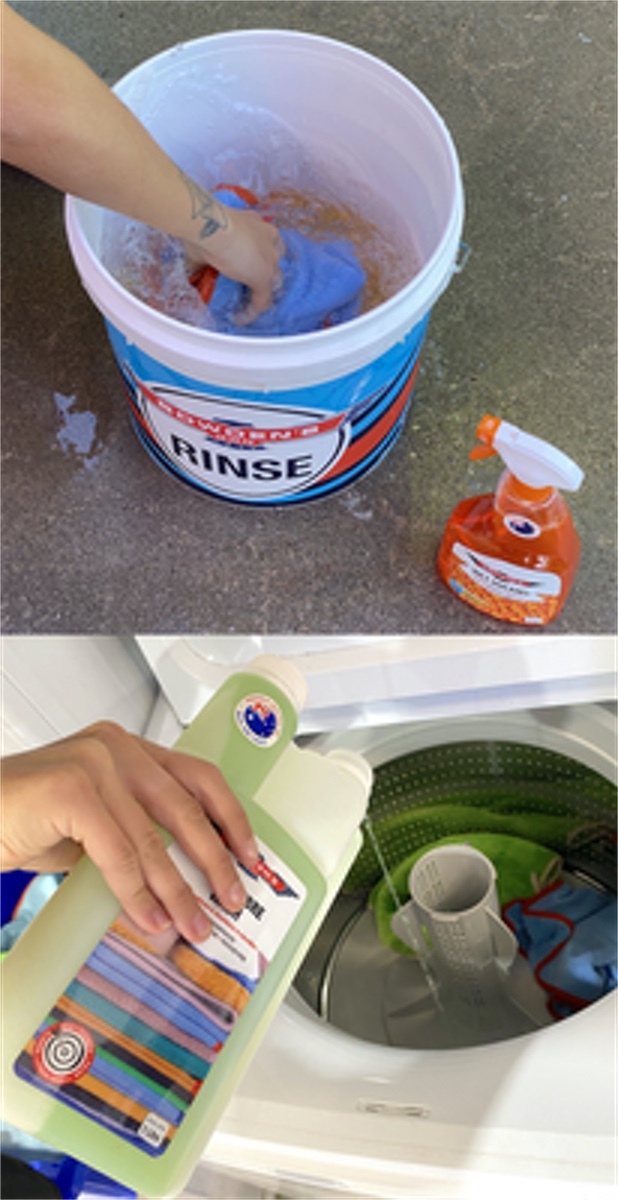 More guides and any questions?
This is a pretty compact guide, just to show a simple and easy to use system of our gear that works great together. If you wished to extend this a little bit further, you could also look at the Wheely Clean for wheel cleaning, Tyre Sheen for the rubber and Naked Glass for your windows.
We have a few other guides that are worth a look at, that runs through a lot of the others in the range, like this one that's a more intensive guide that runs through a deeper preparation with our products, ideally suited for a car that's new, or so you get the very best results: Your new car detailing guide
We also have two separate sections for using our gear either inside and outside of your car, which show how the individual products can be used to best effect.
Exterior Guides
Interior Guides
You can find all of the products we use in this article at our stockists throughout Australia. Click here to locate your closest one.
If you have any questions, please feel free to email our team using info@bowdensown.com.au, or call our office from 9am till 4pm business days on 1800 351 308.
Thank you for supporting an Aussie owned and run family business.
Dan Bowden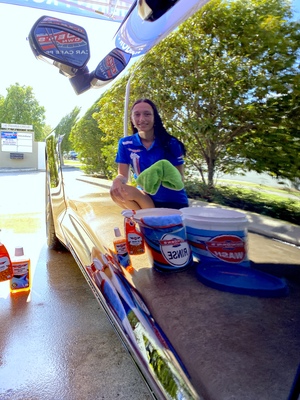 ---