After Glow - A perfect drying aid
We are very proud to announce our latest Australian made product - something we have been testing and perfecting for the last couple of years, and after nearly 90 different revisions, After Glow is now ready.
This product is an awesome, high-end drying aid, that will appease the very fussiest of car enthusiasts. It came about from a conversation with our chemist when we were creating Boss Gloss to work as a drying aid with The Big Green Sucker. He saw me doing the action of spraying the product into the cloth and applying it to dry the car and asked me if I would like a product that would actually dry the water from the car. I remember I gave him a skeptical look and said "My bloody oath I want that!!" And from there, my punishment of this poor chemist was to begin.
The development process
The original idea behind After Glow was to utilise a combination of cool new ingredients that emulsify water into its solution and then vapour dry away fast, leaving a spotless, dry surface. Like so many ideas we have, it changed as we went deeper into the development process of it.
The original formulas were created to work with The Big Green Sucker drying towel and they did that well, however I noticed in testing that one of the formula samples left a truly incredible shine, but it was not playing well with the drying towel. I wanted that shine so badly that we began testing it with other microfibre blend cloths and techniques, until finally I was watching a detailing video with a very charismatic U.S. detailer who used a wet microfibre cloth to apply a drying product. I knew by the way ours worked that it too would emulsify and spread even better with a wet cloth, eliminating any application issues and allowing the ingredients that created that crazy shine. We tested a large variety of different microfibre cloths before deciding on a slight GSM upgrade to the Big Softie cloth (which we have already released, but not announced, a year ago).
We then spent another year honing this formula with a damp Big Softie cloth to apply it and then a dry Big Softie cloth to buff off after. With every new formula we seemed to learn something new, adding more and more to it, and after another 60 formula variations, it was finally done.
It's now something I believe is the single greatest product we have ever created to date.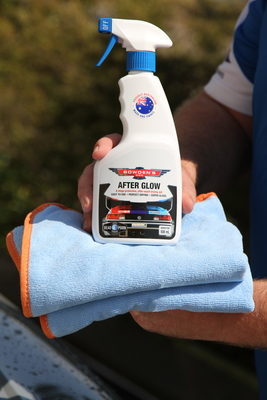 What makes it so great?
Firstly and most importantly is the way it dries wet surfaces, using the same combination of ingredients we began our formulation processes with.
It leaves an absolutely perfect, spotless finish, even with hard water.
The ease of removal is fantastic as well, even in direct sunlight on hot cars; zero smearing or "high spots".
Then there is that shine, which is one of the single biggest things in this formula. The reflections we get from it are simply stunning.
After Glow is a dedicated drying aid, with great protection for this category of product.
It has a cure time that's pretty outstanding as well, a rapid 30 seconds is all it takes.
We have maxed out its concentration too, so it's a pretty thick liquid, and depending on the size of the car, you'll only ever use about 10 to 15ml each time. That's 30 to 50 uses per 500ml bottle, so a little really goes a LONG way.
It's safe to use on everything around the car: paint, glass, chrome, plastic, vinyl, rubber, alloy and it smells divine.
The very best thing I love is that warm, goofy feeling you get when looking at the car after the jobs all done. Hence the name After Glow.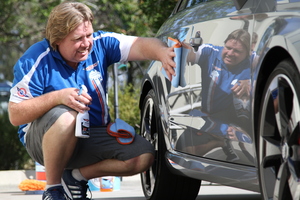 Using After Glow
After Glow is not your traditional type of drying aid and the system we use is a touch more technical than other products. But, it's still very easy once you get into it. You can use it in the shade, or in the sun. We've done some great cold and adverse weather testing, thanks to all the detailing demo's around Australia the last 6 months. It works in all conditions, but like any drying product, it prefers warmer days for the best evaporation.
After washing the car, sheet the wash suds off the car by taking the nozzle off your hose and flooding the panels with water. Get a little 18v blower and quickly blow out the water from your mirrors, grill and anywhere else that can hold "hidden" water.
Get two of our Big Softie cloths. After a huge amount of testing we've found this cloth is ideal, especially since it was upgraded to a slightly more plush and absorbent 350 GSM earlier this year. Using clean, fresh water, completely drench and then wring out one cloth, so it's lightly damp.
Fold the damp Big Softie into quarters with the low pile side of the cloth on the outside. Spray 3 to 4 sprays of After Glow into the cloth and then apply to the wet surface of the car. Work on a panel at a time, wipe in side to side motions, east west and then north south.
Leave it to sit and dry for at least one minute, then buff off the remaining residue with the 2nd dry Big Softie cloth, again folded to the low pile side. Fold and turn this cloth often,
Now for the next application, wring the first wet cloth out, apply 2 more sprays into it and then continue doing the car as per above. Use the same technique of 2 sprays and then wringing it out once full, until it's all done.
It's important to inspect the leading damp cloth often for any dirt it may pick up that was missed in washing. If you see some, fold the cloth to a fresh, clean side and don't use that side again.
Now its time to step back from the car, preferably with your favourite cool beverage and admire your work. That warm satisfied feeling is a real After Glow.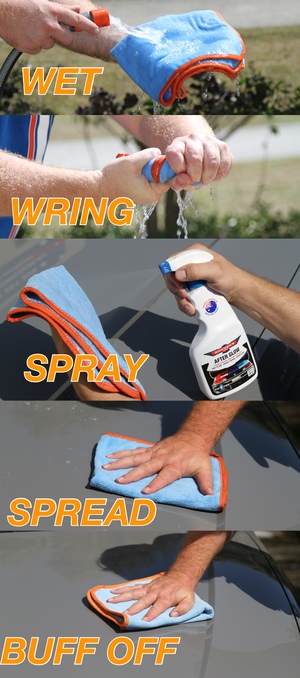 Some more handy tips
It's important that the 2nd Big Softie cloth stays dry. If there is a bit of standing water on the panels (maybe you didn't sheet it all off like we said) wipe down bigger areas at a time (like the entire bonnet or roof) with the damp application cloth - this is so you don't get water into your dry buffing cloth. If you get water into this dry cloth you can get slight smearing, so keep it dry.
You can use After Glow on all the hard exterior surfaces of your car, including the glass, plastic trims, all lights, polished alloy, carbon, fibreglass, and your wheels (just make sure they are very clean first).
When you use this in direct sunlight, you will see it flashes off nearly completely, with little or no residue left over on the panel. Still wipe it with the 2nd dry cloth afterwards though, just so it removes any high spots and allows the product to cure at its protective best.
After Glow emulsifies water extremely effectively, so is perfect to use for people who have to wash with "hard" water, that is more likely to leave those small annoying water marks. Using this product you get no water spotting and a perfect finish, every time.
For areas of your car that pool or hide water, like around windows or trims, hold the microfibre cloth with After Glow on that area, the combination of the product and cloth will pull the water out and into the cloth, which is a cool party trick to say the least.
If it's a bit cold when you're using After Glow, you'll notice the trigger will move a little slowly, this is as the product is so concentrated and thick! If its an issue for you, put it in the sun or a bowl of warm water for 10 minutes, and that'll warm this Qld brew up a bit.
At the end of your drying always wash both cloths straight after with our Microfibre Wash either by hand or in a machine. It's best practise to not let the damp application Big Softie cloth dry before washing as the protective ingredients in Afterglow can make it less absorbent. If you do let it dry, allow it to soak for a few hours in a dilution of 20mls of the Microfibre Wash and 1 litre of water, then wash again after soaking.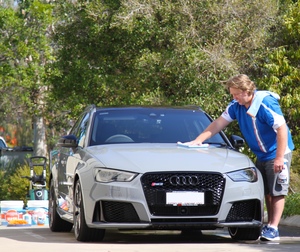 So what does it replace?
I know a lot of people will be wondering this one. It's not there to replace anything from our current detailing system, especially the awesome Big Green Sucker and Boss Gloss combination for drying. It's a totally new alternative made to suit super fussy enthusiasts (people like me), who want a perfect, flawless finish. It will be great for time poor people who want to dry, add shine and protect their car in one go.
We find it's quick to use once you master the technique, but it's not as fast to use as The Big Green Sucker and Boss Gloss combination, which can be done crazy fast (just under 2 mins is our record for drying a car here currently). So those times when you're in a hurry to dry your car, The Big Green Sucker might be the better option.
We find that After Glow's shine and protection will save you extra time if you're one to use Fully Slick as a final step after your washing. On that topic, you can still use our Fully Slick, Boss Gloss or Lazy Wax on top of After Glow if you wish, just for an extra and different layer of protection.

As we touched on earlier in this article, The Big Green Sucker sadly wasn't best suited for After Glow. Because it's so absorbent, the product was disappearing into the cloth and wasn't giving us the ease of use, level of shine or protection that the Big Softie cloth was. The Big Softie cloth is the perfect combination of absorbency, plushness and GSM. A low enough pile on one side, so that the product can spread onto the paint beautifully, but still be absorbent enough to soak up and retain a good amount of water before you need to wring the cloth out. The low pile side is also perfect for the dry cloth removal as well, so all round this cloth is the best we found for using with After Glow.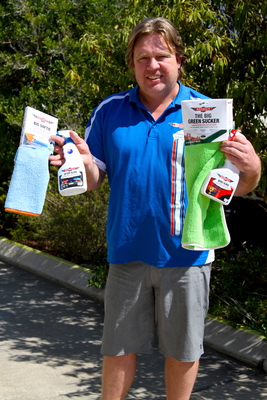 Other Uses
Although this product is not a detailing spray, it can also be also used on a car that is not wet. With the same technique as above, you can use it on dry, clean cars to add extra shine and protection. I like to use it this way and add another layer of protection after drying.
Simply spray After Glow into a damp Big Softie cloth, then apply as when wet, then buff off a minute or so later with a dry, clean Big Softie cloth. Of all our range, it's the best for using on your wheels as well, as it leaves a great protective shine. After Glow is pH neutral, so you can safely use it on top of your existing wax, sealant or any other paint protection coatings too.
Use After Glow as a quick an easy 1 step mission before a car show or a hot date. Simply wash the car, then dry it using After Glow to get that awesome shine and gloss, without the extra steps of waxes or detailing sprays like you'd do previously. At the show you can also top up the gloss with Boss Gloss if you wish.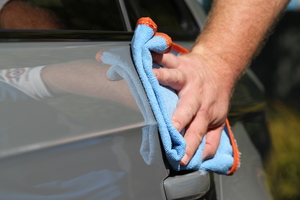 I need this in my life, how do I get a bottle?
After Glow is now available from many of our great supporting stores, with many already having it in on the shelf or ready to special order in for you. Quote them part number BOGLOW and you'll have it in no time.
If you have any other questions on After Glow, or anything else car care related please call our passionate team at 1800 351 308 or email me on info@bowdensown.com.au.
Love the glow,

Dan Bowden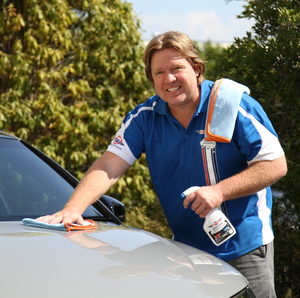 ---
Bring on the shine, with Carnauba Body Wax
Bring on the shine, with Carnauba Body Wax