Getting the most from Wet Dreams
What is Wet Dreams?
This is a super hydrophobic spray on sealant that creates great protection, shine and a super slick feel after you wash your car or bike. It's a convenient spray on and rinse off application, ideal for those who don't use a pressure washer. The way it works on a still wet surface is a total dream. Hence why we have named it; Wet Dreams.
Wet Dreams was developed over the last year alongside our Happy Ending finishing foam, with lots of fine tuning to make them easy to use and give amazing results with little to no work needed.
It was two years ago that some new water-based, super hydrophobic ingredients come across our chemists desk and got our total attention. Those ingredients safety data sheets unfortunately gave us some concerns about the engineered "SiO2" nano sized silica dioxide particles in them. There have been numerous scientific reports over the last decade on these nano ingredients (both for and against them), and as there was no conclusive evidence of total safety, we chose to refrain from using them. So, our chemists began working with a local scientific group who ended up making some other super hydrophobic "lotus effect" ingredients to our specifications, right here in Australia.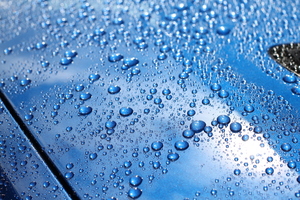 Some cool things about Wet Dreams
Made for Aussie conditions
The formula received a lot of tweaks over the 8 months of intensive testing we did on numerous cars at our Queensland HQ. The reformulations were needed to get the right balance of ingredients for amazing beading and shine, while not creating the dreaded streaking when used in our heat and humidity. By developing it over the hottest and longest damn summer on record, we found ways to combat these issues that are common for this type of fast curing product. In the end we had something that was very awesome, as well as having every single ingredient being proudly made right here in Australia.
Different to Happy Ending?
Wet Dreams has a few distinct formula changes in comparison to the Happy Ending finishing foam, to better target how you apply it with a spray trigger, and then remove it with a jet of water from a household hose. The change of concentration in its active ingredients are made to give a faster cure time and also allow its hydrophobic protection to be activated by a jet of water. We also find due to this, its initial bead porn can be slightly better than Happy Ending as it cures faster. Its durability, shine, and the slippery feel are all pretty similar to the finishing foam.
It's not SiO2 or "ceramic"
We haven't felt the need to use the currently hyped buzz word of this being a "ceramic", although it does share the same super hydrophobic and protective properties you could associate with that type of product. After talks with both our chemists and ingredients manufacturers, we don't believe that any of the current water based sprays should use this term, as scientifically it's more associated with a specific set of highly engineered (and expensive) ingredients that are only used in professional ceramic paint protection coatings. Many marketing teams have obviously disagreed and are now seemingly naming everything that beads a ceramic, upsetting many pro detailers who deal in true ceramics, as well as creating confusion for car enthusiasts with this misleading use of the word.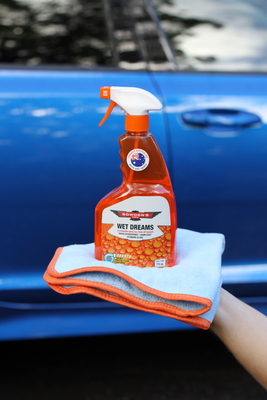 Getting started
Before we can use Wet Dreams, it's important the surface (your car or bike etc) is clean of dirt and grime, as it won't work that well otherwise! For a nice safe wash to minimise swirls and scratches, we begin with a touchless pre clean using the Snow Job foam. You can read more about this in this link here: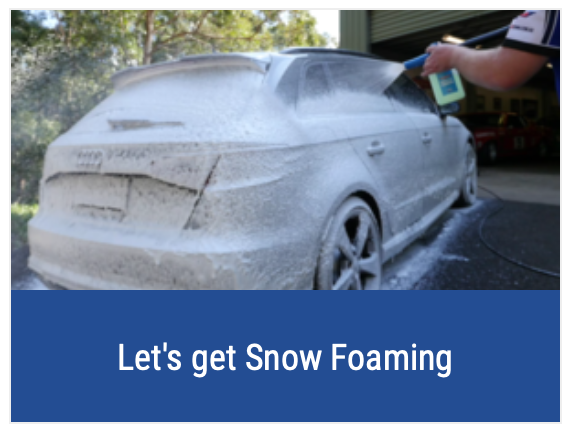 Then we move onto the luxurious two bucket wash in this link: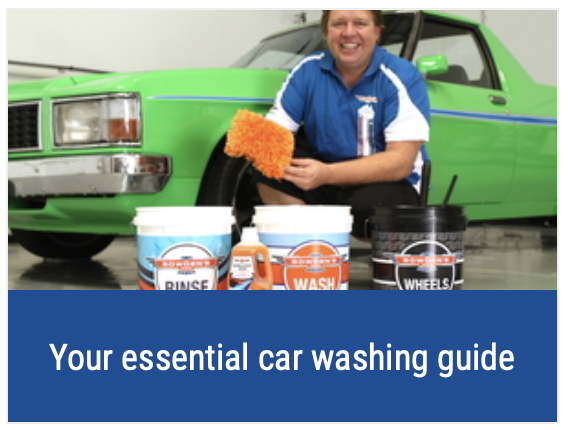 Now you have a nice and clean car, but it's important you don't dry it yet! The car needs to be wet to to use the Wet Dreams.

Two ways you can use Wet Dreams
Before we begin, there are some important things you must follow, as this product is very concentrated and can cure quickly! If you're someone who dislikes following product instructions, we don't recommend this product for you.
Please take note of this first important section:
DO NOT USE ON HOT/WARM PANELS, IN THE DIRECT SUN AND NEVER ALLOW TO DRY. Only use on clean, wet panels in the cooler morning or afternoon, preferably out of strong wind. It is not suitable for fabric or vinyl convertible tops or to use directly on ute tonneau covers. Nor is it ideal for poor quality, single stage, porous or oxidised paint. If your paint feels rough, we suggest you quickly clay bar or use our Claying Rubber with a double solution of our car wash as the lubricant before use, as this product bonds and works better on uncontaminated, good quality surfaces.
We have two different ways you can use Wet Dreams, depending on how you choose to use it. We have found using the spray and spread on application in method 1 below, that you'll use less of the Wet Dreams and get a more even coverage/ finish. As well as giving you the best results, it will also minimise the chance of streaking ever occuring as well. This is why we recommend using the first method for the initial application, as well as its continued use over time.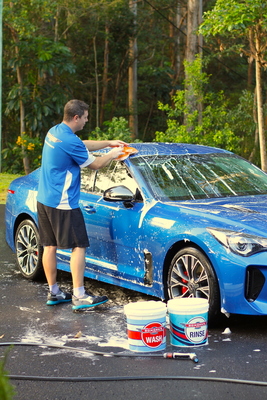 Application method 1:
This is for the first time application of the product to any car or bike or if you don't use a pressure washer:
1. Work on one wet panel area at a time, evenly mist Wet Dreams in a sweeping motion over the entire surface.
2. Wet and then wring out a Big Softie microfibre cloth, then wipe over in a back and forth methodical action to get an even coverage. (Continue to wring this cloth out between different panels/sections as well)
3. IMMEDIATELY rinse off thoroughly with a strong jet of water in a methodical side to side motion. Being sure to rinse any glass and adjoining panels that might have gotten overspray on them as well.
The bead porn effect is activated by friction from the strong jet of water over the surface. You'll notice the beading will get better over the next 10 to 15 minutes as the product cures on the surface. If you wish for more water beading after the first application, re-apply to the areas that need it for complete satisfaction.
Once done, rinse out the Big Softie cloth and then put it into a bucket of clean water. Machine wash it in our Microfibre Wash with the Big Green Sucker and other cloths once you're all packed up and finished. You don't want this towel to dry with product in it, otherwise it will become super hydrophobic as well.
Now read on to the drying section below.

Application method 2:
This method is best if you're using a pressure washer and also great for touch-less use or quick top ups:
1. Work on one wet panel at a time, mist the Wet Dreams in a sweeping, even motion across the entire surface.
2. IMMEDIATELY rinse thoroughly with a pressure washer. Being sure to rinse any glass and adjoining panels that might have gotten overspray on them.
3. Work right around the car till you're finished. The bead porn effect is activated by the friction from the strong jet of water over the surface. You'll notice the beading will get better over the next 10 to 15 minutes as the product cures on the surface. If you wish for more water beading after the first application, re-apply to the areas that need it for complete satisfaction.
With this method you will use more product over the spray and wipe/spread method mentioned above. But it can be handy if you're using the Happy Ending finishing foam, as this way is faster and easier to quickly boost smaller sections between its applications. Just spray it on the areas the beading is reduced and then pressure wash it off.

On the slight chance that you get any streaking or uneven patchiness when using this method, simply wipe over the marks with the Big Green Sucker using a little bit of extra pressure on the towel to remove these "high spots". If the marks are left to dry, don't freak as the Paint Cleanse and Restore can remove them easily.
Now you're all done, it's time to move onto the drying stage below.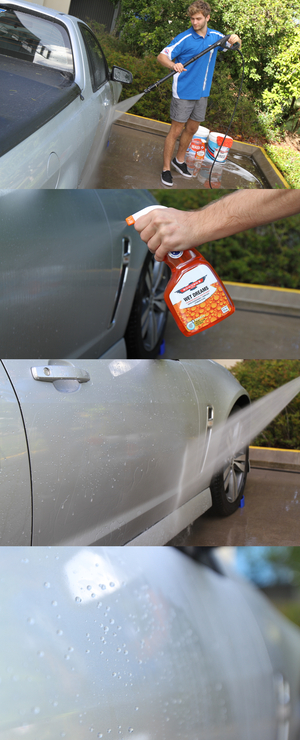 Wet Dreams for your wheels
If you're using a pressure washer as per 'method 2' above, you can also use Wet Dreams on your wheels as well. The sealant is not affected by the heat like a wax can be, so its protection lasts longer and will make them a good degree easier to clean next time around, as well as making them super shiny! We've found that it's by far currently our best product for this job. It's also ideal for topping up the protection if you've had the wheels ceramic coated by a professional detailer.

Make sure the wheels are in a good condition and clear coated, then follow these simple steps:
1. Thoroughly clean the wheels with Orange Agent or our Wheely Clean and the different wheel brushes. You can read more about wheel cleaning in the link here: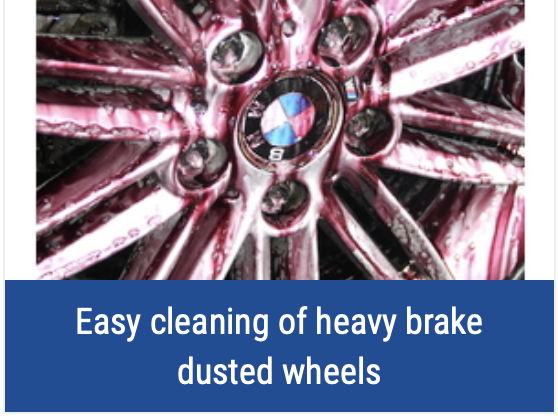 2. Pressure wash all the loosened grime off.
3. Work on one wheel at a time, misting the Wet Dreams over the entire surface in a sweeping motion.
4. IMMEDIATELY rinse off thoroughly with a strong jet of water in a methodical side to side motion. Being sure to rinse down the tyres and any adjoining panels that might have gotten overspray on them as well.
The protection won't always last as long as it will on the panels, but depending on how dirty the wheels get it can last up to a month. It will make the cleaning of them next time around a LOT easier which makes it well worth doing. We like to use the Wet Dreams every second wash or when we notice the beading start to diminish.
For drying the wheels you can use a Dirty Deeds microfibre cloth to wipe them down after application. A small air blower is good for any subsequent drying times after this initial application if you wish.

Drying time
Make smart use of the new found surface tension to help dry the car. Do this by taking the end off your hose and flooding the panels with water, sheeting the majority of the water droplets from the now coated surface.
Dry the car with our Big Green Sucker drying towel, with 6 to 8 mists of Boss Gloss as the drying aid in each side of the towel. Boss Gloss used this way will not affect the super hydrophobic surface.
It's at this stage where the smoothness of the surface will become apparent, and also how much easier the drying has become. It's very important to use a drying towel for the first time after applying, to ensure a perfect finish - never air dry the car or blow dry the car down after applying Wet Dreams. You can use a small blower to remove water from hard to reach areas though (mirrors, panel gaps, grills etc), just not to touchlessly dry the paint and treated surfaces.
After the initial application you can also use our After Glow with a damp Big Softie cloth to dry the car and due to a freak in its formula, it won't affect the super hydrophobic surface either.
We don't recommend using Wet Dreams on your windscreen. If any overspray has gotten on it, don't freak out, just clean both windscreen and wipers with Naked Glass and a Big Softie cloth to prevent the chance of the wipers smearing the next time you use them.
We have found that the protective finish and water beading will last for up to two months on daily driven cars - longer on cars that are better pampered or have better condition paint.
After you're done drying, go find a refreshing beverage and enjoy the new shine to your car. You too will share our same goofy, satisfied look (pic below) when you see the great reflective surface.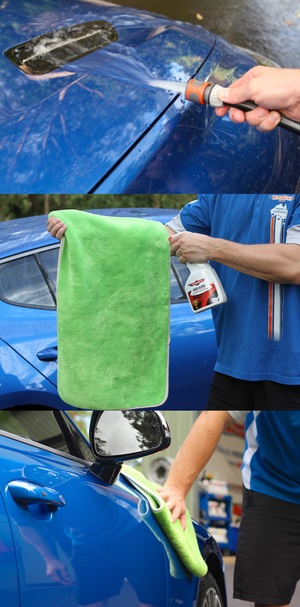 More little tips and bits
Although the protection can last up to two months, we personally like to use Wet Dreams monthly on daily driven cars, to keep the water beading and shine at a great level.
For weekly washing you can use the Auto Body Gel, Wax Wash or Nanolicious Wash car shampoos on the coated surface. Be aware that all these washes will create an initial hydrophilic (non beading) finish, but the hydrophobic (beading) finish will return in a short period of time after rinsing them off.
In case you missed it above, we found that drying with both Boss Gloss in the Big Green Sucker and After Glow used in a damp Big Softie does not affect the super hydrophobic surface. Both become even more amazing to use after Wet Dreams, as they glide effortlessly over the treated surface.
We have found that using hard or poor quality water will affect the beading nature of Wet Dreams, so dam, bore or harder town water is not suitable to make it work its best.
As both Wet Dreams and Happy Ending are currently our most protective products, there is no added benefit to using Fully Slick, Lazy Wax or Carnauba Body Wax. After Glow can still be used as a drying aid on top of them.
You can use Wet Dreams on top of the Happy Ending finishing foam and vice versa as their formulas are very compatible. But, there is no need to layer them up right after application. One coat is generally enough - you can do two coats if you feel it needs a little extra beading.
You can use Wet Dreams over/on top of any of our previously applied current waxes and sealants.
Wet Dreams works on Paint Protection Film (PPF) which is on both the Ford GT and Ferrari 812 Superfast nose/ bonnet panels in our video's on YouTube and it's also great for vinyl wrapped vehicles. Due to the different nature of these surfaces, we find it needs two initial coats to get a good beading effect on the surface.
We do not recommend this for matte finished paint or matte wraps, due to the way it boosts gloss. If you do get it on them, just clean off with our Clean Detail spray to restore the matte finish.
For bikes, Wet Dreams is awesome! We find it's a better option than the Happy Ending finishing foam as you can better control where the product is going, ideal for the more intricate areas you find on bikes.
If the product dries on the car, or you accidentally miss a section when washing off and find streak marks, don't freak. The marks can be quickly removed if fresh, by rubbing over them with the Big Green Sucker (use Boss Gloss with it for lubrication) and a little bit of pressure. If you notice the marks days later or they won't come off with the towel, the Paint Cleanse & Restore will clean them off easily.
The products colour can be slightly affected by light over time, so store the bottle accordingly in a cooler part of your home. Any colour change does not affect the way the product will work in any way.
Any slight opaque changes or small clear objects you may see develop in the bottle are normal. What you're seeing is the concentrate of the Aussie made polymer. The important things to know is that it won't affect the way this product works or block the spray trigger.
If you like to use a pressure washer, also have a look at our Happy Ending finishing foam - which is applied via our Snow Blow Cannon in much the way the Snow Job pre-wash foam is. It's one of the easiest ways to use these super hydrophobic type of products.
For a windscreen washer additive, we'd strongly recommend to use our Wipe Out windscreen washer additive. Mainly as it won't remove or affect the protection of Wet Dreams.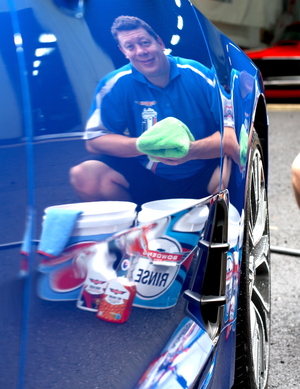 Any Questions?
You can find Wet Dreams at our supporting autObarn, Supercheap Auto, Repco and Auto Pro stores, plus other independent resellers as well. The part code to quote is BODREAMS and the big 770ml bottle is $34.99.
There is also a Wet Dreams pack of the 770ml bottle and a Big Softie cloth - its part code will be BODREAMSP.
To find your local Bowden's Own reseller, click the stockists link at the bottom of this page.
If you would like more information about Wet Dreams, or any of our other products, please shoot our team an email to info@bowdensown.com.au or FREECALL our office on 1800 351 308.
Go the Aussie made gear,
Dan Bowden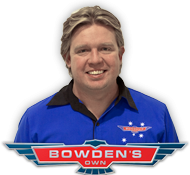 ---