Get your Froth on
29 April 2021 Dan Bowden

GET YOUR FROTH ON ANYWHERE, ANYTIME
Ever been on a trip away and got stuck in a storm with your pride and joy? Next thing you're faced with the tough choice between your vehicle looking an absolute mess, risking potential micro-scratches with a single bucket hand wash… or playing Russian Roulette with a machine car wash (not likely!). Now with our new portable hand pressurised foamer The Frother, you can get your froth on virtually anywhere.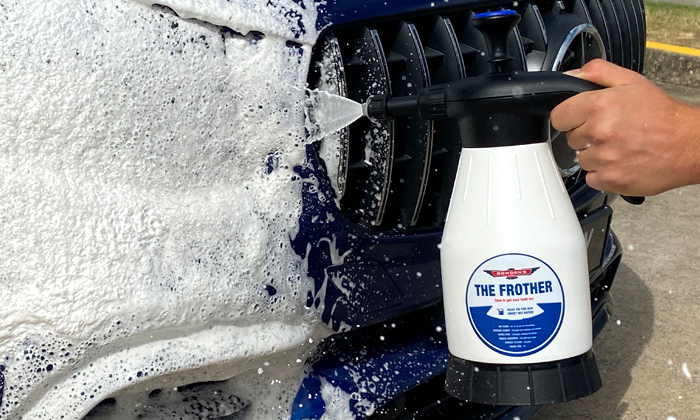 Whether it's a quick Snow Job after a dusty road trip, or a Mega Snow Job to prevent your fourby getting fully encased after a bit of mud plugging, The Frother is a super-convenient option to let you foam away from home. It's also great for those smaller jobs or when you can't use a pressure washer (or can't be assed getting it out), such as a quick wheel or engine bay clean.

We've gone to great lengths and searched far and wide to ensure The Frother is a seriously pro-grade pumper, here's a few of the technical details (if you're into that sort of thing):
Can be used with our Mega Snow Job, regular Snow Job, Wheely Clean. Orange Agent, Sublime Clean and Fabra Cadabra products
Large volume internal pump, for quick and easy pressure.
Quality European construction, with good seals and connections, so you don't get any annoying leaks.
Proper foam nozzle with 110 degree wide fan, for more legit foaming.
Solid ergonomic handle and thumb trigger, for hand relief on bigger jobs.
Uses quality EDPM seals, that we had tested to make sure they were ideal for our detailing products.
Holds 1.5 Litre of liquid, so you can froth on further.
MEGA FROTHING GUIDE
Between Mega Snow Job and The Frother, we reckon you'll actually be looking for an excuse to get out and get dirty, so we've pulled together a few tips to help you get maximum froth, check them out here:

If you're keen to get your froth on, keep an eye out for The Frother at a Repco store near you.
Find your nearest store here:

Froth on, Dan.
---