How to use your Frother
What is it and how does it work?
The Frother is a quality built, portable hand pressurised foamer that you can use for foaming without a pressure washer, when you're doing smaller detailing jobs or if you're away from home.
You can use it all around your vehicle with a variety of our water based car care products including Snow Job, Orange Agent, Wheely Clean, Sublime Clean and Fabra Cadabra.
It can be used on cars, bikes, 4x4s, vans, and much more. With our Snow Job foam as an example, fill the bottle with around 1.3 litres of water, then add approximately 150ml of Snow Job concentrate to fill it to 1.5 litres - be sure this ratio is 9:1 (9 parts water to 1 part snow foam concentrate).
Before using The Frother with any of our snow foams, be sure to take out 2 of the foaming pucks, and replace them with the middle sized spacer for optimum foam. For all other products, take the spacer out and put all 4 pucks back in.
Shake it well, and then pressurise the sprayer with around 20-30 pumps and foam away! There will be enough pressure to foam a regular door panel, a front or rear guard, the boot, or a larger wheel before repumping.
Use The Frother for a variety of jobs, including:
Snow foaming - Pre-wash with our Snow Job or Mega Snow Job foams on the lower, dirtier areas when you're on a road trip and don't have a pressure washer handy.
Wheels, tyres and inner guards - Foam on our Wheely Clean or Orange Agent for easy and convenient cleaning.
Engine Bays - Use with Orange Agent to apply a nice foam layer, allowing a longer dwell time on grease and grime.
Carpet and rubber mats - Apply our Fabra Cadabra or Sublime Clean, before a quick scrub and a wet and dry vacuum.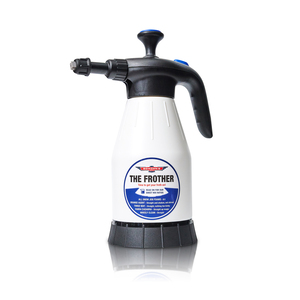 Introducing Mega Snow Job
Mega Snow Job is a heavy duty snow foam for dirtier jobs - whether it's for your 4x4, the car that's been rained on, something that hasn't been washed in a while, or you just want that deeper clean.
Our more heavy duty snow foam, ideal after a weekend of bush bashing the 4x4's, dirt bikes as well as boats, jet skis, vans and trucks.
Uses a concentrated blend of modern surfactants, to create a super thick blanket of wet foam to penetrate and loosen heavier dirt and grime.
Works as a touchless pre-wash to dramatically reduce any wash induced swirl marks on modern clear coat paints.
Anti-rust and salt removal ingredients, ideal for 4x4's, water craft and even off road caravans.
A subtly boosted alkaline formula, for exceptional cleaning power.
No acids, abrasives or silicones.
Safe for ceramic coatings and quality sealants, but can affect carnauba waxes.
Safe for single stage paints and older acrylics.
Also safe on polished alloy, aluminium, plastic, rubber, chrome, carbon fibre, gel coat, vinyl tonneaus & seats, clear coat paint and glass.
For your regular maintenance washing, we recommend our Snow Job formula, keeping this for the more dirty jobs.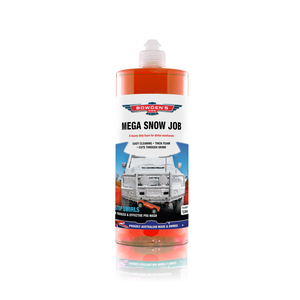 Get your froth on anywhere, anytime
Key points for The Frother:
For hassle free hand foaming, when you don't want to, or cannot use a pressure washer and a snow foam cannon.
Gives legit levels of thick foam with our Snow Job and Mega Snow Job foams.
Great for quick wheel cleaning, engine bays, paint decontamination, interior mats and carpets.
The foaming can extend the dwell time and cleaning prowess of Orange Agent, Wheely Clean, Three Way, Sublime Clean and Fabra Cadabra.
Large volume internal pump, so you do less work to build up good pressure.
The pump's grip is quite ergonomic for needed hand relief on the bigger jobs.
The 1.5 litre full mark leaves you a decent air capacity, with enough pressure to foam one door, a guard, or a large wheel before repumping.
Big mouth opening for easy filling and to help eliminate cross threading when doing it up.
Solid construction, with quality seals and connections, so you don't get annoying leaks.
Foaming nozzle has a 110 degree wide fan and can be internally swapped for a dry thick foam, or wet thinner foam.
Uses quality EPDM seals, more ideal for our detailing products.
This is a pro-grade pumper, the best we've found after extensively testing them all.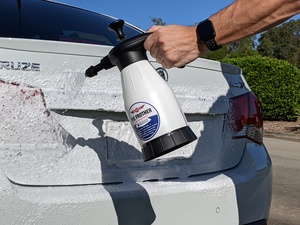 Instructions for use
General overview - PLEASE READ FIRST
Wear any appropriate personal protective equipment (PPE) like gloves or glasses when operating The Frother.
Do not modify or attempt to service this unit, as it may not operate correctly afterwards.
Never point the nozzle at yourself, another person, pet, ex-partner or any object you do not want covered in foam.
Never leave unit unattended while pressurised.
Always depressurise unit after use (as described in the After Use instructions). Always store unit depressurised.
Do not pressurise unit by any means other than the built-in pump assembly.
Do not modify or remove pressure relief valve. Do not use unit if pressure relief valve is not operational.
Always flush the unit with fresh water, including pumping fresh water through The Frother after use and when switching from one product to another.
Always carry unit with the side handle. Never lift or carry the unit by the pump handle.
Never use unit with solvents, hydrocarbons, acids or flammable products.
Do not leave for extended periods in the sun or exceed a fluid temperature of 37℃.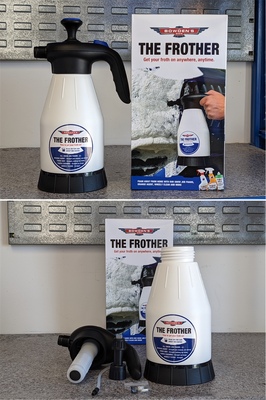 Using The Frother
Ensure all air pressure is released from the unit by activating the pressure release valve (blue ring located on the right side of the pump head).
Securely hold the unit and unscrew the pump assembly from the tank in a counter-clockwise motion.
Fill tank to no more than 1.5 litres with water and concentrate (like the Snow Job foam) or our other ready to use products. Note: do not overfill tank with liquid. If using any of our snow foam liquids, be sure to remove 2 foaming pucks from the nozzle and put the middle sized spacer in. For all other products, take the spacer out and put the 4 pucks back in.
Securely hold the tank and screw the pump assembly back on in a clockwise motion. Shake well if you added a concentrate to the water.
Pressurise the tank by pumping approximately 20 to 30 times, or until it becomes difficult to pump. Note: you will hear the pressure relief valve release if the air pressure is too high (over 44 PSI).
To start foaming, point the nozzle assembly at the area you wish to foam, at a distance of 20cm-30cm from the surface. Press down on the top blue thumb button to discharge foam. Move in a side to side motion and release the thumb button to stop foaming.
Try and hold The Frother in a flatter position while foaming, as it won't pick up the liquid as well when tilted too far on its side, especially when close to empty.
When the foaming slows down, re-pressurise with another 20 pumps and keep foaming.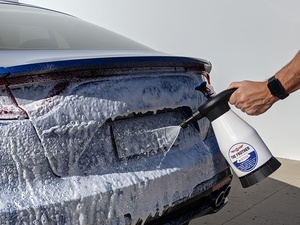 After use
Release air pressure from unit after each use by activating the pressure release valve (blue ring on the side of the pump head).
It's recommended to empty out any remaining product, rinse with water and then pump fresh water through the unit to rinse all parts thoroughly after each use and before storage.
It's also a good idea at this point to unscrew the end of the nozzle, remove the pucks and give them a good rinse in fresh water to remove any remaining product. Re-sit the pucks, making sure they align properly, then screw the end nozzle back on.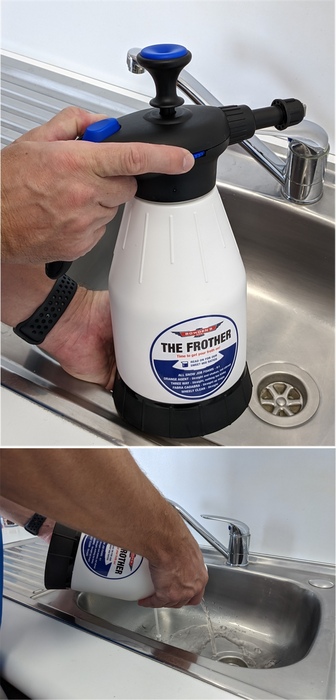 Maintenance
To keep your Frother operating properly, periodically perform the following maintenance procedures:
Check the pump assembly for wear and leaks.
Grease the wand attachment gasket and o-ring at least once a year.
Check the suction tube and pick up tube filter for debris and clean as needed.
Replace foam pucks inside the wand as needed. Call Bowden's Own on 1800 351 308 for replacement pucks or email cannonservice@bowdensown.com.au.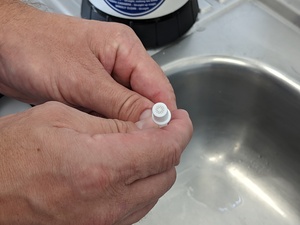 The Frother can be used for a variety of jobs
Be sure to read and follow the "Using The Frother" and "After use" section in the guide here before starting any of these jobs. Also read the respective product instructions for more application details.
You can find instructions on how to use each individual product in more depth at the following link: www.bowdensown.com.au/how-to-use.
It can be handy and cost effective to get 5 and even 20 litre bulk bottles of our products that are used in The Frother.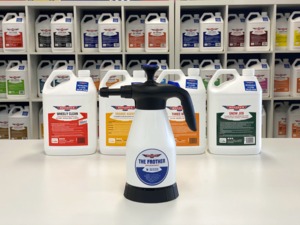 Snow Job Pre Wash
Use The Frother to apply the Snow Job or Mega Snow Job foams as a pre wash, to help minimise the chance of swirls and scratches in your paint before hand washing.
Work in the shade on panels that are cool to the touch.
Fill with apprxoimately 1.3 litres of water and 150ml (or a 9:1 ratio) of our Mega Snow Job (recommended as it cleans better), or the original Snow Job foam.
Apply foam to the lower, dirtier sections of the car and leave to sit for 3 to 4 minutes, but don't let it dry.
Hose off with a strong stream of water, or with a pressure washer if one is available.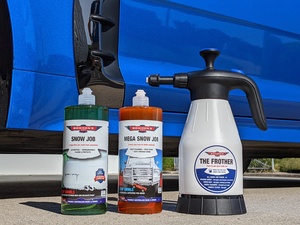 Change foaming levels
The Frother comes set up for maximum dry foam, but you can reduce the foam levels for a wetter foam by removing the foam pucks and adding the relevant spacers if you wish. 2 pucks with the middle spacer is recommended for all of our snow foam concentrates, while all 4 pucks with no spacers are recommended for all other products (Orange Agent, Wheely Clean, Three Way etc)
Remove the wand tip by unthreading it and releasing the o-ring seal and 110 degree fan tip. Do not lose these!
Remove the 4 foam pucks from inside the wand tip.
Reinsert 1 to 3 pucks, depending on your needed foam levels - less pucks = more wet foam.
Insert the relevant plastic spacer (these are inside The Frother bottle in a plastic bag when new). Black spacer for 1 puck, clear spacer for 2 pucks and white spacer for 3 pucks.
Put the o-ring seal back on, then hold the end of the 110 degree fan tip in the upright direction, while screwing the wand tip back on. Keep any removed foam pucks in a handy location if you wish to use them again.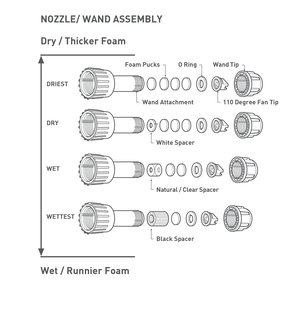 Wheels and tyres
Use The Frother with Wheely Clean for heavy brake dust, or Orange Agent for convenient foaming. Be sure you have 4 pucks in The Frother for optimal foaming of Orange Agent and Wheely Clean.
Work on one wheel at a time, in the shade and on wheels that are cool to the touch.
Pour Wheely Clean or Orange Agent into The Frother and fill to the 1 litre mark.
Apply and allow to sit for no longer than 1 minute and agitate with our different wheel brushes.
Hose off with a strong stream of water, or with a pressure washer if one is available.
Apply our Wet Dreams sealant while the wheel is still wet to add protection and shine and make the wheels easier to clean next time.
See our detailed wheel cleaning guide below for more info: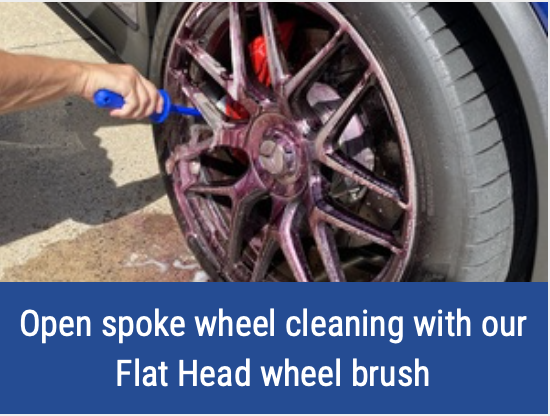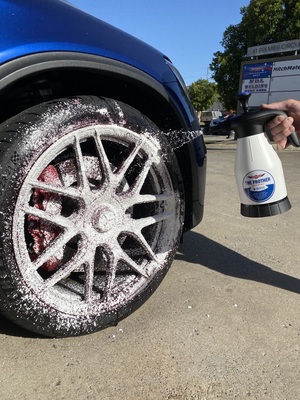 Engine bays
The Frother is great for a nice dry foam in engine bays, to allow a longer dwell time. Adjust pucks as needed - we find 4 pucks best for foaming with Orange Agent.
Use on a section of engine at a time, cover electricals and ensure it's cool to the touch (including rubber hoses).
Fill with Orange Agent to the level you feel you will use.
Foam on and then agitate with one of our bigger Foursome round detailing brushes. Do not leave Orange Agent on for too long or allow it to dry.
Hose off with a gentle stream of water, then blow excess water away with a portable blower.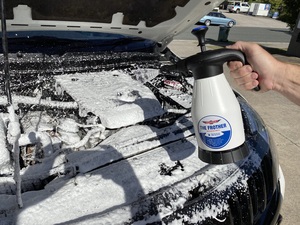 Paint decontamination
Handy if you're doing multiple or bigger cars, instead of using a trigger sprayer. Adjust pucks here as needed - we find 3-4 pucks best for use with Three Way.
Work on a panel at a time, in the shade, on panels that are cool to the touch.
Fill with Three Way to the 1-1.5 litre mark.
Foam onto a clean and dry panel and leave to sit for 1 minute.
Gently rub over the surface in straight lines with our Claying Rubber if you'd also like to do a mechanical decontamination at the same time.
Wait 1 more minute and then thoroughly rinse the panel off with water.
For a more detailed guide on our Three Way iron decontamination, see our guide here: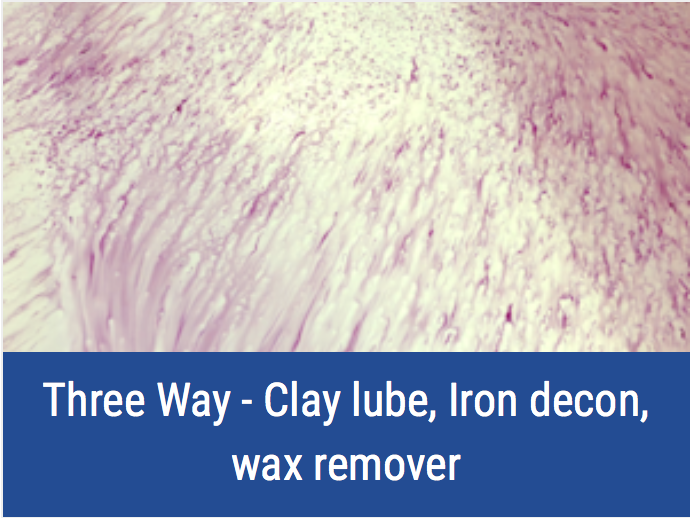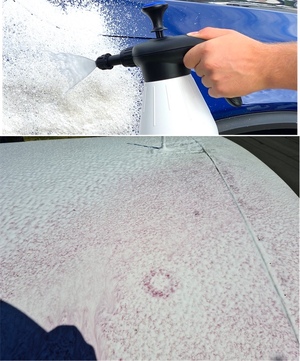 Removable carpets and mats
The foaming is ideal for the cleaning of carpet or rubber mats. Adjust pucks as needed - we find 3-4 pucks ideal for Fabra Cadabra and Sublime Clean.
Remove mats from the vehicle, dust off as much as you can and vacuum first if they are carpet.
Fill The Frother to the 0.5 to 1 litre mark with Fabra Cadabra for carpet, or Sublime Clean for rubber.
Spray an even layer of product onto the surface without saturating the material.
No need to let it dwell - agitate straight away with our Plush Brush in a side to side motion for epic cleaning.
Rinse off rubber mats with water, or vacuum with a wet and dry vacuum on carpets.
Leave mats in the sun till they are totally dry, before putting them back in the vehicle.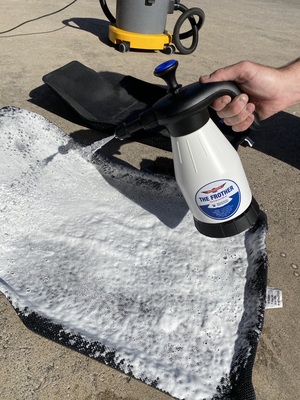 More things to know
If when using your Frother you get a "silly string" type of consistency coming out of the spout, pump The Frother more until it becomes difficult to pump, then try again.
If your Frother doesn't pump anything out when you push the button, it's likely that there is a small blockage of some kind in the puck section, or you've over pressureised it. De-pressurise slightly by using the pressure release valve on the side of The Frother, then try again. Alternatively, unscrew the end assembly, remove the pucks and rinse them out, re-sit the pucks and screw the end assembly back into place. Re-pressurise The Frother and try again.

Questions or issues?
The Frother is a great addition to your detailing kit if you don't wanna get the pressure washer out, you're on holidays, out and about, or you just want a great tool like this to help and assist your detailing regimen.
If you have any issues with your Frother, get in touch with us and we will do our best to help you out. Call us on 1800 351 308, or email cannonservice@bowdensown.com.au.
The Frother will initially be available from Repco only, with the Mega Snow Job currently available through Repco and Supercheap Auto stores.
To find your local store, click our Store Finder link here - https://www.bowdensown.com.au/store-finder/
Get your froth on and happy detailing,
Brett Hobbs.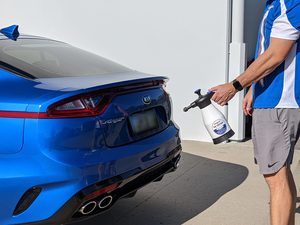 ---