Open spoke wheel cleaning with our Flat Head wheel brush
Cleaning your wheels can be one of those jobs that can take a while to do when you don't have the right products or equipment. This can lead to it feeling like a chore, and that's certainly not something we want when detailing our vehicles - wheel cleaning should be quick, easy and fun!
With our Little Chubby, Big Black One and Foursome brushes already in our line up, we wanted to make something unique that can get into the wheel barrels, and also behind the calipers on most wheels. In the wheel barrels is where a lot of brake dust builds up over time, and it can make an otherwise clean wheel, look dirty.
Our Flat Head brush has been custom made to get into the wheel barrels and clean them effectively, working really well in conjunction with Wheely Clean, Orange Agent and our washes.
The Flat Head
The Flat Head is a custom made brush, made for us by a local family business, to our specifications. About a year of testing went into this brush, testing lots of different iterations with slight variations in design, construction, plastic types, thickness, microfibre types and a host of other criteria that were extremely important for us in this brush. Some of the key features of The Flat Head are:
Non-slip ergonomic handle with a knuckle protector and long shaft to keep you well away from wheel grime.
The brush tip has been designed to flex, making it more versatile in and around the contours of many wheels.
Removable microfibre sock, with a tight elastic banding, so it can be washed or replaced if needed.
Tapered flat head design helps get into tighter spaces with ease.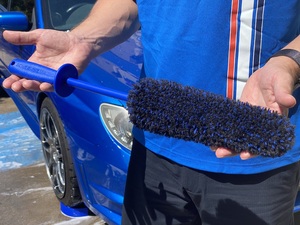 Setting up
Working in the shade, on wheels that are cool to touch, get all the gear ready that you're going to use for cleaning and protecting your wheels. With your pressure washer set up and ready to go, you'll need to get the following gear ready:
Wheels Bucket
Wheely Clean
Wet Dreams
Your favourite wash (we're using Nanolicious Wash here)
The Flat Head brush
Little Chubby Brush
Big Black One Brush
Nuts & Guts Brush
Boss Gloss
Dirty Deeds cloth
All Sorts applicator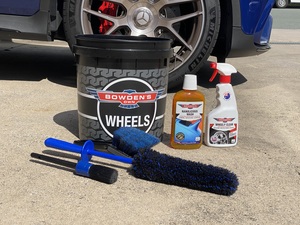 Cleaning your wheels
Put a capful of your favourite wash into a 3/4 full Wheels bucket, then froth it up with the pressure washer to get a nice head of suds.
One wheel at a time, shake your bottle of Wheely Clean, then lightly mist the wheel face, being sure to get it into the corners and crevices of the wheel. Leave it on the wheel for 45 seconds - 1 minute until the purple reaction reaches its peak (if it starts to go yellow, it's past its peak - you want to be cleaning the wheel before it starts to turn yellow).
Dip The Flat Head brush in the wash suds solution, take it to the wheel and begin cleaning the inside barrel at the top of the wheel. Work your way in one direction around the wheel in and out of the spokes, dipping the brush back into the suds solution as needed, to clean the brush out and get more wash suds as you go. Be sure to get in behind the brake caliper - this is a great feature of this brush with the flat and flexible end.
With the inside barrels done, grab the Little Chubby brush, dip it into the wash suds and begin cleaning the wheel face, starting at the top of the wheel and working your way around, being sure to get into corners and crevices.
Use the Nuts & Guts brush on wheel nuts, tyre pressure valve and any hard to reach areas that the other brushes couldn't get to.
Now rinse the wheel thoroughly with the pressure washer, being sure to remove all the suds from the wheel face and the inside barrels.

Protecting your wheels
Putting some protection on your wheels is so easy with our Wet Dreams spray on, rinse off sealant.
Be sure the wheel is wet by quickly spraying it with the pressure washer. Spray 8-10 sprays of Wet Dreams onto the wheel in a sweeping motion, then immediately pressure wash it off, using a methodical action to reveal that sweet bead porn. This adds a protective layer to the wheel that will make it harder for brake dust to stick to, and also make the wheel easier to clean next time.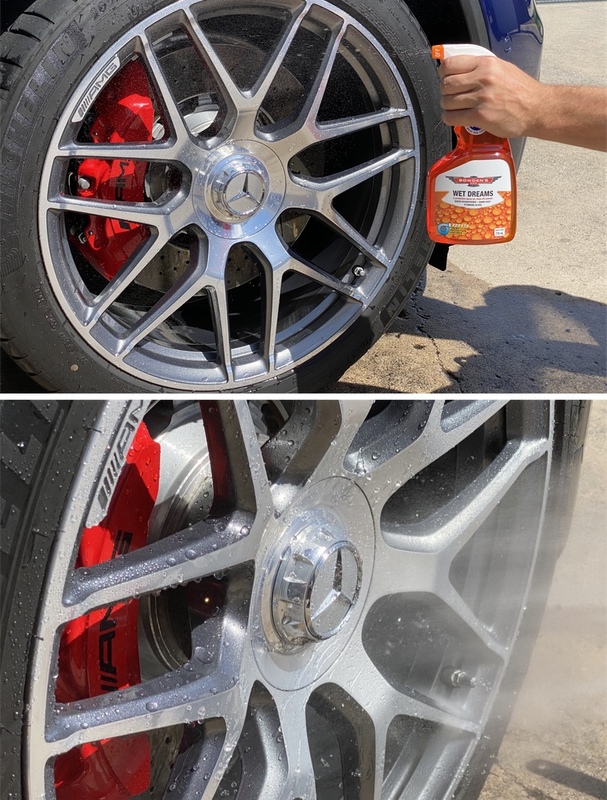 Drying wheels and tyres
After rinsing the Wet Dreams off thoroughly, it's a good idea to dry your wheel and tyres, to prevent water spots on the wheels, and also to make sure the tyre is completely dry before applying Tyre Sheen.
Spray 4-6 sprays of Boss Gloss into a Dirty Deeds cloth and go around the wheels one at a time and dry them well. You could also use a small battery powered blower to remove the bulk of the water first, then dry up any left overs with the cloth.
After you've dried the wheel, dry the tyre last.
Now apply Tyre Sheen with our All Sorts applicator. Spray 4-5 sprays of Tyre Sheen straight into the applicator and wipe it thoroughly into the tyre. Give the product 5 minutes to dry and cure and you're good to go!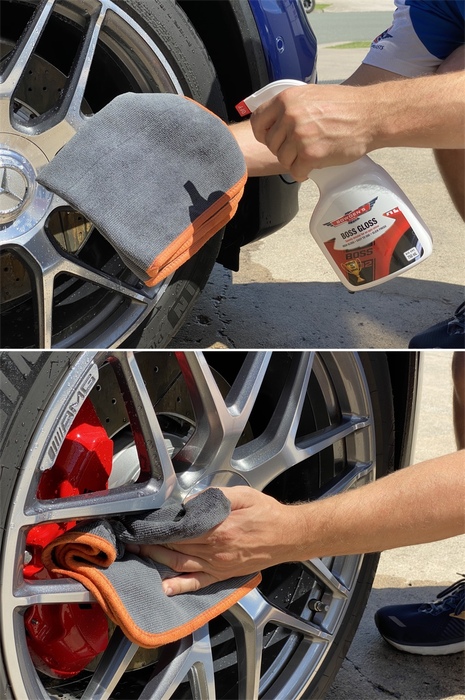 Cleaning and caring for your Flat Head
After use, rinse the microfibre sock head out in fresh water. Then air dry and store in a well ventilated area either by hanging it up with the hole in the handle or in your Wheels bucket.
If it's really dirty, you can take it off and wash it in some Microfibre Wash in a Microfibre Bucket, or throw it in the washing machine by itself for a clean.
If the sock ever needs replacing, you can purchase them separately and put it on the brush head and away you go - no need to buy a whole new brush!
Questions?
The Flat Head brush is in Autobarn stores now, and can be special ordered from our other supporting retailers with part code: BOFHEAD.
If you have any more questions about The Flat Head brush, or wheel cleaning in general, drop us an email to info@bowdensown.com.au or FREECALL 1800 351 308.
Happy Detailing,
Brett Hobbs

---