Get Inta-Mitt with Your Glass
8 January 2021

Getting your interior glass clean can be a damn tricky and frustrating task involving multiple cloths and a never-ending quest against random lint and streaks that seem to magically appear out of thin air. But, now we have a solution to help you easily get clean, streak-free glass without having to subscribe to the dark arts. Meet The Inta-Mitt, your new glass cleaning companion.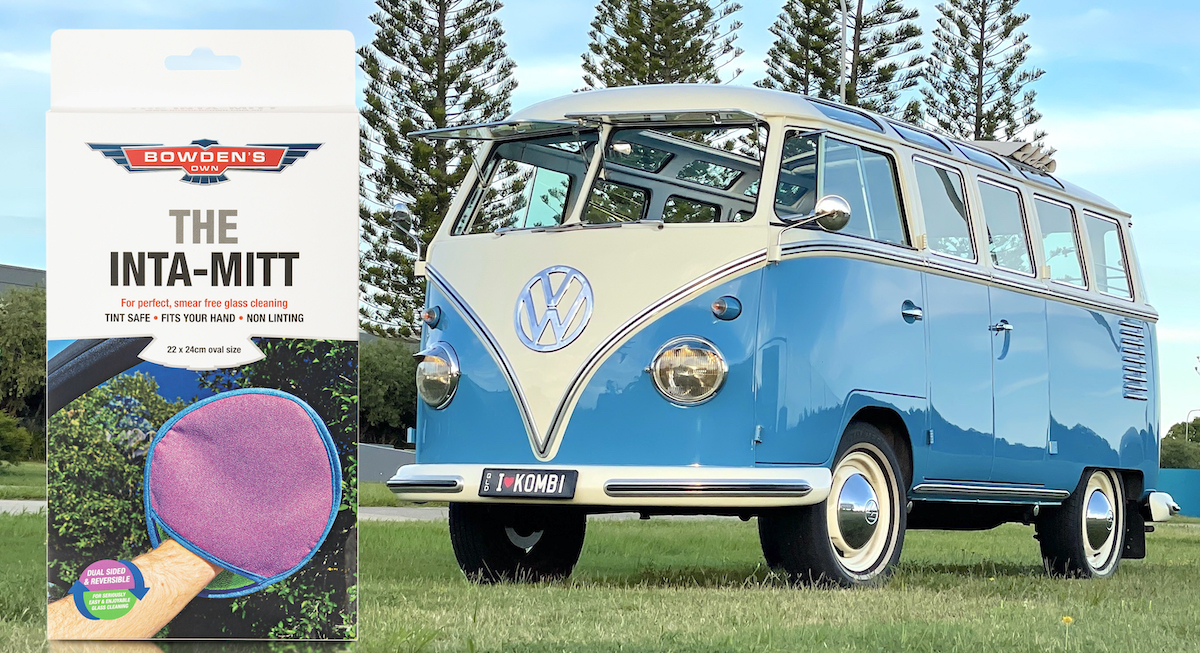 OUR INTA-MITT MOMENT
While we found the combo of Naked Glass and a Big Softie gave great results, as did the Green Clean Glass Cloth we use without the glass cleaner, but we still felt we could do even better. And so began our quest for an even better dedicated glass system. After numerous trials, we found we got epic results from a combination of two different cloths; a twist pile for effective cleaning, and a flat pile low-resistance microfibre that doesn't bunch up, to get that perfect no-smear finish. But between dropped/misplaced cloths and holding the spare cloth in our teeth (yep, it's as gross as it sounds), the double-cloth balancing act wasn't really working for us. So we combined the two cloths into an effective and crazy-convenient mitt that now makes this job a total breeze!
THE INTA-MITT MAKING A COOL 23 WINDOW MICROBUS EASY
Thank you to Froggy at Deluxe Kombi Service for letting us clean his Kombi's amazing amount of glass!
TWO FACED CLEANING, IT'S A GOOD THING
There really is two sides to The Inta-Mitt story - the clean side and the finish side, helping you get really fantastic results without having to turn to the dark side.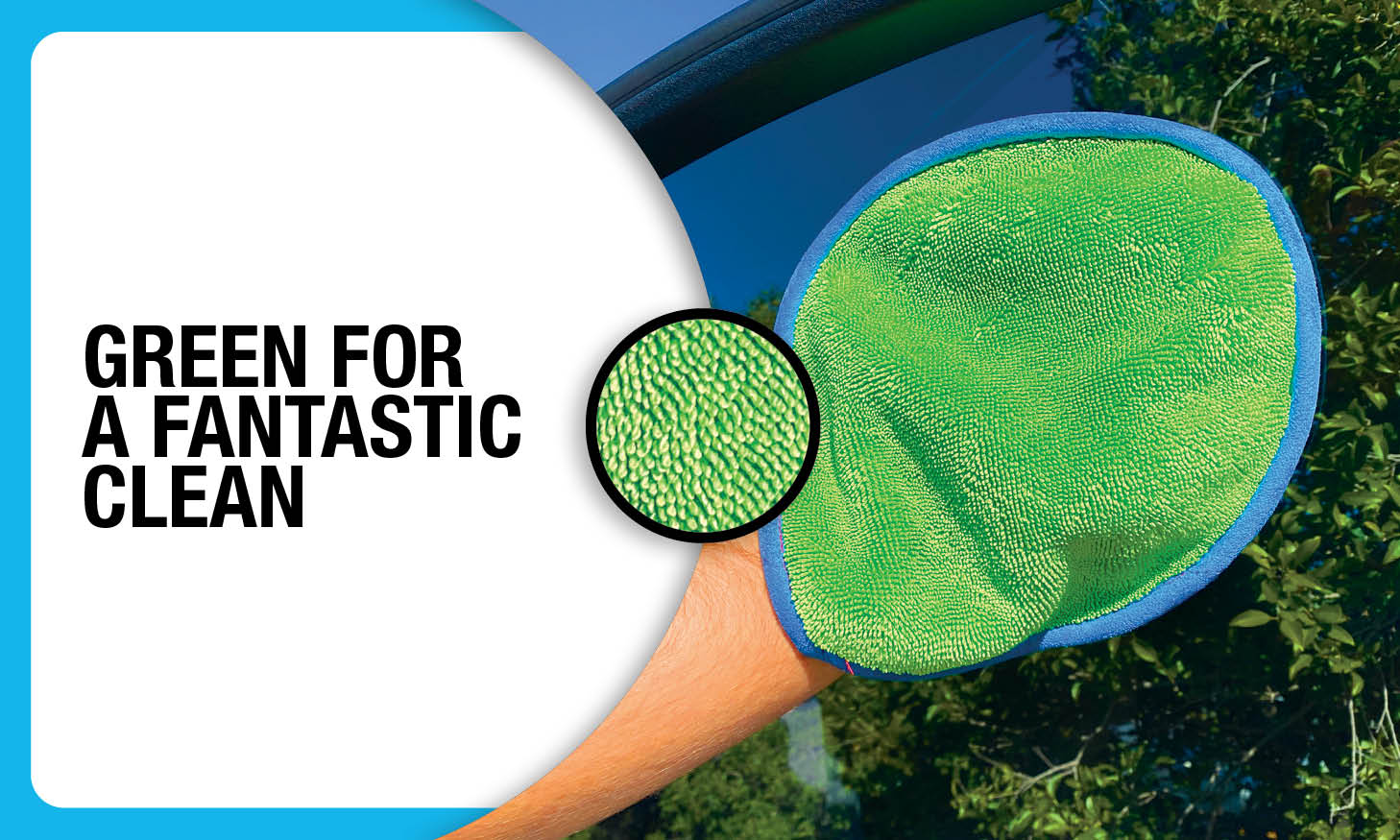 The Inta-Mitt's green side is a twist pile microfibre for fantastic initial cleaning, plus the specially designed fabric/weave combination is less absorbent, so it uses less product than plusher cloths.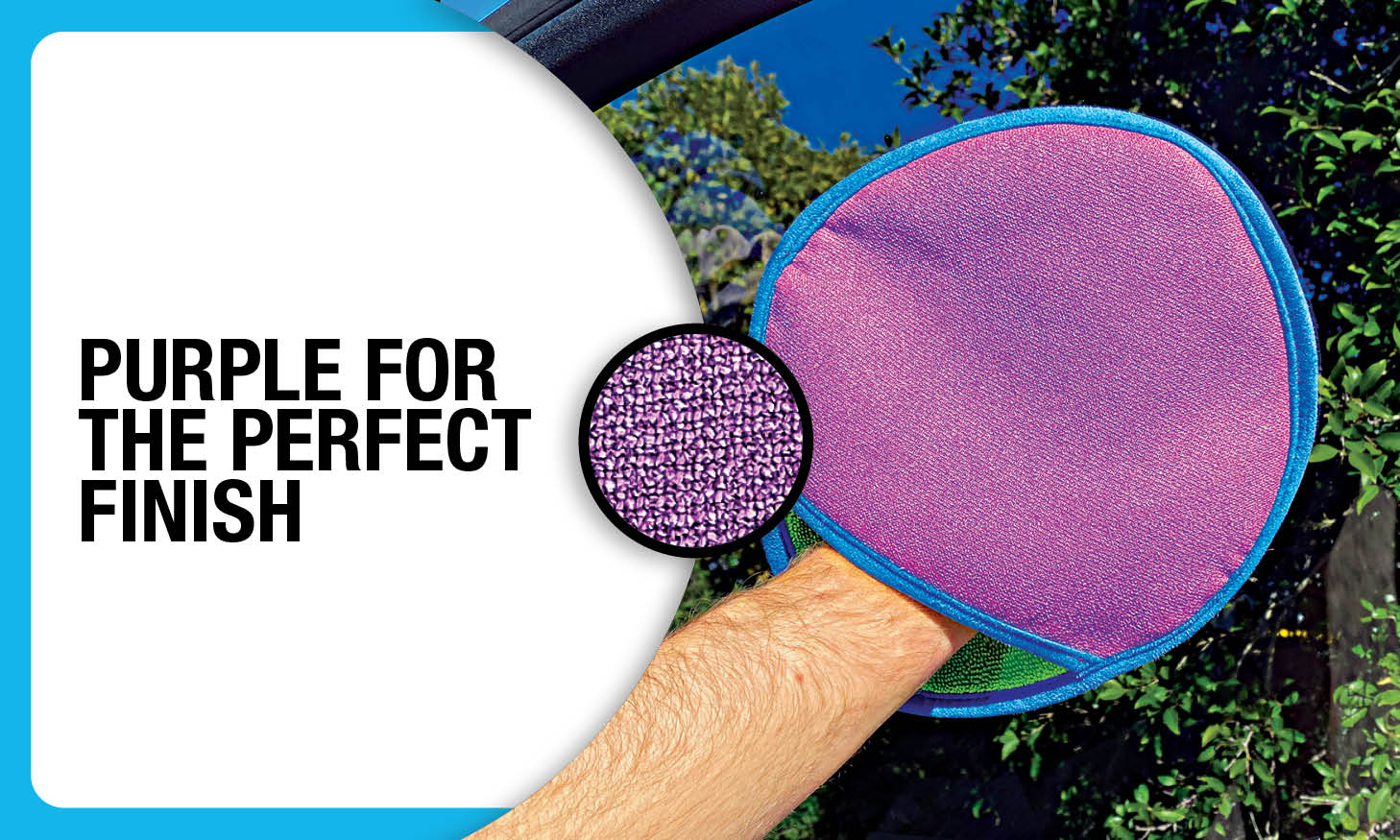 The Inta-Mitt's purple side is a low-drag textured microfibre side that that doesn't bunch up, allowing it to glide over the glass surface and remove any smearing for that perfect finish.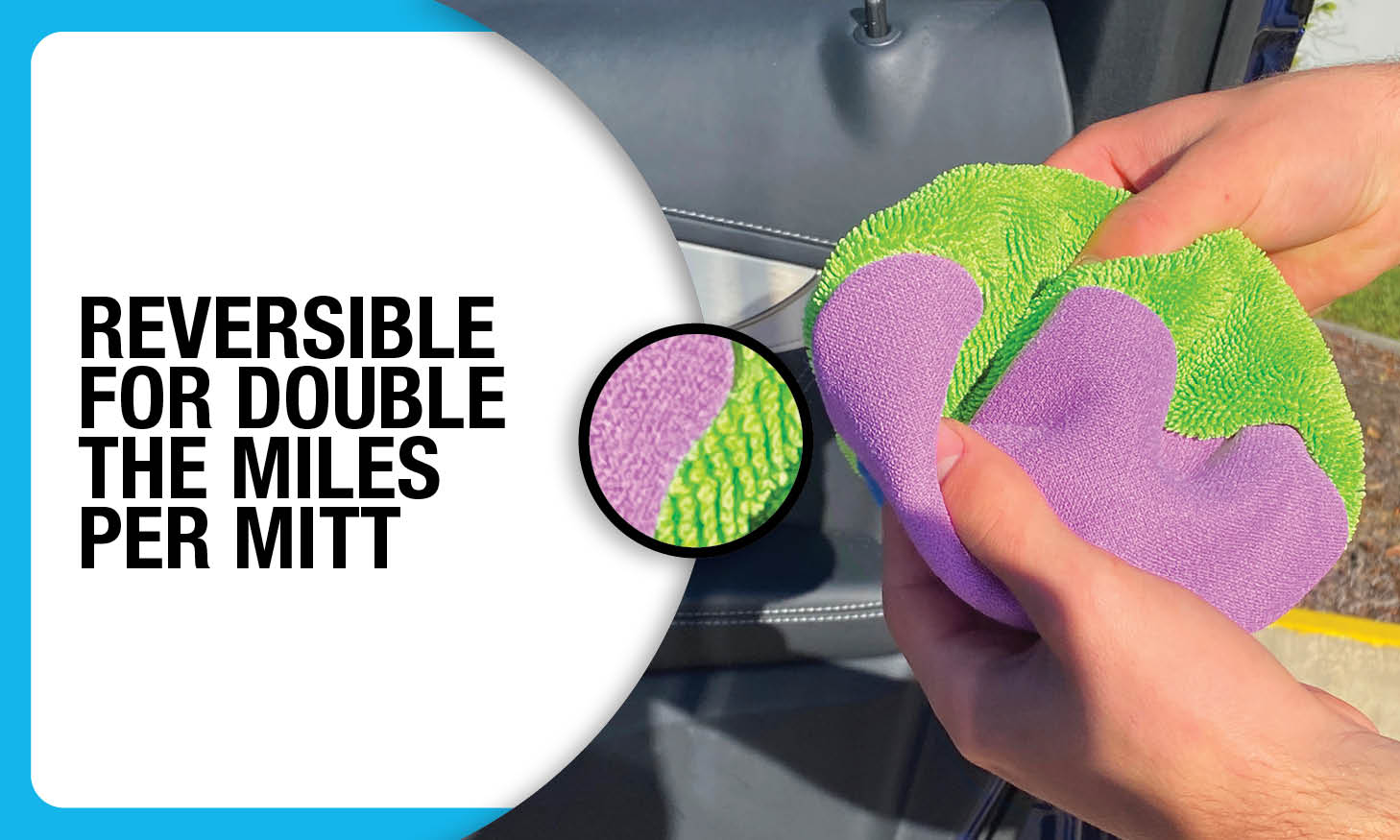 Go twice as far, as the Inta-Mitt can be turned inside out when the green side becomes dirty or oversaturated. Then keep on happily cleaning with the fresh new clean sides of the mitt.
OTHER LOVEABLE INTA-MITT FEATURES
Easily flips to the opposite side while you're wearing it, for faster cleaning.
Fully reversible, just turn it inside out when it's dirty and you can keep cleaning.
Easily squeezes into those tight hard to reach corners of your windscreen.
Made from long-lasting material that's machine washable and lint free.
Fits your hand to prevent dropping and is a true fashion statement (it's totally glassy).
NAKED GLASS - THE PERFECT INTA-MITT COMPANION
Combined with our super popular Naked Glass, The Inta-Mitt makes getting that perfect, smear-free glass finish we all strive for so easy, you'll be looking forward to having more Inta-Mitt moments with your glass.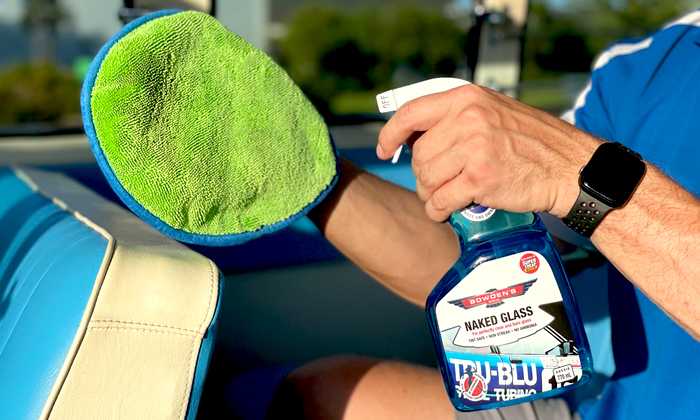 WHAT'S THE DIFFERENCE BETWEEN THE INTA-MITT, BIG SOFTIE AND GREEN CLEAN GLASS CLOTH?
The Inta-Mitt uses a twist pile loop microfibre on one side and a low drag, textured microfibre on the other side. The green side is perfect for use with glass cleaners, before flipping it over to the purple side for a streak and haze free finish.
The Big Softie cloth uses a different type of split ultra microfibre, which is good for glass cleaning too, but we've found the combination of microfibre on the Inta-Mitt to be much more suited for really effective glass cleaning.
The Green Clean Glass Cloth uses a short nap, low drag microfibre. This type of microfibre is very good at removing haze from the inside of a windscreen, but they are not suited for use with glass cleaners.
Is the Inta-Mitt made in Australia? Unfortunately no company or individual is making any microfibre of any type here in Australia. This comes from the local textile industry beling killed off in the late 80's thanks to government decisions at the time. Microfibre is all made in China (cheaper) and South Korea (better) these days. We still believe the best quality material comes from South Korea (and it's also not an oppressive sweatshop situation like you see in China), so that's what we use. One day we'd LOVE to be in a position to be able to use an Australian microfibre, but with the millions of dollars that needs to be invested in machines alone, let alone the small market for specialised cloths here in Australia, it's sadly not something going to happen anytime soon. The Inta-Mitt was designed in Australia and all the packaging was designed and manufactured here, which is the very best we can do for now.
TIME TO GET INTA-MITT WITH OUR GUIDE
Looking for a little extra info and a few tips on getting lovely cyrstal-clear glass, we've got you covered with our in-depth glass cleaning guide.

WHERE CAN I GET INTA-MITT?
The Inta-Mitt is only $19.99, and we know you'll be (clearly) seeing the value after your first super-easy streak free glass clean. It's currently available at Super Cheap Auto, so ask for it at your local store or you can find it online here.

Love your car, love your glass… get Inta-Mitt!




Dan Bowden
---
---
Comments (1)
Inta mitt

By:

Julian Keating

on 9 January 2021

What a fantastic looking product you guys are always improving your products, can't wait to get one well done
---