Green is Good - The 2021 All Aussie Bucket
8 December 2021 Dan Bowden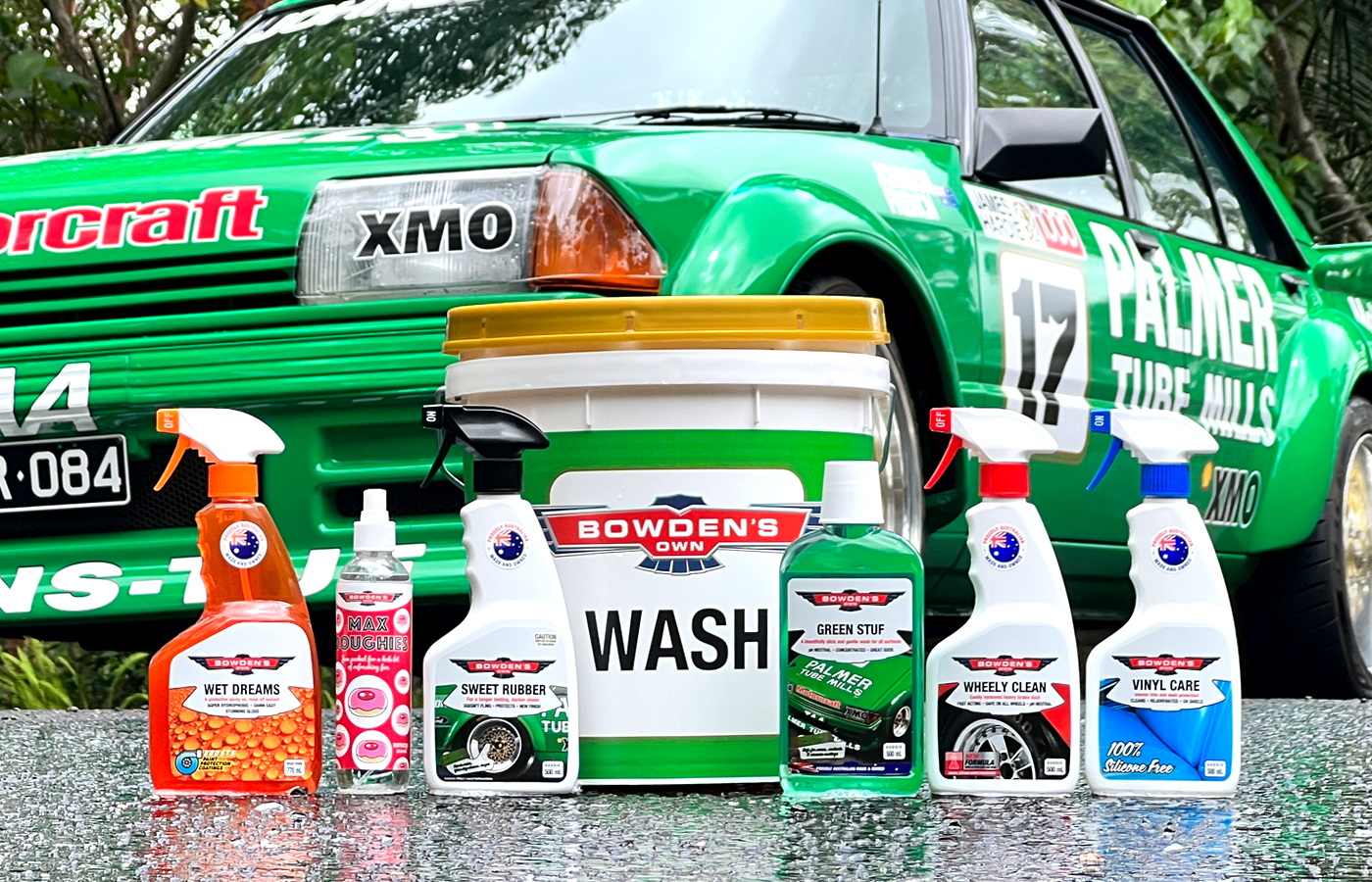 There are just some cars and performances that stick in your memory, and for us the mighty Greens Tuf XE Ford Falcon taking out the 1984 Australian Touring Car Championship is quite unforgettable. So this year's All Aussie Bucket is a tribute to the year that Dick stood proud on the podium at every round.

Thank you to Harry for the cool tribute Greens Tuf in this video and David for letting us shoot with the original Greens Tuf too - that is still unrestored, preserved as it came off the track with its super thin and delicate war paint from 1984. A total time capsule and part of the reason why we make car care.
But this year's All Aussie Bucket isn't just about a cool looking livery (although we do think it looks pretty sweet), inside our Green 'n' Tuf edition wash bucket you'll find a Falcon great collection of Aussie-made products to care for your pride and joy, including a few new special edition products you can only find in this year's All Aussie Bucket.
GREEN STUF SPECIAL EDITION WASH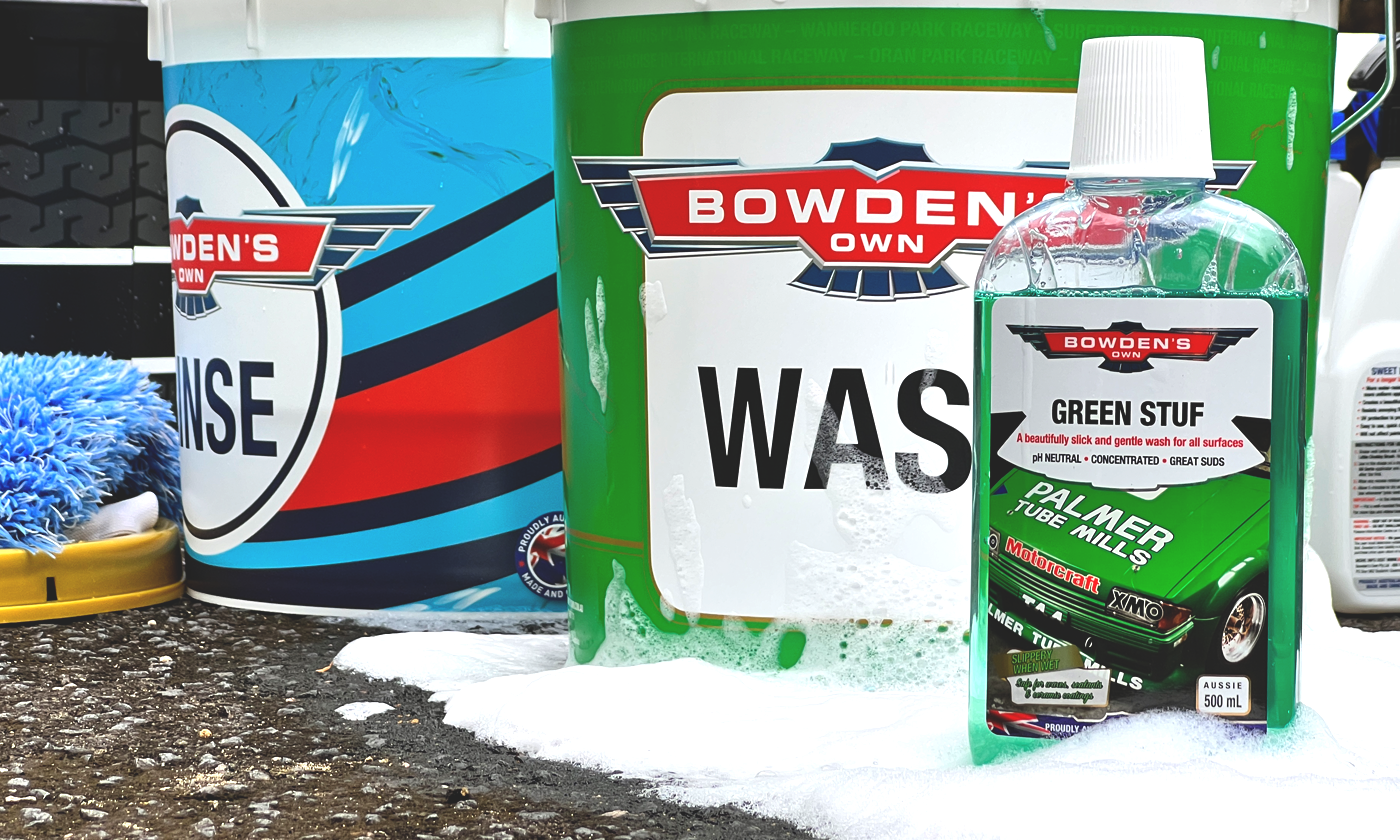 We're constantly trying new things and working on ways to make our products even better, and washes were something we've been working on in the background this last year. The result is this one-off wash - Green Stuf is a beautifully slick and effective pH-neutral formula that's great for all vehicles, with the thickest and most lubricating suds we've made in a wash to date, it also incorporates the latest anti-rust additives, is salt and silicone-free, effective but gentle cleaning and pretty forgiving to use in the sun. While it can't turn your car into a Bathurst-spec XE Falcon, we reckon you'll love the results and the sweet fragrance that'll definitely bring back a few great childhood memories.
NEW FORMULA WHEELY CLEAN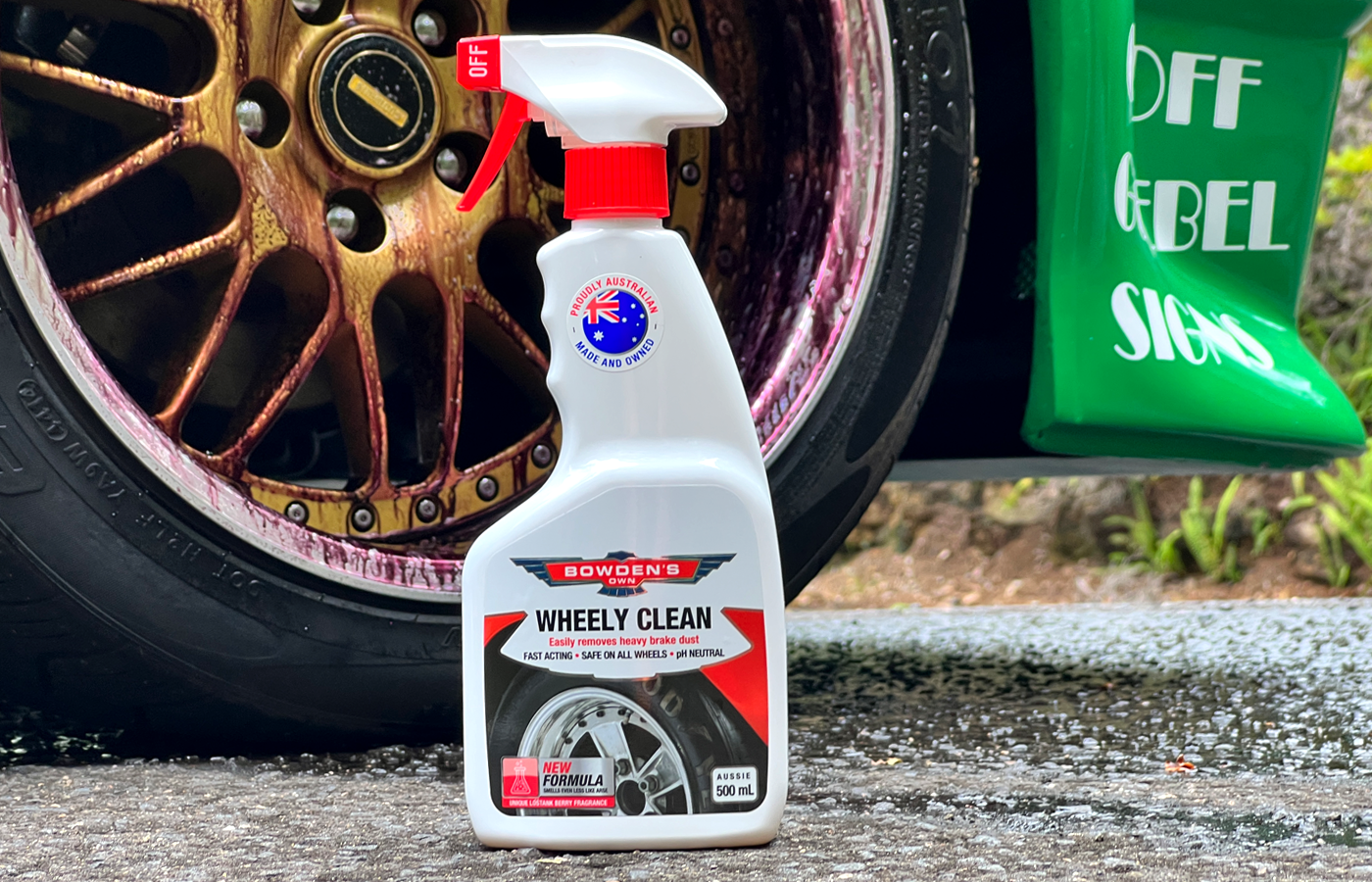 The Greens Tuf Falcon no doubt created some crazy brake dust pulling up that big 351 lump at the end of every straight, so it was a natural choice for us to include our new formula Wheely Clean in this year's All Aussie Bucket. Our latest formula has been formulated to be even more effective, with a strong focus on safely removing iron/brake dust and grime cleaning… and we think your nose will really appreciate that new Löstank Berry fragrance too!
A DREAM FINISH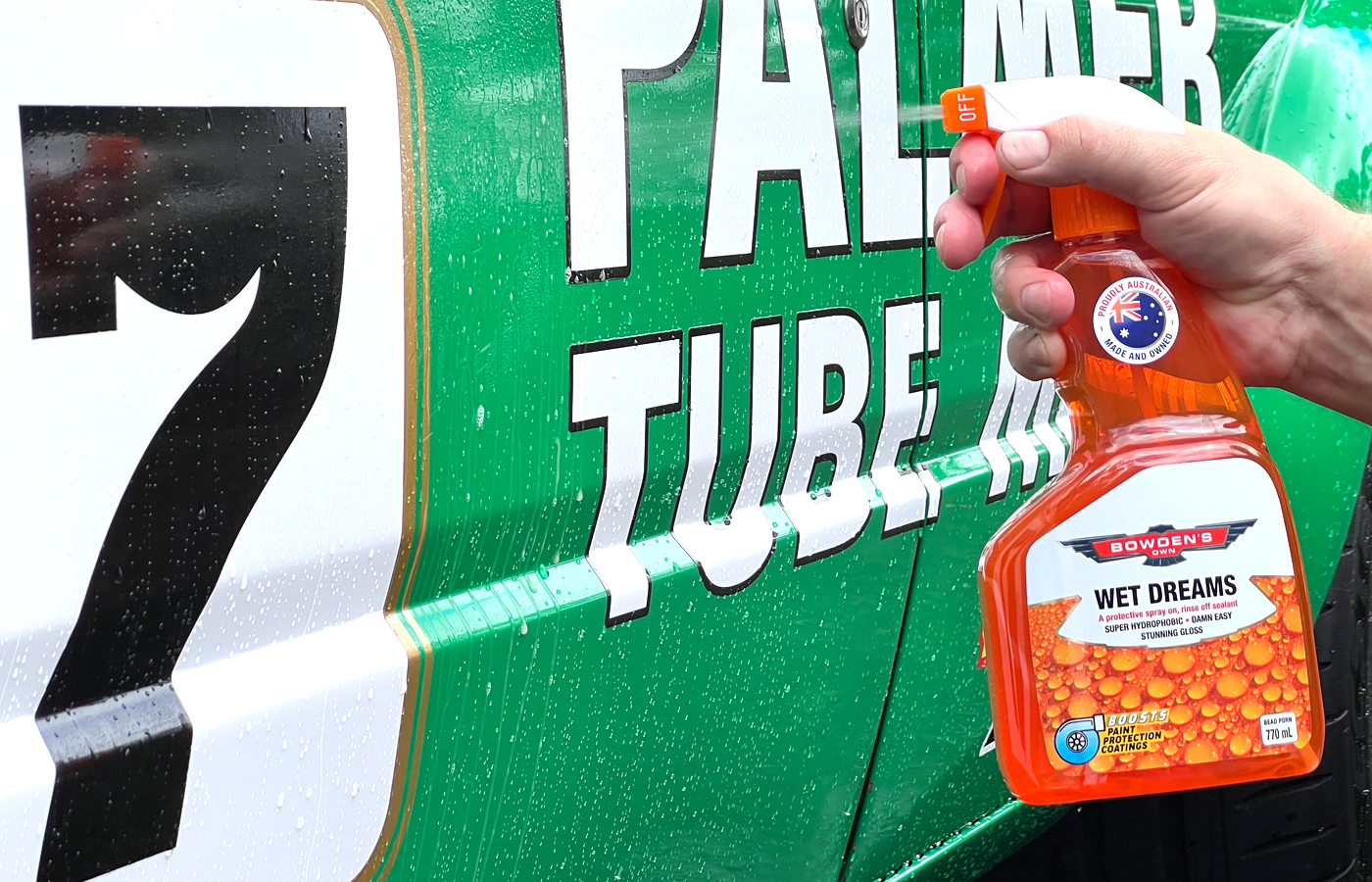 For that dream finish on your paint and wheels, we had to include Wet Dreams - our super-easy to use spray-on/rinse-off sealant, that gives super hydrophobic protection, as well as a stunning glossy finish and that slippery feel we just love. It works so well and is so easy to use, it feels like you're cheating.
SWEET RUBBER SPECIAL EDITION TYRE SHEEN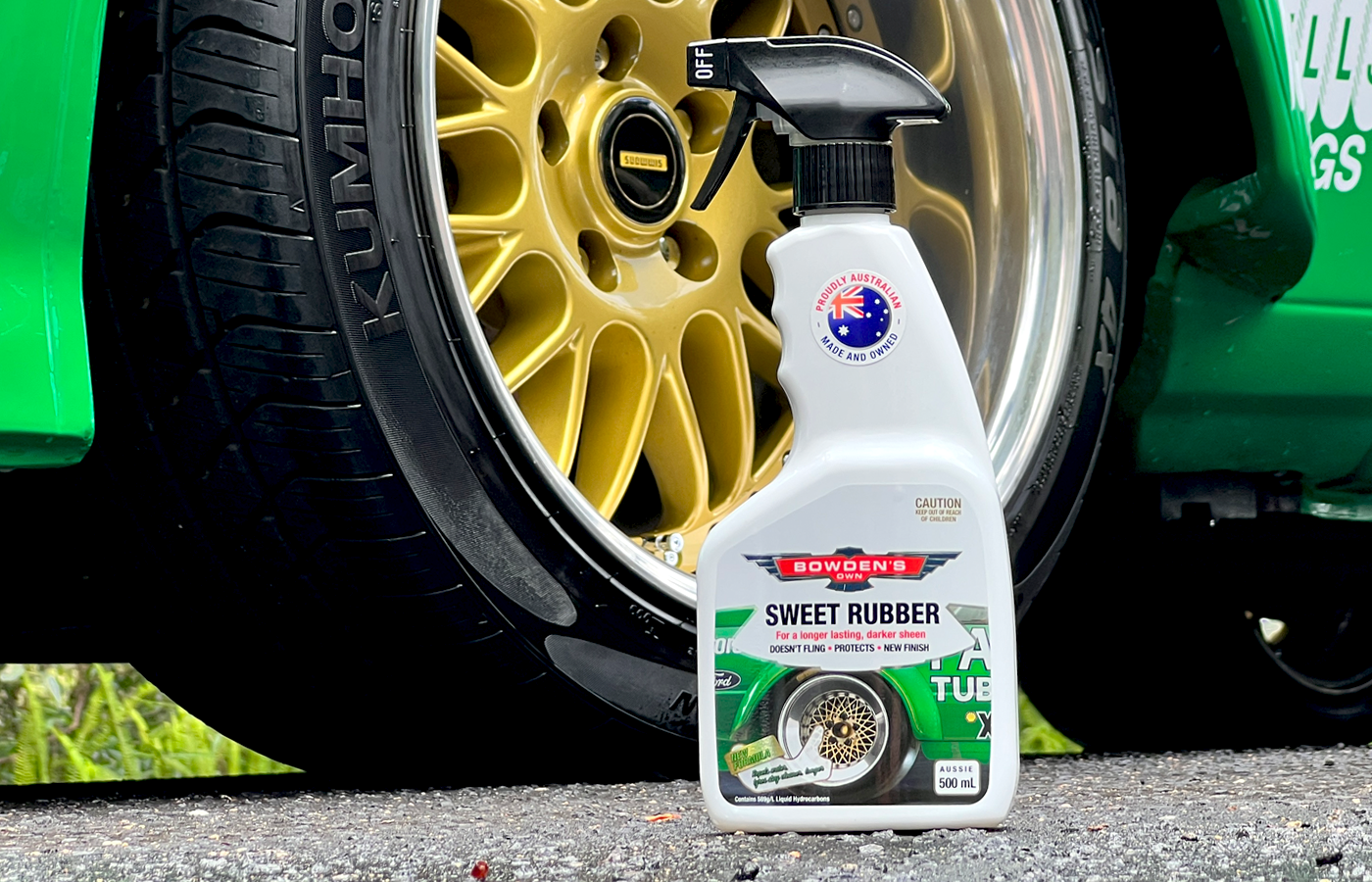 This one really lives up to its name, our mad scientists nailed this one in their quest for an updated Tyre Sheen. First off it smells so beautiful, our tech gurus actually made us add DO NOT SWALLOW to the label! Not only does it smell amazing, but Sweet Rubber also performs as good as it smells, with an updated formula that leaves a longer-lasting, darker, water-resistant finish, for that fresh new tyre look. It doesn't fling off down the side of your car either! We'll be excited to get people's feedback on it as we slowly edge towards an update to Tyre Sheen in the next year...
VINYL CARE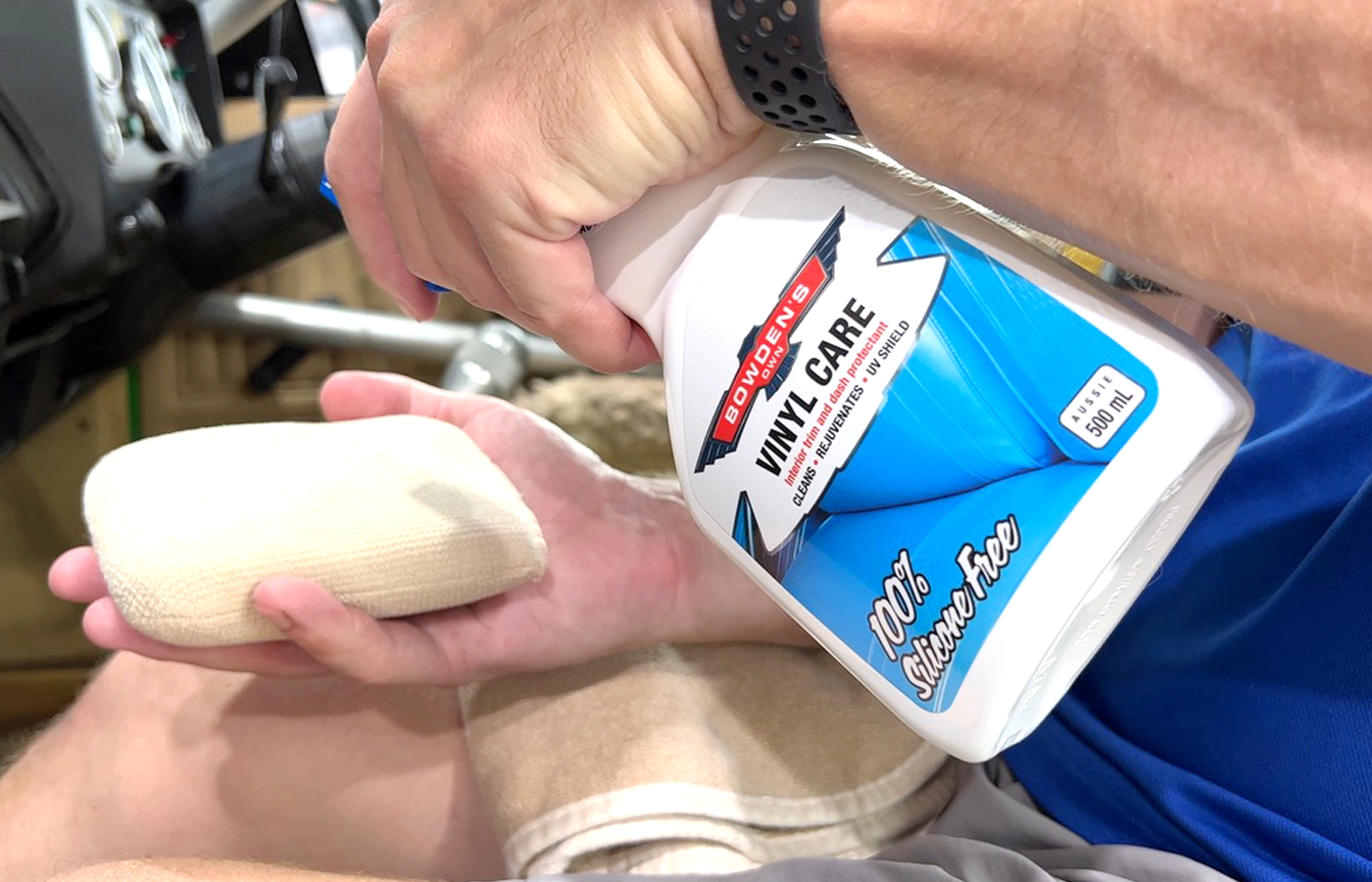 We couldn't leave out the interior… Vinyl Care gently cleans, rejuvenates and protects your interior vinyl, plastic and rubber in one quick step, restoring a mid-sheen finish like you see in just about all new interior plastics. With a silicone and solvent-free formula, it won't dry out surfaces and doesn't leave a slippery or greasy finish. It's also perfect for your dash as it won't become a shiny mirror, with those annoying and potentially dangerous windscreen reflections.
NEW MAX DOUGHIES AIR REFRESHER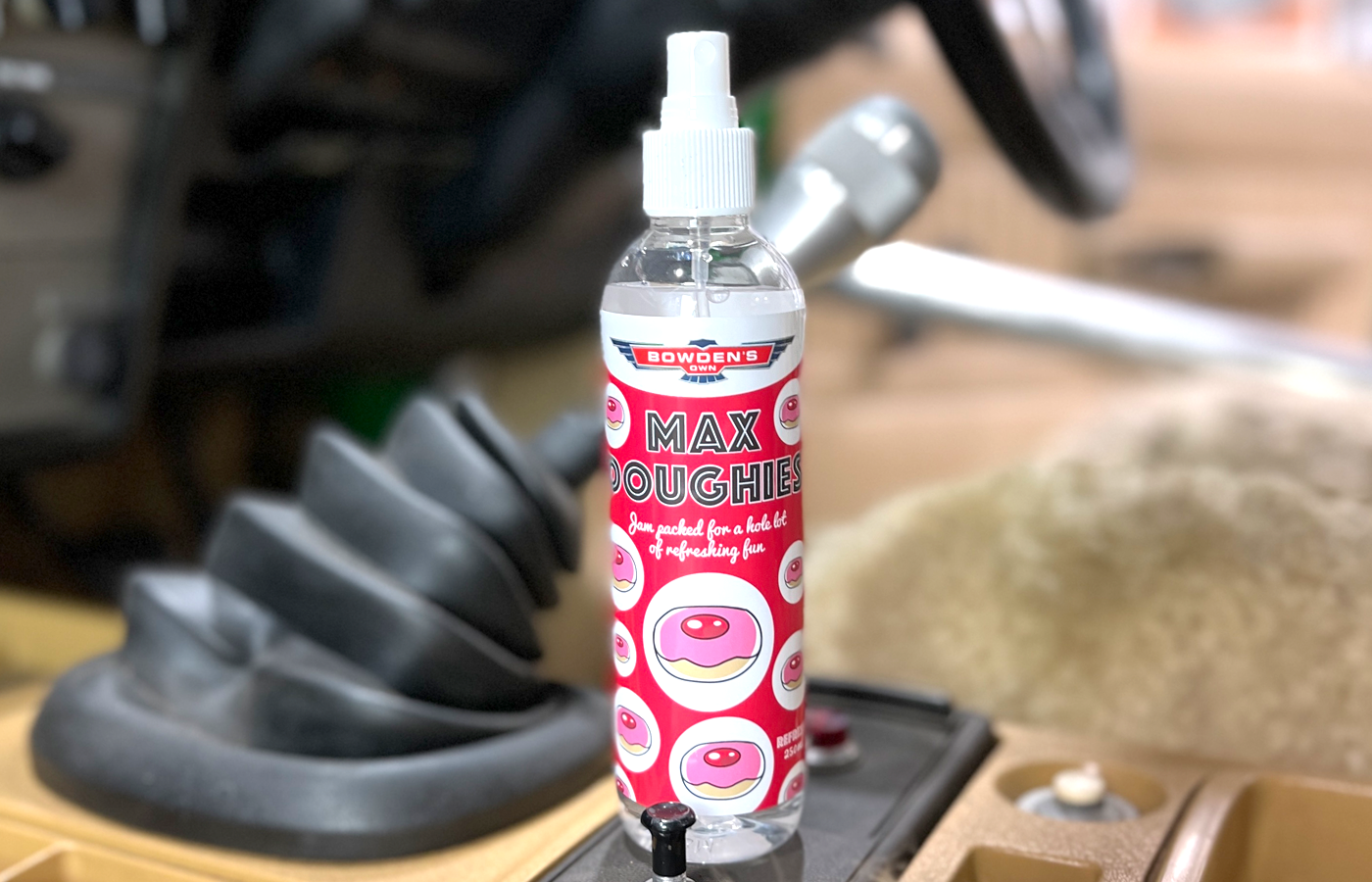 When you're talking about doughies with car people, a delicious fragrance isn't usually the first thing that pops to mind. So although we were tempted to create a burning rubber fragrance, instead we've jam-packed Max Doughies with a sweet and hole-some fun fragrance that's one of our other favourite doughie-based fragrances… you probably guessed it already… Jam Doughnuts! This delicious smelling little number was custom made exclusively for the All Aussie Bucket and we reckon you'll love this low calorie & guilt-free sweet-smelling treat.
FULLY AUSSIE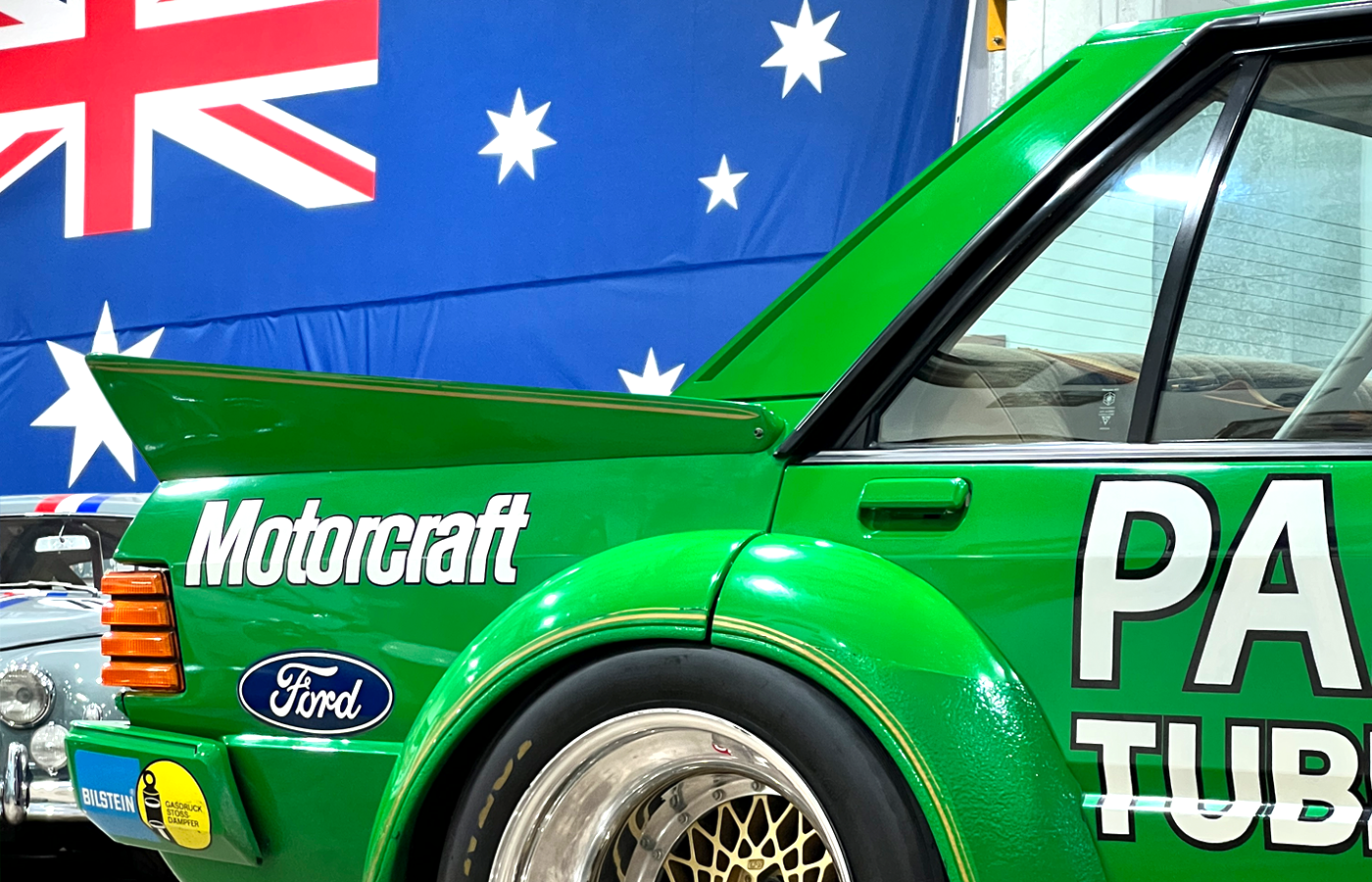 With the All Aussie Bucket, you'll be ready for just about anything the Aussie summer throws at your wheeled friend, and true to its name, everything in the All Aussie Bucket (and even the bucket itself) is proudly Australian made, supporting numerous local industries and helping create Aussie jobs.
BUCKET LOADS OF TIPS
We want you to get the best results possible, so we've pulled together some tips (you could say bucket loads) to help you get the best out of your bucket. Click the link below to check out our detailed guide.

And to top it all off (literally), after you're done, why not kick back and admire your handiwork whilst enjoying a couple of cool beverages served from the special edition gold lid/drinks tray.
GETTING YOUR BUCKET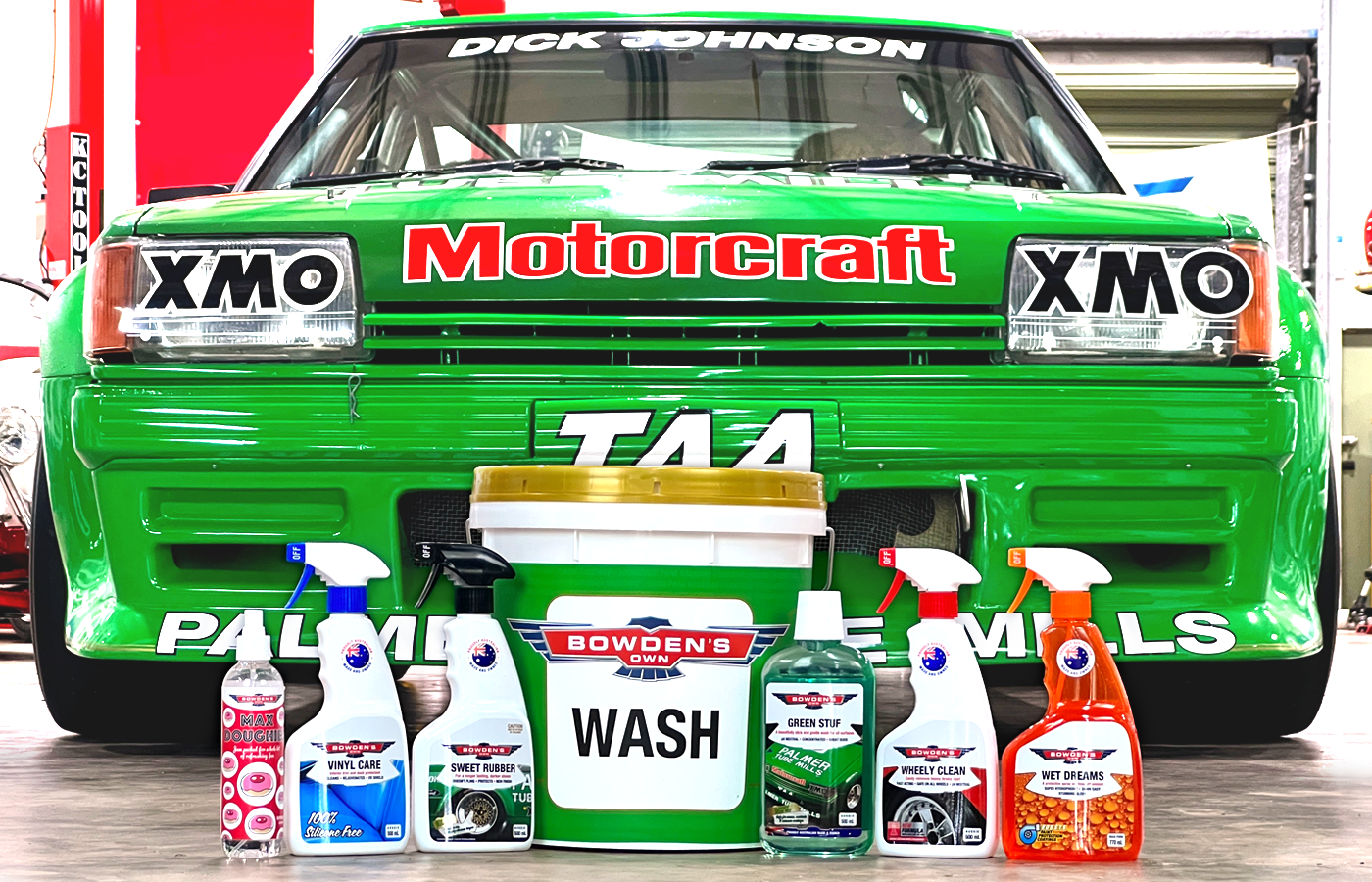 If you're keen for bucket loads of Aussie fun this summer, keep an eye out for the green and gold All Aussie Bucket at an autObarn store near you. But be quick, as it's strictly limited numbers and great value. If you're keen to lock yours in now, you can grab it from the autObarn website here.

Keep it green,
Dan Bowden
---
Comments (1)
Feedback from some of the 2021 All Aussie Bucket

By:

David Carriage

on 7 May 2022

Hi team. I've been meaning to get you some feedback on a couple of items in the 2021 all Aussie bucket. Firstly, I love Sweet Rubber. A little goes a long way and this new formula stays on and keeps my tyres looking fresh well after the application. I own a white FGX XR8 Falcon and I often get very positive comments when I'm out and about. Many ask how I get my tyres so clean and shiny black without being in your face glossy. Of course, I send them in the right direction. I loved Green Stuf as a wash. I'm sure it does everything like Nanolicious, however, something was just different. Would love to see Green Stuf added to the range full time. Max Doughies is a fantastic air freshener. I no longer bother using those unsightly air vent fresheners as Max Doughies does the trick. Whilst I get used to the smell after a couple of times in the car after an application, a passenger recently commented on how nice the car smelt roughly a week after I'd applied a fresh coating to the carpets. Lastly, the latest Wheely Clean formula is great. Wheely Clean is already great and the latest formula is no exception. Keep up the great work on your products. My car certainly appreciates them.
---