How to use your All Aussie Bucket - 2021
What's in it?
Inside the bucket, you will find a grouping of some of our favourite Aussie made products, with a few special edition custom formulas exclusive to this bucket thrown in for good measure. The products are designed to be used as a system to clean and protect the inside and outside of your beloved 4 or 2 wheeled friend. These products are best used with other elements of our car care range for a complete safe washing experience.

This one is exclusive to Autobarn in limited numbers.

The All Aussie Bucket includes:
Wheely Clean - With the new Löstank Berry fragrance.
Green Stuf - A custom blended wash, which rinses freely for immediate and satisfying bead porn, with an awesome lime fragrance to boot!
Wet Dreams - A super hydrophobic spray on, rinse off sealant, that adds protection and shine to your paint.
Vinyl Care - Our silicone free interior protectant that leaves a factory fresh matte finish and protects interior plastic from UV damage.
Max Doughies - A hole-someley fun air refresher with a delicious doughnut fragrance.
15L Green 'n' Tuf Edition Bucket - Used for your clean wash water. You won't mix your buckets up with the bright colours and bold WASH label.
Lid/Drinks tray - Can be used for many things - drinks tray, frisbee, or to seal your bucket from dust when you aren't using it.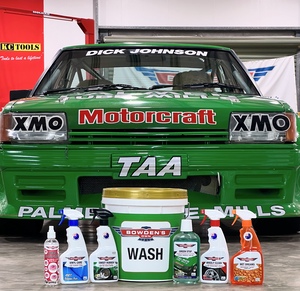 Wheels first
Half fill your Wheels bucket with water (Wheels bucket is available separately), then add a capful of Green Stuf and froth the mixture up inside the bucket with a short blast from the pressure washer to properly mix it up. If you don't have a pressure washer, use the "Jet" setting on your hose end.
With your Wheels bucket set up next to the wheel, and with your brushes handy in the bucket, spray the Wheely Clean directly onto the wheel. Leave it to dwell for only a short time (30 seconds or so), then scrub the wheel with the Little Chubby brush. If you'd like to clean the inside barrel of the wheel, use the Flat Head brush, and get in there around the inside of the wheel barrel. Rinse the brushes out in the Wheels bucket as needed.
For the smaller or intricate areas around the wheels (wheel nuts etc), use the Nuts and Guts brush from the Foursome brush set, which is available separately.
Once the wheels and tyres have been cleaned, you can spray a few sprays of Wet Dreams straight onto the wheel face, then pressure wash or hose it off, to add some super easy protection and a lovely shine in one step. This will make it more difficult for brake dust to stick to the surface, making your next wash just that little bit easier.
For a detailed guide on wheel cleaning, see our guide below: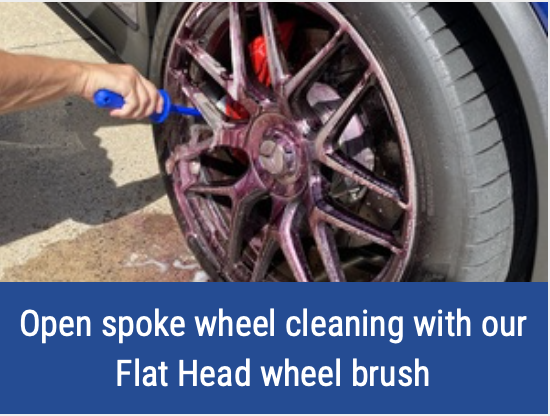 Washing with Green Stuf
We'd recommend giving the car a pre-clean first, either with our Snow Blow Cannon and Snow Job/Mega Snow Job, or simply rinse down thoroughly with the pressure washer or the Jet setting on your hose end, to remove the heavier dirt and grime which reduces the risk of scratching your paint when you start washing.
Grab your Green 'n' Tuf bucket and fill it 3/4 full of water. We'd also recommend grabbing a Rinse bucket available separately if you wish (as well as Great Barrier Thingys to put in the bottom of the buckets to stop dirt from swirling back up into your clean wash water). We strongly recommend 2 buckets - one for clean rinse water, and one for your wash water. The idea here is to dip your wash tool into the wash water, wash a section of the car, then bring your wash tool back into the clean rinse water and ring it out in there, before going back into the wash water and washing the next section, to stop dirt and contamination going into your wash water as much as possible.
Fill up one cap of Green Stuf wash and pour it into the bucket, giving the cap a good thrash around in the bucket. Agitate the bucket with your pressure washer or the Jet setting on your hose to mix the wash and produce a nice head of suds.
Dip your wash tool into the wash suds (we're using a Wash Pillow here) and let the suds soak into it for a couple seconds (squeezing it gently can help it absorb the wash suds), then starting at the roof of the car, gently wash in a back and forth motion, then side to side so that you don't miss any spots. We prefer not to go in circles when washing - not because it will create swirl marks, but because when you do small circles, there's always a bit that you miss. When you wash up and down, then back and forth, you are guaranteeing that you don't miss any spots.
After washing the first section, dip your mitt into the clean rinse water and thrash it about and/or squeeze the suds out so that any dirt or grime leaves the wash tool, then dunk it back into the wash suds and do the next section of the vehicle, leaving the lower dirtier sections till last.
Once you've washed the whole car, rinse the suds off thoroughly (NOTE: if you're washing in the sun, rinse the suds off periodically - don't let them dry on the paint).
Adding protection with Wet Dreams
Wet Dreams can be used to top up and maintain protection of our other sealants like Bead Machine, or can be used as a stand-alone sealant with 2-3 months of protection on good condition paint. It works best when used in the shade on cool panels, and the panels needs to be wet.

After washing the car, rinse it down thoroughly from the top down. Grab your Wet Dreams and a damp Big Softie cloth, working in small sections (e.g., one quarter of a bonnet, one door), mist Wet Dreams over the section and gently wipe it in with the Big Softie to ensure even coverage (don't wipe too hard or you'll wipe the product off the paint - we're just spreading the product evenly across the panel). IMMEDIATELY rinse off with your pressure washer or the Jet setting on the hose - Wet Dreams bonds almost immediately, so you should see instant bead porn. Continue around the car using this same technique until it's done, making sure to keep the rest of the panels wet to avoid water spotting.

Once complete, take the end off your hose and flood the panels with water - the newfound surface tension will force the water to clump together and sheet away in one go which means less drying time for you!
For a detailed guide on getting the most from Wet Dreams, see our detailed guide below: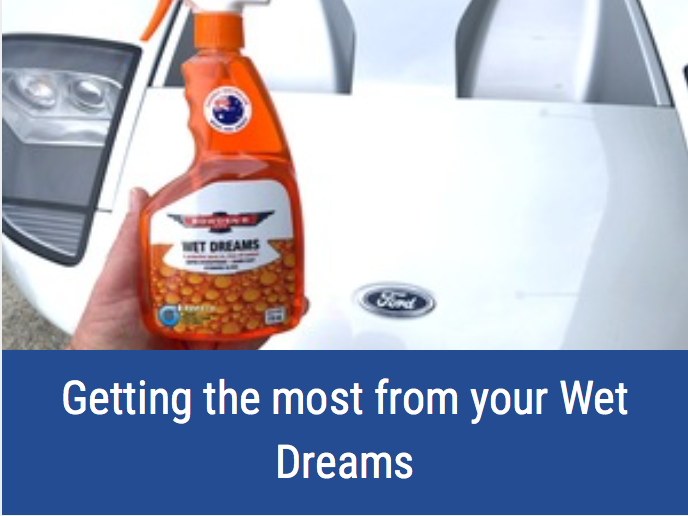 Safe drying
Now it's time to dry the vehicle safely. These items can be purchased separately and are a recommended step when washing your car.
The Big Green Sucker with Boss Gloss:
Spray 6-8 sprays of Boss Gloss into each side of The Big Green Sucker and start drying your vehicle from the top, working your way down the car, drying any glass that may be in the sun first, to avoid getting water spots on the glass. There's no need to add any more Boss Gloss to the cloth, and you won't need to wring the cloth out either. If you find the cloth becomes waterlogged, it could be that you need to flood the panels a bit more, to remove more water before drying the car. We usually find we can dry 2-3 average sized cars with a single Big Green Sucker, without needing to wring it out.

We also recommend drying the wheels and tyres for the next step - give them a quick wipe over with a dedicated microfibre cloth like our Dirty Deeds to remove excess water.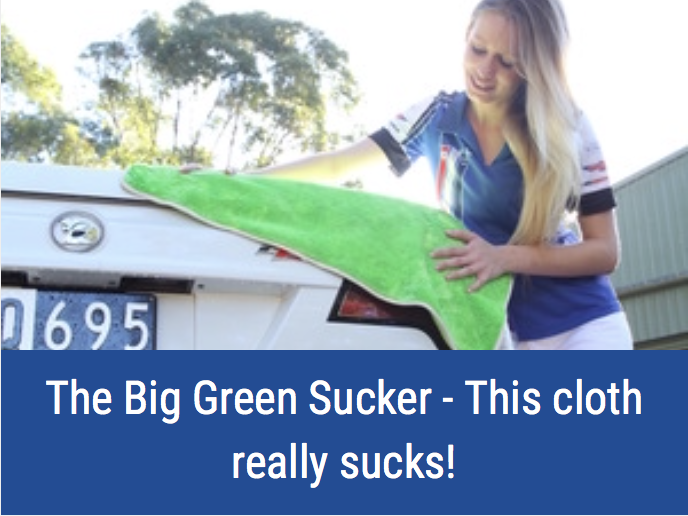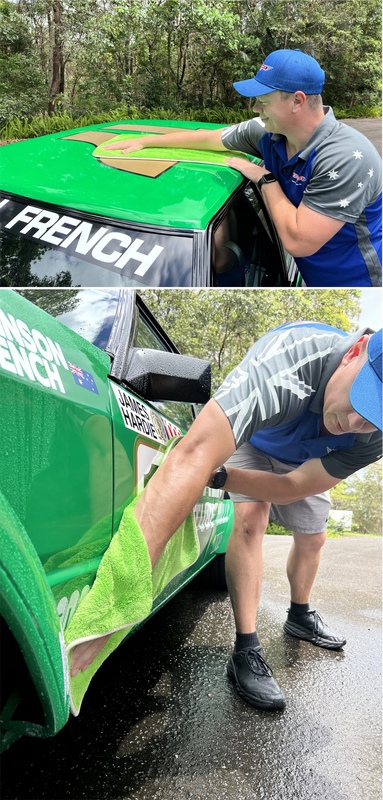 Sweet Rubber - our sweet scented Tyre Sheen
Once the tyres are clean and dry, it's time to apply Sweet Rubber. We recommend using our All Sorts foam applicator for best results. Grab your clean and dry applicator and spray 6-8 sprays into it, then apply it smoothly over the tyre, going over it a few times to ensure even coverage. Chunkier or more aggressive tyres may require more product. For a glossier finish, apply a second coat 3 to 5 minutes after the first.

Wipe any excess from the wheels with a clean and dry cloth.
Allow 5 minutes to dry before driving the car, and enjoy your sweet new rubber.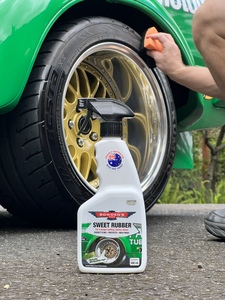 Interior plastics with Vinyl Care
Moving on to the interior, Vinyl Care is our dedicated interior plastic cleaner and protectant, and is safe to use on all textured plastics including the dashboard, seats, centre console, door cards and trim etc. For piano black or high gloss plastics, we'd recommend our Naked Glass sprayed into a cloth like our Big Softie, then very gently wiped over, taking care not to scratch any of the soft plastics..

Vinyl Care is a water based protectant and works best on surfaces that are free of any oil or silicone residues, so clean the surface first with our Orange Agent all-purpose cleaner if the surface is very dirty, or there have been other silicone based products used on these surfaces previously. Use the Orange Agent as per its instructions and always test in a small spot first to ensure the product is going to be suitable.

Grab a suitable applicator like our Square Bear, and spray 3-4 sprays into it, then gently apply to the surface in a circular motion to ensure full coverage. Work in small areas at a time, and buff off while still damp with a microfibre cloth like our Plush Daddy for a beautiful, even finish.

Re-apply monthly for best protection, especially in high touch or sun exposed areas. Being water based, you cannot apply it too often.
For a detailed guide on how to use our Vinyl Care, see our detailed guide below: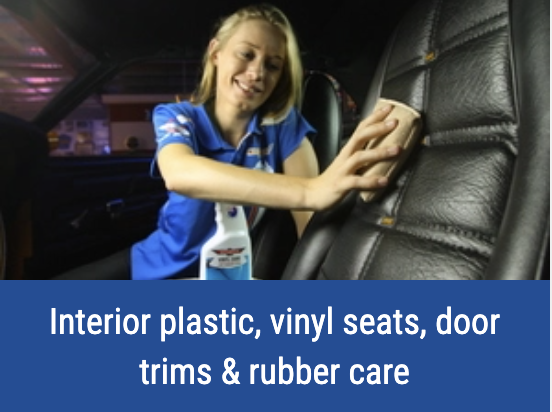 Finishing strong with Max Doughies
It's now time to use Max Doughies - a simply delicious smelling air refresher for the interior of your car.
Clean your interior out thoroughly, including removing all clothes, rubbish, food scraps etc, as any and all of these can contribute to gnarly smells hanging around inside your car. Give the carpets and mats a good vacuum, and wipe down all the surfaces inside the car so that it's all nice and clean. Any stains that need to be removed from fabrics should be done at this stage.
Give the bottle of Max Doughies a shake and then mist 8-12 sprays into the front and rear carpets. Shut the doors and windows of the vehicle and allow around 30 minutes before hopping into it. Note, the longevity of the fragrance will change depending on the quality of the carpet, where the car is stored, how many sprays are used etc.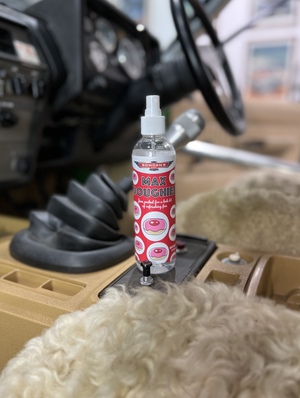 Any questions?
The All Aussie Bucket for 2021 is available exclusively through your local autObarn store in limited numbers. To find your closest store, click this link - Store Finder.
Thank you for your continued support and allowing us to keep making great car care products!
If you have any questions around the All Aussie Bucket, send us an email - info@bowdensown.com.au or Free call 1800 351 308.

Happy detailing,
Brett Hobbs.