The NEW Snow Job foam!
3 November 2022 Dan Bowden

Snow foaming your car is a touchless first cleaning step that helps dramatically reduce the chance of getting swirl marks and micro scratches while washing. This effective pre-wash system creates a thick blanket of foam over your car to gently break down and then release the scratch-inducing dirt and grime from your paintwork when it's pressure washed off.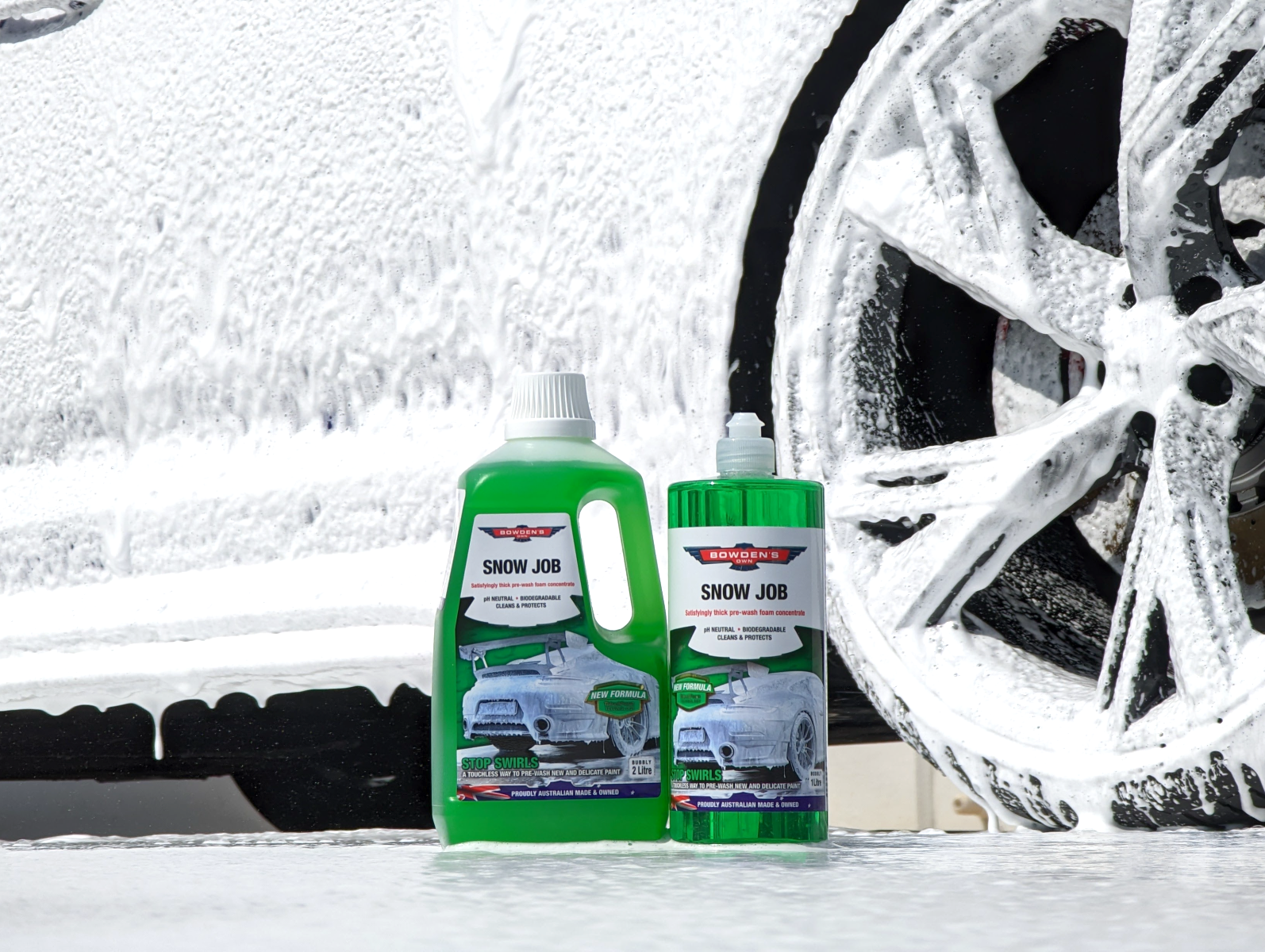 This pre-wash system has become extremely popular with many car enthusiasts. Several years ago now we set about making our custom snow foam, engineered to be something pretty different back then; in that, it was super friendly for regular, repetitive use. It had a gentle pH-neutral formula that wouldn't affect any protective waxes or synthetic sealants, as well as non-damaging to more susceptible plastics and other trims on the vehicles.
Having our own in-house chemists means we're always working behind the scenes on new products and updating current ones. Our latest Snow Job formula has been the culmination of a couple of years' work of in-depth testing with hundreds of different combinations of surface active agents, making it a totally new custom formula that we believe to be the perfect blend for a great Snow Job.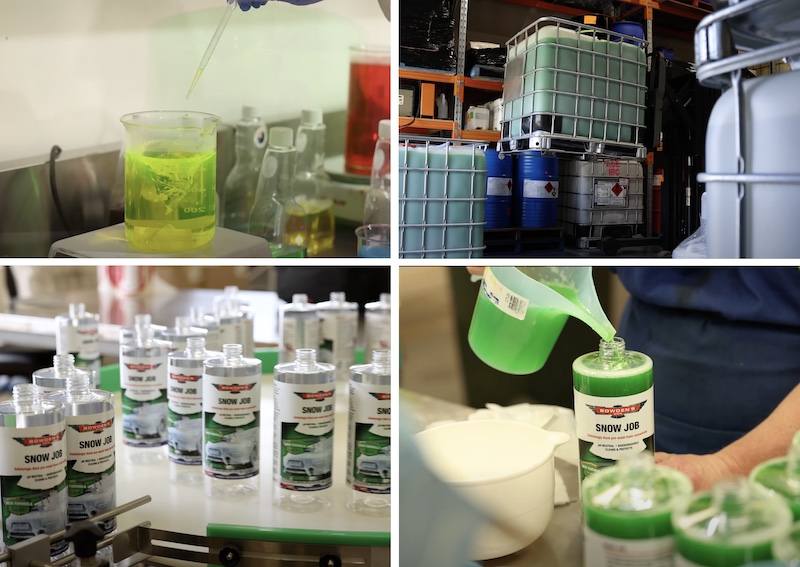 THE LATEST UPDATES
As you'll read below, there are quite a few cool upgrades to our Snow Job formula;

• New ThiccAFoam technology, because no matter what anyone says, thicker foam is really quite epic and satisfying.
• A more sophisticated detergent blend concentrate (all custom-made in Australia for us) that cleans better, thanks to the new thicker, wetter type of foam - something our chemists identified in rigorous testing as being the best for this job.
• Less dwell time is needed on the vehicle now, just 4 to 5 mins, so it's quicker to use, making it faster and more efficient with your time. You can only take so many snow foam images for Instagram, right?
• Market-leading anti-rust additives as well as proper salt removal ingredients, making it perfect if you live near the ocean, or have just had a trip to the beach. Also exceptional as a one-step wash after a day on the water for your boat or jet ski.

• It's totally free rinsing, meaning there is no residue left behind by the detergents. This chemistry is unique to our snow foam and quite a huge one to accomplish - as it instantly reveals that beautiful bead porn when pressure rinsing it off from super hydrophobic or true ceramic coated surfaces, like after using our Bead Machine spray sealant, Beaut Beads wax, Happy Ending foam or the Wet Dreams instant protection spray. Free rinsing also means it rinses the soap residue out from those hidden nooks and crevices you cannot reach with the hose either.
• A less viscous, thinner blend, to mix faster with your water in the cannon bottle.
• The new refreshing fragrance, that's not overbearing or sickly like a cheap toilet spray. For us, products need to smell great if you are going to enjoy using them. (Our apologies to those users of the very first Wheely Clean formula here!).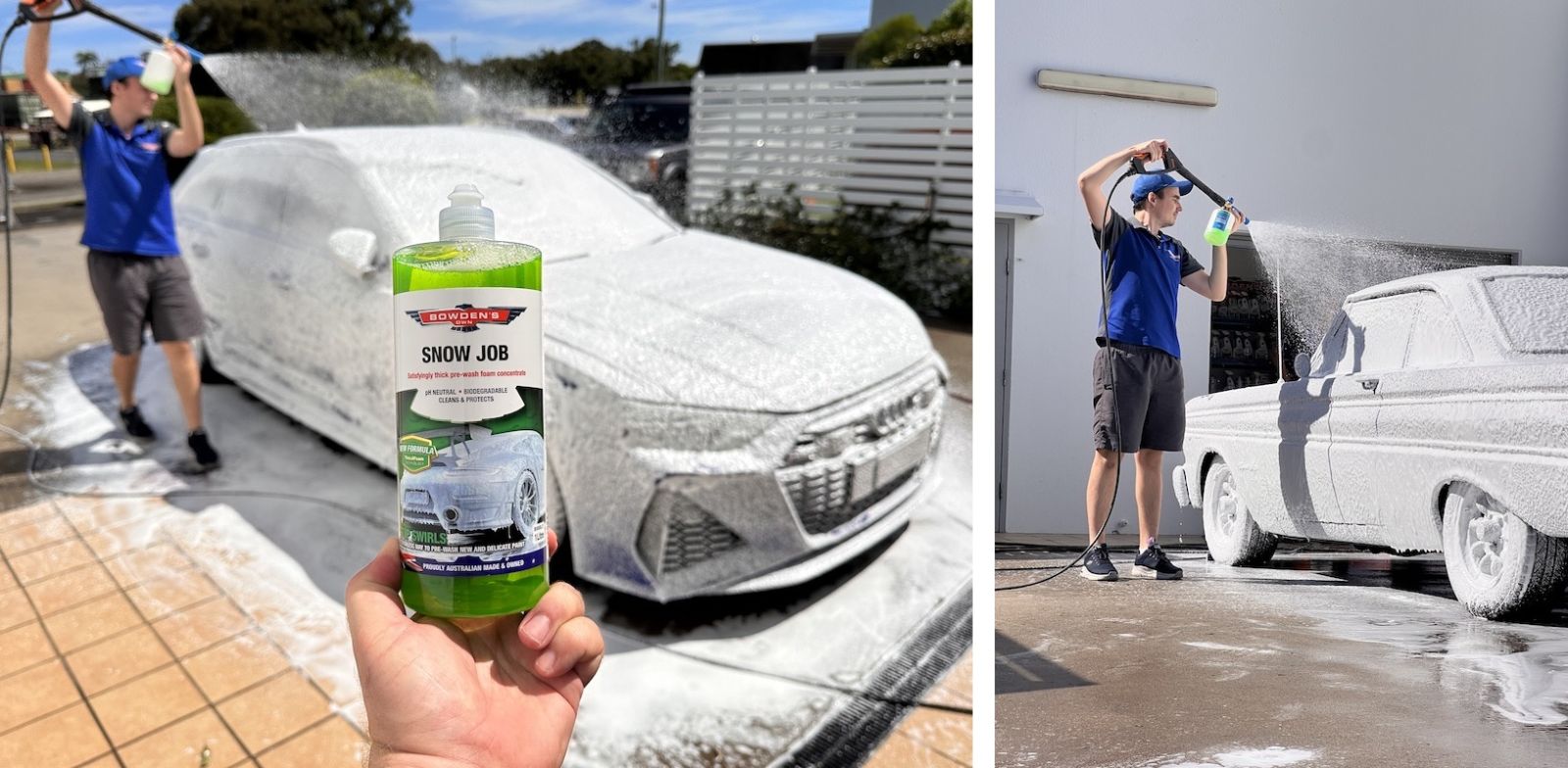 KEEPING ITS MUCH-LOVED ATTRIBUTES
• Snow Job is still pH neutral, so it won't affect quality waxes, sealants or professionally applied ceramic coatings. Also safe for repeated, regular use on the numerous plastic, metal, chrome, alloy, glass, gel coats and painted surfaces your vehicle has.
• It's safe for regular use on all paint types, from the latest modern 2-pack finishes to older enamel or acrylic paints and importantly, making it safe and great for classic cars too, something critical for us!
• Super concentrated, you only need 100mL of Snow Job to 900mL of water (9:1 ratio) in your snow cannon.
• Doesn't use nasty NTA, PFOS or PFOA foaming agents that are toxic for you and our Aussie marine life, nor does it use salt either! Our country and environment, & the cars we use it on are critical to us - we did a lot of work to ensure this formula is salt-free and biodegradable.

MADE BY LOCALS FOR AUSSIE CONDITIONS
Like our first formula, this 2022 update can still be used outside in the direct sun on the hottest day with no worries of it drying and causing any streak marks on your paint. Something pretty unique to our snow foam!
Another unique attribute is that Snow Job is 100% Australian Made from locally sourced and made ingredients. This is something we are very proud of, keeping our manufacturing and money locally!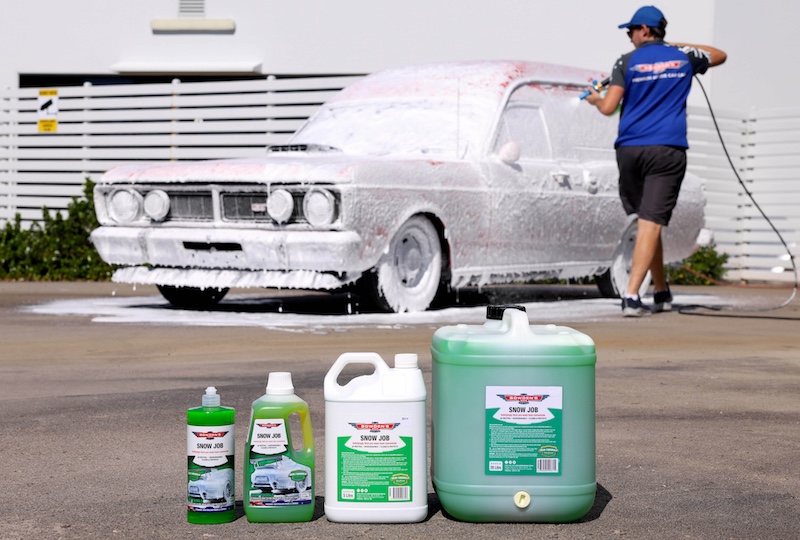 Some other good news is it's also available in a few different sizes, from 1-litre bottles to 20-litre drums.

1-litre bottle - Part code: BOSNOWV21L
2-litre bottle - Part code: BOSNOWV22L
5-litre drum - Part code: BOSNOWV25L
20-litre drum - Part code: BOSNOWV220L
WORKS BEST WITH
For the best foaming experience, team it up with our Snow Blow Cannon and make sure your pressure washer has over 1800 PSI and 7 litres of water flow for the best effect. Read here for more on choosing the right adapter for our cannon to fit your pressure washer.
HOW TO GIVE A GREAT SNOW JOB?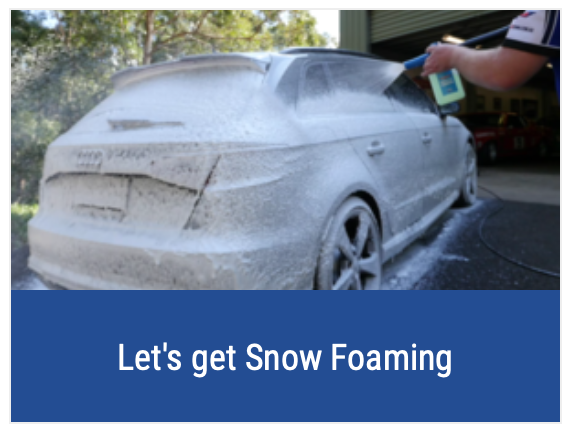 WHERE CAN I GET IT?
The new formula of Snow Job can be found now in your local Bowden's Own stockists now. To find your closest retailer, check our store finder here.
---
---