Selecting a Pressure Washer
This is a question that comes up a lot and there's a lot of things to consider when purchasing a pressure washer - price, features, power, PSI rating, weight, hose length and reel, warranty, quality of components etc.
Important things to consider
From our point of view, we want a pressure washer that has good PSI (2000 or thereabouts), good water flow (from 7-9L/min), and a long hose (10m if possible). A braided hose is also a big plus, and a hose reel to wind the hose back up on is extremely helpful. Keep in mind that the hose can be TOO long. A 15m hose can become tangled up on itself, so we find about a 10m long hose is perfect. You want to set the machine up at the front of the car, and start snow foaming from the rear of the car.
In terms of the actual machine, the sweet spot for creating mega thick snow foam with the Snow Blow Cannon, is around the 1800-2300psi range. You may also want to consider things like what extra attachments or features the unit comes with; like an attachment for cleaning the driveway, getting under wheel arches etc.
The weight of the machine is also one to consider. Think about how far and how much you'll be moving the pressure washer around - whether you need to lift it over anything, or up stairs. A 20kg pressure washer can become very cumbersome and heavy to cart around.
Electric vs petrol is another point of contention. We prefer the electric machines as the petrol machines are often extremely loud and can require more maintenance than the electric models, not to mention you will have to put petrol in them to use them. The petrol ones however can be more powerful, so be sure to take that into consideration when picking a machine.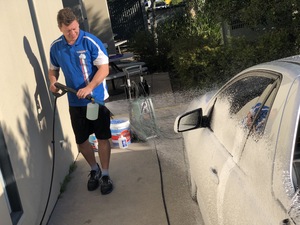 Which brand is for me?
There's a myriad of different brands out there, but the main ones we see people in our Facebook group using, are Gerni, Stihl, Bosch, Karcher and Ryobi. Gerni and Stihl use the same adapter, and Bosch & Karcher use their own adapters respectively. Gerni, Stihl & Bosch machines use a metal pump, Karcher machines use a plastic pump. There are pros and cons for both, but do your own research here. We find there seems to be far fewer problems with the metal pump machines. Over the last 4-5 years, the majority of problems we see with pressure washers and cannons are from Karcher machines.
We have no affiliation with the Gerni brand, but we have found it to be the best of the bunch for us personally, and from the feedback we see through our Facebook group. We have a Gerni 125, 140 and 160 that we use regularly, and a 115 that we have done testing with for the new Snow Job formula (which we found the hose for was way too short), to ensure it will foam well with the smaller machines. These machines are a good consumer grade machine - if you're wanting a professional machine for a business or similar, there are other machines out there; you get what you pay for.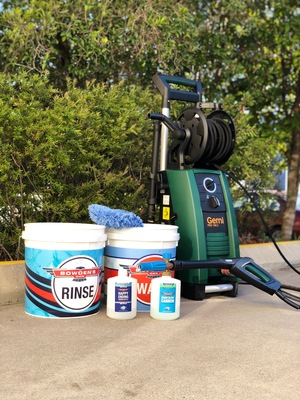 Models and details
Gerni -
Classic 115.5: 1400W, 1670PSI, maximum flow rate 7.3L/min, 5m hose (no hose reel), 6Kgs.
Classic 125.5: 1500W, 1810PSI, maximum flow rate 7.7L/min, 6m hose (with hose reel), 6.6Kgs.
Classic 130.3: 1800W, 1885PSI, maximum flow rate 8.7L/min, 8m hose (with hose reel), 11.8Kgs. (recommended - good specs and hose length)
Super 150.3: 2300W, 2175PSI, maximum flow rate 8.3L/min, 10m hose (braided hose on a hose reel), 20Kgs.
Super 160.3: 2300W, 2320PSI, maximum flow rate 8.3L/min, 12m hose (braided hose on a hose reel), 20.5Kgs.

Stihl -
RE 88: 1700W, 1450PSI, maximum flow rate 7.3L/min, 6m hose (no hose reel), 8.9Kgs.
RE 109: 1700W, 1595PSI, maximum flow rate 7.3L/min, 7m hose (no hose reel), 17.7Kgs.
RE 129 PLUS: 2300W, 2175PSI, maximum flow rate 8.3L/min, 9m hose (braided hose on a hose reel), 20Kgs.
Bosch -
AQT 35-12: 1500W, 1740PSI, maximum flow rate 5.8L/min, 5m hose (no hose reel), 5.5Kgs.
AQT 37-13: 1700W, 1885PSI, maximum flow rate 6.2L/min, 6m hose (no hose reel), 6.5Kgs.
AQT 42-13: 1900W, 1885PSI, maximum flow rate 6.2L/min, 7m hose (no hose reel), 14Kgs.
AQT 45-14: 2100W, 2030PSI, maximum flow rate 7.5L/min, 8m hose (with hose reel), 25Kgs.
Ryobi -
RPW140-G: 1800W, max pressure 2000PSI (rated pressure 1450PSI), maximum flow rate 7.2L/min, 5m hose (no hose reel), 7.7Kgs.
RPW150-G: 2000W, max pressure 2200PSI (rated pressure 1600PSI), maximum flow rate 7.2L/min, 8m hose (with hose reel), 12.3Kgs.
RPW170-G: 2400W, max pressure 2500PSI (rated pressure unknown - estimate 1800-2000PSI), maximum flow rate 7.3L/min, 8m hose (with hose reel), 30.7Kgs.
Spitwater - (Australian made and owned)
Cleanmatic: 1600W, max pressure 2400PSI, maximum flow rate 7L/min, 7m hose (no hose reel), 15Kgs.
Turbo 8-90: 1800W, max pressure 2300PSI, maximum flow rate 8L/min, 8m hose (no hose reel), 23Kgs.
Quiky 10-100: 1850W, max pressure 2550PSI, maximum flow rate 10L/min, 8m hose (no hose reel), 27Kgs.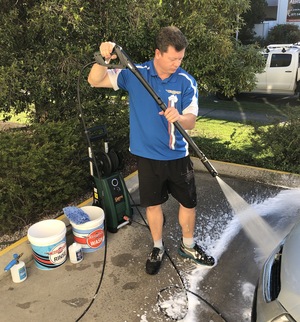 Other cool things to look at
You won't find these tools in stores, but another often overlooked, but extremely important aspect of using a pressure washer, is safety. We sell an Australian designed and made waterproof lead protector, so if you're working around water like we mostly are, you can be sure you won't zap yourself with this very nifty tool. Click here to check it out.

We also like to use the handy Hose Slides around our tyres when using a pressure washer, the triangle shape fits under the front tyres with a rounded front edge so the hose doesn't get caught up around them when in use.
A small valve controlled hose fitting on the end of your hose to plug into your pressure washer will also make your life a lot easier. The valve controls the amount of water that comes out of the hose, and you can completely turn the water off, which makes taking the hose off and on a lot easier. You can find one of those in many hardware stores and here - Gardena hose connector with control valve.
If you have a Karcher machine the Snow Blow Cannon faces sideways, as the lance on these machines doesn't allow the cannon to swivel (You'll have a Gansta style grip), you can fix this by taking the adapter off and wrapping more thread/ plumbers tape around the end thread. You want to put enough extra thread tape on until the Snow Blow Cannon faces and stays the right way when it's connected.
If you're more of the technical type, you can also get different size metal washers to space the adapter out on the Karchers, so it'll face the right way up as well. Not all the adapter threads are cut the same, so you will need a bit trialing different washer size combinations to get it right for each cannon. Or save yourself all this hassle and simply don't get a Karcher machine....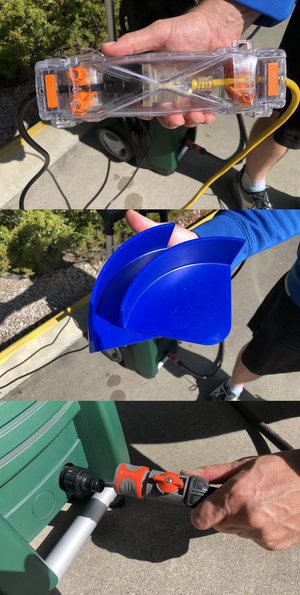 Conclusion - any questions?
So, there's a list of the different brands and models of pressure washers that we would recommend to buy as a good companion for our Snow Blow Cannon. As mentioned earlier, we find the Gerni and Stihl machines the best to use and have the fewest problems in relation to reliability and pressure issues (with the information garnered from our Facebook Detailers group over the last 18 months). Generally, you get what you pay for with pressure washers. As mentioned earlier, there are a myriad of other brands such as AR Blue, Clean Force, Jet USA, Kranzle, Spitwater, Workzone, and many others. Find one that's suitable for you and your budget and read the reviews to make sure you're getting one that you're going to be happy with.
We carry an adapter for nearly every conceivable machine to connect to your Snow Blow Cannon, which you can read more about below, simply click the image.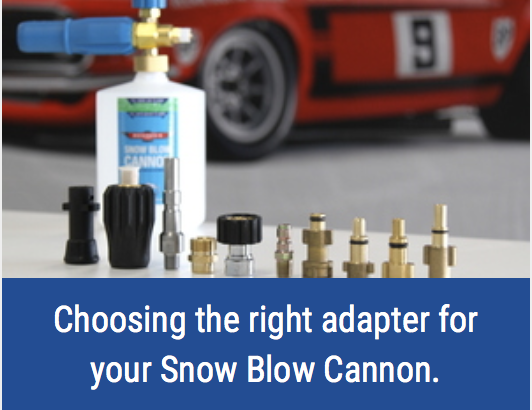 If you have any more questions in regards to pressure washers, or you're still not sure which one to buy, drop us an email at - info@bowdensown.com.au or freecall 1800 351 308.
Happy detailing!
Brett Hobbs

---