Our Happy Ending
29 April 2019 Dan Bowden

This is one of the biggest releases we have done in years, with a new generation of car care that works so well you'll think it's cheating.
We constantly research ways to create better and easier to use car care products, giving our passionate chemists the tasks of researching formulations and ingredients for new products. This month we have two new products that have come from a year of intensive development and I believe are amongst the best we have ever created. They use a new type of "lotus effect" chemistry that we are proud to say is all Australian made and developed.
Two years ago we saw some water based super hydrophobic ingredients come into the market that got us looking deeper. The ingredients were something I had personal concerns about using, mainly the utilising engineered "SiO2" Nano sized silica dioxide particles. There have been numerous scientific reports on possible health concerns with these Nano ingredients (both for and against them) which still gives me enough caution not to use them. So we set out to research other alternatives from companies prepared to help create them here in Australia. To say we had a few wins on this is a real understatement.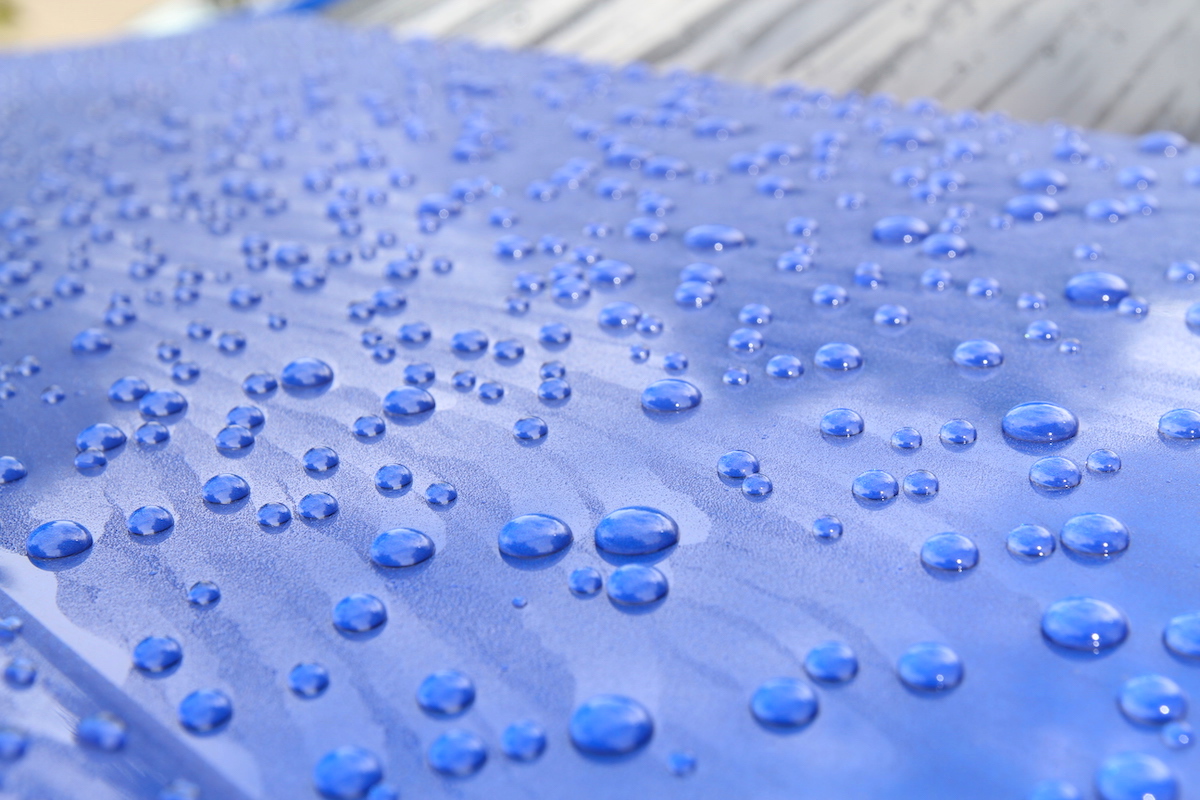 The intensive R&D to make it for Aussie conditions
Some amazing new Aussie ingredients were created and we began formulating them into two separate types of products, taking well over 8 months of almost daily testing and reformulating to get them right. If you follow our Bowden's Own Instagram you would have seen us sharing a lot of the development processes and different failures experienced, with the consequent fine tuning of the formulas. These new protective ingredients all cure really fast, which can make them a little bit problematic. These formulas are activated by both water friction and temperature, and initially we experienced streaking issues due to our local tropical Qld heat and humidity. Many reformulations were done to get a combination of ingredients that wouldn't streak in the heat. By developing these products over the hottest and longest damn summer on record, it really helped us find solutions to help prevent these issues.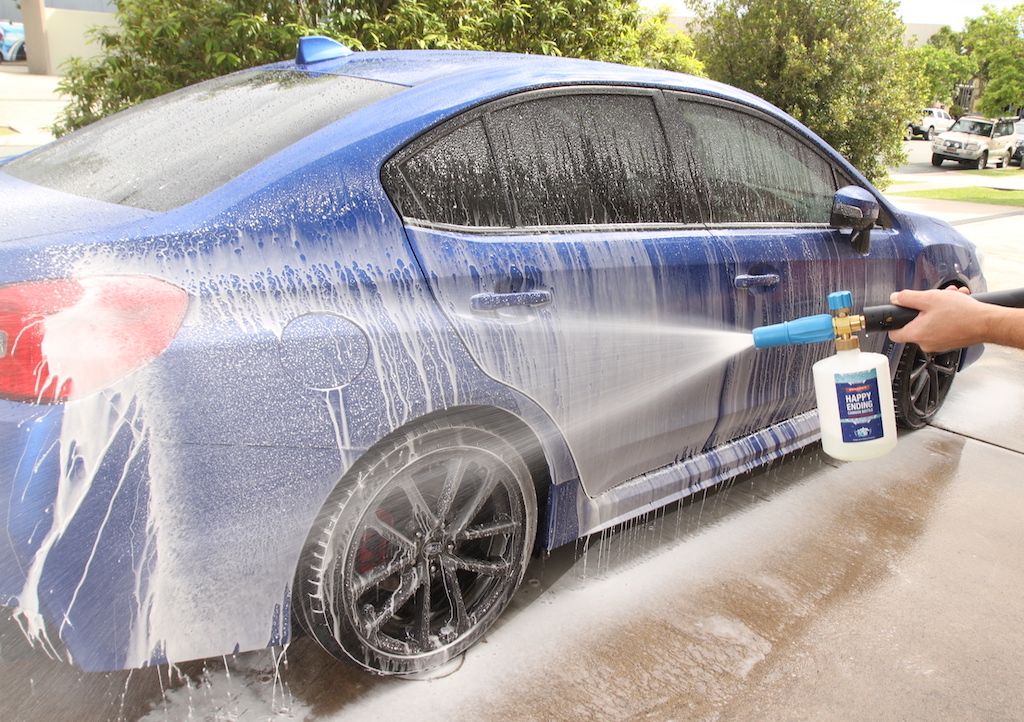 Will leave you satisfied.
The first completed product here is our finishing foam, designed to be used with a pressure washer and the Snow Blow Cannon as a final rinse down product. We like to first Snow Job foam the car, then follow it up by hand washing and rinsing away the suds, then spray the pre-mixed finishing foam on the still wet car with the Snow Blow Cannon. Once done, you immediately pressure wash it off. It's a super easy job that leaves you with a lovely, protective, super hydrophobic finish and cool bead porn. It also leaves the car feeling silky smooth, which makes drying easier and creates a reflective shine like nothing we have ever seen before. Due to how it's used at the end of the washing process, and the way it always brings a satisfied smile, we gave it the very apt name of Happy Ending.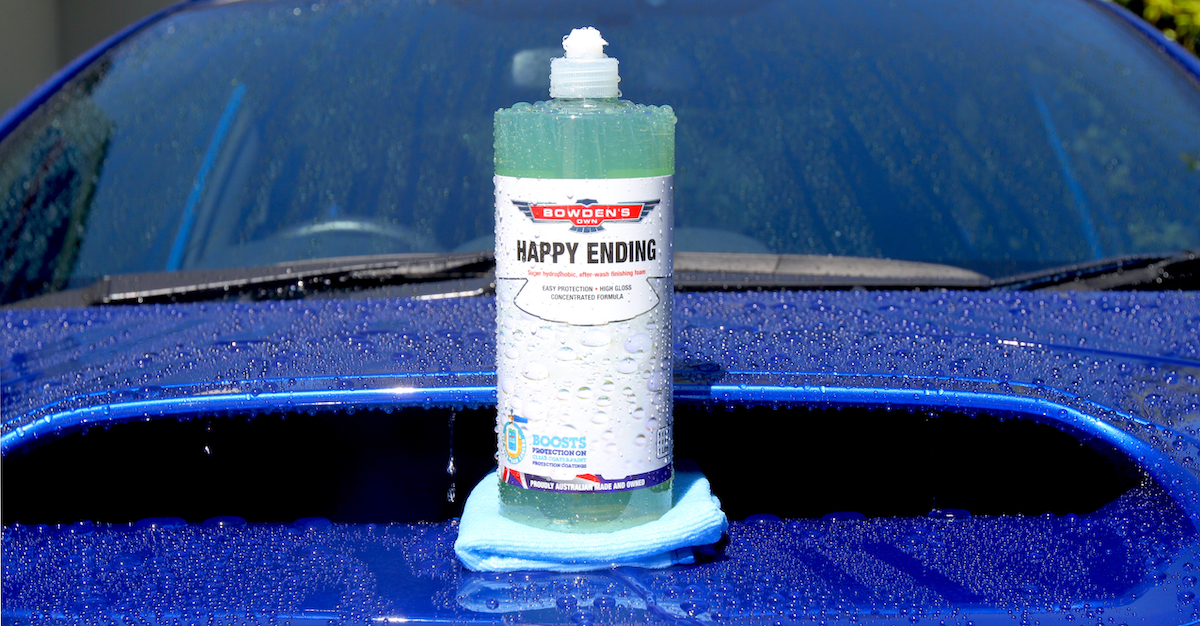 For all cars, but great on newer models
After all our testing we can say this easy-to-use maintenance product works well on all types of cars, but gives the best effect on newer cars with modern paint that is clear coated, not contaminated or oxidised and in overall good condition. The "ceramic" like super-hydrophobic water beading effect will last up to two months in our real-world testing of every-day used new cars, longer on well pampered and garaged machines.
Epic for professional paint protection coatings
It's also amazing for maintaining cars that have been professionally ceramic coated/paint protected, boosting the crazy water beading to how the coating was when new. It also works on cars with paint protection film (PPF) and vinyl wrapped ones as well.
Also good for all exterior surfaces.
It's safe and works to protect all your hard-exterior surfaces of paint, plastic, Perspex and glass. It's not recommended for use on convertible tops, ute tonneaus or awnings. We also don't like to use it on windscreens as it can give a light smearing the first time you hit your wipers. If you do get it on the screen, don't freak, just give the glass a quick clean with Naked Glass to quickly remove it.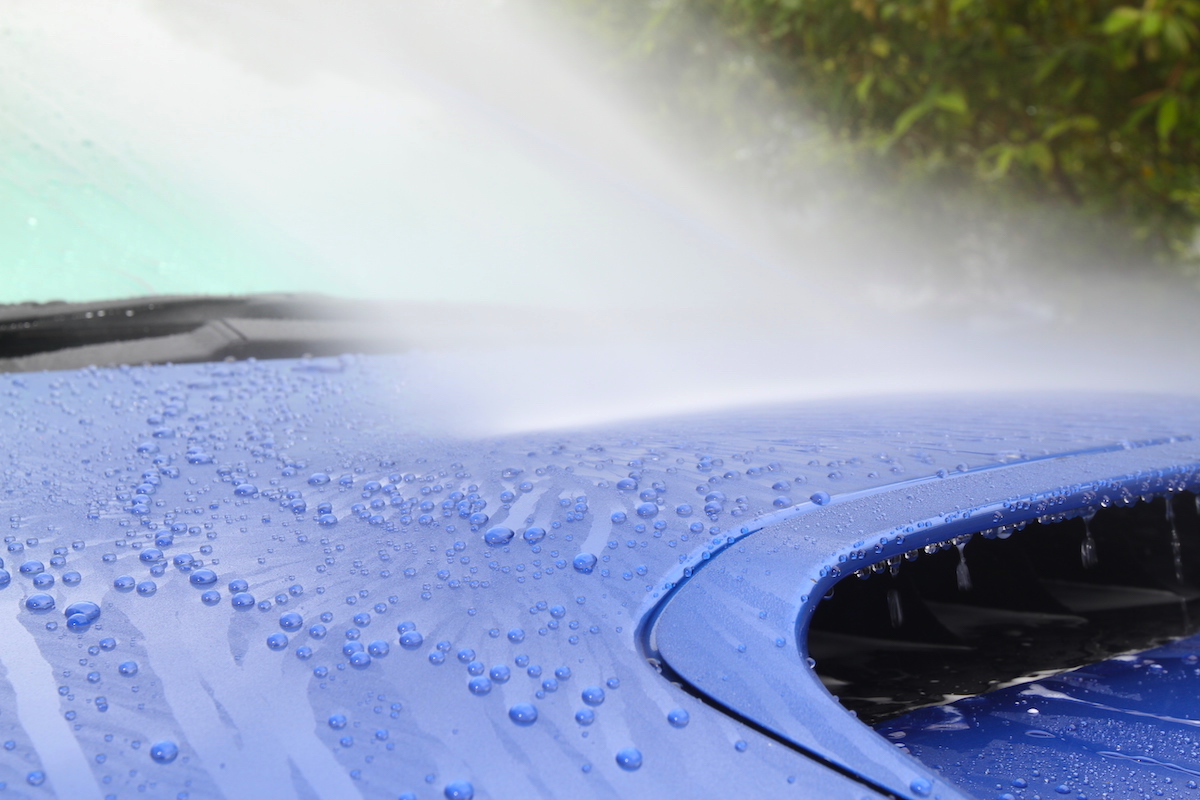 You won't believe it's not SiO2 or "ceramic".
Happy Ending is not SiO2 (Nano sized silica particles) based, nor do we feel the need to state it has the currently very hyped buzz word of being "ceramic". Although it does share the same super hydrophobic and protective properties you associate with that type of product. Our way to create this epic surface effect uses a unique group set of locally made synthetic polymers and other custom hard to find ingredients like Bunyip milk. After talking with our chemists, scientists and ingredients manufacturers, I don't personally feel any of the current water based sprays should use the term "ceramic", as it's more scientifically associated by when describing ingredients used in professional ceramic paint protection coatings, which are a very different form of expensive chemistry. But as has happened many times before, marketing teams have grabbed onto the word in the push for greater sales, further frustrating many professional detailers and creating confusion for passionate car enthusiasts with this somewhat misleading term.
How often do I need to use it?
You don't need to use it after every wash - once you begin to notice a drop in the water beading, it's time to use it to boost the protection. We have found in real world testing the beading effect can last at least two months, however a monthly use is a good timeframe to best maintain your daily driver, or every few months on a car that leads a more pampered life out of the elements.
How long will my bottle last?
It's super concentrated and mixed with water at the same ratio as our Snow Job foam of 9:1. We've found that you don't use as much as you would when applying the Snow Job foam. When mixed in the cannon bottle, the solution will do 3 to 4 cars, or 30 to 40 cars in total from the 1 litre concentrate bottle. That should last you over a year with the maximum monthly use, in a two-car household, making it pretty good value. You'll also love the 100ml measuring marks on the side of the bottle for easy filling, as well as the pop top cap for no mess filling.

How does this fit into the car care system?
The Happy Ending is a great addition to use if you snow foam with a pressure washer when detailing your car. It doesn't really replace anything, but it gives more hardcore enthusiasts a fantastic final product to use via their snow cannon for fast protection and an epic shine.
Our testing has shown us it can still be used in conjunction with your favourite drying aids, like After Glow or Boss Gloss and the Big Green Sucker to dry the car, without affecting the finishing foams beading effect.
It will also go on and bond to/boost the protection of all our current waxes and sealants. This finishing foam can also be used by itself as a one-step system if you already have a professionally applied ceramic coating, to keep it working like new.

Also comes in a handy pack.
We have a Happy Ending Pack available too, with a 1 litre bottle of the concentrate, as well as a handy separate Snow Blow Cannon bottle labelled; Happy Ending. This means you don't need to empty your Snow Job after use. You can put the cap on the cannon bottle and it can sit on the shelf for up to 3 months before you will need to use it all up. It also comes with the Big Green Sucker drying towel, which is important to use as the cloth can help level any high points making sure the surface is perfect in appearance, protection and slickness.
Where can I get it?
I am quite stoked to finally have these ready after teasing our loyal Instagram followers with its use for the last few months! Happy Ending is coming to our many resellers soon, with many autObarn stores having it on the shelf already. The part code to quote if it needs to be special ordered in is BOHAPPY and it's priced at $59.99. The pack of the Happy Ending, a cannon bottle and a Big Green Sucker is BOHAPPYP and priced at $109.99. The cannon bottle by itself is $19.99 and is part code BOHCB.
If you have any questions, please email info@bowdensown.com.au or FREECALL our office on 1800 351 308.
Love your car,
Dan Bowden
---
---