The 6 Pack - A Bathurst Inspired Collection
31 October 2021 Dan Bowden


It's no secret that we love motorsport, and especially the race day experience of being at the track: The visual spectacle of race-bred beasts going at it hammer and tongs; the epic sound of highly tuned engines being pushed to their limits by some of Australia's and NZ's most talented drivers; and that unique race day aroma of high octane race fuels, burning rubber, and the…ahem…unique fragrance of the other race fans after a few hours under the scorching Aussie sun "rehydrating" with their favourite beverages.
Bathurst has a particularly special place in our hearts, so as what is normally our favourite day of the year came and went in October, we couldn't help our thoughts turning to the great race…and from that The 6 Pack was born, a handcrafted selection (yep all still made by hand here in Australia) of 500mL sized race day favourites inspired by our love of the great race. Here's a flying lap intro of what's in The 6 Pack.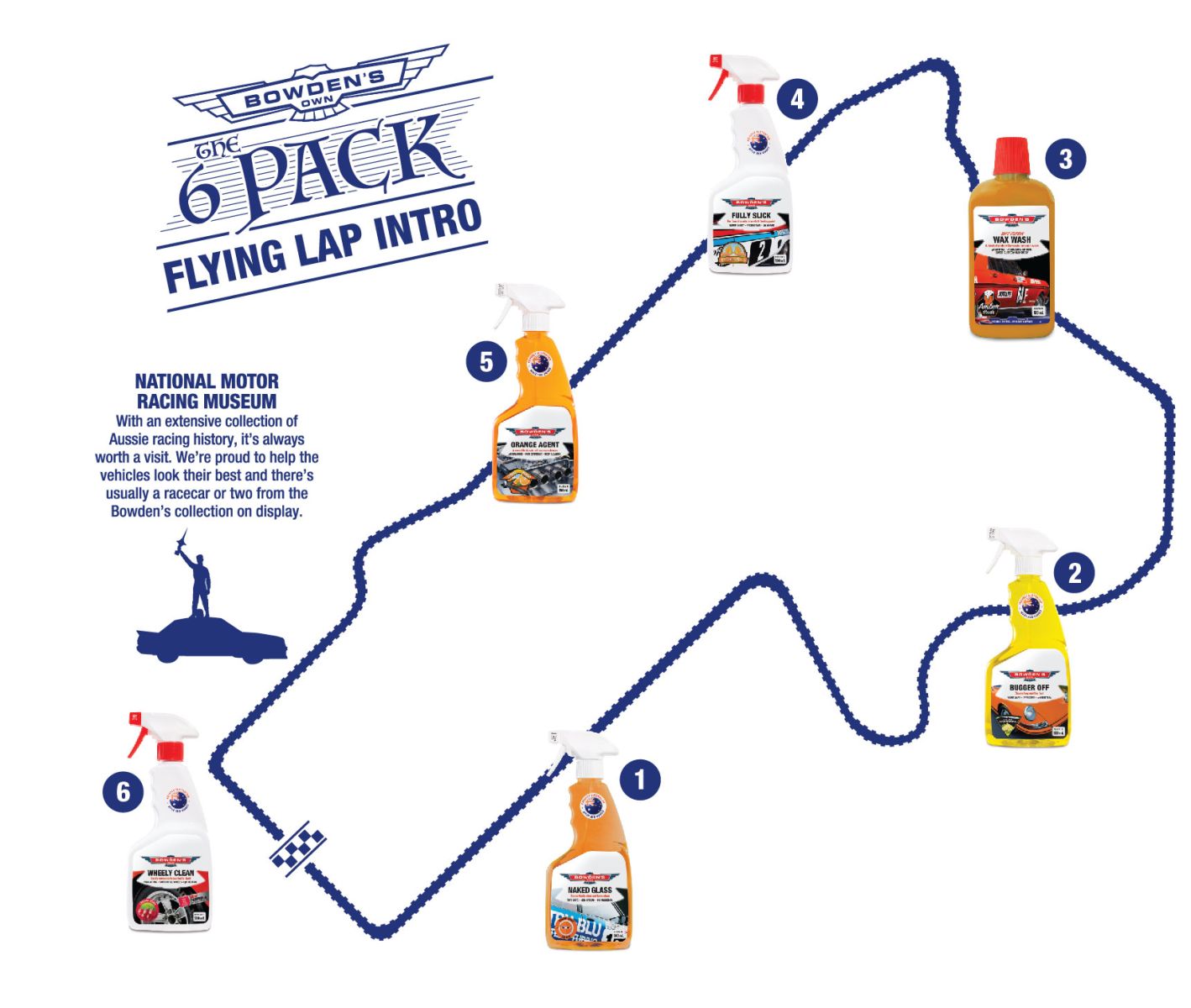 1. Naked Glass - Ginger Ninja Edition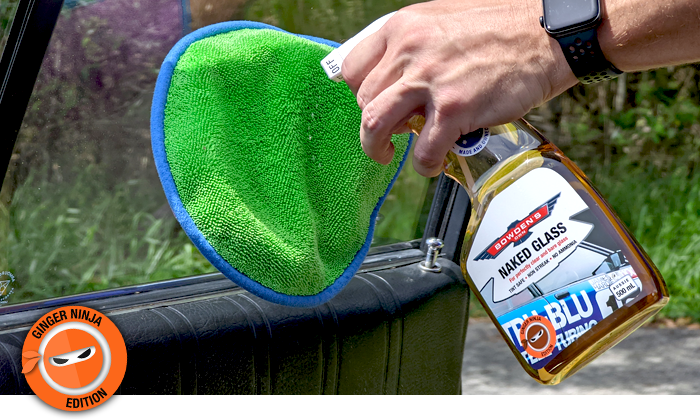 Clean glass is a must for a fast lap! And the exclusive, all new "Ginger Ninja" formula of our non-streaking glass cleaner works a treat, for perfectly clean and bare glass. And just to spice things up a bit, we've thrown in a hint of ginger beer to the fragrance…we reckon it smells delicious and you may have to hold yourself back from licking the glass after using it. We were supposed to call this one "Race Glass", but being a small company with a lot happening every day, it got lost in the mix and Naked Glass is what we got.... but be aware this is a completely new formula glass cleaner and we look forward to seeing how people enjoy it!
2. Bugger Off - Mt. Pineorama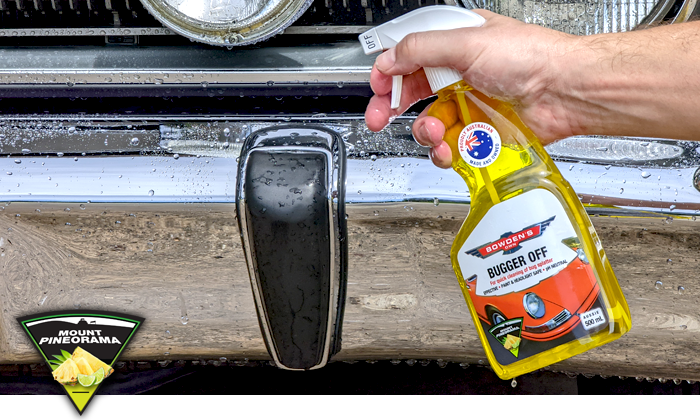 Bugger Off is what you'll be saying to anyone you've got up your clacker from Mountain Straight to The Cutting. This fun "Mt. Pineorama" version of our specialised pH neutral bug cleaning formula is perfect for cleaning off the swarms of kamikaze bugs you'll collect after a couple of laps.
3. Race Edition Wax Wash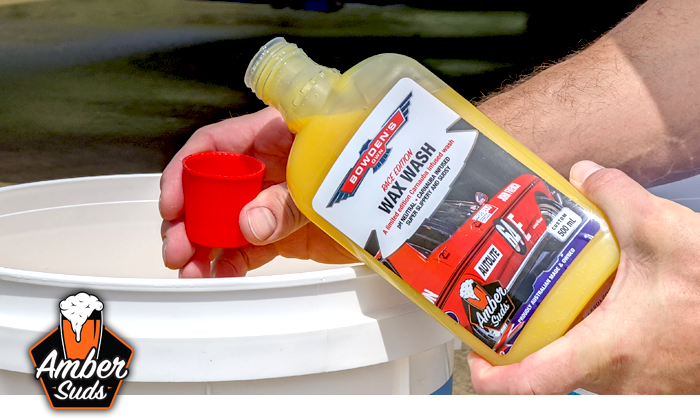 Smooth and flowing is just what you need to be over McPhillimay Park and into Skyline, just like our Carnauba infused Race Edition Wax Wash. This special edition has all the joys of our regular Wax Wash, but also features a subtle craft beer fragrance, a little reminiscent of the fans on top of the mountain. You'll want to be prepared the first few times you use it, as the cool Amber Suds fragrance may have your partner wondering why you smell like fresh beer when you "just went out to wash the car".
4. Orange Agent - Citrus Chase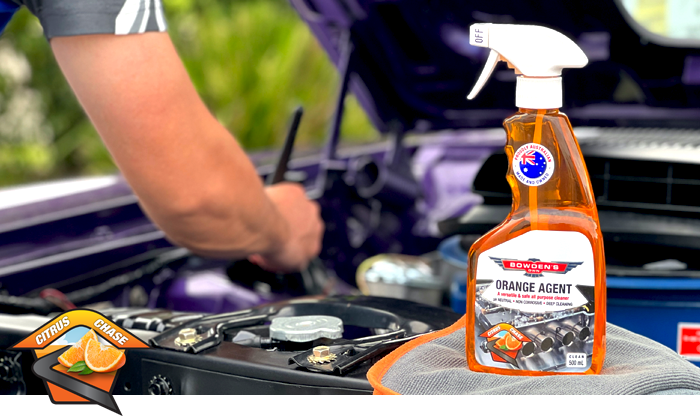 A safe and awesome pH neutral citrus cleaning agent, ideal for cleaning off the oil and grime that comes from lap after lap of running at a glorious 8000+ RPM. Orange Agent is super-versatile and has a ton of uses all around your car, with those subtle orange notes you expect and love.
5. Fully Slick 2 - Mountain Mangoes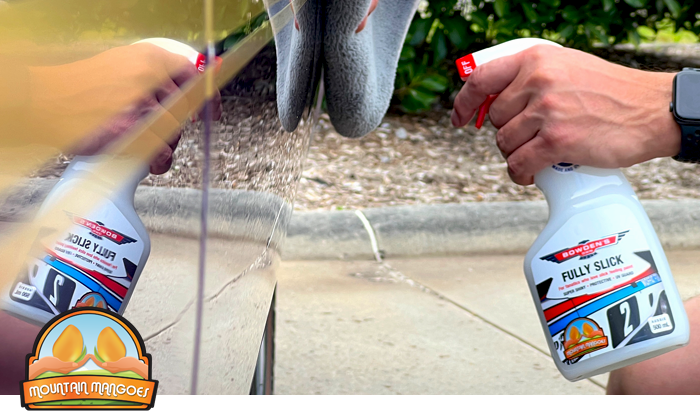 Good for that extra slippery top-end speed down Conrod Straight, our first spray sealant has become a firm favourite of many car enthusiasts due to the beautiful slick feeling surface it leaves. The latest version of our formula is now even slicker, more protective and easier to use, and gives a damn great shine too. It features the 1977 Colin Bond #2 Falcon on the 500mL bottle's label as well, which is not by accident being that it's version 2 of the formula...
6. New Formula Wheely Clean - Löstank Berry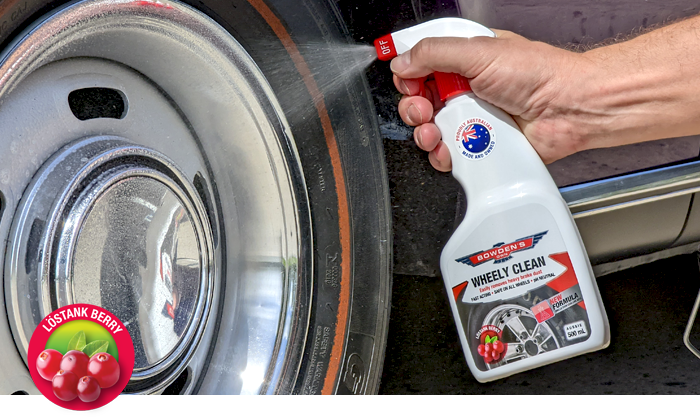 Something our local fans have been waiting for! After any enduro stint, you'll get an amazing build-up of brake dust, so we had to include our famous Aussie made wheel cleaner. Our latest formula is craftily formulated to be more effective, with a strong focus on safely removing iron/ brake dust and grime cleaning. Plus we think your nose might be pleasantly surprised by our new Löstank Berry fragrance... in fact, we don't know of any other iron reactive wheel cleaner that comes close to smelling this good. You can even use this to mask the sweet beer smell from your potentially suspicious better half after using the Race Edition Wax Wash*.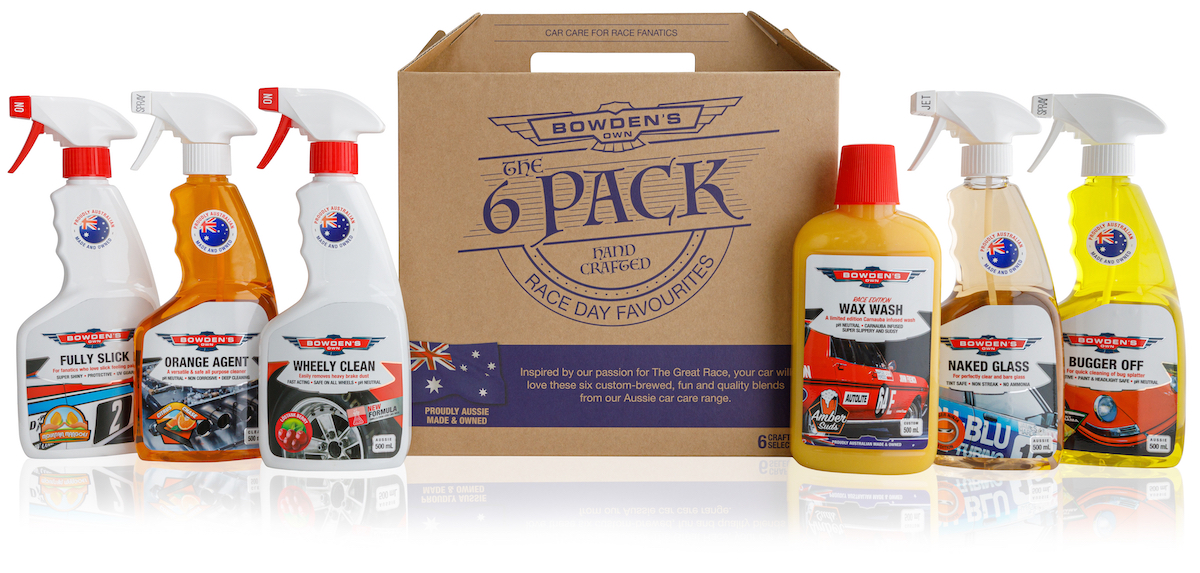 Everything in this pack is proudly made in Australia, even the recyclable box it comes in, supporting numerous local industries and importantly helping create more jobs for Australians.
Picking Up The 6 Pack
Whether it's a sneaky gift for yourself or the race fanatic in your family, The 6 Pack is a great value limited edition that won't be around forever. Get into it at your nearest Repco store (quote the product code BOGAN), although you'd be best to call them first as we expect them to sell out reasonably quickly. Or you can grab it on the Repco website here.

Full step by step guide on getting the most from the 6 Pack - click our link below for all the instructions.
We reckon you'll love this crafty little selection, especially some of the custom specials we've brewed up just for this pack. To get the best results possible, we've pulled together a few tips to help you get the most from The 6 Pack.

Enjoy the race,
Dan Bowden
*Spray Löstank Berry Wheely Clean into clothing if you feel you need a longer-lasting masking effect for the entire race weekend*.
*We don't know exactly how much longer it lasts and the above note is supposed to be in humour, in case you don't get it and end up smelling like Löstank Berry for a full month after application, yay.
---
Comments (4)
Wash wax

By:

Jayden

on 23 November 2021

Plz come out with more of the beer soap smells amazing love it
---
Best out there

By:

Charlie Fanshawe

on 14 November 2021

No better products out there! This kit lives up to the name and smells amazing!!! Keep up the great work Bowdens.
---
Bathurst Awesomeness

By:

Mitchell Esler

on 6 November 2021

Dan and the Legendary team at Bowdens Galactic HQ keep up the great work. Absolutely loving all this amazing gear. Will always happily support you Ladies and Gentlemen.
---
Bathurst Awesomeness

By:

Mitchell Esler

on 6 November 2021

Dan and the Legendary team at Bowdens Galactic HQ keep up the great work. Absolutely loving all this amazing gear. Will always happily support you Ladies and Gentlemen.
---